It's that time of the year again…
Oh it's time.
It's time to get together with all of your family, yes ALL of your family, even the cousin you haven't seen all year.
It's time to get extremely frustrated playing charades and Monopoly.
It's time to get annoyed at your brother for eating all of the After Eights before you even had the chance to.
It's time to be grateful to be surrounded by all of your family at the most wonderful time of the year.
But most importantly, it's time to pig out and eat all of the finest groceries that Tesco has to offer…
Did you know, (we bet you already did anyway!) but Tesco has a fantastic food offering for the whole festive season.
It will take the hassle out of hosting, as well as helping you to really wow your friends and family this year – from your Christmas parties right through to your New Year's Eve special.
A
re you ready to drool?
Tesco British Whole Turkey with Pork, Sage & Onion Stuffing
The traditional Christmas day turkey, a favourite in many households. This fresh British whole turkey with pork, sage and onion stuffing is garnished with smoked bacon and a bay leaf. Get it here for only £38.15.
---
Tesco Finest Roast at Home Ham
For a turkey alternative, you should try this delicious roast at home ham. The succulent tender texture is the ULTIMATE treat for a Christmas meal… It's yours for £30!
---
Tesco Finest Smoked Salmon Blinos
Everyone loves smoked salmon don't they? Imagine how tasty wheat flour pancakes topped with smoked salmon pieces and lemon and black pepper mayonnaise will be … WOW! Get 24 pieces for only £12.
---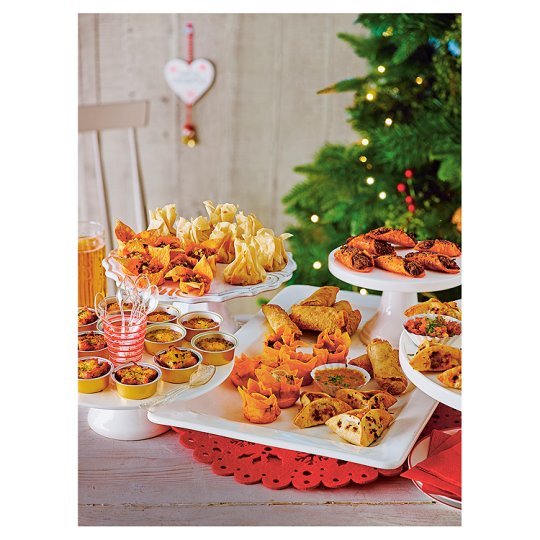 This amazing party selection will really make your family go OOOH. It's absolute sheer indulgence, as well as a definite crowd pleaser. Plus, you get 82 pieces for only £40, making it the perfect addition to any Christmas table.
---
Tesco Finest Cheese Bauble Truffles
Have you ever heard of cheese bauble truffles? They sound amazing don't they? They're made from creamy traditional cheeses, AND they're packaged in a chocolate style box which makes them THE perfect gift for any foodie and instantly refresh any festive cheese board. They're sooo perfect for Christmas or New Year dining. AND they're only £5. 
Tesco's collection of festive sweet treats will also be GREAT for Christmas Day sat around the table…
Tesco's Finest Safari Print Chocolate Box
Ooooh. These animal print chocolates are inspired by the latest prints on the catwalk. The box includes milk, dark and white chocolates made with BELGIAN chocolate and indulgent centres. Snap them up for only £6.50.
---
Tesco's Finest Madagascan Vanilla Cheesecake
Oh my days. This looks so yummy! A digestive biscuit base, topped with a Madagascan vanilla cheesecake batter, and finished with a soured cream topping… One word: WOW! It's yours for £4.
How can we forget about the bubbly either?
Celebrate the finest time of the year with a finest prosecco from Tesco. This fabulous, hand-picked sparkling wine has flavours of apple, white flowers, citrus, grapefruit and a hint of honey. For only £8 it's such an amazing drink to accompany your festivities!
---
Tesco's Finest French Grain Vodka
Wow. This French grain vodka can be served straight up ice cold or in a festive cocktail. It's silky smooth and gently warming, due to the fact that it's been expertly filtered slowly through charcoal plates to remove impurities. A personal fave – at only £18 for a 70cl bottle, it's just perfect.
Who said hosting the family at Christmas was stressful? With Tesco it will be a walk in the park!
Take a look at the other amazing items Tesco has to offer here. 
Image Credits: Tesco 
Favourite Finds
If you like this product, you might be interested in these too!