It's that time of year again… The time of year when debates about Christmas gifts are rife!
This year, the most predominant topic about Christmas gifting is who to tell children expensive Christmas presents are from – Santa, or the person who purchased them. Is it right and fair to tell your child that their high end goodies are from Santa Claus, when their little friend down the road's parents were made redundant this year and 'Santa Claus' has brought him much less this year even though he has been a good boy? Or is it a non-issue that is up to individual parents to explain to their children?
Here's the viral post that has been doing the rounds on social media; we can't verify the source but if this is your post, we'd love to credit you, so please comment below.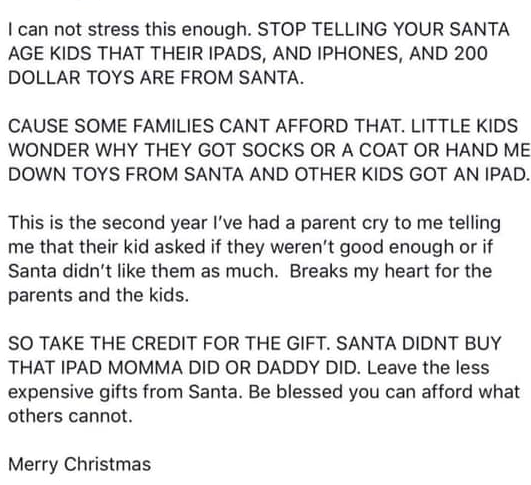 We asked the parents in our community for their opinions on this. First, we did a poll.
I don't think expensive gifts should come from Santa: 80%
I think it is a non issue, all gifts to my child will be from Santa: 20%
So clearly, the majority of our parenting community agreed that expensive, high-end gifts (consoles, tablets, designer clothing for example) should not be 'from Santa'. Reasons for this were varied and included…
They put a monetary value on 'naughty or nice' and means kids from less wealthy backgrounds think they've done something wrong.
Telling your child Santa purchased a very expensive gift doesn't teach the value of money – many parents choose to make sure their child knows that mummy and daddy purchased the big ticket items.
Parents who don't see an issue in telling children their expensive gifts are from Santa also shared their rationale…
They're worried it'll ruin the magic of Santa & Christmas if they know parents and family also buy gifts for them.
They feel that it's down to parents to explain why some gifts from Santa are 'high end' and why some aren't – more so in children who understand that tablets and games consoles cost a lot of money.
Another interesting point we spotted was that traditionally, Santa only brings gifts for the stocking!
This is true! There are quite a few theories of the origin of Santa, but traditionally, he left gifts in the stockings of children, hence why we have stockings. The tradition of putting presents under the tree started much, much later; Queen Victoria's husband and consort, Prince Albert, can be credited for introducing the Christmas Tree to Britain. Over time, as a society it's become normal to also put gifts under the tree. Some of our parents pointed out that, with all this in mind, gifts under the tree shouldn't come from Santa anyway (if you're more traditional), and that most expensive gifts won't fit into a stocking.
Overall, being mindful of those less fortunate seems to be by far the most popular choice amongst parents, but parents who are happy to continue labelling expensive gifts as from Santa have their reasons, too.
We hope that reading this has given you food for thought and helped you decide how to approach this topic this Christmas!
Love from Katie & Team BBY. Xx