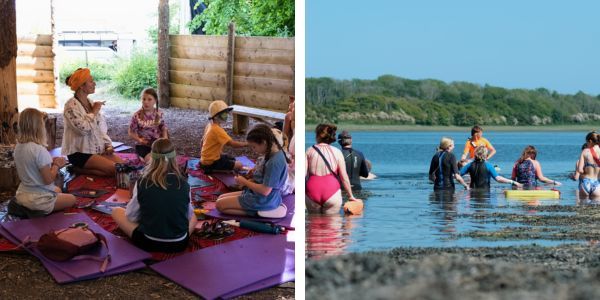 Date/Time
24 May 2024 - 27 May 2024
Where?
Pembrokeshire, Wales
This family festival is a HIT year in, year out, so get your early bird tickets fast!!
"Four uplifting, unforgettable days to relax, reflect and reboot. Welcome to an adventure for all five senses. Discover energy, inspiration, bands, books, new tastes and inner calm. Welcome to fitness, yoga, adventures in art, wild swimming in the invigorating fresh air, and a chance to leave the world behind on the stunning, unspoiled western edge of Wales.
Your ticket gives you access to over 300 carefully curated experiences: fitness, yoga, talks, workshops, foraging, feasting, arts, bushcraft, live music and more. Find your Feel Good right here. Nourish your body and soul this summer. Voted one of the 'Top 5 Wellbeing & Adventure Festivals' by The Guardian."
With 2-4 nights of camping available to book in addition to the festival tickets, you and the kids could have an absolute blast at The Big Retreat festival. This is geared towards nature-living, earthy, adventure-seeking families, and we're absolutely booking our own tickets asap.
Included in your ticket are these awesome activities;
Fitness classes and workshops Yoga classes in the Shakti and Shiva Tents
90% arts and craft activities
Music and Comedy
Gong Baths
Forest bathing taster sessions
Spoon Caving
Foraging
Nature Walks
Triathlon Club (apart from one to one sessions)
Nutritional Workshops
Workshops and talks in the Talk Tent, Darwin's Den, Roaring Fire Pit and the Mind Space
There are also extras to enjoy for a small additional cost;
Explore Pembrokeshire
Hot tubs and Ice Baths
Massage and Treatments
Fire Walking
Acro Yoga
Paddle Boarding Lessons
Jewellery Workshops
2 hour Forest Bathing Experience with Gong Bath
Cacao Ceremony and ecstatic dance
A small selection of arts and craft where more expensive items are used such as silver
Where is it?
The Big Retreat Wales, Lawrenny, Pembrokeshire, SA68 0PW
Add your event here
If you know of an event or are hosting one yourself, then add and promote it in our event listings to the whole BB&Y community.
Submit your event