Thanks to Lauren Back – The Newcastle Mum – for sharing her journey with us.
See Part One of her pregnancy and birth story HERE.
A BIT OF A SCARE…
Towards the end of my pregnancy, at one of my last antenatal appointments (34 weeks), again at the appointment by myself thanks to Covid, I was sent for an emergency growth scan.
I was told that after measuring the bump that he wasn't growing how he should be and was measuring too small. All sorts were running through my head about the baby, and I had to tell Allen via texts while we booked the scan in – it was so stressful!
We managed to get the scan booked in for the following day, and for the rest of the day and night I was in tears. I was so worried that something was wrong with our baby boy.
The day arrived, and I went to the appointment by myself – again – while Allen waited in the car. My anxiety was through the roof. Luckily I was seen within 5 minutes of getting there. The Sonographer did the scan and measured everything, and luckily I was told that everything was absolutely fine. She said that it was most likely due to the fact that he would have been lying in a funny position when they did the measurements at the doctors, and by looking at the scan he was going to be the biggest baby yet. I'd already had a 7lbs 10oz and an 8lbs 8oz baby! I really hoped that he wasn't going to be much bigger than that!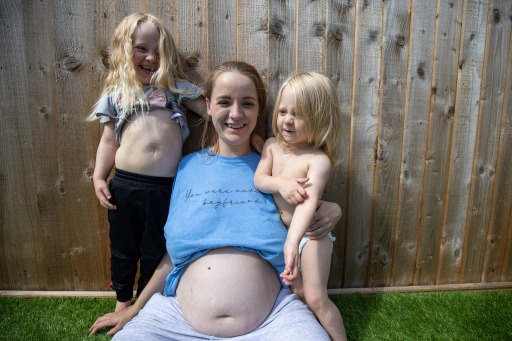 DUE DATE…
I genuinely thought, especially towards the end of my pregnancy that Max would make his appearance early, but he didn't. I had twinges every day, but it got to his due date and there was still no sign of him!
We had everything ready, all we needed was him to make his appearance. At my 39 week appointment, there was still no sign of him even though he was head down and engaged. I booked a follow up appointment with my midwife for my due date to have my sweep. I prayed that he would be here before then though!
The 40 week mark arrived, and he still hadn't made his appearance. It was just like any other normal day. We woke up at about 7am and got Mia her breakfast and got her ready for nursery. My appointment was 9:45, so we dropped her off at nursery and headed straight to the appointment.
It was just like any other normal appointment, had my urine checked and blood pressure done and everything was fine. Then it was time for the part I was dreading – the sweep itself. Although I know they are to help bring on labour I just have always dreaded having them! Anyway, the sweep was done and she confirmed that I was 3cm dilated, but could stretch it to 4. She told me that everyone she had ever given a sweep to had gone in to labour the same day, I told her that knowing how Max had been throughout my pregnancy I doubted it.
But as soon as I left the clinic at about 10:30, I started having contractions. Not strong enough to make me stop what I was doing, but enough to know that something was definitely happening. They were 10 minutes apart, so I just went home and carried on as normal. I remember doing the dishes and making lunch. Obviously Allen knew that I had been having them all day, so when Mia finished nursery we dropped them off at his Dad's just in case something happened over night!
ALL SYSTEMS GO…
I remember I was watching Hollyoaks and suddenly the contractions started to get more intense, and closer together. This was around 6:30pm, and they were 7 minutes apart. I rang the hospital just to let them know that something was happening, and they told me to ring back when they started getting closer together. We made sure that everything was in the car in the meantime.
At around 7:30 they again were closer and more intense, this time there was only 5 minutes apart. I rang the hospital again, and the midwife said to wait again until they were closer together, but if I got the sudden urge to push to ring an ambulance. Obviously this is something that we wanted to avoid, so we made the decision to slowly make our way to the hospital. The hospital is only about a 5 minute drive from our house, and there's a McDonalds on the way. We knew that once we were in the hospital we wouldn't be leaving without Max, and knew that once we were in our room we couldn't leave and the hospital canteen and shop was shut, so we went to McDonalds to get one last meal in us before all hell broke loose!
As we were sat eating our food in the McDonalds car park (8:15pm), all of a sudden my contractions were 3 minutes apart, so we went straight to the hospital. I was examined when we got there and they said I was 4cm dilated. This is where my memory gets a little bit hazy.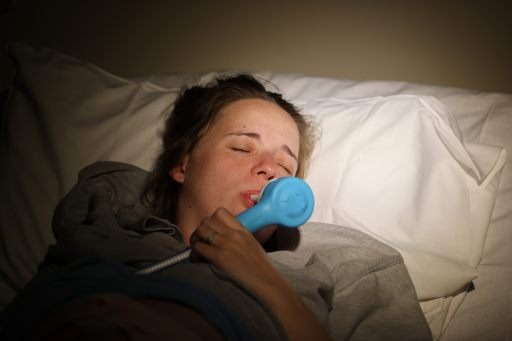 I keep remember saying to the midwifes that he had to be born that day as I didn't want his birthday to be the 13th as I'm superstitious that way, and they told me that he would definitely be born that day!
They checked Max's heart rate, and every time I was having a contraction it was dropping, so they left me on the monitor to check that he wasn't distressed, but they did say that they weren't too concerned. I remember they checked my blood pressure and they said it was high, and asked me if I had been diagnosed with pre-eclampsia during my pregnancy. I was shocked as no I hadn't and even that day my blood pressure had been fine, so on top of worrying about Max, I now also had that in the back of my mind too – when I checked the clock that was about 10:30pm.
I stayed calm, and I remember the midwife and student midwife both saying how calm I was and had I been this calm with the girls – to which I replied yes! I did make a comment about how I would more than likely cry when Max was born, as I cried at just about everything!
The next thing I remember, I was talking away to Allen and I had the sudden urge to push! The midwives were lovely and just told me to listen to my body… 8 minutes later and our gorgeous baby boy was born, on his due date! Did you know only 2% of babies are born on their due date?!
The midwives asked how big we thought he was and we both said about 8lbs 10… they agreed. Only to see the surprise on his face when in fact he weighed a whopping 10lbs 1.5oz! He was in that much of a rush to make his appearance that when he was born his face was congested and he looked purple – he was absolutely fine, just a funny colour but that wore off after a day or two.
MAD PANIC…
This is where my memory gets even more hazy so I only have my notes to go off! While the midwives were writing up my notes and getting everything ready I could feel that I was losing blood so I asked Allen to check and he was worried about how much blood I had actually lost so he buzzed for the midwife. She came in to check and agreed it seemed like a lot and I was also passing clots. She changed the pads and the bedding and took the old stuff away to weigh the blood loss. She came back and advised that I would be being observed closely to see if the bleeding stopped. To start with I was placed on a Syntocinon infusion through an IV drip.
At 1:25am I was checked and was still losing blood and clots, and again at 02:20am. I was advised then that they would be giving me an ultrasound to look in my womb to see if they could see anything going on. On the scan they could see that there was something in there, so the Senior Doctor had to remove them.
TMI warning – she had to put her hand inside my womb via the down below area and removed a large clot. At this point I was also given a catheter as I couldn't get up to go the toilet, and they also thought it would help to slow the bleeding. I was also given an injection which was also to help slow the bleeding. The whole team on duty that night were worried about me, and at one point I had about 6 people in the room with us to plan the care I needed. It was so overwhelming, and actually writing this and remembering everything that happened has been emotional!
At 3:45am, eventually the bleeding slowed, but at this point my blood loss was 1.5litres, and they advised that they would need to give me a blood transfusion to replace the blood that I lost. This was luckily done in the room I was in and I wasn't moved from Max or Allen. Allen was absolutely amazing through the whole ordeal, he didn't leave my side, stayed calm, and was always checking if I was okay or needed anything, and just holding my hand when I needed it. I'll be honest if he wasn't there to keep me calm, I would have been an absolute mess!
After the infusion I was super tired so they advised that I rest, but so much had happened I genuinely couldn't relax. I did get some sleep though, although not much as I think I was getting my observations taken every 30 minutes. By about 7:30, I started to feel more human, and had tea and toast – the first thing since the McDonalds the night before! By midday we were transferred to the antenatal ward to complete our care and my observations there.
As I felt better, I discussed the possibility of being discharged – I didn't understand the severity of what I'd just been through. My blood pressure and heart rate was still super high, so the medical team advised against me going home that day. I was administered iron tablets and blood thinner – the blood thinner was to take for SIX WEEKS, and it was a needle which I absolutely hated. We stayed in again that night for observations, as my blood pressure and heart rate was still high. We also asked for Max's breathing to be monitored as it didn't look right, however the midwife reviewed him and was happy with him – you wouldn't think we had already had two babies!
The following day, my observations seemed back to normal, and all of Max's checks were done and were absolutely fine so we were discharged home at midday! We went straight to introduce Max to his big sisters, and they absolutely adored him. Because of what we had just been through and both of us having no sleep, the girls stayed at Allens dad's that night but were coming home in the morning to start our journey as a family of 5.
I felt completely fine, but less than 24 hours we entered a whole new nightmare…