My Daughter was born 2.5 years ago perfectly healthy 2 weeks overdue by induction, but she had a low birth weight of 6lb 2.5oz. This meant that my next pregnancy required me to have regular growth scans to check my next baby wasn't going to be as small. We found out our second baby was going to be a boy.
At week 33, I contracted Ecoli, no idea what from but I worried how it would affect baby so I went into hospital to have antibiotics through a drip to prevent the Ecoli spreading down the placenta to baby. I was reassured all will be fine. At week 36 I went in for a routine growth scan. Baby had stopped growing at week 33. Consultant advised they needed to get baby out and I was to be induced one week later at week 37.
The first 24 hours of pessary induction sent me into slow labour. The machine said I was having high contractions, but I wasn't in pain. So the pessary was removed after 24 hours and the nurse went in to check things out. She said my cervix wasn't even close to dropping ready for labour and she was struggling to feel my cervix as it was so high. She offered me gas and air as she said the next examination would hurt as she needed to try and reach my cervix, it was absolute agony and she accidentally broke my waters. My body went into complete shock, threw me into full blown labour and I was pushing after an hour.
The nurse kept ringing down to the delivery ward to get me a bed asap as I was in full established labour and things were moving fast. Unlike my first birth, unfortunately Gas and air was doing nothing for me this time and I couldn't have anymore pain relief until I got onto the delivery ward. After 2 hours of full blown labour on the induction ward, the nurse begged the midwives on the phone to come and get me to take me to delivery but they claimed they were too busy in a staff handover meeting to come and get me, so I laboured mostly on the induction ward until I finally made it to the delivery ward, on a bed via the public lift. I told them I was pushing, they examined me and said I was no where near pushing stage. I asked for an epidural, they said the epidural person was too busy. In just under an hour later my baby boy was born.
He was put straight on my chest but I instantly picked up that he was in clear distress, it definitely wasn't the normal newborn cry after they're born, and as soon as I said this to the midwife he was whisked off me and taken over to the corner of the room where the midwife began working on him and his breathing, she told Husband to press the red emergency button and several people in uniform piled into the room.
After what seemed like a lifetime of watching them all surround my baby over in the corner whilst I continued to labour the placenta, he was then taken straight to NICU and it wasn't until 3 hours after that that a midwife came back to the delivery room where we'd been left to tell us that they'd managed to stabilise him.
We were taken up to the NICU ward to see him, yet we couldn't really see him because he was in a glass incubator with his whole face and eyes covered in tubes, wires, tapes and monitors, surrounded by machines that were keeping him alive. We were not prepared for that. I took one look at his tiny body in his incubator from the doorway and instantly thought we were going to lose him that night, and the Doctors were unable to reassure us – they said the next 24 hours were critical.
Understandably my husband went to pieces. Looking back, my body mind and maternal hormones took over and I went into full control of making sure everyone and everything else was taken care of around me in order to keep things as normal as possible particularly for our 2 year old Lucy at home, and to prepare us for the tragedy that may await us. I'd decided we shouldn't tell the grandparents and friends who were all awaiting good news the reality of what was really going on.
So we just told everyone that he'd arrived and there were 'a few issues', but that he was ok and we would update them in the morning – again my only thought was to take care of others. 3 out of 4 lots of Grandparents were on holiday, so unable to help. We also couldn't face telling them the nightmare reality that we had found ourselves in. My husband went home to his family; his Dad, Brother, Step Mum and Sister, whilst I went to a cold, dark, uncomfortable hospital bed in a private room on the post natal ward, because apparently NICU Mummies have to go in private rooms so they don't see other Mummies with their babies next to their beds (their words not mine).
I was in agony from giving birth, bleeding heavily and unexplainably heartbroken that I didn't have my baby by my side and not knowing if he'd still be with us the next day. Yet I took straight to the breastpump, and I sat on it all night with the help of the night nurse, because I couldn't let my baby boy go through that night alone. If I couldn't be near him as he was in NICU then at least I was awake for any news they had for me. I felt out of control and helpless, and this was the only thing I could do as his Mum to ensure that he had everything he needed to fight.
Looking back, maybe I felt I didn't deserve sleep, or to eat, or to take my time to have my first painful wee, or to rest until my insides stopped feeling like they were going to fall out.All of those physical pains that I should've taken care to focus on and recover from were completely numbed by the emotional pain that I was feeling.
I soldiered on and decided it was my duty as his Mum to be alert through that critical first night with him. Every single hour that night I was passing bottles of expressed breast milk to the nurses to refrigerate for him. Writing his name on each one of the bottles wondering if I'll get to write his name on future greetings cards, and his school uniform labels, etc. Thoughts going through my mind about how an earth we would explain to Lucy if he didn't come home with us. How would I find it within myself to pick my husband up once again if the worst happened like it did 3 years previously when we lost our first born half way through the pregnancy, and he fell to pieces. I realise now that I always worry about everyone else, never myself.
Our baby boy made it through the first night but the Doctors said he wasn't out of the woods yet and he needed to go onto a ventilator to make him breathe. After another painful day at the hospital, husband was really struggling.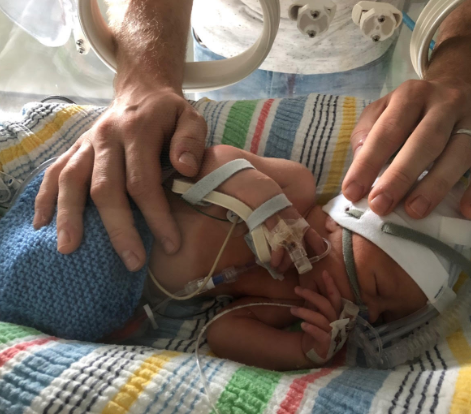 So I made sure he didn't have to answer any questions back at home where his family were staying to look after Lucy for us and I gave him the keys to my Dad's house (Dad was away on holiday). I made sure he had a comfortable bed to sleep in there, and I also made him promise me that he would grab a beer on the way home to help him relax and sleep, as I needed him on better form for a difficult tomorrow. Again, I was looking after him when I was absolutely dying inside. I cried myself to sleep every single night in that grim and lonely hospital room feeling so alone.
Luckily our amazing little boy survived the critical first few nights, and I was forced to leave him at the hospital when I was discharged when he was just 5 days old because Mummies are only secured beds in the hospital for that long, I daren't argue with them because I was just grateful they were keeping my boy alive, but everyday I was driving back to the hospital at 6am not knowing what bad news awaited us that morning. Coming home every night to everyone carrying on with their lives as normal around me whilst my baby was still in NICU and not with me where he should've been, and he was still fighting to get better across the other side of town miles away from me. I cried uncontrollably every single night on the drive home when I left him and literally felt my heart break, then having to sleep next to his Moses basket, blankets, gifts, teddies etc that had been set up for him next to our bed was torturous. The overwhelming feeling of guilt consumed every single part of us because he wasn't there to enjoy all of those things that he didn't even know he owned because he was stuck in hospital being so poorly.
Yet his health continued to improve miraculously, and the Doctors began to consider him coming home with us, but my mental health deteriorated more and more every single day. I'd prepared myself for the worst to protect myself, and I was overwhelmed and in disbelief that he'd defied all odds and I was clearly traumatised and completely run down from constantly worrying sick about him and taking care of others around me. Everyone around me must've thought I was doing fine, because that was the impression I was giving to everyone to try and stay in control. But eventually baby came home with us, and I didn't feel ready or equipped to care for such a fragile little baby.
We should've been celebrating, and maybe everyone thought I was happy but deep down the trauma I'd experienced very quickly turned into deep dark depression, and the depression came with crippling anxiety.
I was living under a permanent dark cloud of dark thoughts that controlled every minute of every day and adding to the lack of sleep I was getting whilst taking care of a newborn who was feeding every 3 hours and a lively 2 year old who needed constant entertaining, and husband was back at work – his paternity leave was taken up whilst baby was in NICU. I'd convinced myself that at some point baby was going to stop breathing again, that his oxygen levels were going too low, that he was picking up life threatening germs from everything and anyone who touched him or even went near him, that all rooms were too hot and his temperature was too high. I'd basically convinced myself that he wasn't meant to be with us.
At babies 6 week check I mentioned this to an extremely rude, uninterested and insensitive Male GP and he literally chucked a prescription at me for antidepressants. No explanation, just to take them and go back in a month.
I felt fobbed off and angry that I was made to feel like a pathetic woman by an old man who clearly looked down on me, so I decided to get through this without medical help. 1 year later and we've had many trips to and from the GP's and hospital just from my anxiety, yet he has fought so hard and he's still here with us, a strapping boisterous 1 year old and as healthy and happy as any baby could ever be, but it's been a long painful road. I'm still doing and feeling all of the above, but I'm now beginning to understand it all more with the help from counselling, including why I have gotten into this state and I'm trying to recover, except I now have the added guilt of being a rubbish mum for the first year of his precious life due to the depression and anxiety that has completely controlled our lives, which no child deserves.
I have visited many more GP's in desperate moments when I felt like driving to the nearest bridge to jump off it, to ask for help with my mental health, but was again so uninformed so many times which extended my anxiety to taking any kind of medication such as antidepressants or beta-blockers because that was all they kept throwing at me. All they seemed to be interested in was putting me on medication, I agreed to try it once but it randomly made me violently sick the first time I agreed to try them, which proved my anxiety correct. All GP's have me in and out of their office within minutes, to this day. The only thing I am counting on now is the counselling I am having.
My situation has cost me many things this past year; I've lost the majority of my client base at work due to absence from my inability to work, and therefore my business. My relationships with most family members and friends, including my relationship with my daughter has deteriorated. No one understands why this has happened either because no one seems to understand PND, which makes those relationships harder to recover.
I only thought of others at that critical time when I should've prioritised myself and allowed myself to rest, recover and heal. The trauma is real, and it still feels like a disease in my brain that fully controls how I think and feel, and it's a constant battle to overcome these darks memories. 
Along with all that, we went through a house sale that we'd started when I was pregnant and stupidly made the decision 2 days after baby was born in my hospital room to move into an old house, which we did so when baby was just 6 weeks old. The house was old and dirty, things broke including the boiler and we realistically couldn't afford it which gave us severe financial worries, including my depression and newborn anxiety. I began to feel slightly better when baby was 8 months old but we then had the brutal death of a young family member to cancer, which set me back further than ever.
I am still fighting though, and I'm determined to survive this.
The most important message from my story, is that if you're going through the same or similar, you're not alone.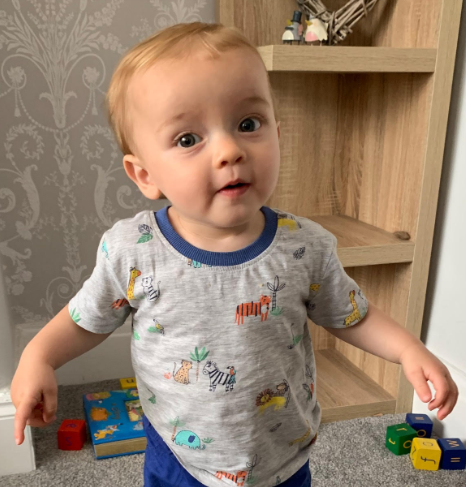 Written by Samantha Robinson.