This is me a matter of weeks after having Lochlann. Still dazed and confused and not really sure what I'm supposed to be doing.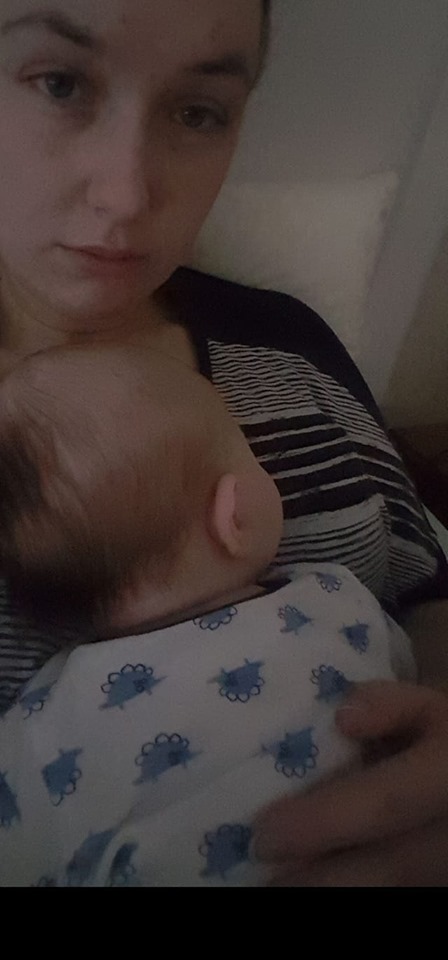 Struggling to come to terms with how my birth went and the complications afterwards.
Struggling with my new identity as "mum" and not sure how to handle it, yet telling everyone I was ok, I didn't need help.
Mum and Mum in law: Do you need anything? Do you want me to take the baby for a few hours?
In my head: *help me, what am I supposed to do and how do it do it? Can you please tell me there will come a time where I wont cry if my baby cries? Will there come a time where I won't wake up crying because I had a nightmare that my baby died? Will the irrational thoughts about my baby dying if I leave him for a few hours go away? Will I stop crying at the drop of a hat?
What I really say: No it's ok, I'm fine. Thank you though.
Health Visitor: "How are you? How is your mood?"
In my head: *I've never felt so low, I'm not sure im cut out for this, Lochlann needs a better mummy, all I do is cry, all I do is shout at Josh, I'm so tired, I'm so sore, I need to have Lochlann in my arms 24/7 because he will think I don't love him or he might miss me.*
What I really say: It's grand, the odd wee cry here and there but nothing extreme. Thank you though.
Friends: "Can I come visit? You know we need a night out, want to go out this weekend?"
In my head: *WANT TO GO OUT? ARE YOU SERIOUS? I CANT LEAVE MY BABY WHY WOULD YOU EVEN ASK ME THAT AND EXPECT ME TO LEAVE MY BABY I CANT LEAVE HIM WHAT IF SOMETHING HAPPENS AND IM NOT THERE!!!!!! FUCK OFF!!! Visit?……I really dont want anyone to see me like this….I'm a mess.
What I really say: "Sorry I cant get a babysitter plus I have the shits, maybe another time?"
Josh: "Luca why don't you go for a bath?"
In my head: *I'm not joking but I literally don't even want to go upstairs and leave him….*
What I really say: "ummm ok then……"
*takes phone into the bath and texts Josh downstairs every 2 mins asking if Lochlann is still breathing*
This is what my mind was like for easily the first year or so of Lochlanns life.
Dont get me wrong, I still have my moments but I am a lot better at managing my thoughts and learning that an irrational thought is just that, nothing more than a thought and it doesn't necessarily mean it'll happen.
For so long I was convinced that Lochlann would die if I left him, and even saying this is shocking to me because for so long I thought to myself, why the fuck am I thinking like this? I'm a terrible mummy!!!!!!!
Just because such irrational thoughts pop into your head beyond your control, it doesn't make you a bad person or a bad mum, for so long I didn't realise this and was convinced I was a terrible mummy.
If anything, it makes me a very good mummy because at least it shows I care and love my son deeply! Not saying that you have to have irrational thoughts to make you a good mummy because that's not the case.
I've come to realise that as a parent the underlying worry will never go away, you will always worry about your child, but it does get easier to not let it consume you to the point of always thinking the absolute worst case scenario.
Also, if you're struggling, ask for help. Don't suffer.
Written by Just Luca for her Facebook blog.