We have some exciting news for diehard fans of the Home Alone film franchise…
You know you're one of the fan club if you watch the Home Alone films each and every Christmas without fail, and I'm definitely in the club! This latest announcement is super exciting for film fans, and we're on tenterhooks…
Disney plans to remake Home Alone! 
That's right, folks – Disney has purchased 20th Century Fox, who originally released Home Alone, and as part of their extensive plans to remake popular titles for their Disney+ streaming service, Home Alone will be getting a reboot. We can't wait! The plans to reboot Home Alone were detailed during Disney's Q3 Earnings Webcast, which can be found here.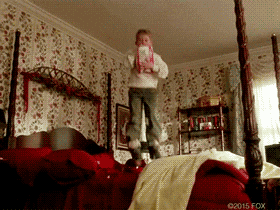 When will the remake of Home Alone be released?
Unfortunately, Disney are yet to confirm a release date, but watch this space as we'll update you all with more details as and when they're released to the public.
We CAN confirm that the Disney+ streaming service, for which the film is being made for, will be launched in November and is expected to hit the UK next year, which could give us more indication of a time frame.
Will the new Home Alone be animated or live action?
Again, Disney are yet to release these details. Personally I'd love to see an animated version – in part because a live action remake wouldn't have the iconic Macaulay Culkin playing Kevin, and it just won't be the same, am I right? We'll provide more details once Disney releases them.
What other films will Disney be rebooting?
You've probably already seen the Disney remakes of Cinderella, Jungle Book and the Lion King, as well as plans to remake The Little Mermaid. Other films in the pipeline for a reboot are;
Night at the Museum

 Diary of a Wimpy Kid

Cheaper by the Dozen
What do you think of this latest plan by Disney? Let us know in the comments!

Love from Team BBY. Xx
Notice
: Undefined offset: 0 in
/var/www/vhosts/bumpbabyandyou.co.uk/httpdocs/layouts/article.php
on line
87