The 17th of June – 21st June is Loneliness Awareness Week 2019, a perfect opportunity for us to discuss the loneliness lots of new mummies experience.
This awareness week was set up by the Marmalade Trust in 2017 to tackle the topic of loneliness, by changing the public perception of loneliness and changing the way we think about it. This year's campaign is focused on targeting the stigma of loneliness – this is all very relevant to our parent community, who've reported feelings of isolation and loneliness after becoming parents, and feelings of guilt for struggling.
If you're in this situation, you're not alone! The Marmalade Trust is tackling loneliness this year with;
Encouraging people to make a pledge admitting they've been lonely to inspire others to speak out and seek support
Encouraging people to have a conversation about loneliness to show others they have someone to speak to
As mummies ourselves, we passionately support this awareness campaign and the power of 'momversation'. Loneliness can be tackled, it isn't forever, and it's not something to be ashamed of.
Here's MY pledge; as a mummy, I have felt very isolated. When you're sleep deprived, struggling to get into the swing of this crazy new journey that is parenthood, and the centre of your universe has shifted so fundamentally, it is very easy to become isolated. Speak out. Your nearest and dearest are there for you!
Where can I find mum friends?
If you're looking to get out with your little one and find other mummies who are trying to beat loneliness, there are some great resources where you can meet up for a coffee and a playdate;
Our best guest posts about loneliness;
We have some fantastic guest bloggers who've sent in posts about loneliness as a parent, and advice on dealing with it. Here are our best examples for anyone who may be struggling with isolation; we found these posts really inspirational and encouraging, it's nice to know that you're not alone, and that there is light at the end of the tunnel!
Motherhood is Lonely – Daisy Allen
"I know that this will get easier, I will get used to balancing my life out, I will gain more confidence in myself and I will be able to have a life that resembles the one I used to live – but in the meantime, I'm spending my days being a Mama."
Loneliness as a Parent – Deborah Murray
"So even though it's lonely, and you feel so very fucking lonely; you aren't alone in this feeling. We're all around you, even in the people you don't expect to feel it. And as awfully cliche as it sounds, it's true. Every storm is temporary, and you're never really alone. No matter how lonely you feel."
Beating Loneliness at Baby Groups – Emma Edwards
"If I could give any advice to new mums, it would be to put yourself out there. I know – that's so much easier said than done. Say good morning/afternoon when you arrive at group, smile and make eye contact, especially towards those sat on their own. Chances are they're feeling exactly the same as you."
The Lonely Side of Motherhood – With Love From P
"Many times I would wait by the window when I knew he was due home. And when I received a call saying "babe I'm going to the gym" my heart would sink a little. But I knew I had to allow him to have time for himself so I never complained. Now you're probably thinking get a damn grip girl, but the feelings were real. Even I didn't recognise me!!"
Mummy Friends and Me: A Must For Maternity – Joanna Johnston
"In an ideal world my mum would live next door and my best friend would be across the road. I would spend my maternity gossiping over lattes in Starbucks and have regular babysitters on hand so that I could still get to the gym, cinema, shopping , the list is endless. Unfortunately 'ideal' is a far cry from my actual situation."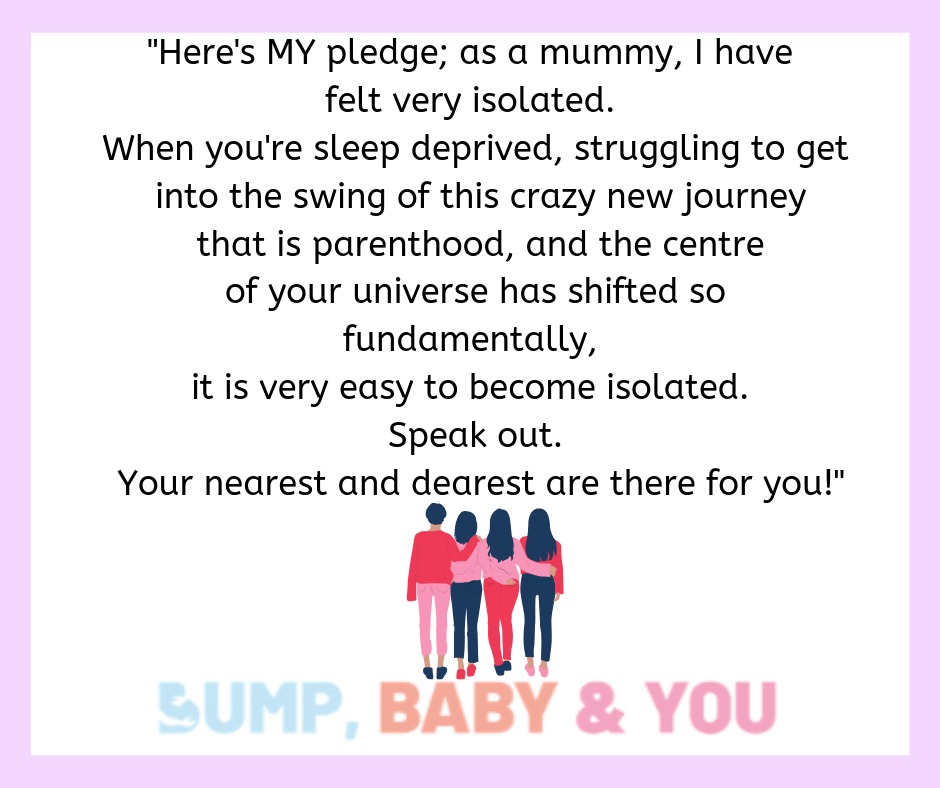 ---
We hope that this awareness week helps to open up an important dialogue for us all; check in on people, make sure they're not struggling with isolation, and conversely if you're lonely, don't be afraid to speak out!
Love from Katie. Xx