Mummies, daddies, care givers, this recall could affect you.
Please share this with your parent friends to raise awareness and help remove any potential for problems – we'd be very grateful.
Product:
Baby Dunlopillo Safer Sleep Cot Bed Mattress.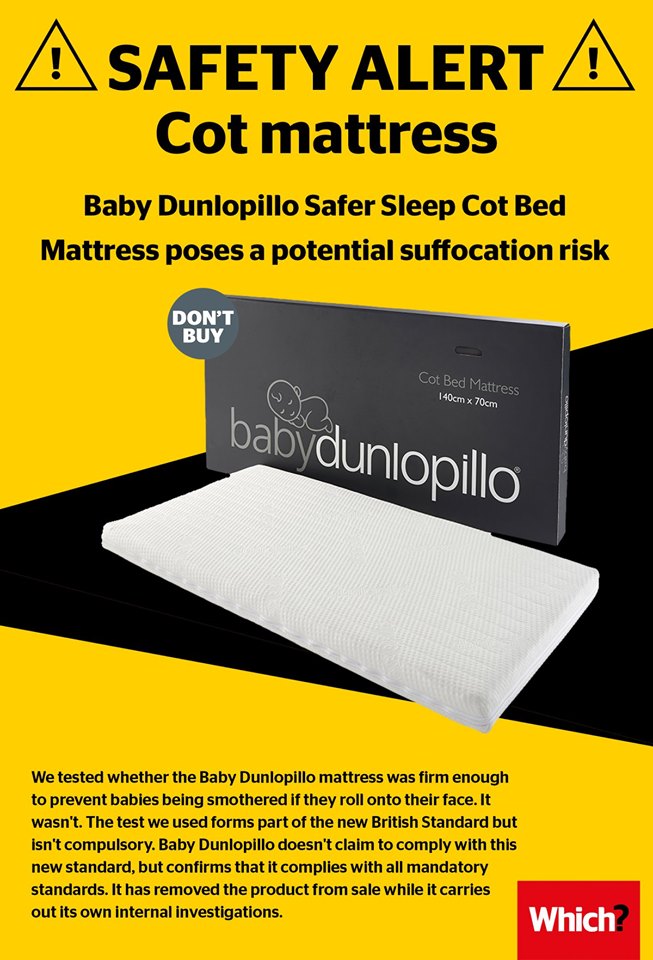 Reason for recall:
Which? have released the following statement…
"Our testing identified issues with the firmness of the top layers of the Baby Dunlopillo Safer Sleep Cot Bed Mattress.

One of our key cot mattress tests, which is part of the latest British Safety Standard BS EN 16890:2017, investigates whether a mattress is firm enough to prevent babies from being smothered if they roll onto their face while sleeping.

The Dunlopillo mattress failed the test both when new and after our durability tests which simulate a few years of daily use.

This cot mattress does not claim to adhere to the voluntary standard.

Baby Dunlopillo told us the mattress complies with all applicable mandatory safety standards, that it takes safety in its products very seriously and that it has removed the product from sale while it carries out its own internal investigations.

We are concerned because although a newborn baby is unable to turn over by themselves, from the age of 4-12 weeks a baby will begin to roll over in one direction, which increases the risk of smothering if they are unable to right themselves.

In addition, we're concerned that the Baby Dunlopillo Safer Sleep Cot Bed Mattress failed our cover shrinkage test that's also part of BS EN 16890:2017.

This involves removing the cover of the mattress and washing it twice according to the manufacturer's washing instructions.

We then refit it to the mattress and check whether the dimensions of the mattress have changed at all.

It's vital that a cot mattress fits the cot with minimal gaps to avoid the risk of your little one getting injured by trapping a limb.

The cover of this cot mattress shrunk significantly after washing, reducing the mattress in length by 5cm, which indicates the compressed mattress may pose an injury risk."
You can read the Which? review of this mattress here, where issues raised are highlighted. Their informative video on cot mattress safety can be seen below…
View the recall statement here.
Love from Team BBY! Xx