'Crystal Slime' is being recalled by the European Commission.
It's unclear who the manufacturer is, and where this can be purchased, but if you recognise this product and know where it is from please comment to let us know!
No batch number has been confirmed so this applies to ALL Crystal Slime products; the image below has been provided by the Trading Standards website, it's not the greatest resolution which we apologise for but there aren't any other images available. Hopefully anyone who has purchased this will recognise the packaging.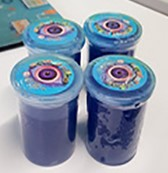 Why has Crystal Slime been recalled?
"The migration of boron from the toy slime is too high (measured value up to 1,450 mg/kg). Ingestion or contact with an excessive quantity of boron may harm the health of children by damaging their reproductive system. The product does not comply with the requirements of the Toy Safety Directive and the relevant European standard EN 71-3"
The European Commission has now banned the marketing and sale of this product.
What action should I take?
Do not use this product and put it well out of reach of your children. We're not sure how slime can be disposed of safely without damaging the environment, so contact your local council's waste disposal services for further instructions.
If you've purchased this from a shop, please make them aware of the recall notice and request a refund.
Read the full recall notice here.
Love from Katie & Team BBY. Xx