The Medicines & Healthcare Products Regulatory Agency have updated their public guidance when it comes to using home dopplers during pregnancy.
This has come about following the 'Ditch The Doppler' campaign promoted by the organisation Kicks Count, who we strongly support, and follows in the wake of retailers such as Mothercare and Tesco taking them off the shelves in 2018. Mother and Baby Magazine have also agreed to not advertise them to their readers.
The new change in guidance is as follows;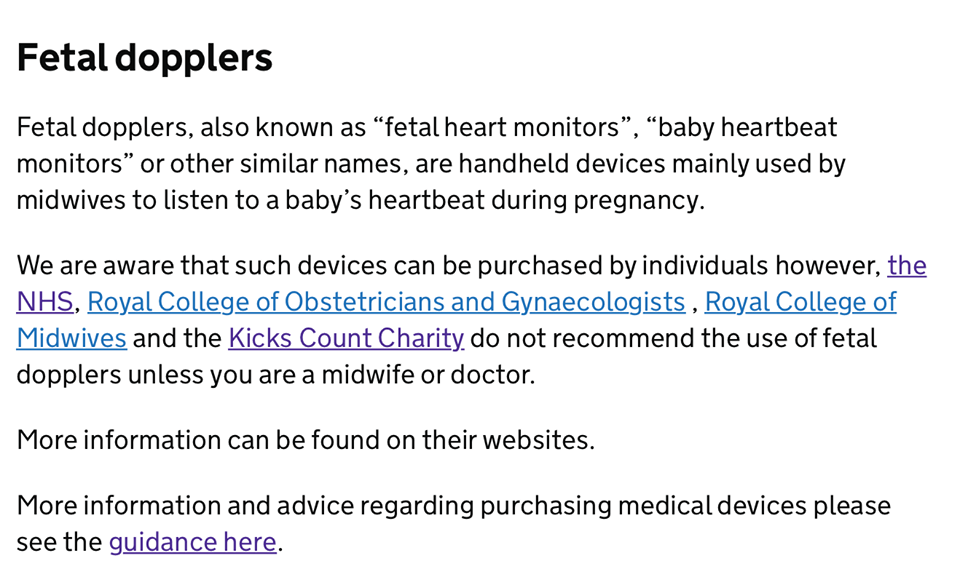 What does this update mean?
This doesn't mean that they're banned from public sale, but it's yet another official voice in support of the Kicks Count campaign and another force influencing retailers. Ultimately, they're medical equipment and unless you're a trained professional who knows how to auscultate correctly, you could honestly be hearing anything – even your own heartbeat, as some women have raised pulses during pregnancy.
A lot of mummies tell us that they're used for the novelty, and to help bond with their baby and not for reassurance, which is understandable, especially for mummies who've lost babies previously. However, by listening in, you're subconsciously going to be getting some reassurance by listening to what you interpret to be a healthy fetal heartbeat, even if that's not your intention. This is why it is advised that you contact your midwife if you're worried, and let the professionals use equipment like this.
Of course, there will always be people keen to use a home doppler, and that is your own personal choice, but it's very important to be aware of this campaign and seek medical attention when worried. If you're unhappy with the outcome of any visit/call regarding concerns, don't be afraid to seek a second opinion. If you're ever told that your baby's change in movements is 'normal', always report this as this is not true.
Love from Katie & Team BBY. Xx