Mummies, daddies, I'm sure you all groan in despair when your children come in from outdoor play covered in mud. It can be a bugger to clean, that is for certain.
However, it's worth every moment of prewashing, soaking, scrubbing and long hot wash cycles, every long bubble bath or shower, every night spent mopping your floors and feeling irritated all the mess! Mud is actually pretty amazing stuff – messy, stinky, annoying but oh-so-marvellous for us and our children.
We'll be delving into the science behind the benefits of mud, and we hope that it helps you to take comfort during those hours spent scrubbing the stuff off clothing and floors!
---
The Scientific Benefits of Mud
Scientists have long been fascinated with the benefits behind the wonderful nature around us; mud included. Mud is made from broken down detritus of nature and is absolutely teeming with microscopic organisms such as bacteria. Bacteria – this may concern you as we've been conditioned to associate bacteria with illness – can actually bring us lots of benefits, as well as the other pathogens. We'll explain this now…
Immune System Benefits of Mud
So, we've already mentioned that mud is teeming full of bacteria and pathogens! Not to worry, mummies and daddies – this is actually an excellent thing.
Research has repeatedly shown that children raised in environments that are too sterile are actually more prone to illness. Children who are exposed to the germs found in mud are at less risk of allergies, and developing conditions in adulthood such as cardiovascular inflammation and autoimmune diseases.
This isn't to say that you should stop cleaning your home and properly sterilising things like formula bottles – as with all things, there is a reasonable limit, but it's great for your child to expose them to the joys of nature for their long term health.
Mud & Eyesight
There is an indirect benefit between mud and eyesight, interestingly! Studies have shown that children who spent more time outdoors around the age of 8 are HALF as likely to be short sighted by the age of 15 – so playing outside and getting muddy has an indirect benefit on long term eyesight, which is brilliant.
Benefits on Mental Health
This study shows that the friendly bacteria in soil and mud 'activates neurons that produce serotonin', the hormone that makes us happy. Children with good levels of Vitamin D are also less likely to struggle with their mental health when they get older, which is another indirect benefit of mud as it encourages outdoor play!
Educational Benefits of Mud
As well as the health benefits of mud, there are plenty of educational benefits to enjoy, too.
Mud play, unlike many activites, is open-ended and unstructured meaning that there is no right or wrong process and your child needs to use their imagination in order to engage, which is great for honing…
Problem solving
Critical thinking
Sense of adventure
Appreciation of the outdoors and wildlife
Motorskills
---
Encouraging Our Children To Enjoy Mud
Do you want your little one to get more enjoyment out of mud? There are many marvellous ways that you can engage them with magnificent mud play…
Buy a Mud Kitchen
Mud kitchens are, without a doubt, one of the best purchases for a mud loving child! For those days where you're not able to go far, having a mud kitchen in the garden means that you have the benefits of nature on your very own doorstep.
TP Toys Muddy Madness Mud Kitchen
This is one of our absolute favourite mud kitchens – the blackboard and DIY stencil for the cooker rings makes it so individualistic and open-ended, your little one could write fantasy mud recipes, nature spells, anything they wish really! It also comes with a starter set of metal bowls and a whisk.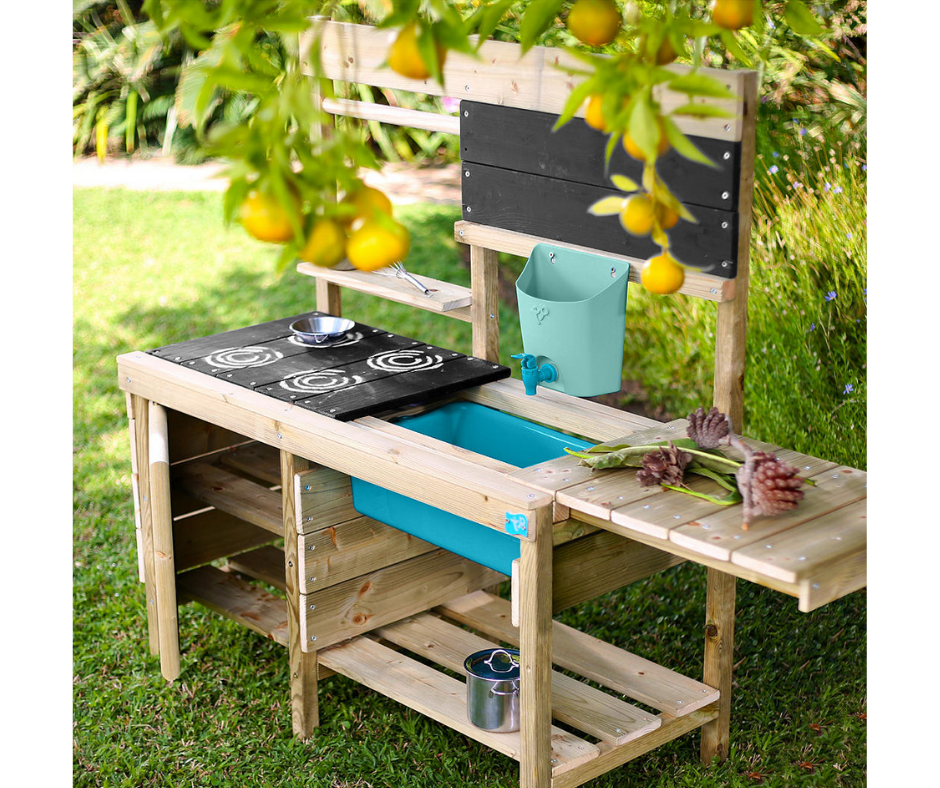 Woodland Exploration
A simple yet effective way of enjoying mud is to take your little one to your local woodland area for a leisurely walk through the trees. You could…
Go on a pretend 'bear hunt' through the woods.
Collect leaves and twigs.
Teach them about the different types of tree.
Bugs & Beastie Hunting
You could also take a bucket and a magnifying glass out with you and search for bugs and beasties in the mud; worms, ants, snails, beetles, butterflies, there are so many wonderful insects and other creatures to be seen.
British Garden Minibeasts Chart
This chart of some of the most interesting minibeasts to be found here in Britain is such a great price and could bring hours of muddy enjoyment!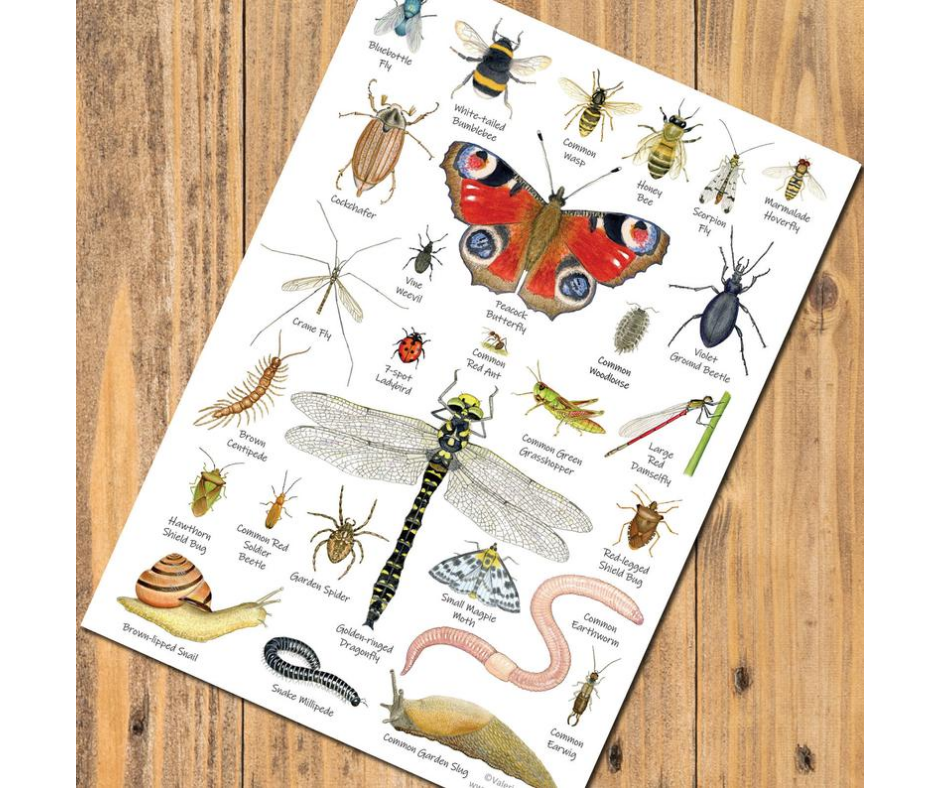 Mud Art
Mud art is so hands-on and very involved! There's no escaping mess with this activity, but who says that's a bad thing…? You could:
Create muddy hand prints on paper or a canvas.
Use mud as paint with brushes.
Use thicker mud as 'clay' (clay based mud is even better) and create mud pots.
Create a mud 'habitat' for toy animals, or a mud track for toy cars.
This video is brilliant – these children certainly know how to appreciate their mud!
---
All in all, I think it's safe to say that mud has so many wonderful benefits – it's so worth getting stuck in with your kids.
Send in your own muddy play ideas and photos to [email protected] for a chance to be featured in this article!
Love from Katie & Team BBY. Xx