This weekend, we went on our very first pumpkin patch visit as a family!
If you're keen to get some fabulous pumpkins but feel that picking some up at the local supermarket is a little boring, a visit to a local patch could be the perfect trip for you and the kids!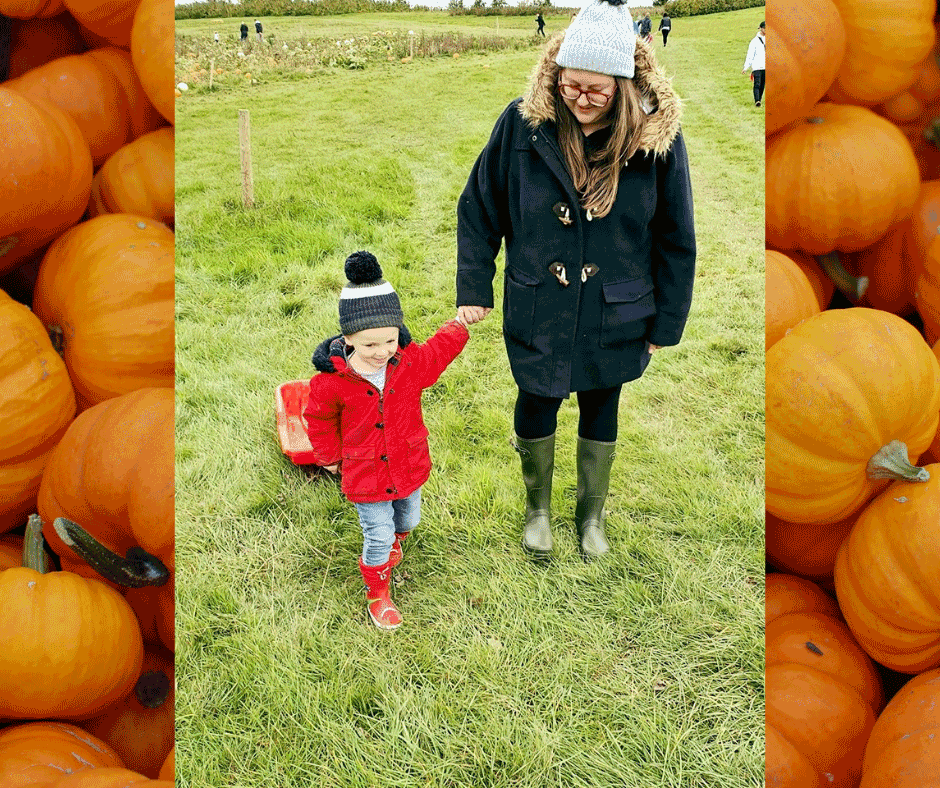 This weekend, me and my husband decided to take our 3 year old, Max, to our local patch.
He's very interested in Halloween, and quite mesmerised by the pumpkins down at the shops, so we reckoned it would be great way to entertain him, burn some calories, and pick some top quality pumpkins.
When we pulled up at Scaddows in Ticknall, Derbyshire, we were directed through the farm cafe to a lovely woman who directed us through to an area full of washing bays for the pumpkins and a stack of sledges – each visitor was able to use one for free to transport their haul through the fields and to their car, which was very handy. As we walked down to the fields, we couldn't believe just how expansive the patches were! There were two massive fields full of pumpkins; green, orange and white, it was amazing to see.
Finding a Pumpkin Patch
It's pretty straightforward to find one near you. As well as checking social media, you can find a local patch in our directory here!
Things to Remember When Going Pumpkin Picking…
Here's some tips for going pumpkin picking; learned the HARD way by me and my husband today!
Clothing:
Wellington boots or good waterproof shoes. It's that time of year where the fields are boggy, and with the tractor activity on the fields, you may find yourself very muddy indeed… My husband wore trainers and regretted it!
Towels, wipes, bags for dirty things etc. I'd also advise opting for clothes that are easy to wipe down – it's a mucky activity but so fun!
Most patches are quite widespread so you'll need to bear in mind that you'll be doing lots of walking, and also lots of hauling if you select some pumpkins! It's quite physical so bear this in mind if you have mobility issues and/or small children. Good shoes are key.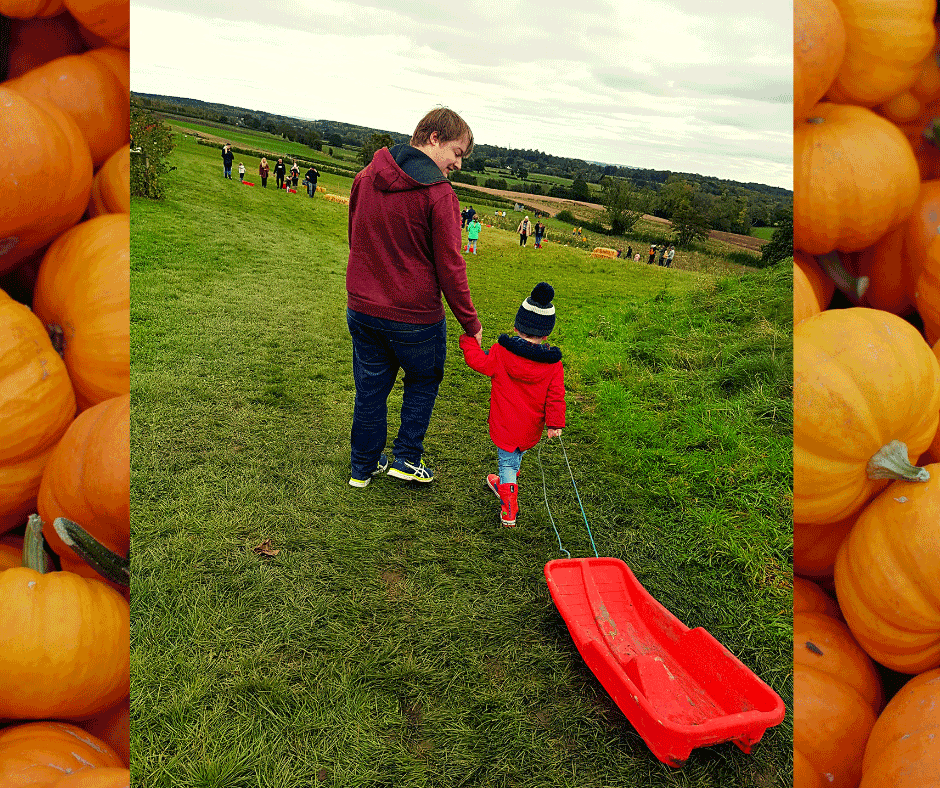 Other tips:
Check in advance whether your patch provides a way to transport pumpkins. My local patch provides sledges for free which was very helpful. We took a big heavy duty Ikea bag just in case.
Prices; make sure you're not surprised by an unexpectedly big bill at the end by asking about cost per lb/kg. Usually the prices are pretty competitive with those you'll find at the supermarket, with all the added fun!
Remember that the stalks, like all squash plants, are quite prickly so be wary when letting your little ones pick their pumpkins!
Other things you shouldn't forget…
Take lots of photographs as they're precious memories and you'll enjoy them for years to come!
Take drinks and snacks just in case.
Store your pumpkins somewhere cool and dry until carving them. They can last 4-6 weeks once picked, but only 4-5 days once carved so don't be hasty in getting carving, wait until closer to Halloween.
Pumpkins are bloomin' heavy, the white variety tend to be denser and heavier than the orange variety, so remember this before you pick a load of beast sized pumpkins on the far side of the field and have to lug them back…
The orange pumpkins tend to be great for soup making (shop purchased are bred for carving only so don't tend to make nice soup, another snippet that I learned the hard way), white pumpkins may not be suitable for eating though.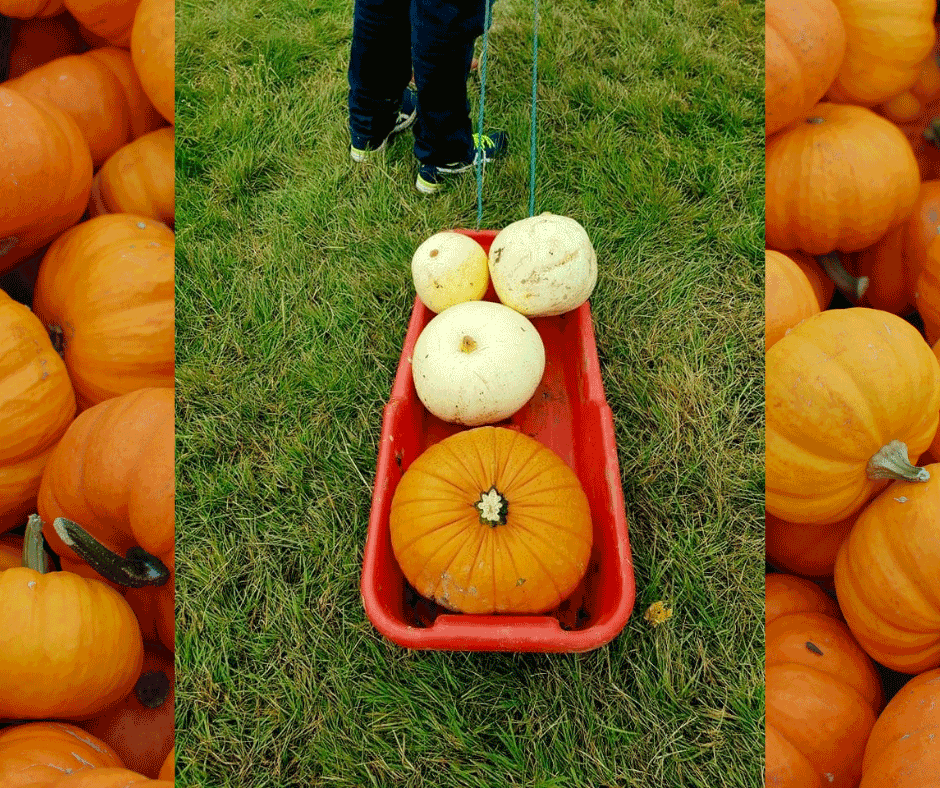 Happy pumpkin picking, folks!
Love from Katie, Toby & Max. Xx