For stylish families, schuh is the place to go for fabulous footwear gifts this Christmas!
Cool kicks seriously are for EVERYBODY - young or old - and at schuh, you can find yourself spoiled for choice with the brands and styles available in sizes starting at tiny, all the way to adult sizes. If you're on the lookout for some extra gifts from Santa this Christmas, then you'll never go wrong with some treats from schuh.
PLUS buy any pair of full priced shoes and get £10 off your second item right now!!
During our own Christmas shopping, we've spotted some absolutely gorgeous footwear at schuh as well as some fabulous accessories that you could give as stocking fillers - we couldn't resist sharing our favourite finds with you all as we know most of you will currently be in the midst of your own Christmas shopping efforts. Hopefully you spot something perfect here!
Boys Footwear
The choice of footwear for boys at schuh is unbeatable, with prices that make a trip to the schuh website or your nearest store well worth your while. Take a look at our favourite finds for boys here...
Toddlers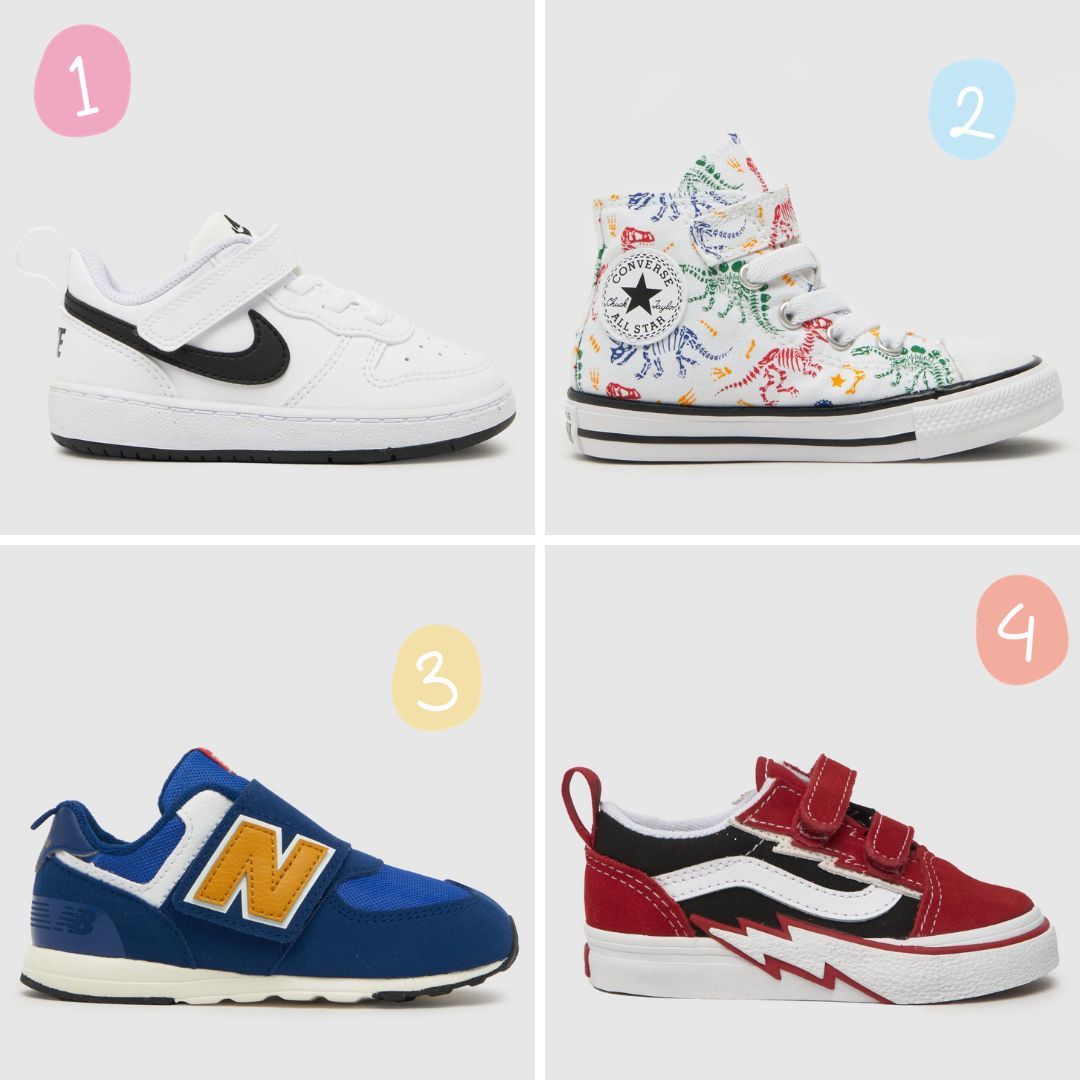 Your little boy could be opening one of these gorgeous pairs of shoes this Christmas - which would he love? Sporty boys might appreciate the black and white Nike Court Borough trainers for running around playing football, or the New Balance trainers as they're great for durability and support. Skater boys who love to look too cool for school will be over the moon with these Converse All Star trainers, and we also love the bolt detail on these Vans trainers!
Older Boys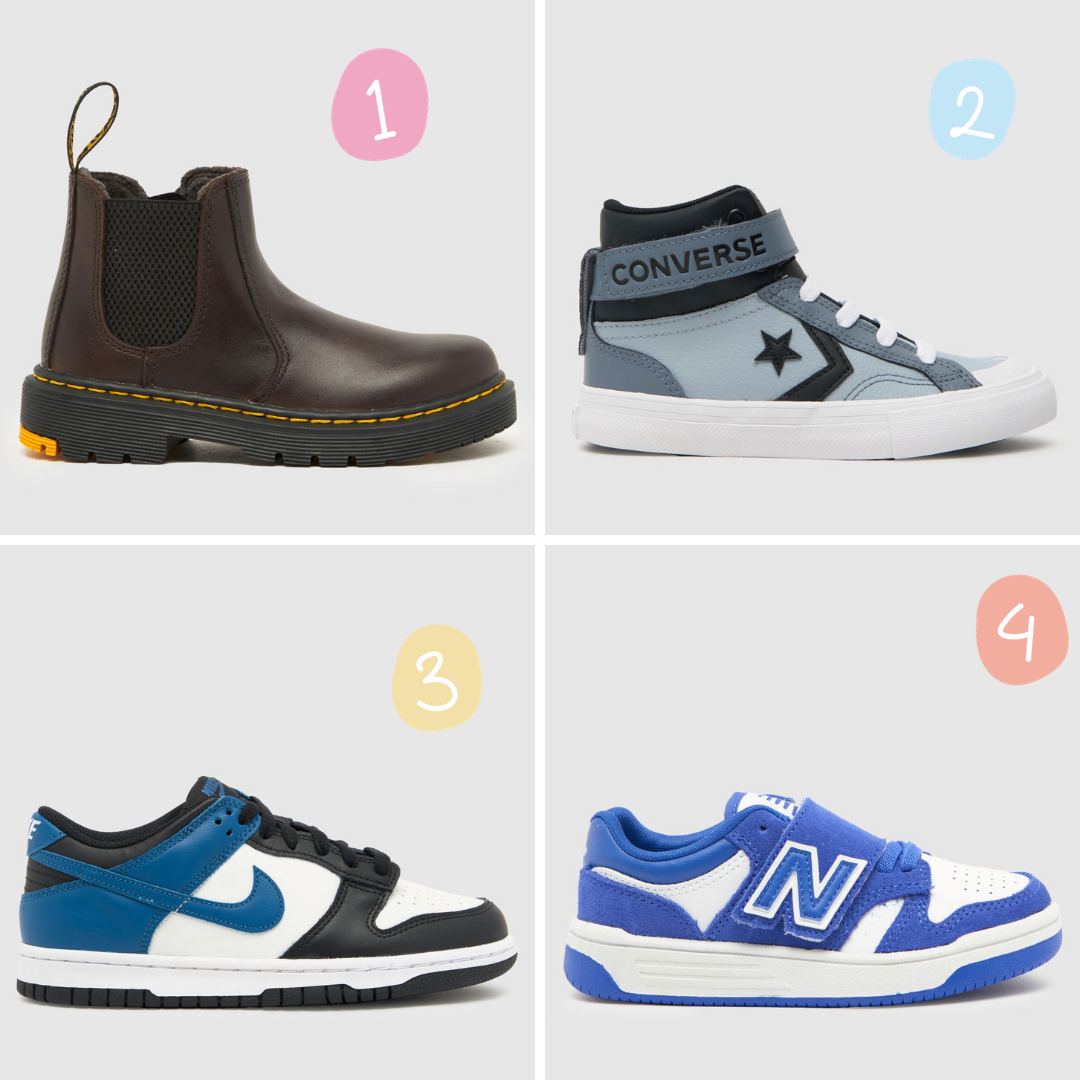 Teenage boys can be trickier to buy for at Christmas, especially if they're very 'brand conscious', but thankfully schuh has your back with their huge range of brands and styles. These Dr Martens boots caught our eye - they're a classic style and would look great with jeans and smart/casual outfits. We absolutely love these hi-top Converse Trainers, and reckon they'll be well received by the lads in your life. These Nike Dunk Trainers could be another great shout for Christmas gifting, they're versatile and perfect for active boys, as are these fabulous New Balance Trainers - both pairs are effortlessly stylish.
Girls Footwear
Get ready to be dazzled by the beautiful trainers and shoes for girls at schuh! It was very difficult for us to narrow down our favourites...
Toddler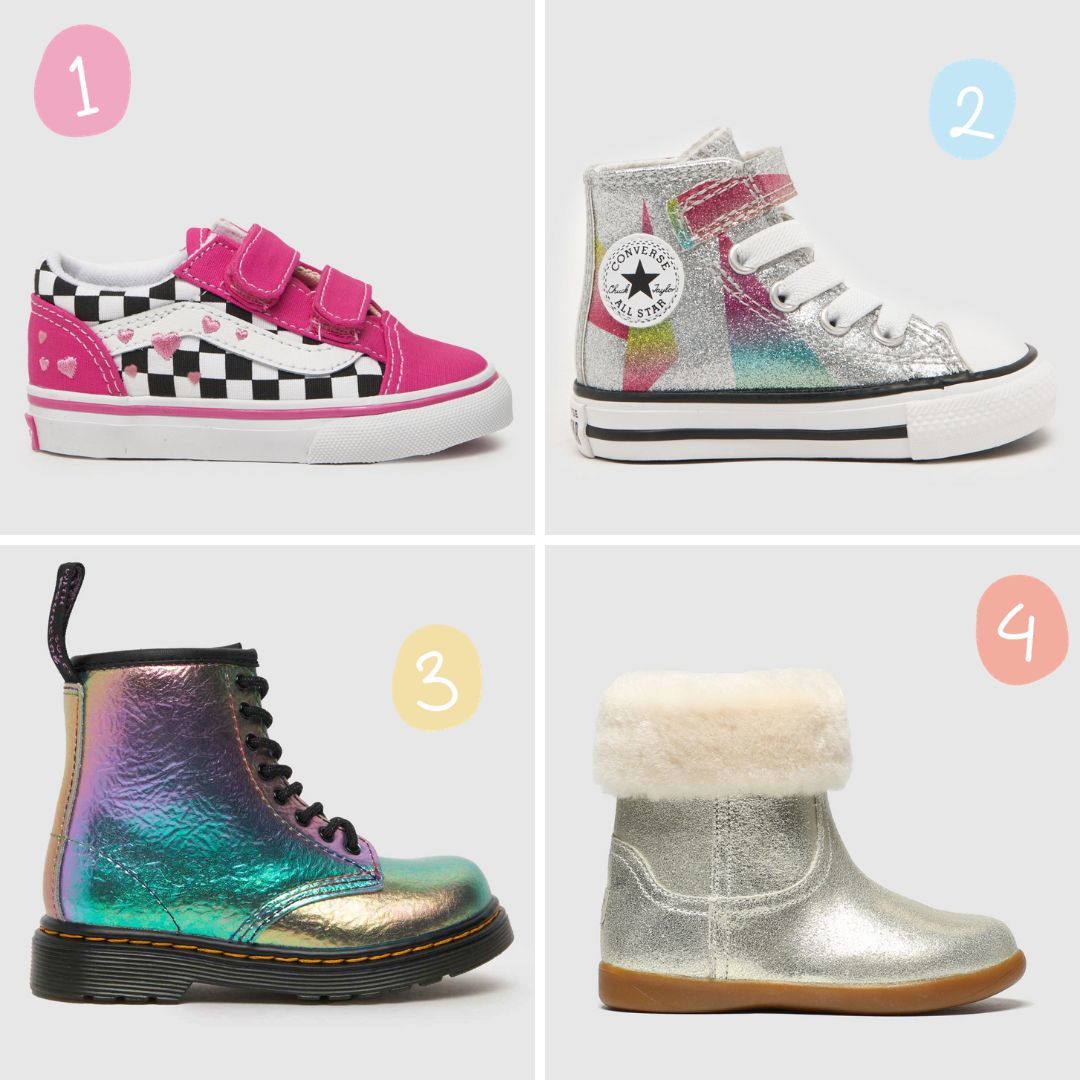 Everything is so gorgeous! We think that your little girl would be so excited to spot these under the Christmas tree - isn't Santa generous? Whether she needs trainers for running around - these Vans and Converse will keep her on her feet in style - or you're looking for winter boots, there's loads to pick from. These rainbow metallic Dr Martens are beyond beautiful and we wish we could find an adult size! These UGG metallic boots are also well rated as they're SO comfortable.
Older Girls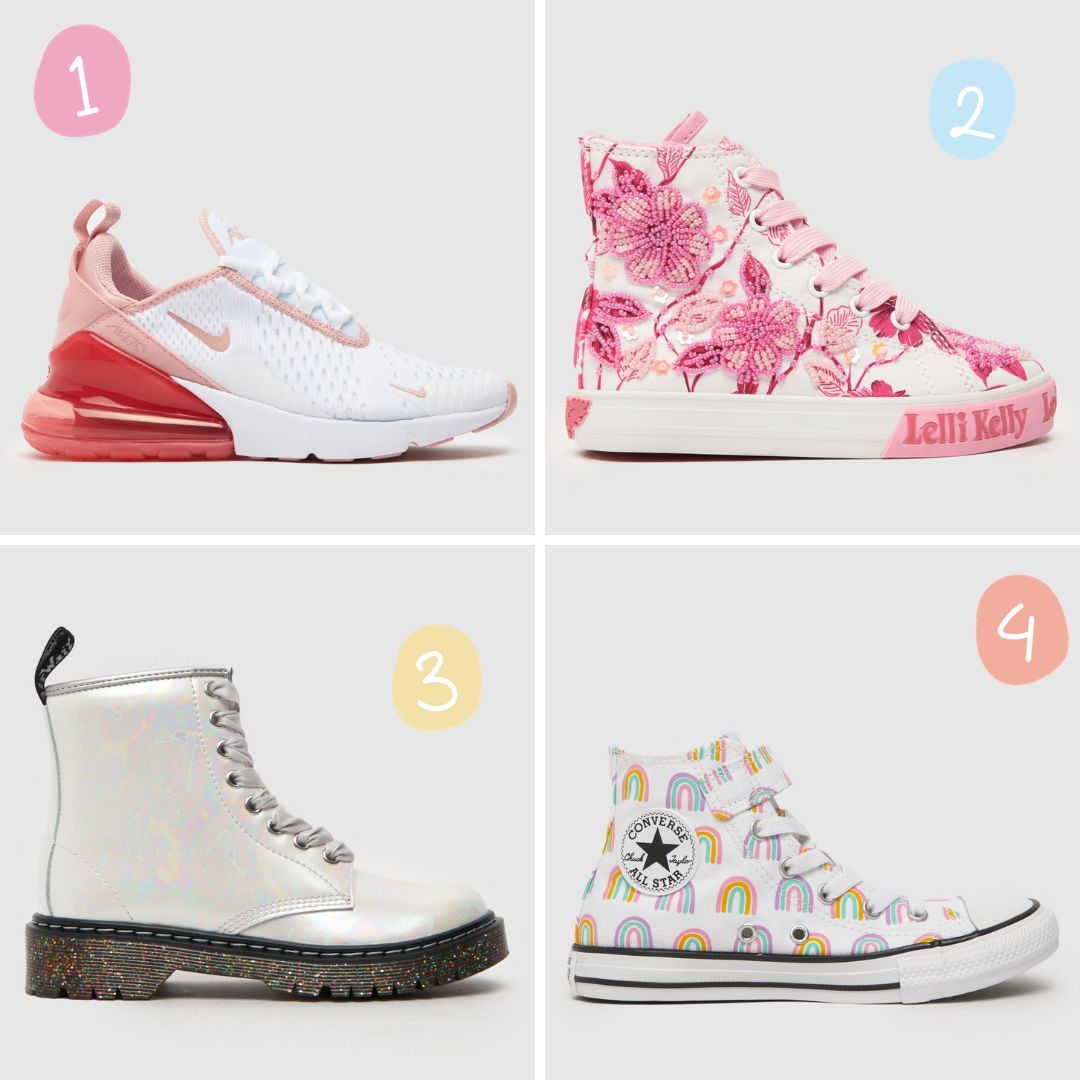 Older girls would also appreciate some stunning new footwear for Christmas - who can resist these beauties?! For the sportier girls, these Nike Air Max would be perfect for her shenanigans, and could also look smart with jeans. She'll be the coolest girl in the crowd with these rainbow Converse All Star, we love them! For lovers of glitter and magic, you won't go wrong with these fabulous Lelli Kelly Trainers, or these pretty sparkly silver Dr Martens.
Accessories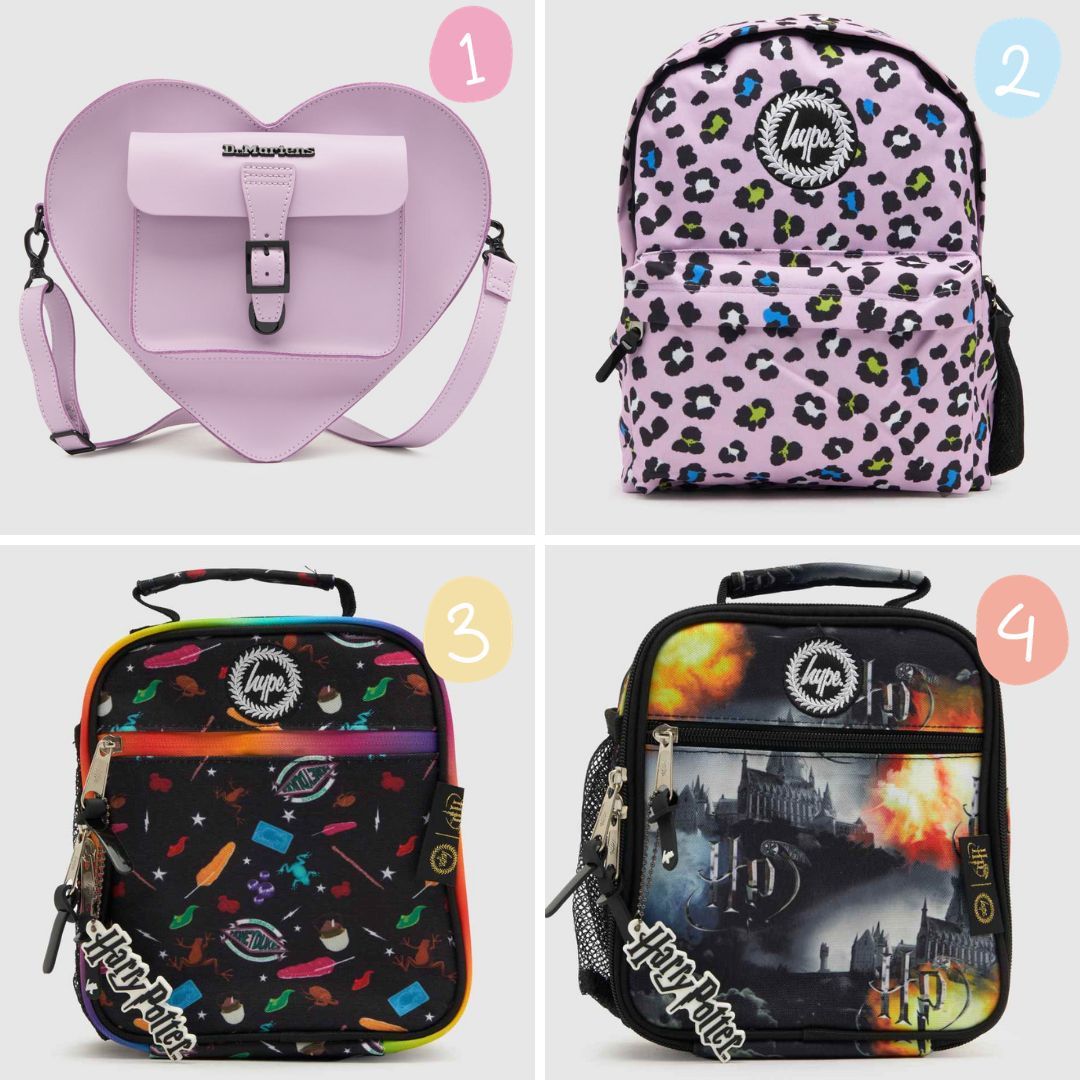 These bags caught our eye, as they have some extra sparkle making them perfect for Christmas - how gorgeous is this Dr Martens lilac heart backpack? This Hype lilac leopard backpack we spotted could also go down well for teenage girls this Christmas. Do you have any Harry Potter fans in the house? You NEED to get one of these bags; you can choose from Honeydukes, or Hogwarts Fire. Both are so beautiful!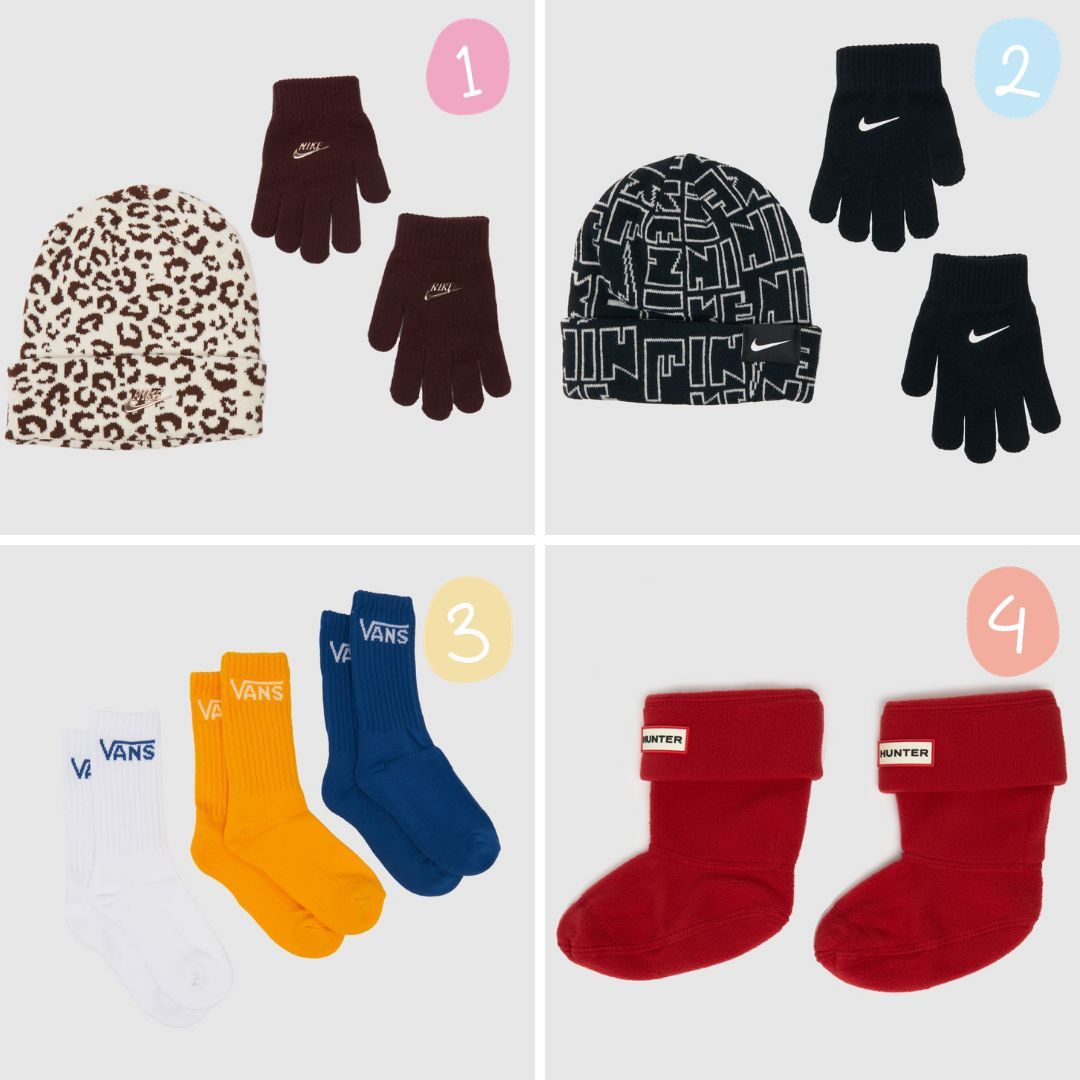 Socks and hat sets might be 'dud' Christmas gifts to many, but not to us, and with these brands, you'll certainly be popular. They could also work really well as stocking fillers! These hat and glove gift sets are trendy and perfect for kids who want to step out in style; you can get a burgundy set, and a classic black & white set. We also love these Vans socks, they're a perfect complement to any Vans you may purchase for your kids this Christmas. How about these Hunter Boots wellie socks too? They're SO warm and snug!
Women
We all know us mums tend to spend on the kids before ourselves throughout the year, so Christmas is the perfect time to treat yourself, or perhaps send this gift guide to the other half as a nice big hint!
Footwear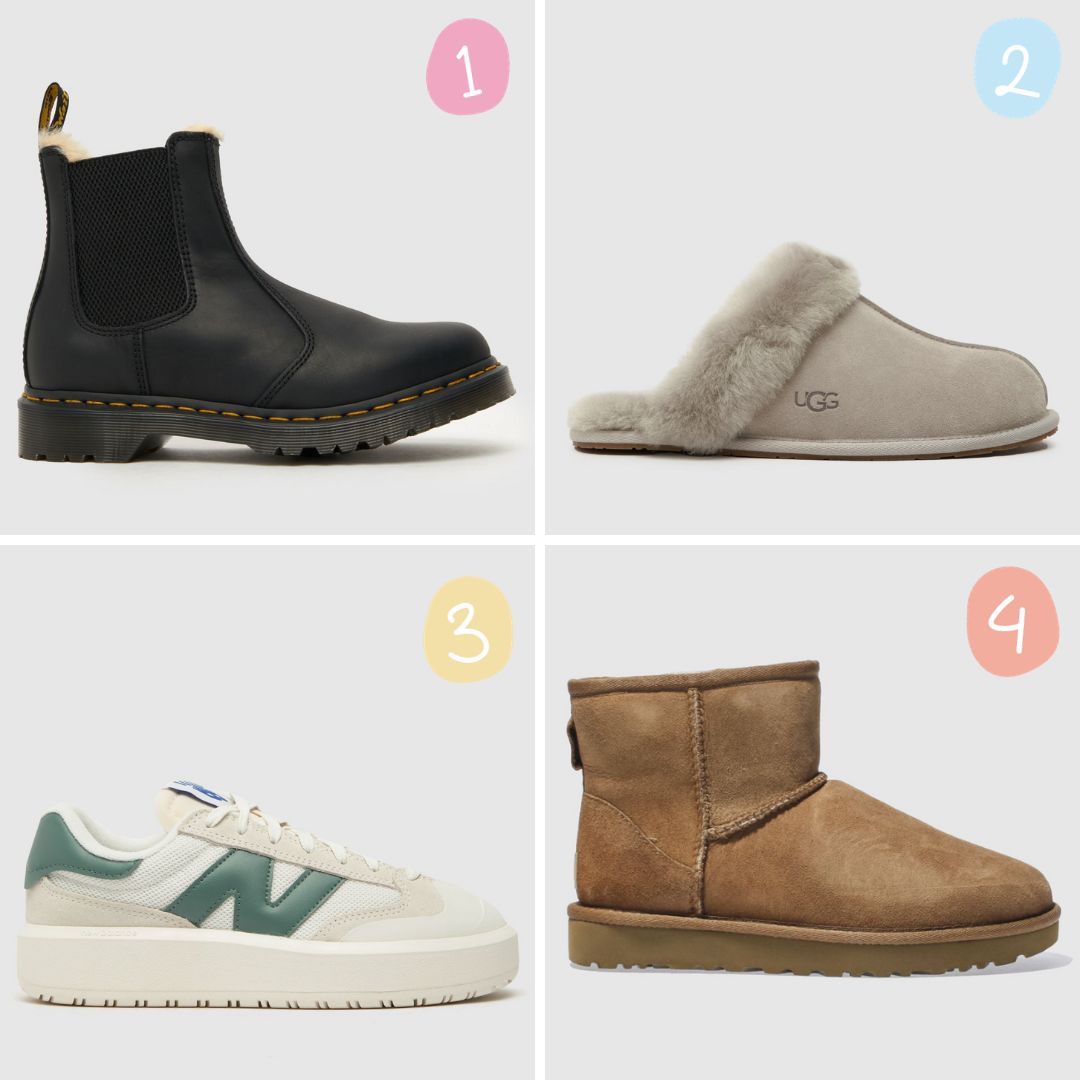 Where do we even begin? There was so much to choose from, and we love it all. These Dr Martens Leonore Chelsea Boots are a classic, timeless style, and are so reliable as well as gorgeous. Winner! Lovers of comfort will be very pleased with these UGG slippers and UGG boots; they seem to be enjoying a resurgence in popularity this year. Finally, these sleek and chic New Balance trainers are effortlessly cool, as well as being versatile - they'll look great on the school run, at the park, at the gym, in fact anywhere.
Accessories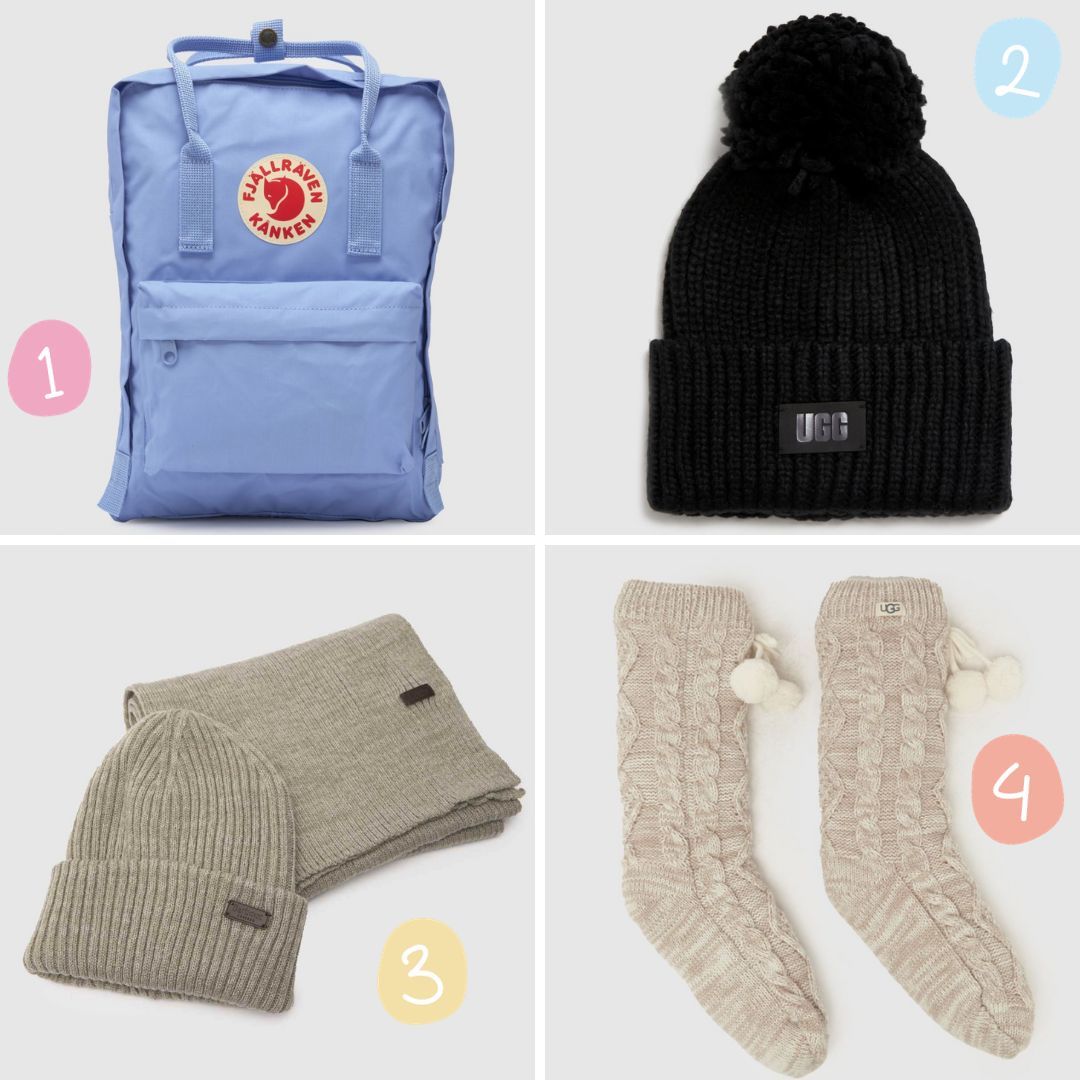 Whether you're on the lookout for some extra Christmas gifts for her, or perhaps need some stocking fillers, these finds from schuh could be perfect. You could push the boat out with this lush Fjallraven Kanken backpack, a real statement piece, or treat her to some plush cosiness with an UGG beanie hat. These UGG pom pom socks would be great with walking boots and wellies too, and this Barbour beanie set is great for keeping her snug and smart this winter.
Men
Treating daddy this Christmas? Well, you've come to the right place. Take a look at our top picks...
Footwear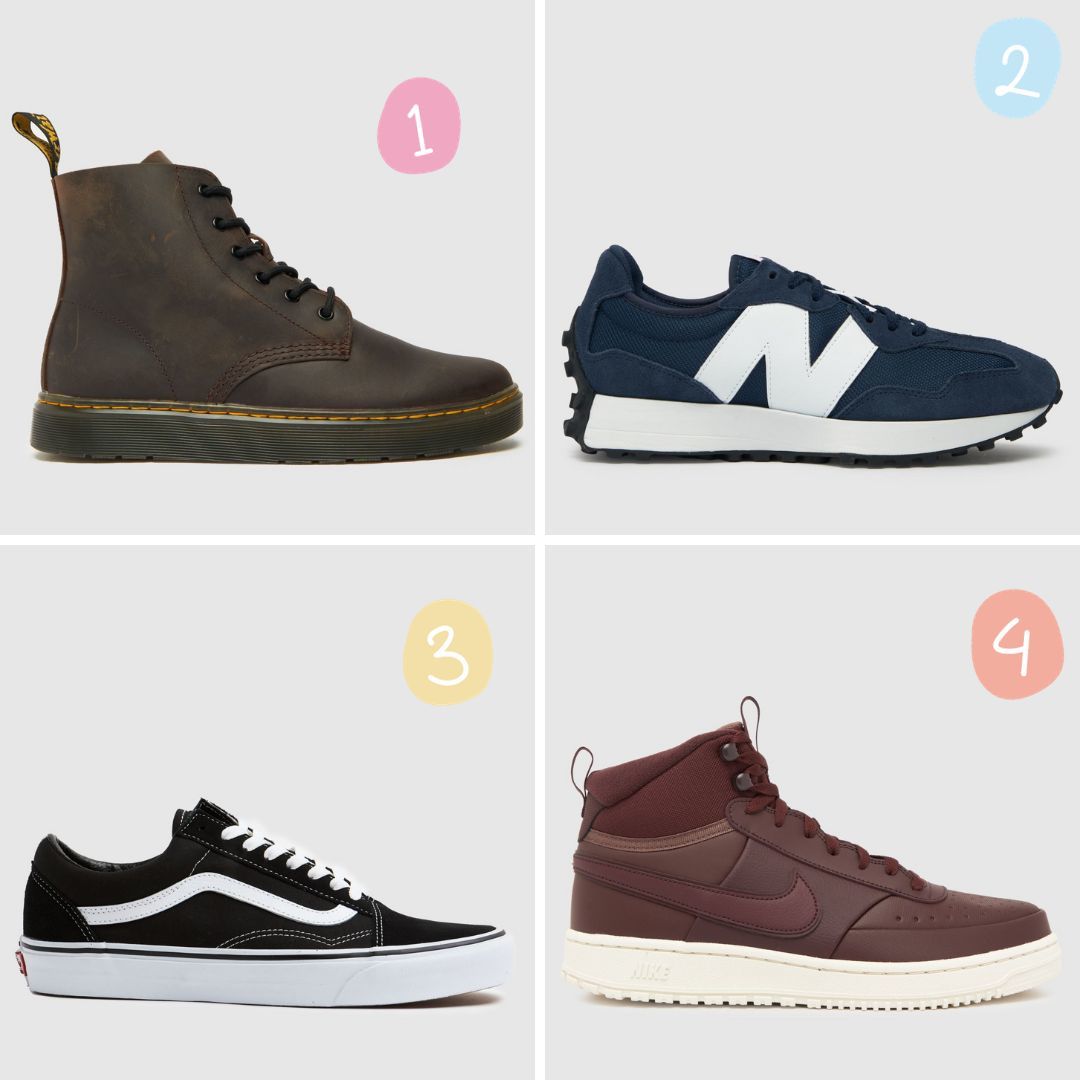 For men who appreciate smart footwear, these Dr Martens Thurston Boots would look fantastic with so many outfits and are super versatile for smart venues, but also for casual. We also think that these Nike Court white & burgundy trainers are smart but also very comfortable and well reviewed! You can also never go wrong with a new pair of Vans, with their classic style and reliability, as well as New Balance trainers - these are excellent for active men who are on their feet alot, too.
Accessories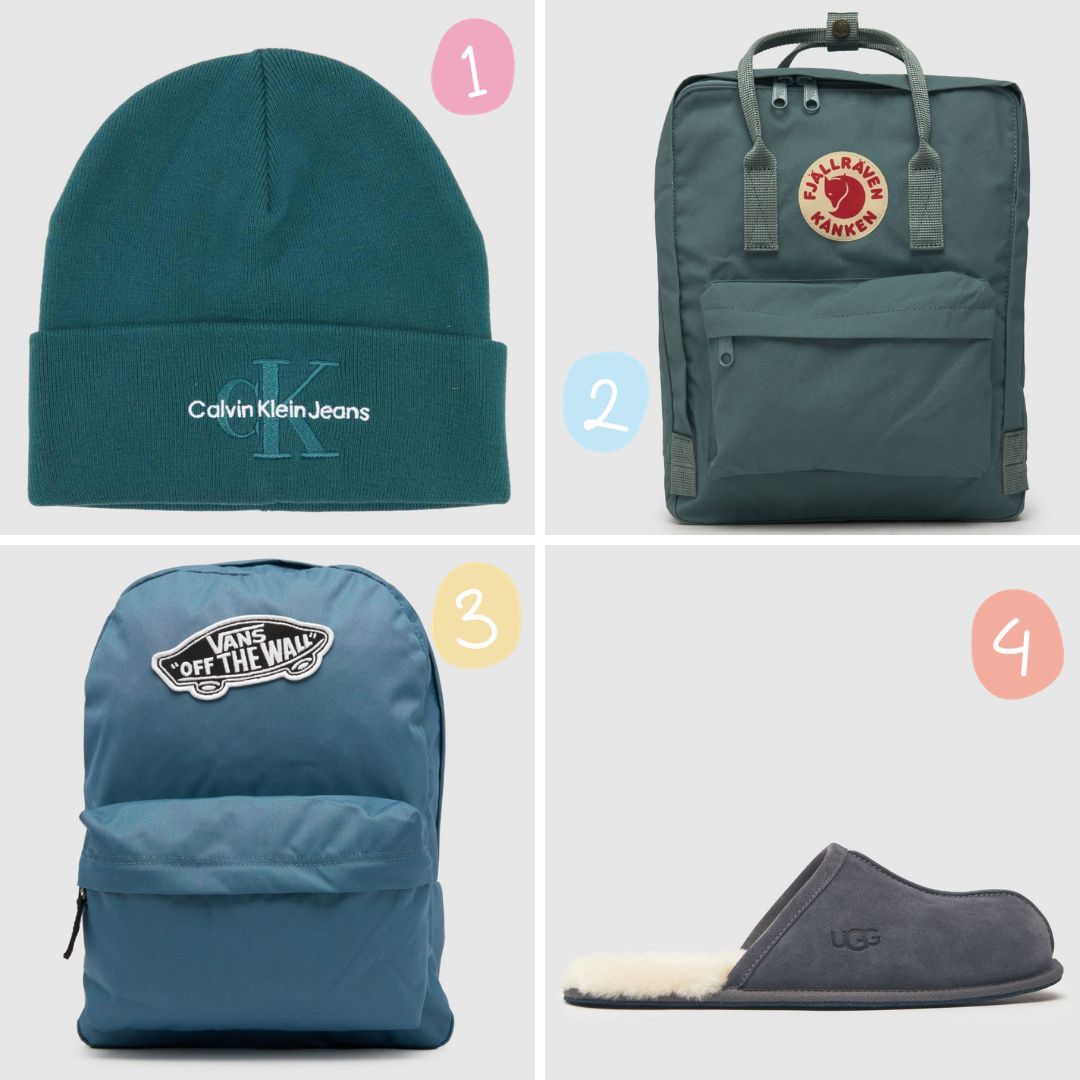 We absolutely love this CK Jeans beanie, wouldn't it go perfectly with this cool Vans backpack? For men who appreciate cosy, snug feet this winter, why not splash out on some UGG slippers for him? They're so warm! Finally, we're hearing that these Fjallraven Kanken backpacks in light green are on the wishlist of many men this Christmas so why not splash out?
Our verdict...
Treating your family this Christmas will be mega easy with schuh - there's an enormous choice for everyone, with brands that will please even the most discerning tastes (we're looking at you, teenagers), and at prices that are consistently brilliant. We're so pleased with our purchases, and hope that you've spotted some gorgeous footwear and accessories for your own family. Happy shopping!
**Advertorial content - written in paid partnership with schuh**
Affiliate links are marked with an *
View this post on Instagram
Favourite Finds
If you like this product, you might be interested in these too!