That first Christmas with a new baby is a precious memory to cherish always.
Whether you're a first time parent, or on your 5th child, it's always a magical time to collect keepsakes for. We've spotted some gorgeous ideas to help to commemorate your baby's first Christmas. See our favourite ideas and products below with handy links to where you can buy them. Happy shoppping!
First Christmas Outfits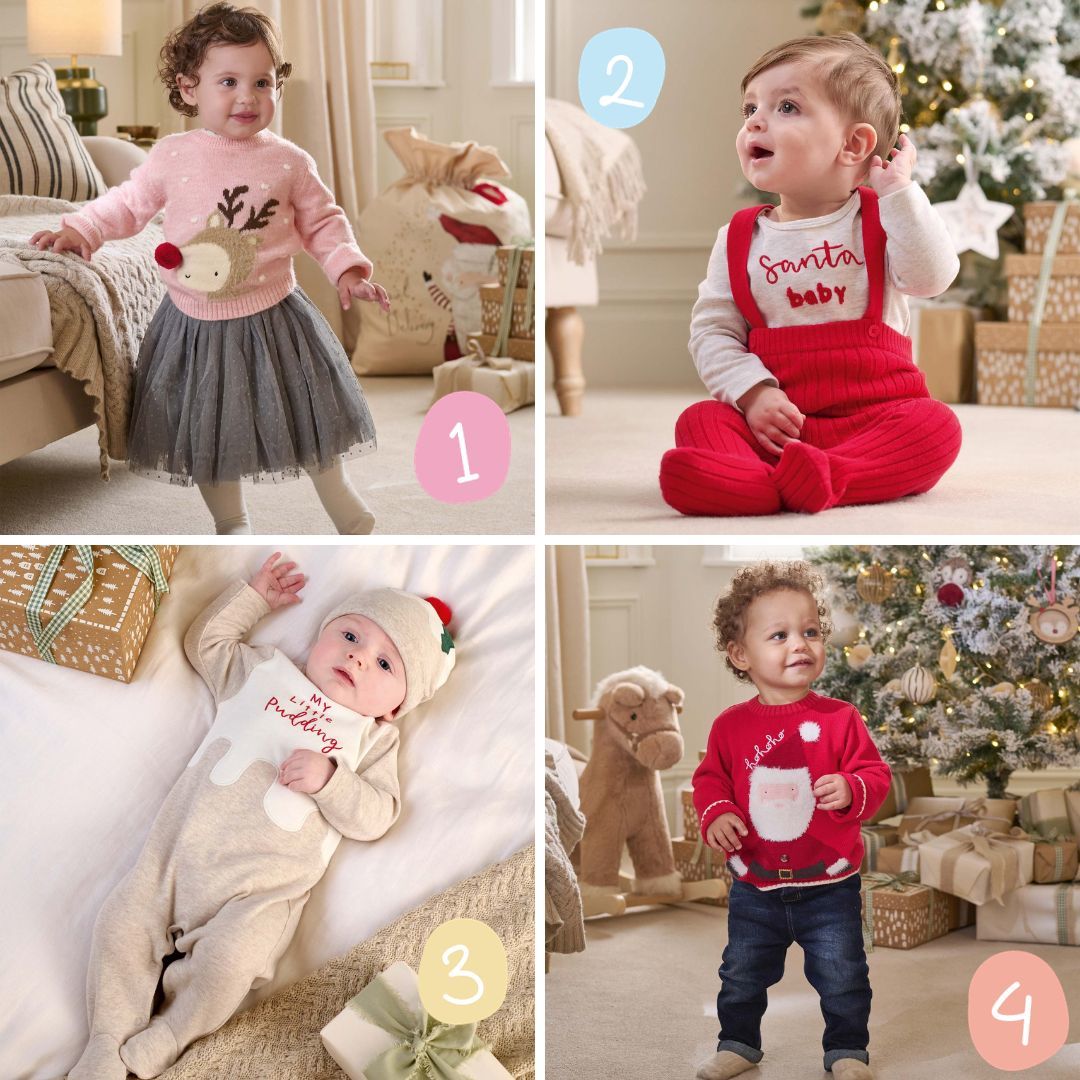 There is something so adorable about seeing a baby dressed in festive clothing. We could have filled this entire article with gorgeous outfits for a new baby this Christmas but we had to wittle it down to four so here are our favourites...
First Christmas Jumpers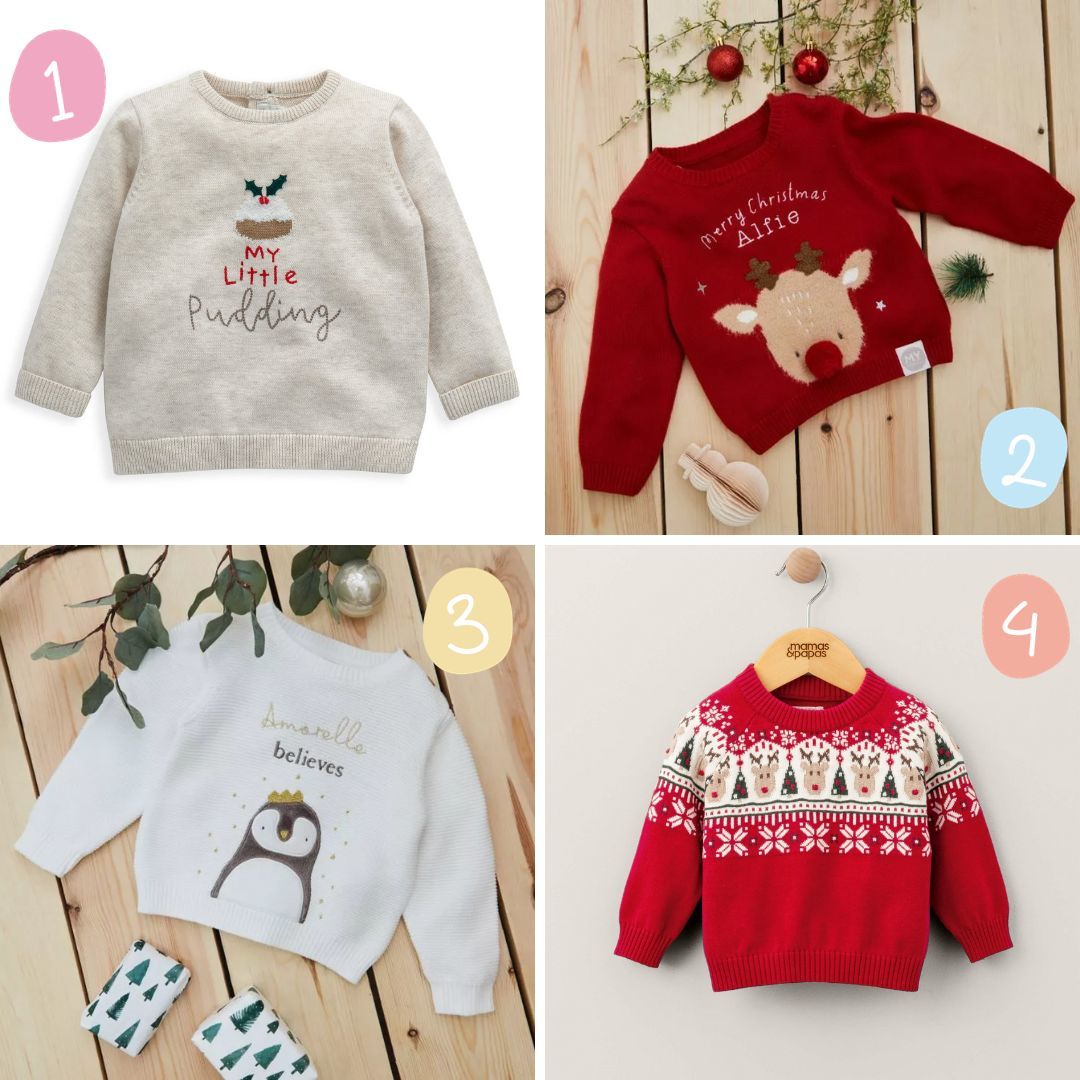 Is there anything cuter than a teeny weeny Christmas jumper? And did you know that it is not only acceptable but an absolute must to wear Christmas jumpers as much as possible during the month of December? This is just a selection of some of our favourites but it was hard to choose!
First Christmas Dinner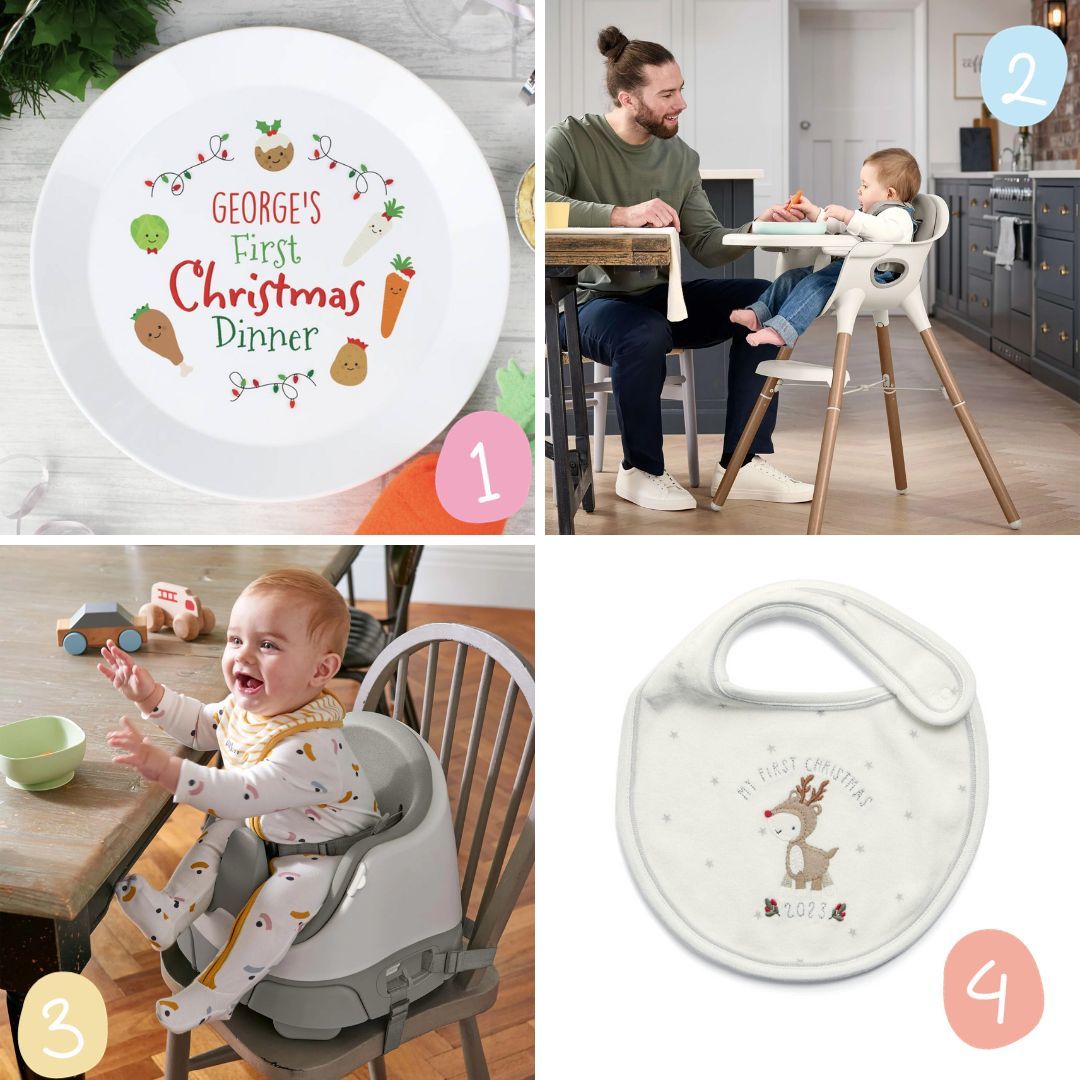 If your wee one is 6 months or older, you may be giving them their first ever Christmas dinner! It's so exciting, sitting around the table as a family, all enjoying the festivities together and watching everyone tucking into a delicious meal - this personalised plate is a must! It's also really important to make sure that baby has somewhere safe and secure to eat; Mamas & Papas have you covered with this fabulously stylish and easy to clean Juice Highchair. We also love the Bug 3-in-1 Booster Seat from Mamas & Papas for those of you who will be dinner guests, as it's easily portable. A festive bib for the big occasion is an absolute must have, how cute is this one?!
First Christmas Gift Ideas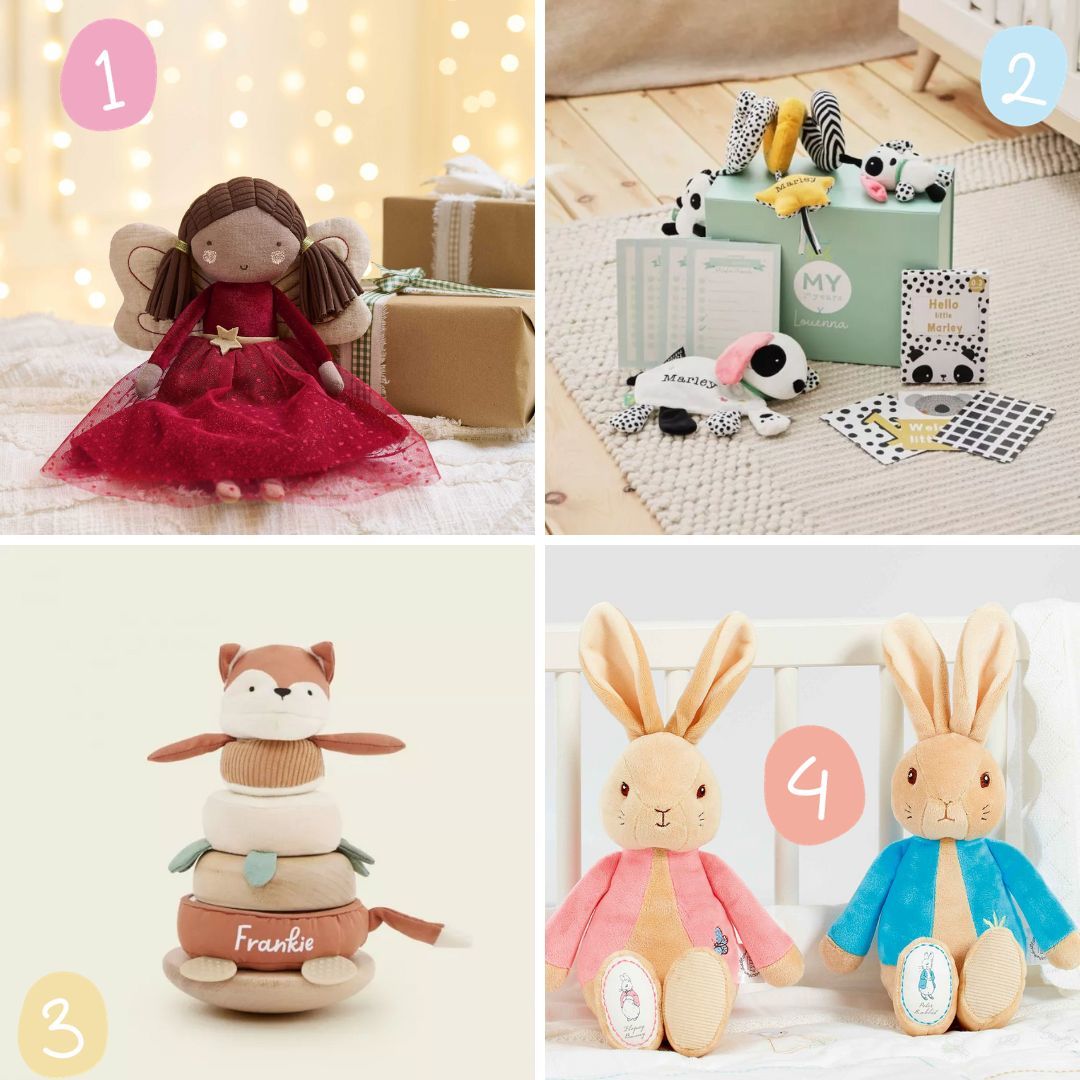 Buying gifts for a baby's first Christmas is always so much fun and the perfect opportunity to buy something that can be kept forever. We found so many gorgeous gift options for baby, with lots of them having personalised options for that extra sentimental touch, like this Sebra Sparky Fox Stacking Toy. Plushies and teddies are a safe and ideal first toy for a new baby, so we also picked out this beautiful Ruby Fairy Soft Toy with her visually stimulating and textured dress, and this luciously soft My First Flopsy Bunny, ideal for tiny hands and delicate skin.
Feel like pushing the boat out? How about this fantastic personalised sensory bundle?! It contains flashcards, sensory toys and other goodies, all personalised for your baby to enjoy during their first Christmas.
Christmas Keepsakes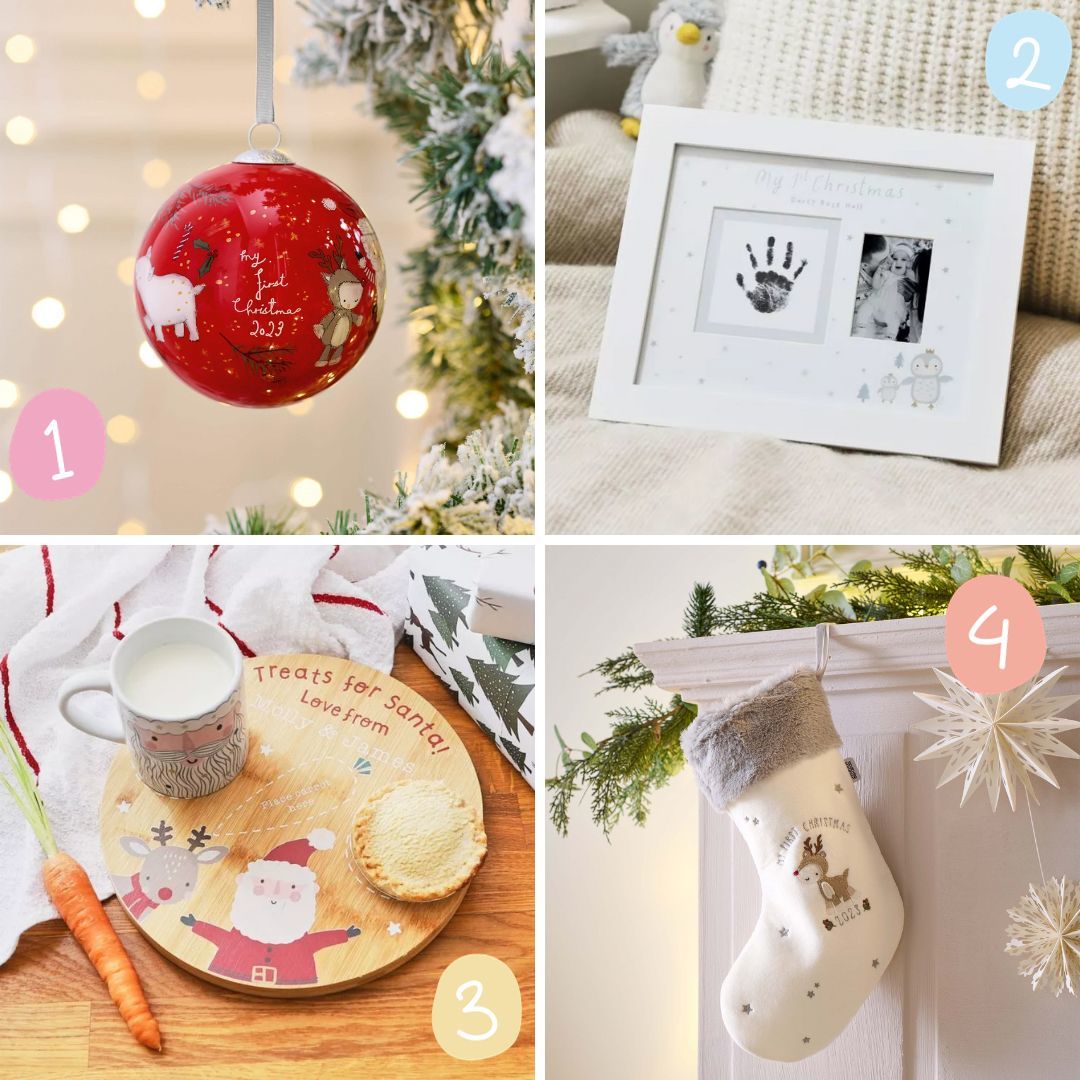 Precious and sentimental keepsakes for your memory boxes could take the shape of a Christmas item; something personalised would be perfect for you to look back at in years to come! This is why we adore this baby's 1st Christmas bauble, it's a great way to commemorate that precious first visit from Santa Claus. The photo frame we also spotted would make a lovely gift for any new parent so that they can remember the special day!
Even if baby is too young to undertand that Santa needs a sweet treat, you can create a fun game with them or get older siblings involved with this personalised platter. It's a fab way to make memories - one day, they'll find that plate in the attic and share the stories behind it with their own children. Thinking about it makes us feel emotional!
Finally, the personalised Christmas stockings we found are another lovely keepsake for you to remember these magical moments one day in the distant future. This stocking is ultra soft with a faux fur trim, and is utterly adorable.
Our verdict...
We hope you love the gorgeous things for baby's 1st Christmas that we've handpicked to showcase to you! It's such a magical experience, and you only get one first Christmas - as a baby and as a parent - so why not make the most of the memories with these beautiful sentimental keepsakes and treats? For those of you celebrating baby's 1st Christmas, whether it's your first or your fifth, we hope that you have a beautiful day filled with memories that will last a lifetime.
Affiliate links are marked with an *
Favourite Finds
If you like this product, you might be interested in these too!