This year will be my daughters first Halloween, so I've been asking the lovely mummies from our Bump, Baby and You group for some outfit inspiration!
If you're a crafty mummy (or even if you're not) you could get your sewing needle out and make your own OR if like me you don't know your hemming tape from your sellotape, then you might want to pop along to your local supermarket where you can pick up some great value costumes which won't break the bank!
Here are some of our favourite places to shop for halloween costumes in 2016 and don't forget to check out some our real life inspiration below…
Asda George
Tesco
TK Maxx
Sainsburys
Etsy
Gap
Marks & Spencer
John Lewis
---
Ava (3), Orla (9 months) and Ella (4) rocking the witches costumes. Considering witches are meant to be scary, don't they just look the cutest?
Thanks for sharing Coral Williams.
---
 Then there's the spookiest yet most adorable little bat you'll ever lay your eyes on. He even has a little bow tie and a purple do.
Thanks for sharing Abbie Tarpley.
.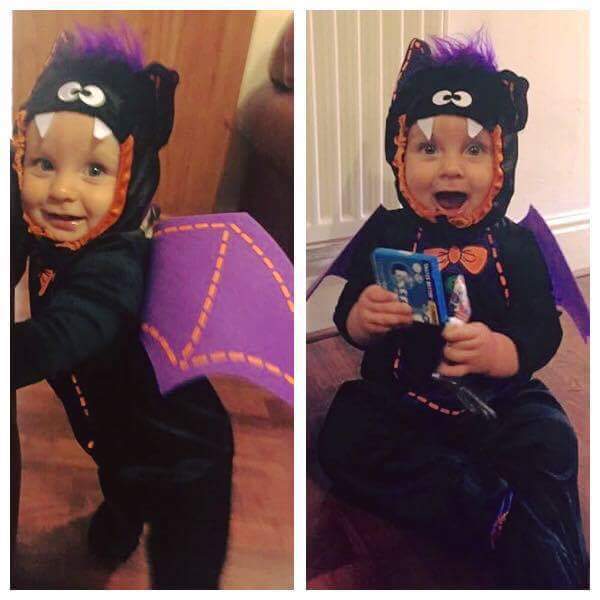 ---
You can also make some amazing costumes by simply using everyday items you can find around the home.
Paris used a nappy box to create a spectacular idea, the scene from Alice in Wonderland when she outgrows the house after eating a biscuit. Willow, 2, looks brilliant. Such a simple and easy idea!
Thanks for sharing Paris Aitken.

---
Mummies to Be – no need to feel left out. Check out these AMAZING halloween bumps…
 How spooky does Georgina Davey look at  7 months pregnant with her baby girl. The pair of them look terrifyingly awesome!
Thanks for sharing Georgina Davey.
---
Who needs to buy a rotting pumpkin when you can draw a perfectly good one? This is from Jo Beasley who was 26 weeks pregnant when this was taken and scary it is!
Thanks for sharing Jo Beasley.
.
---
But my personal favourite has to go to this little boy who was three at the time.
It was taken two years ago for a Halloween party at which he won first place, can you blame him? Ladies and gentlemen… Jon-Jay as Chuckie.
Thanks for sharing Kerry-Ann Smith.
Do you have any halloween outfit inspiration you would like to share with us? We would LOVE to hear from you so please get in touch now or leave a comment below. 
Favourite Finds
If you like this product, you might be interested in these too!