Spooky season is just around the corner, and we can't wait to celebrate!
Despite the cost of living crisis, participation in Halloween is seriously growing in popularity year on year. We've all needed something to look forward to, so it makes sense to celebrate Halloween with (almost) as much excitement as Christmas, right? With more families than ever keen to dial up the spooky volume on their Halloween celebrations, it's a great time to look at how we can carve up the bill on fright night thrills without breaking the bank!
This is where Tesco has your back. Their scarily good Halloween collection* is truly fang-tastic, with high quality food and decorations for your haunted home! Pumpkins cost from just 69p PLUS there is 25% off all Halloween costumes at Tesco using your Clubcard right now! Sounds great right??

We worked with The Weekes Family to show you how to create a spooktacular family halloween at home with Tesco...
STEP 1: Decorate the House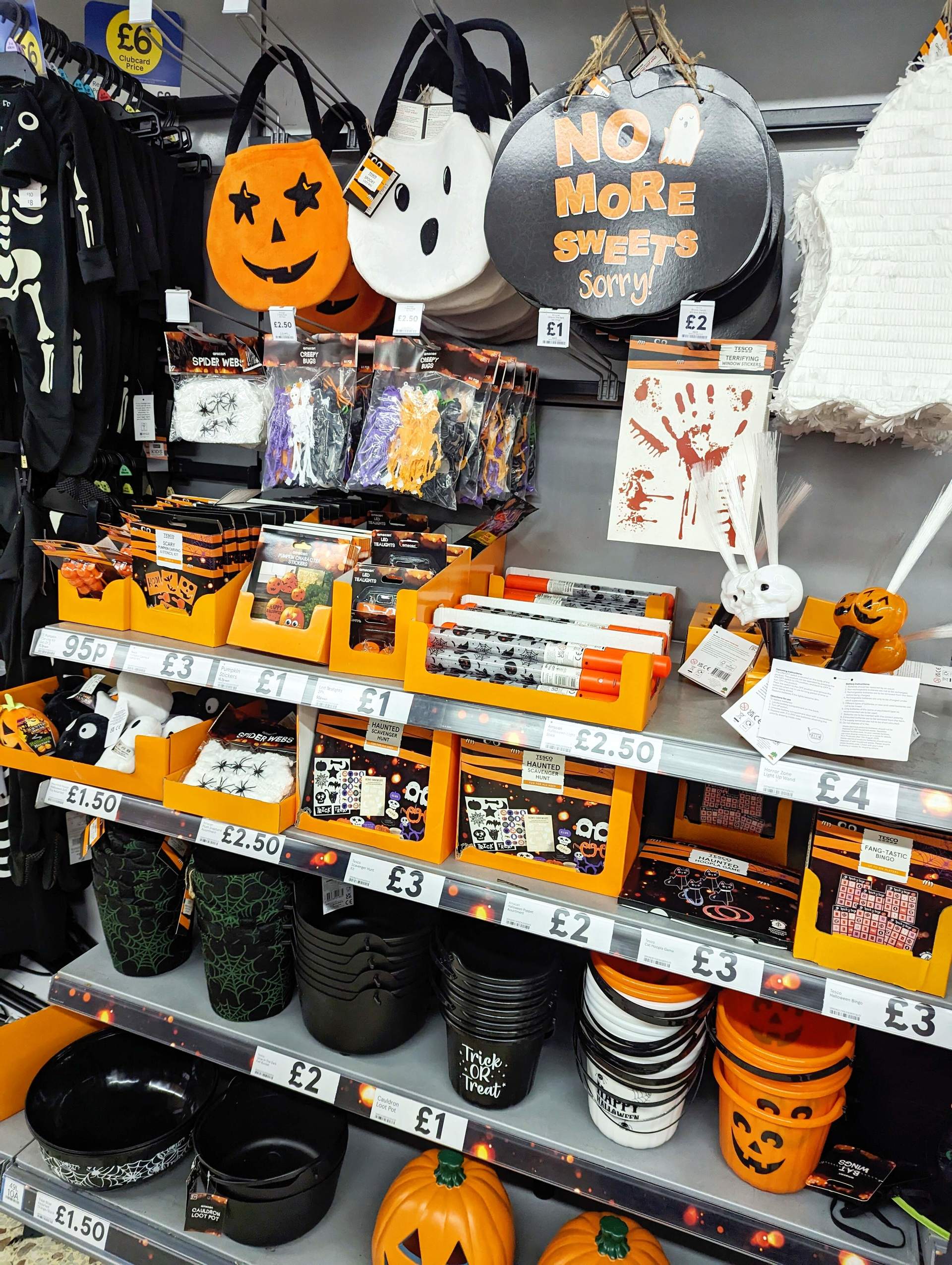 Those all-important little accents and details make all the difference. You can create your very own Halloween party scene on a budget with Tesco - check out these prices! From window stickers to sweet bowls, decorative pumpkins to wall decorations, you'll be spoiled for choice. And don't forget the tradtional cotton wool spiders web complete with fake spiders. Just £2.50 a pack and so effective.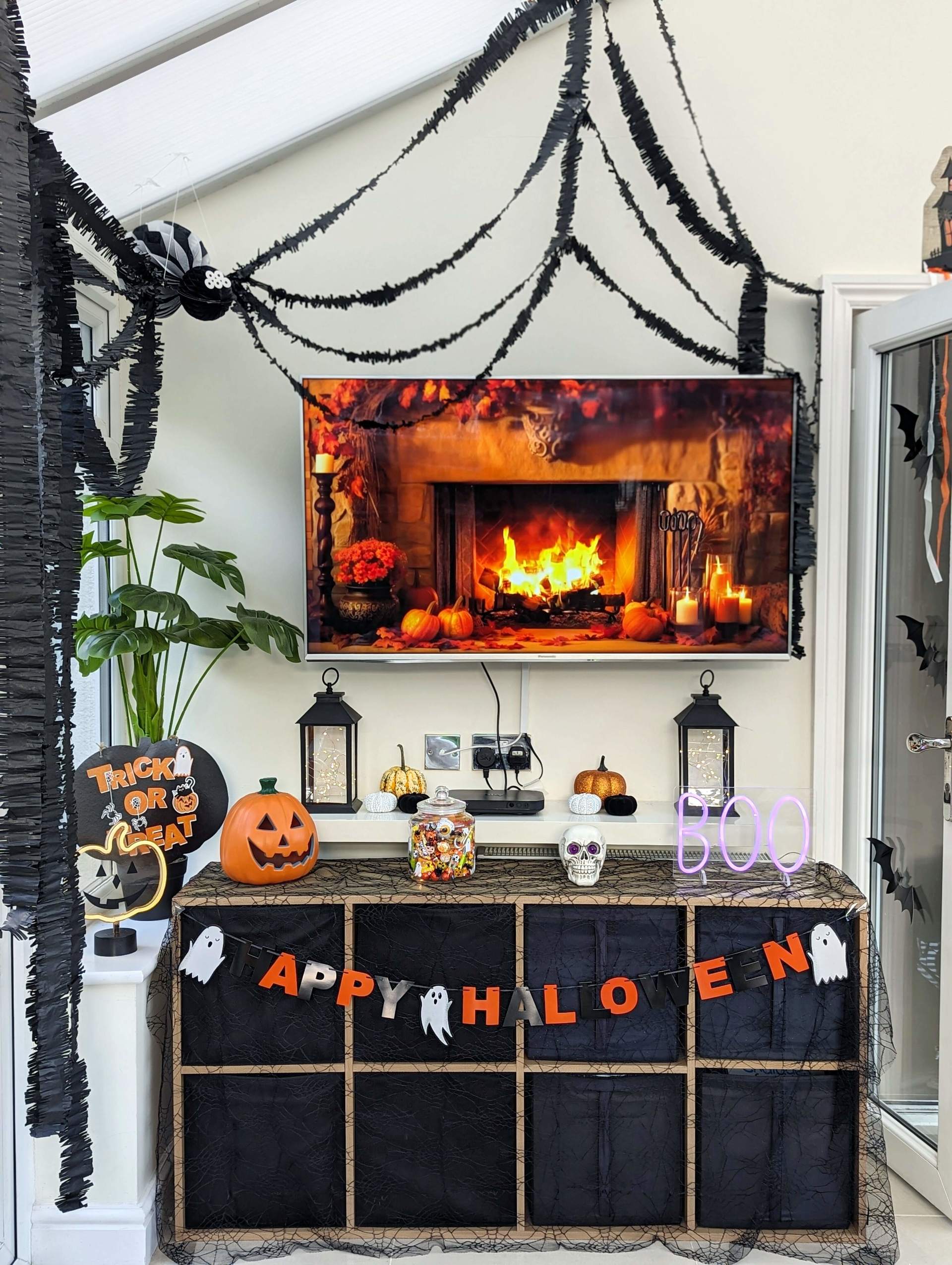 Balancing creepy with cosy, mummy Louise has really set the bar high when it comes to Halloween home decor! We can't get enough of that paper spider decoration, and we're also in love with that neon 'Boo' light. Perfect for the party table or in your window greeting Tick or Treaters. It's a modern twist on classic Halloween style. Louise and the kids picked up all of these items in their local Tesco, looks amazing doesn't it?!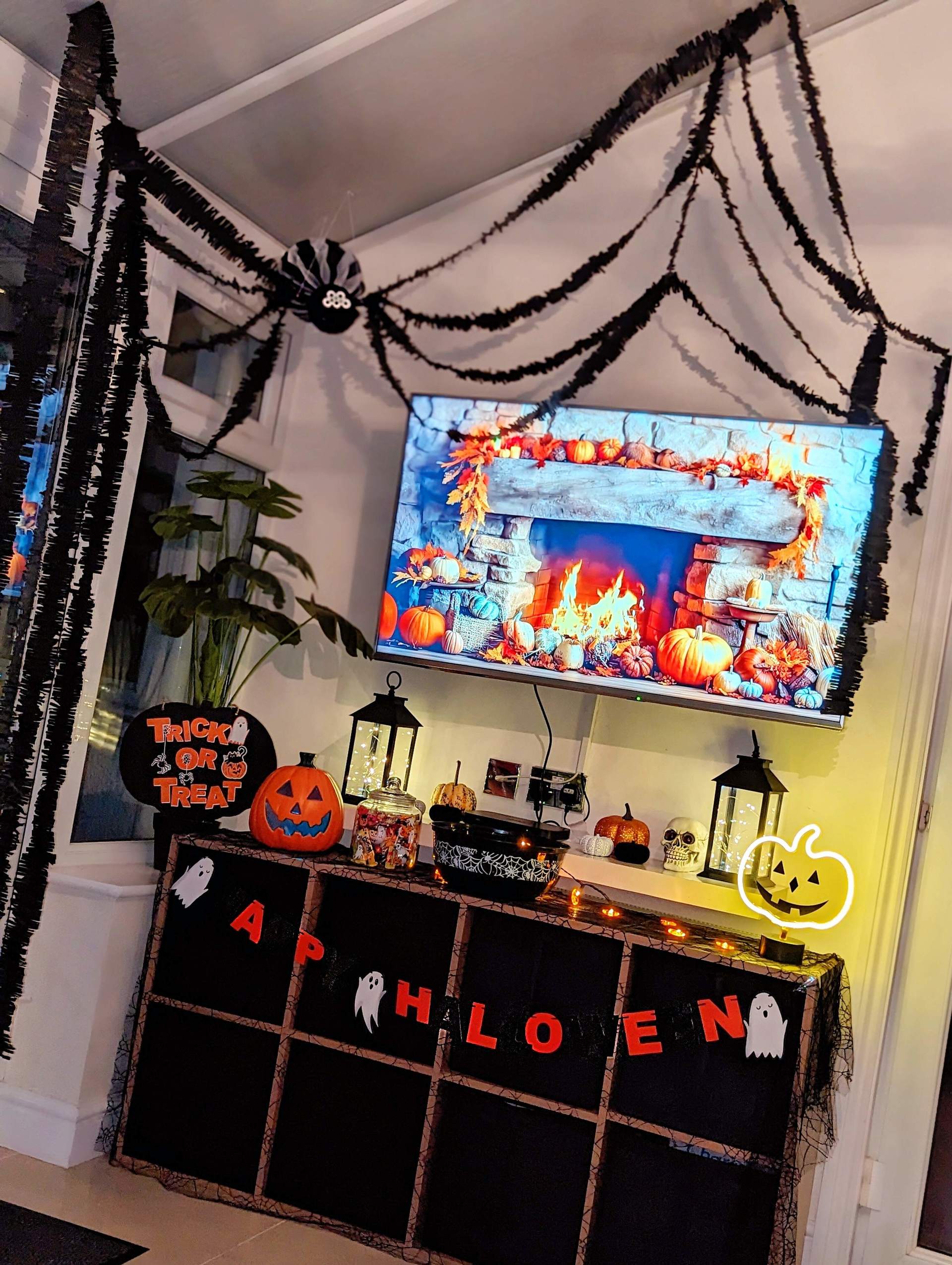 With the lights dimmed and an atmospheric backdrop on your smart TV, you can really achieve that Halloween ambience, as the Weekes family demonstrate here. The spiderweb lace tablecloth has very cleverly been used to drape their Kallax unit, and we love it! Plus you can pop all of these decorations away after the spooky season has ended and bring them out year after year.
STEP 2: Carve the Pumpkins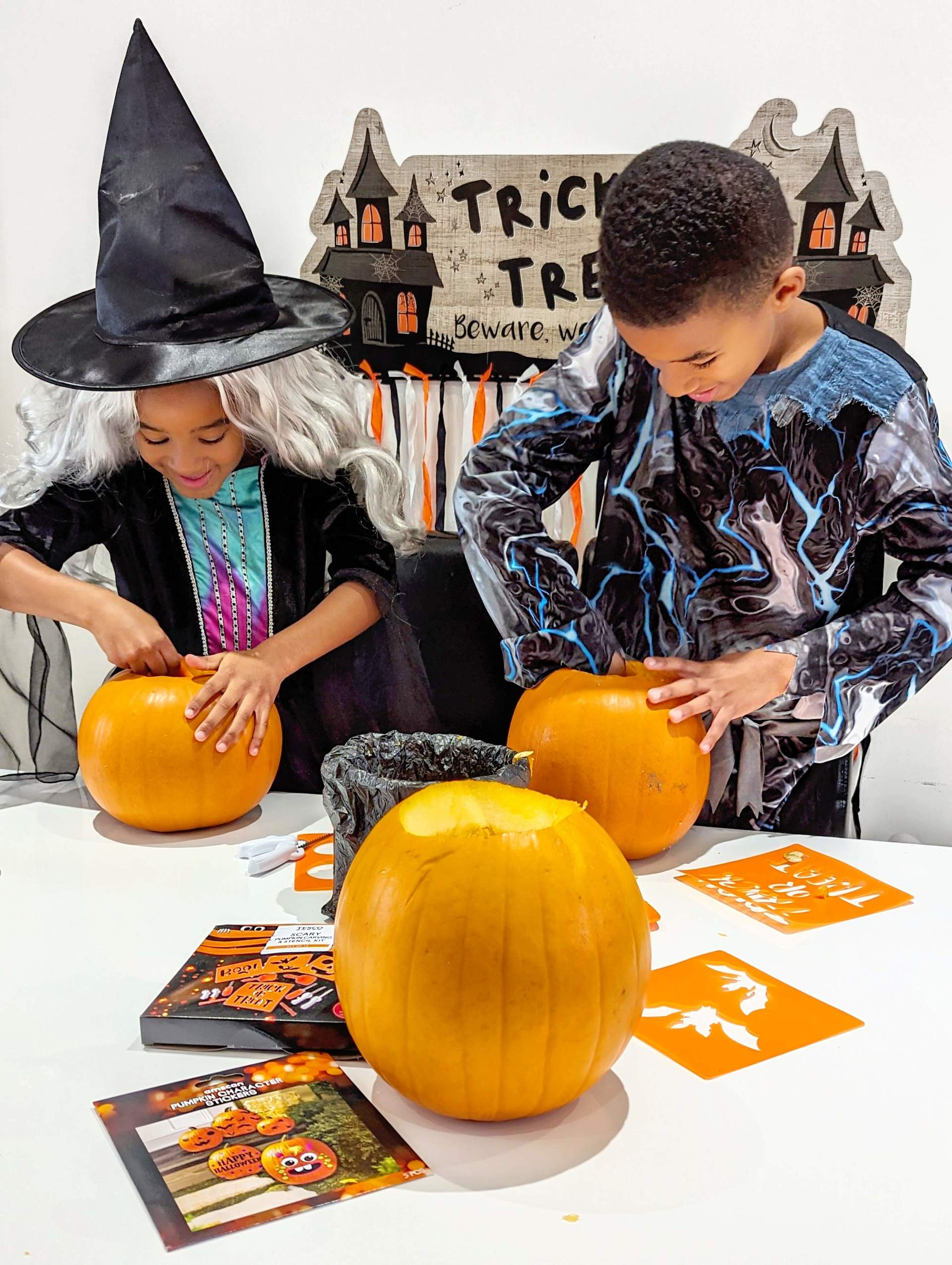 Halloween really isn't Halloween without a spot of pumpkin carving right? Thank goodness pumpkins are so much more accessible these days so that we are still trying to do the impossible task that is carving a turnip. You can pick up a pumpkin from Tesco from as little as 69p* or just £1.71 for a large pumpkin* with your Clubcard. Sienna and Cameron used these cool pumpkin character stickers from Tesco alongside their own fun carvings to really take their Halloween pumpkins to the next level! For those of you who struggle to traditionally carve a pumpkin, or whose children are still quite small and may struggle to safely participate in carving a pumpkin, you should definitely keen an eye out for these stickers at your local Tesco as they're an ideal easy pumpkin decorating option.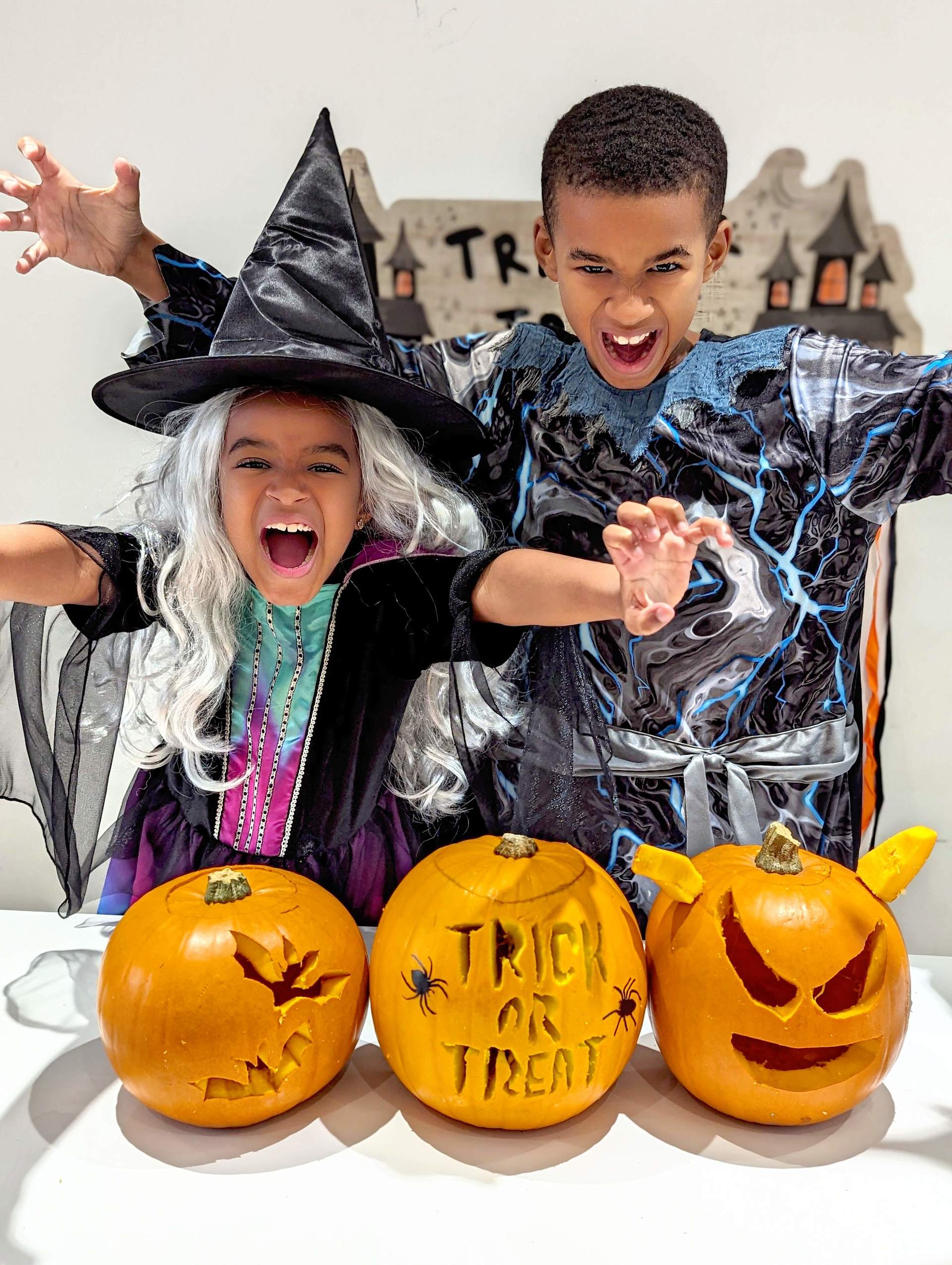 How impressive are those masterpieces? The horns on the pumpkin on the far right are a totally genius touch too, we'll definitely be trying that as well as adding spider stickers. The perfect finishing touch.
STEP 3: Buy the party food
Of course, if you're keen to throw the Halloween party of all Halloween parties, you'll need to impress your ghoulish guests with the buffet.
Tesco really know how to please the crowd with their range of party food. There's something to appease all tastes and dietary requirements - we spotted plenty of vegetarian and vegan-friendly dining options - and with your Clubcard, you could take advantage of their deals and your Clubcard points at the same time!
12 Pigs in Blanket
12 Mini Vegetable Samosas
50 Sausage Rolls
10 Halloumi Style Fries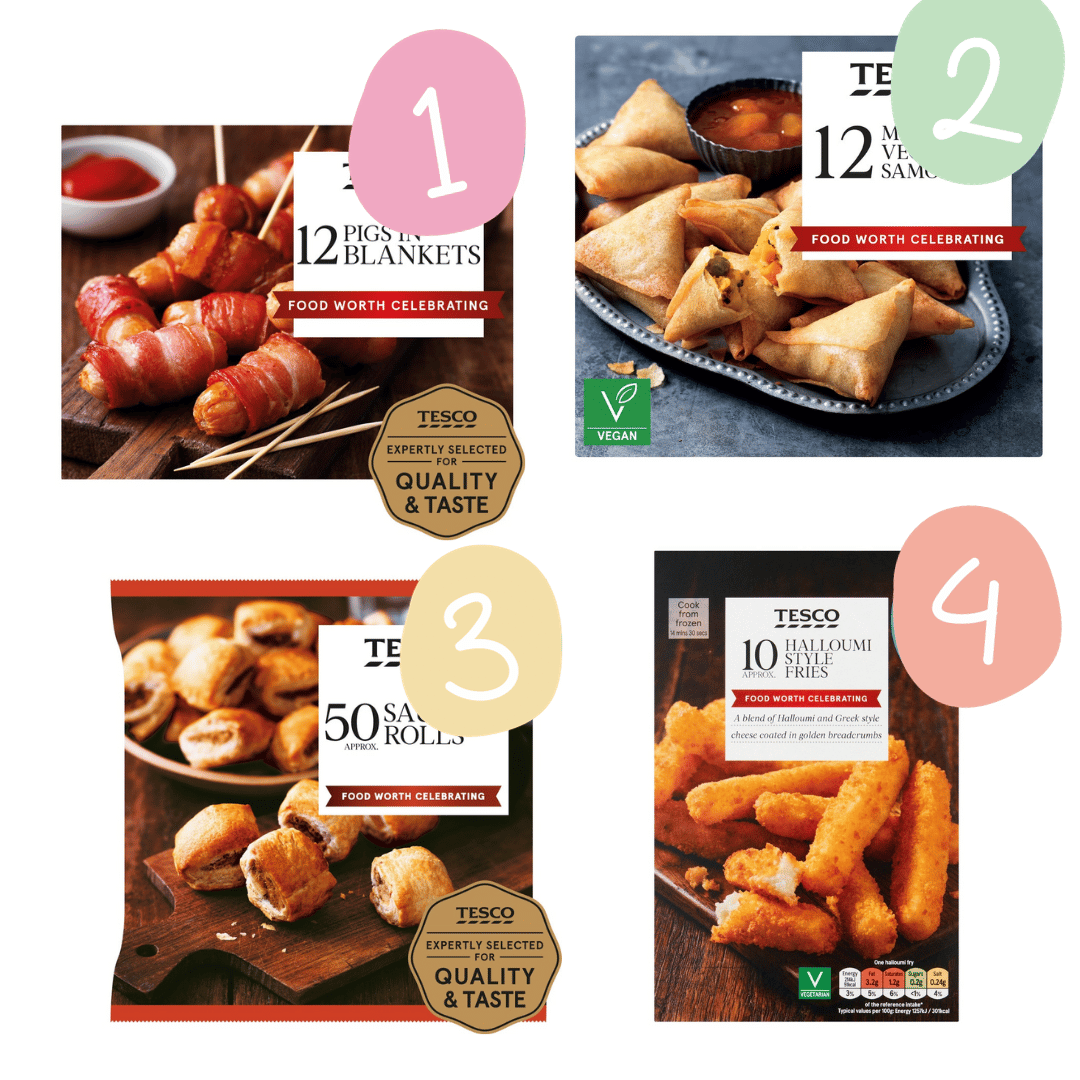 STEP 4: Create some spooky snacks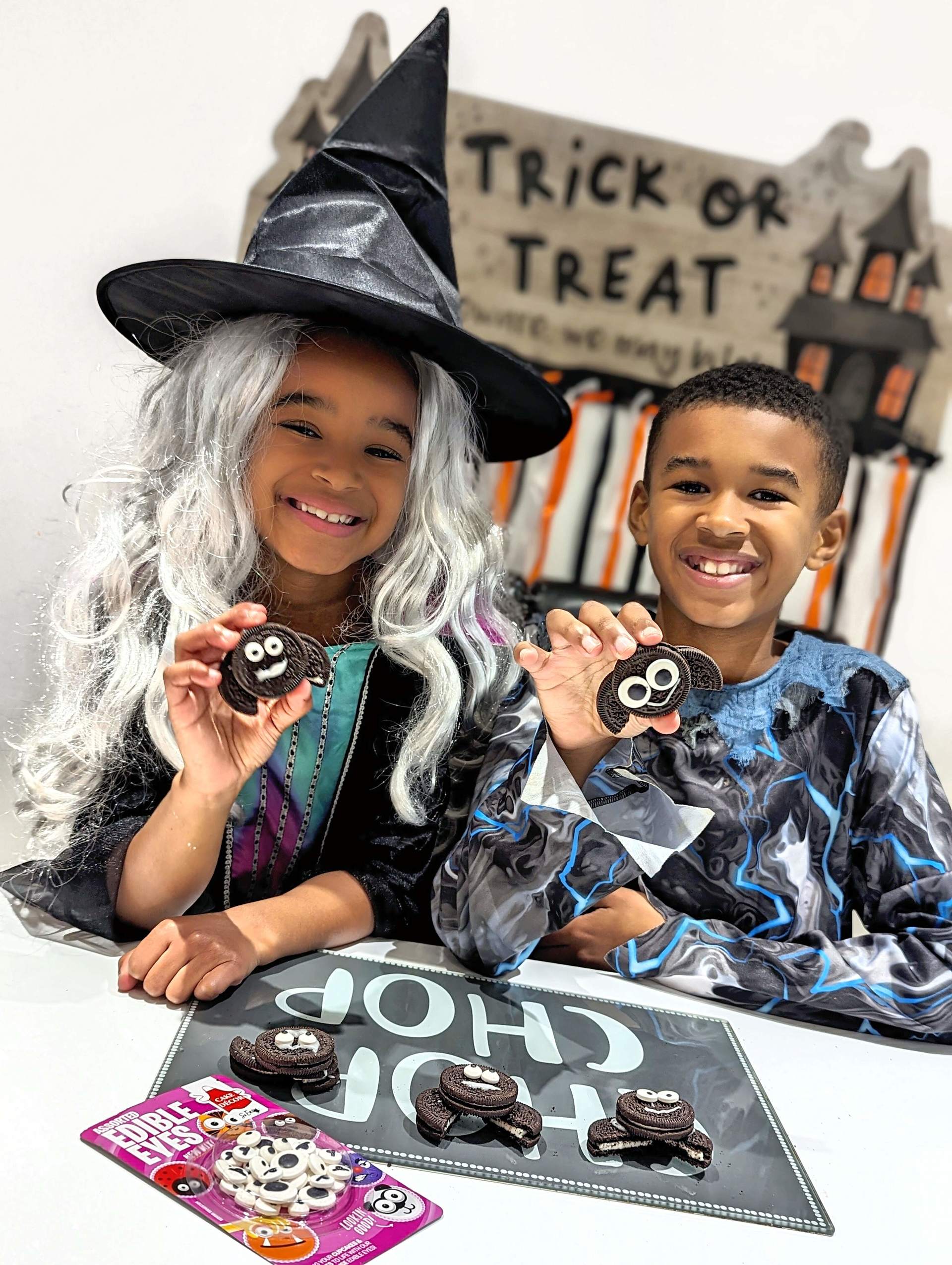 These edible eyes are brilliant and can add some next-level spookiness to your party food! Cameron and Sienna have really given their Oreo treats a terrifying twist, and you could do the same with any of your chosen party food at your own Halloween party.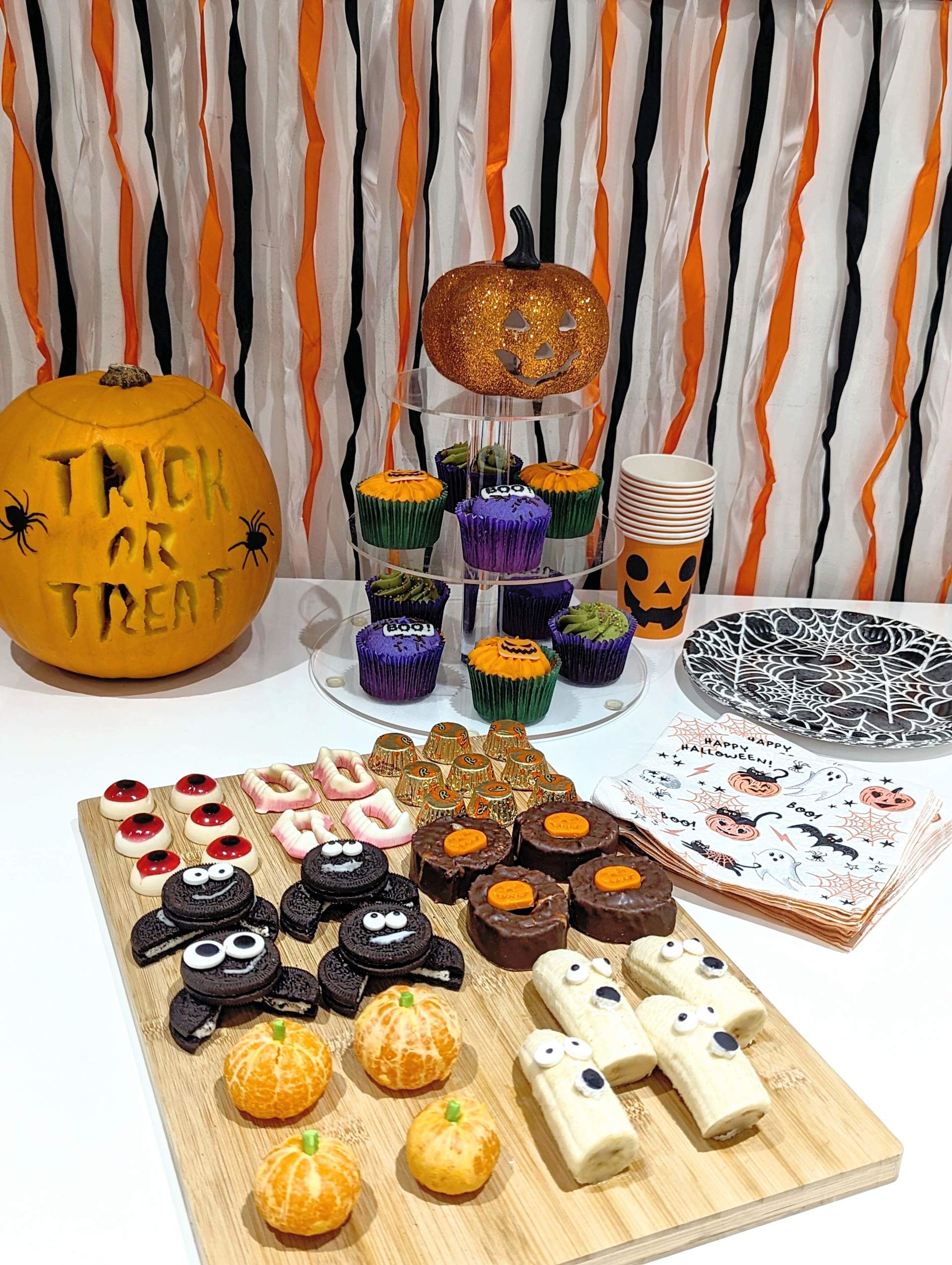 Now this is a Halloween party buffet table set to impress your guests! We love the inclusion of the edible eyes on the bananas - they look like minature ghosts. So easy to make too, it's the perfect activity to get the kids involved in. The peeled oranges look like mini pumpkins, so cute! Of course you don't have to make everything. There are loads of ready made sweet treats to choose from including the Halloween Cupcakes, Cadbury Pumpkin Patch cakes* and Goo Heads cake bars*. And don't forget the toffee apples*!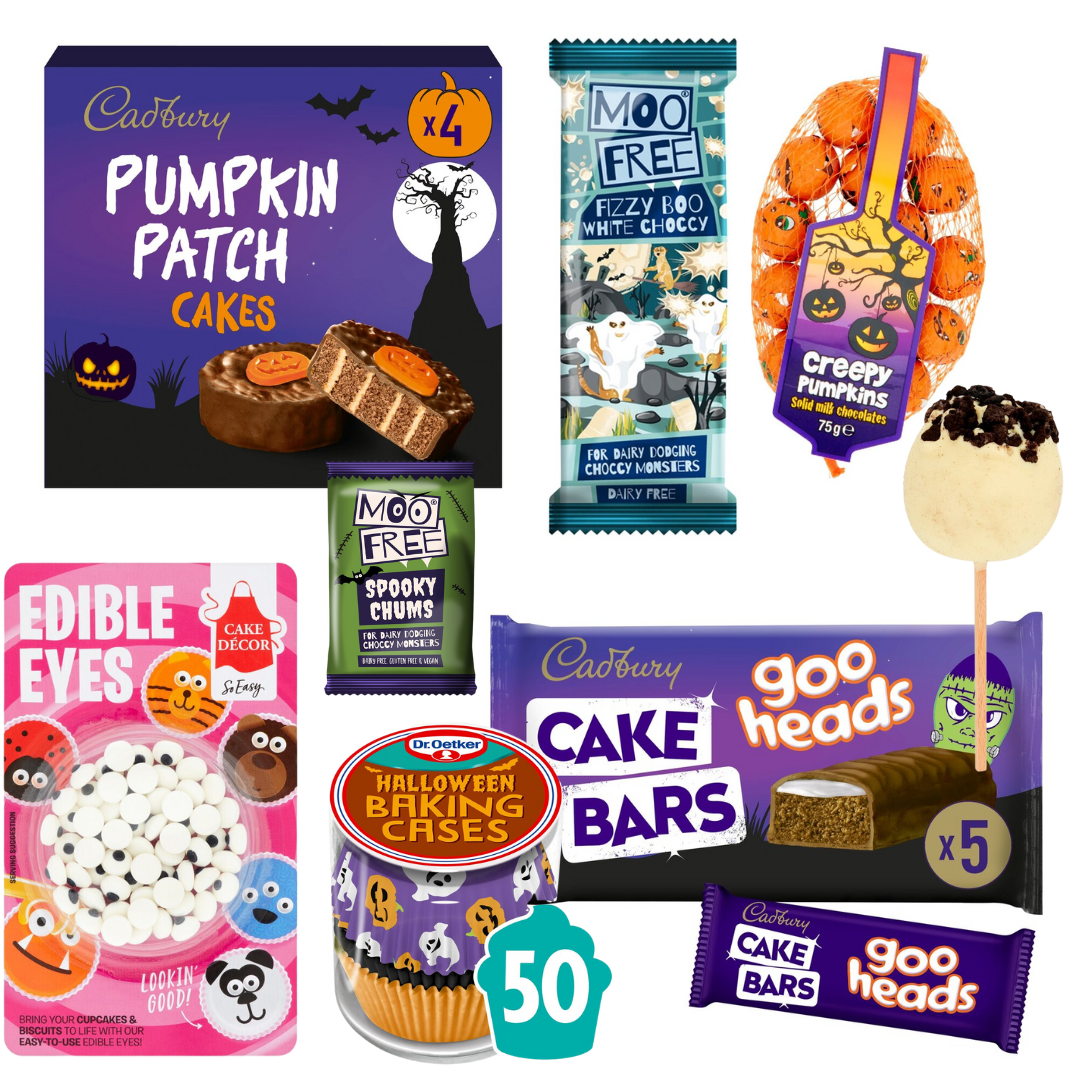 STEP 5: Get dressed up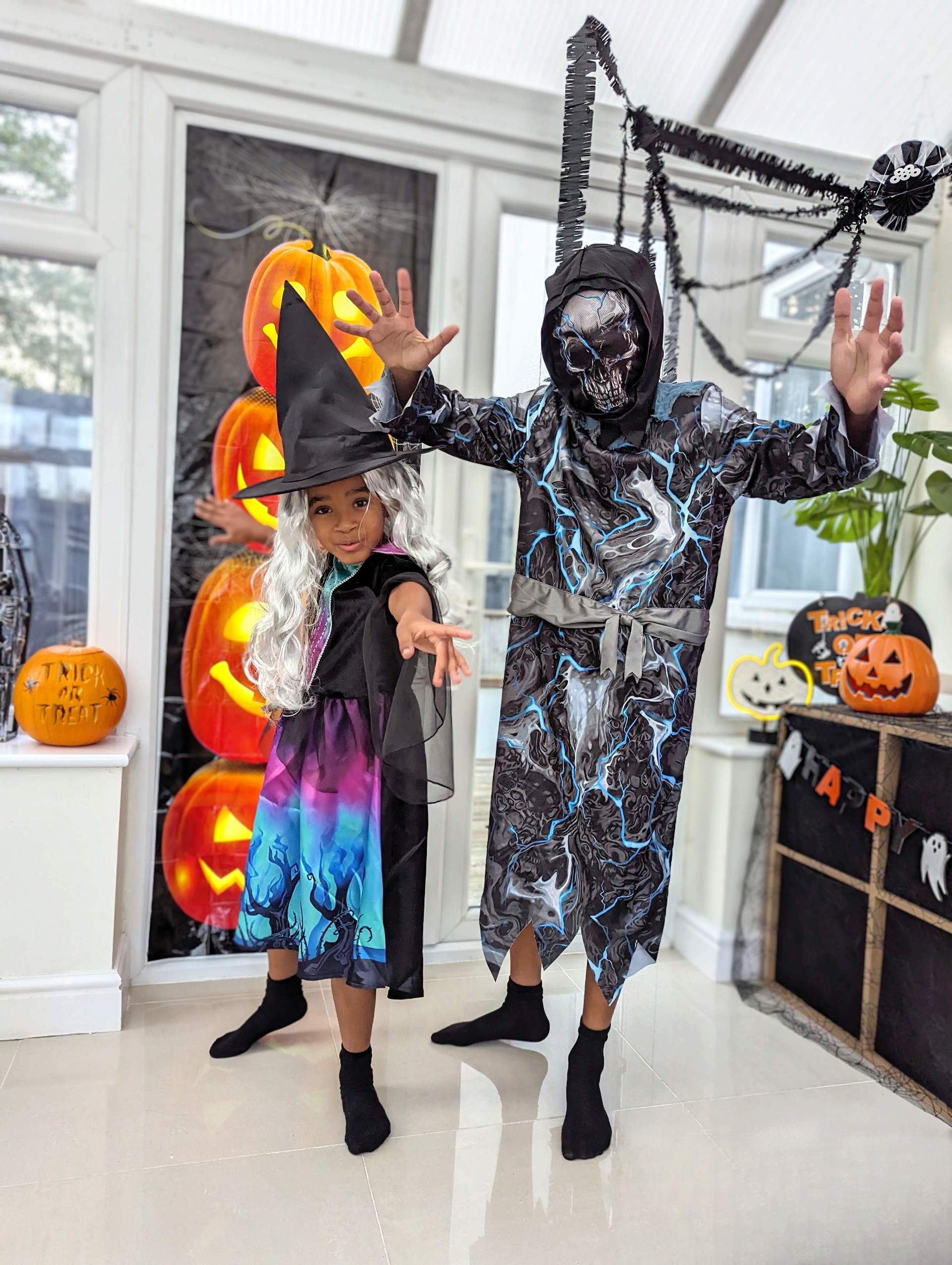 It goes without saying that a creepy costume is a must-have, and right now you can get 25% off all Halloween costumes using your Clubcard. Sienna and Cameron look wicked in theirs, and if you're keen to browse their range, you should visit your local store while stocks still last.
STEP 6: Fill up the trick or treat buckets
You know what this means - it's time to stock up on sweets! Tesco's range of sweet treats for Halloween leave you totally spoiled for choice and so many great offers on too. Be sure to opt for sweets and chocolate which is individually wrapped. You can't go wrong with Haribo bags and miniature chocolate bars.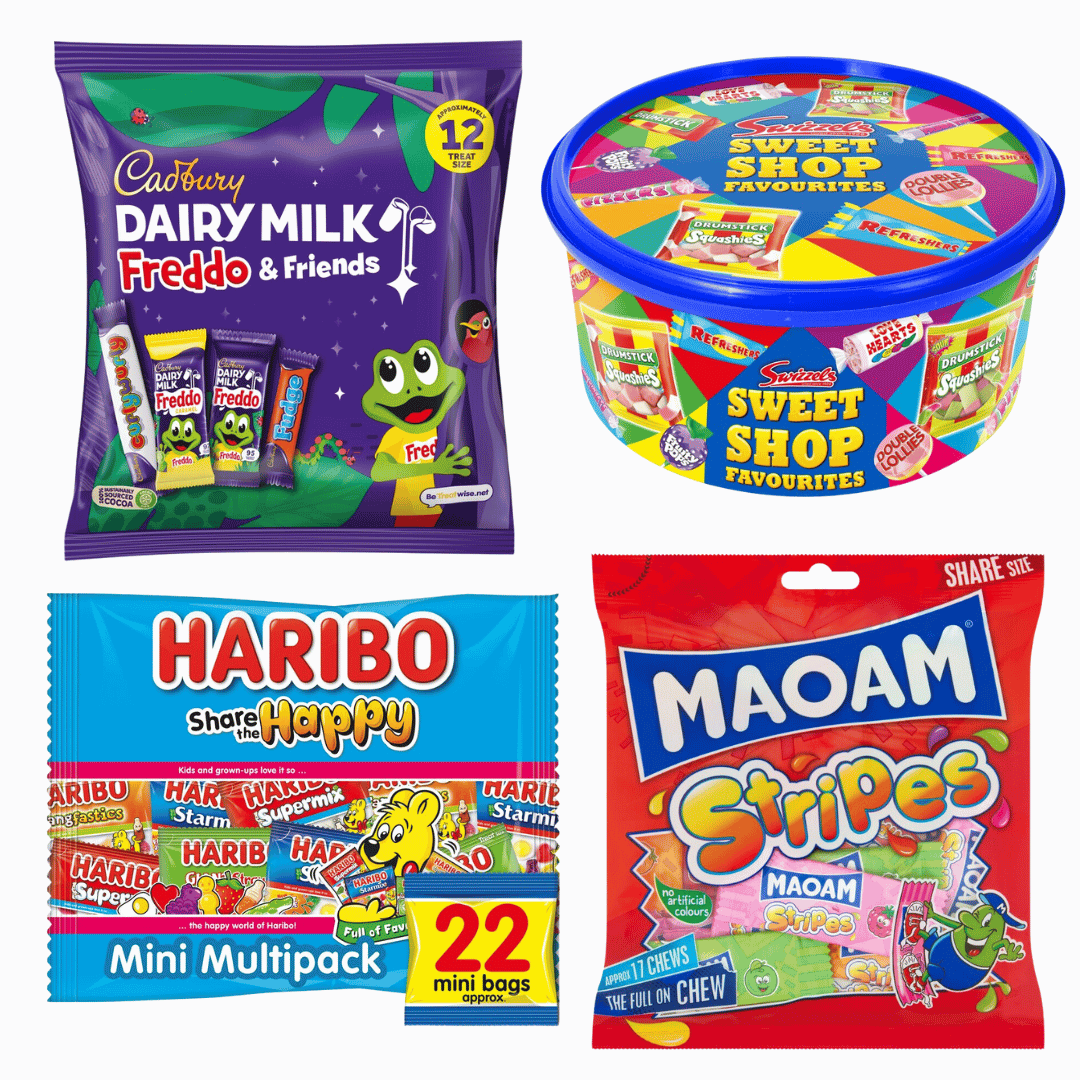 Top tip: don't put everything into your buckets straight away, hold some back so that you're able to restock throughout the night.
STEP 7: Have fun!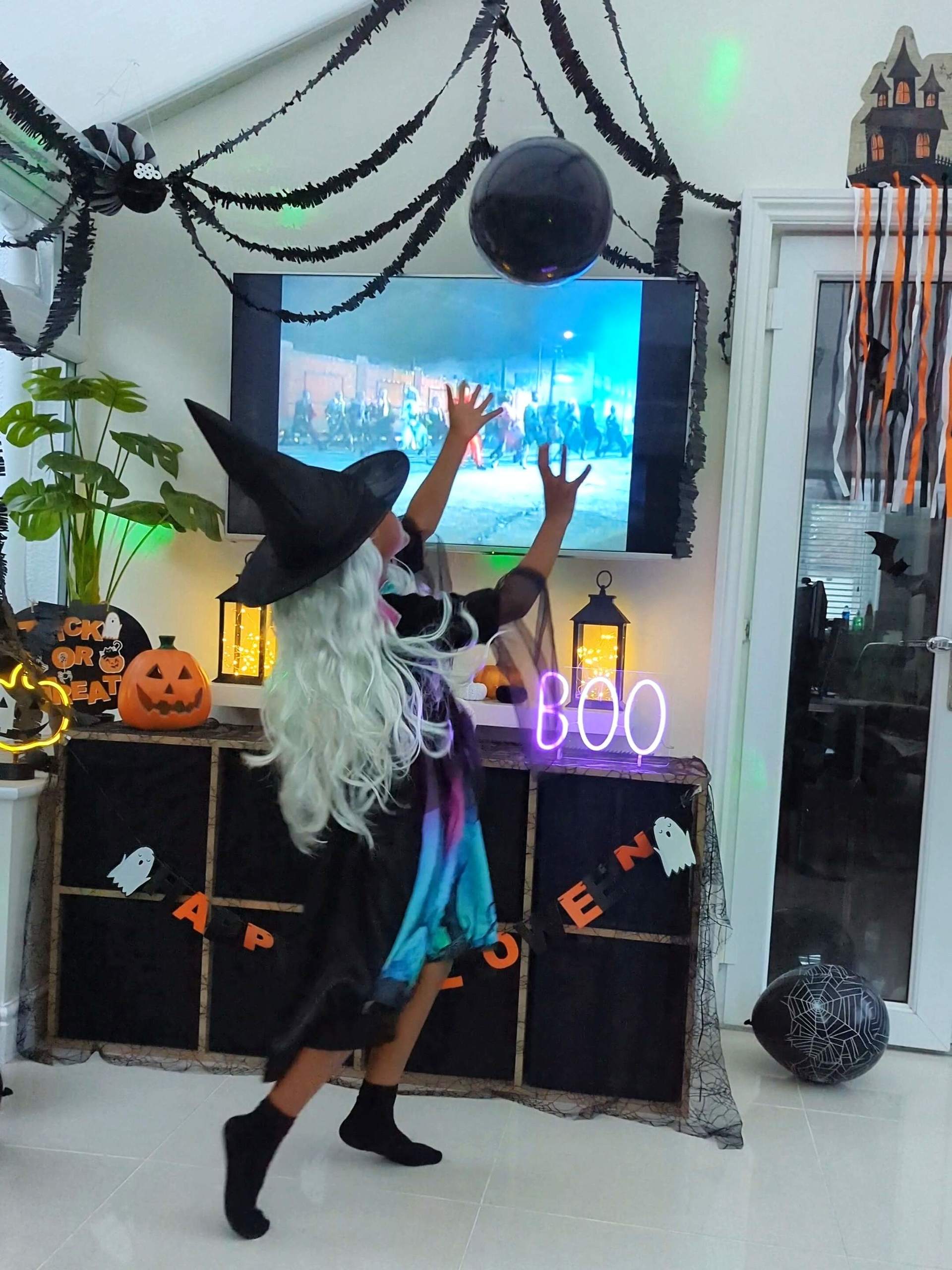 The most important part is to have fun! Ask Alexa to play some spooky music, turn the lights down low and play some party games or have a good boogie. And remember, Halloween isn't just for kids. So grab yourself a costume, dig out the face paints and let your hair down.


[Embed the reel here when it is live]
Our verdict...
We're absolutely love haunted Halloween party decor from Tesco put together by the talented Louise and her children, Cameron and Sienna! It just goes to show that you needn't spend a fortune celebrating Halloween with the kids, and with the help of Tesco, you can save a fortune without scrimping on spooky style.

Happy Halloween everyone!
*Advertorial content - written in paid partnership with Tesco*
Affiliate links are marked with an *
Favourite Finds
If you like this product, you might be interested in these too!