For those of you struggling to persuade your little one that brushing their teeth is a good thing, we've found the perfect product for you!
Sick of those morning and evening tears? Worried endlessly about the health of your child's teeth? As mums ourselves, we totally relate. This is why we're really excited to share the GUM Playbrush with you all, as we think that it could be a total game-changer for parents and kids everywhere...
What is the GUM Playbrush?
The fabulous new GUM Playbrush® kids electric toothbrush and app will bring fun and games to teeth cleaning, ending those morning and evening battles in the bathroom. Even the most reluctant little one will want to get brushing with this fab toothbrush!
The GUM Playbrush is an all-singing, all-dancing, interactive toothbrush that gives children exciting motivation to get brushing, and also gives parents the power to monitor their children's tooth brushing via an app.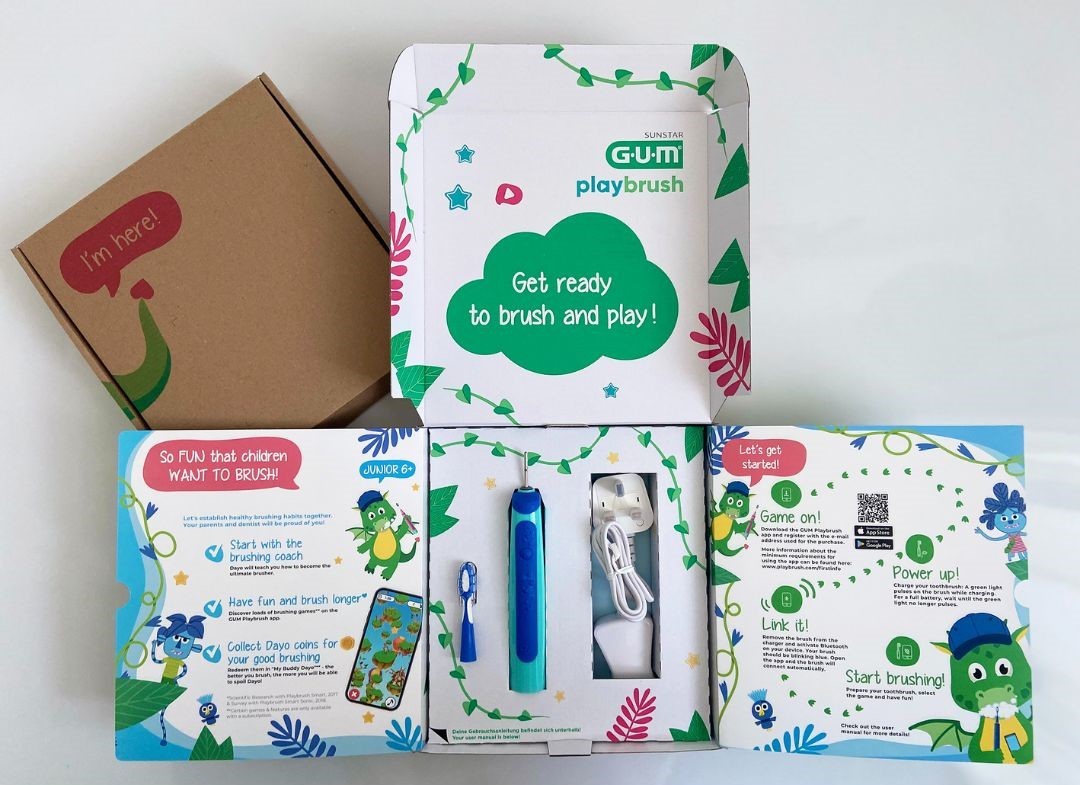 Did you know - research shows that children "brush twice as long and more regularly through
interactive toothbrushing with games"**, and with the GUM Playbrush sonic toothbrush and app, you'll be able to tackle brushing issues easily. There's 13 motivational games and coaching features to motivate your child throughout, which we love!
** Playbrush Scientific Study demonstrating the value of electric and manual interactive toothbrushes in the context of toothbrushing 2018. Playbrush was renamed GUM Playbrush in 2023.
The games are so exciting, with options such as Utoothia Paint and Dayo Cart. Your child will be able to fend off monsters, embody their favourite superhero, become a creative artist, and dance their heart out, all whilst brushing their teeth, making what was once a drama into a party.
View this post on Instagram
We particularly love the toothbrushing coach feature - it's designed to guide tiny hands and mouths to develop the COI teeth cleaning method (Chewing surfaces, Outer surfaces and Inner surfaces). It can also help older children to finetune their technique, as it can take time and practice.
With the app, you'll get daily cleaning statistics into your child's brushing achievements, which makes keeping track of your child's tooth brushing progress easy and interesting; you'll have access to data proving how long they have cleaned their teeth for, how much brushing coverage they've achieved, and frequency of brushing so no more 'I'm finished' after 10 seconds of cursory brushing.
Finally, children using the GUM Playbrush can also be awarded "Dayo coins" in the app, if their brushing is effective, and they can then redeem them in "My Buddy Dayo" which gives them their very own personal virtual pet to take care of, which is a fab way to motivate a good effort at brushing.
Why is the GUM Playbrush so incredible?
Where do we begin? It can be so tricky to properly support our children on good oral care and proper brushing, the GUM Playbrush is the ONLY 100% interactive toothbrush and app giving it an edge. We think that this product is seriously something special and covers so many bases that parents all over the world struggle with when it comes to toothbrushing! It gives us the power to keep a close eye on their teeth, and gives them the power to have fun during their brushing.
Last year, nearly 25% of 5 year olds were found to have some tooth decay - a shocking statistic, but not surprising given how many of us struggle to get our children to effectively brush. So, the GUM Playbrush could actually help to reduce these numbers as it tackles the areas that so many children and parents find difficult - maintaining engagement during a boring repetitive task, effective brushing, and knowing when it's 'really' finished!
GUM Playbrush Sonic Toothbrush Features...
It's worth going into detail about the high tech features of the GUM Playbrush - this is going to be the gadget that all the kids (and parents) are talking about, we reckon.
17,000 cleaning movements per minute for effective cleaning
Each brushing tracks speed, pressure, position, duration and regularity in the app which are transferred via Bluetooth to the app
Two age-appropriate heads - Kids 3+ and Junior 6+
Children can control the fun games with their own cleaning movements via 13 games
Toothbrushing coach uses an algorithm to guide your child to brush for the right amount of time and in the right places - what a clever idea!
All progress is saved within the toothbrush offline for up to 6 months so you don't always need to sync to the app!
Two cleaning modes – 'Sensitive' for beginners or those with super sensitive teeth, or 'Power', for more advanced cleaners/non-sensitive teeth are included - while a pressure sensor helps protect tender gums.
Special brush head features include:
Kids 3+
Extra small brush head specially adapted to the mouth of children from 3 years and with
raised front bristles to clean hard-to-reach areas
Extra soft bristles and padded head to gently clean milk teeth and sensitive gums
Toothpaste section to help parents apply the right amount of toothpaste
Junior 6+
Small brush head specially adapted to the mouth of children from 6 years old and with
raised front bristles to clean hard-to-reach areas
Extra soft bristles and padded head to be gentle on teeth and sensitive gums to clean
Other interesting features:
Long-lasting battery that lasts up to two months - handy for travelling abroad too
2 bright colour options - blue & turquoise, or pink & turquoise.
Free 30 day app trial with first purchase of GUM Playbrush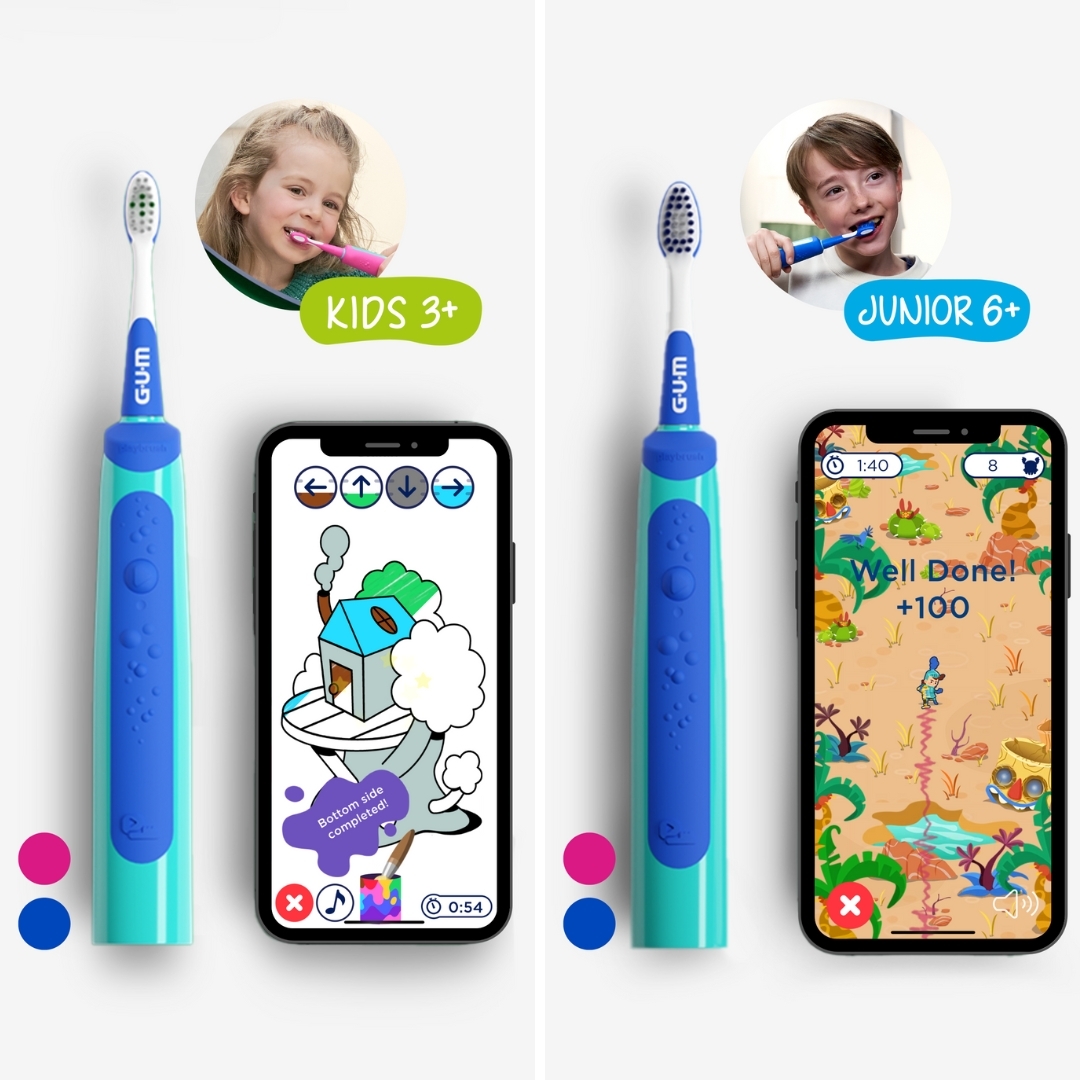 Here you can see the two different head sizes and colour options for the GUM Playbrush.
About the GUM Playbrush app:
The app is so simple to use and gives you so much insight into how your child is getting on with brushing their teeth, we love it!
There are two subscription models for the app once your 30 day free trial expires. The 'Motivation set' for £24.99 will give you full access to the app with nine additional games on top of four free ones, alongside detailed cleaning reports. There's also the 'all-round carefree set' ideal for busy
parents, which includes the 'Motivation set' features PLUS an annual supply of replacement brush
heads (six heads) with free automatic delivery throughout the year for £39.99 (single
purchase value £45) which is excellent and we'll be going for that one once our trial is finished.
It's worth every penny for peace of mind and shiny clean teeth!
View this post on Instagram
Use code BBY25 to get 25% Off here
Our verdict...
The GUM Playbrush is a total winner in our eyes, as mummies ourselves whose children can be somewhat resistant to brushing their pearly whites. Kids will be kids, it can be a battle to engage them in any task that isn't something they see as exciting, so by incorporating the GUM Playbrush into their morning and evening routine, you're improving their chances of avoiding cavities and also alleviating any worries that YOU may have because you can see everything happening via the app!
Overall, we think that the GUM Playbrush is one of the most innovative, intelligent products of the decade, it's impressive and we wouldn't be surprised to see tooth decay statistics drop drastically as more and more parents invest in this great toothbrush.
**Advertorial content - written in paid partnership with GUM**
Current Discount Codes:
Favourite Finds
If you like this product, you might be interested in these too!