Hellooooo there to my gorgeous and wonderful readers!
So I was struck with writers block and as I pulled out my breast pad to change it, I thought, why not write about the obvious? My favourite breastfeeding accessories.
I will be writing about all my favourite things that I have used so far in my breastfeeding journey. When I got pregnant I was pretty determined to do it. I was excited but also anxious about how it all worked from how to latch, to the outings in public.
Starting this off, number one would be Lansinoh breast pads.
I love these because with having large boobs, I always find other branded pads just too small. I also don't take the plaster part off the back of the pad. This then gives the breast pad the freedom to move around with my nipple, instead of being stuck in one area. You can buy these here.
---
My second favourite would have to be my nursing bras.
I have a range of different types, from plain and boring to sexy and confident. I like ASDA's range as they're much sassier than some places and also accommodate to my large fitting. You can buy your own here.
---
My third favourite is my Tomme Tippee Electric Breast Pump.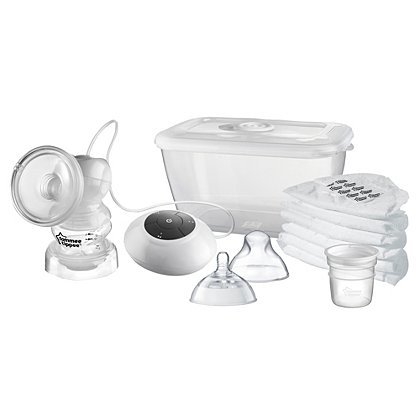 I bought the whole set even though my daughter won't take to bottles because she prefers to be breastfed. I found the microwave steriliser is amazing. The machine itself comes with three different speeds and the pump is comfortable on my boobs. You can buy this here.
---
My fourth favourite is lansinoh nipple cream.
When I first started breastfeeding, it was like putting on magic. If I knew what magic felt like. It is super silky, smooth and quickly makes your boobies feel 10 times better in no more than a few minutes. Definitely helped me to carry on my journey. You can buy it here.
---
My fifth favourite is my life saviour – 'double tank topping'.
I have pretty severe anxiety. I always worried about breastfeeding in public, getting my boobs our and showing off my tummy. Then I was told to wear a tight tank top under a baggy shirt and I haven't looked back. Best idea ever and one for future breastfeeders to do! Save's faffing around with a cover and keeps you 100% modest.
I hope these become useful to people hoping to breastfeed. All of these have made a huge impact on my journey with my daughter and without them, I wouldn't be here 7 months down the line. If you have any questions then i'll get back to you as quickly as I can.
Enjoy yourself and have fun.
Favourite Finds
If you like this product, you might be interested in these too!