Christmas pyjamas for the whole family has become such a fabulous festive tradition for many of us!
Whether you're into traditional styles, or love something quirky, there are Christmas pyjamas for EVERYBODY and we're pleased to say, we've found loads during our online browsing spree. You'll be spoiled for choice, for young and old, and all tastes, with so many matching family sets thrown in too!
Check out our favourite Christmas pyjamas here...
Mamas and Papas Christmas Pyjamas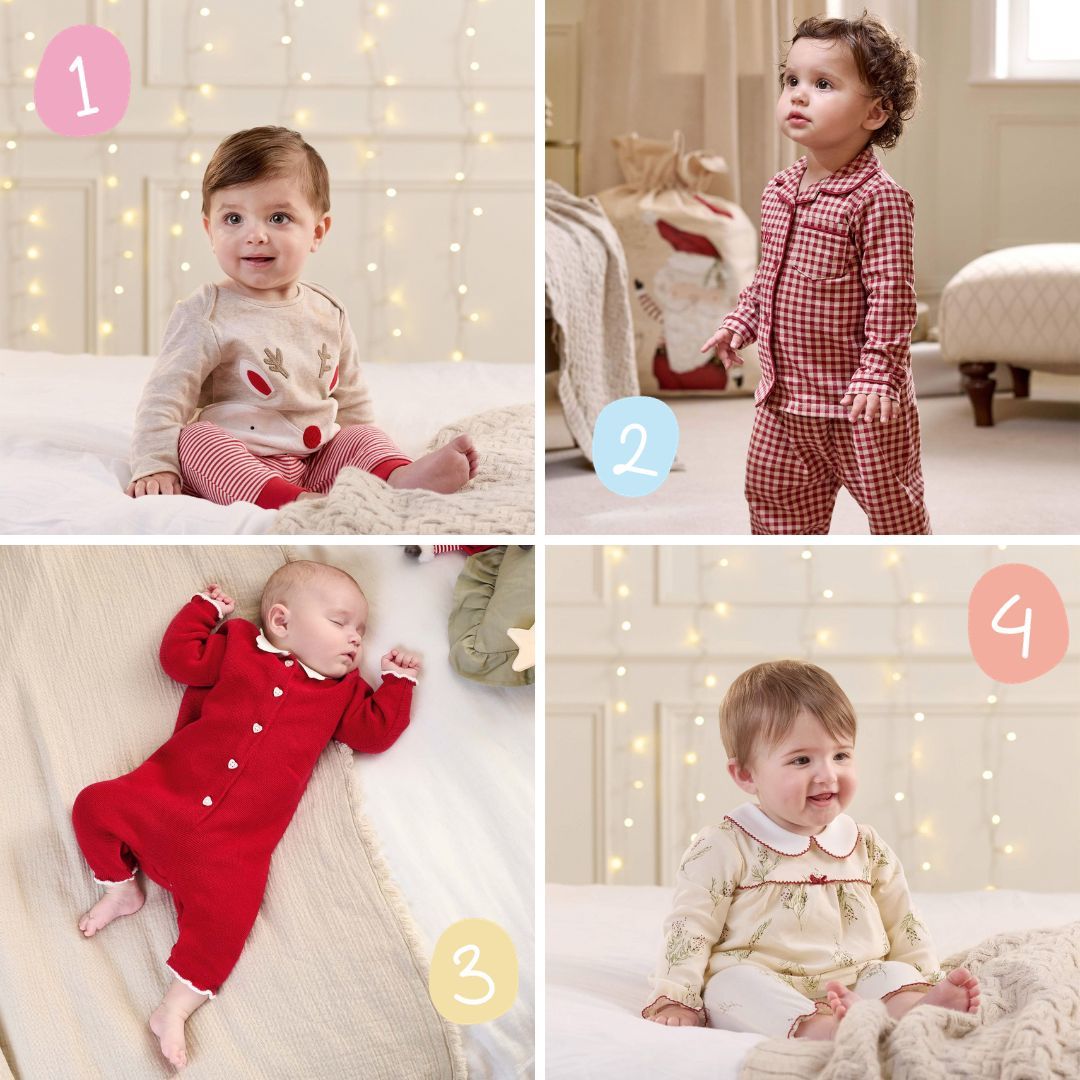 Mamas and Papas seriously set the bar high when it comes to gorgeous Christmas pyjamas and rompers for babies and toddlers - there's so much festive cuteness to choose from! From these adorable reindeer pjyamas to this more traditional jersey check pyjamas set (these can also be personalised), there's a great range of styles. For that all-important photo opportunity, we're in love with this Mrs Santa Knitted Christmas Romper, as well as the Christmas Baby Pyjamas with that beautiful vintage-style collar.
Primark Christmas Pyjamas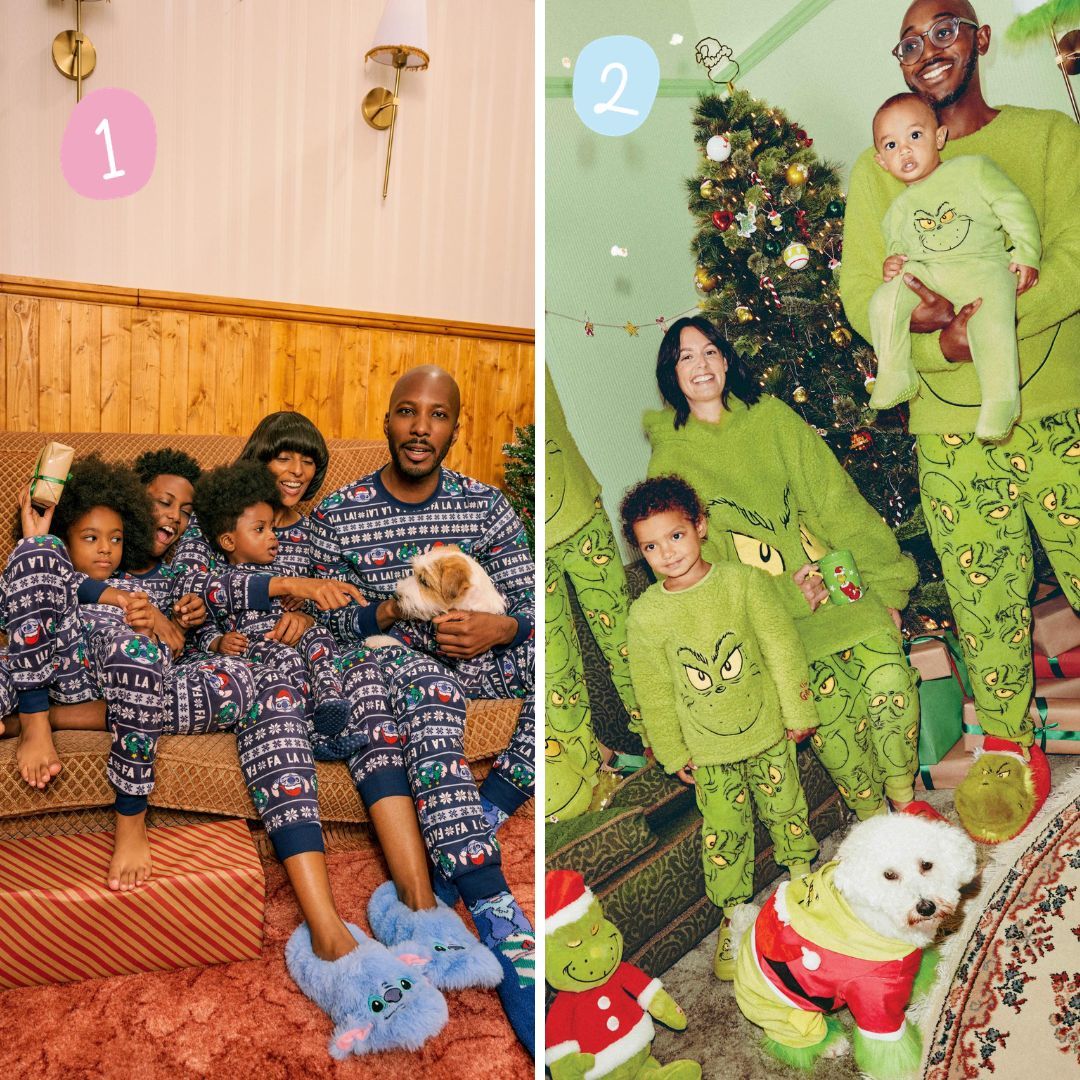 Primark have impressed us with their range of matching family Christmas pyjamas this year! We're HUGE fans of Lilo & Stitch and the Grinch, and you can get your hands on various sizes further down the page with both of these fantastic Christmas pyjamas sets - remember that ordering is click and collect! As if we need another excuse to go into Primark...
My 1st Years Christmas Pyjamas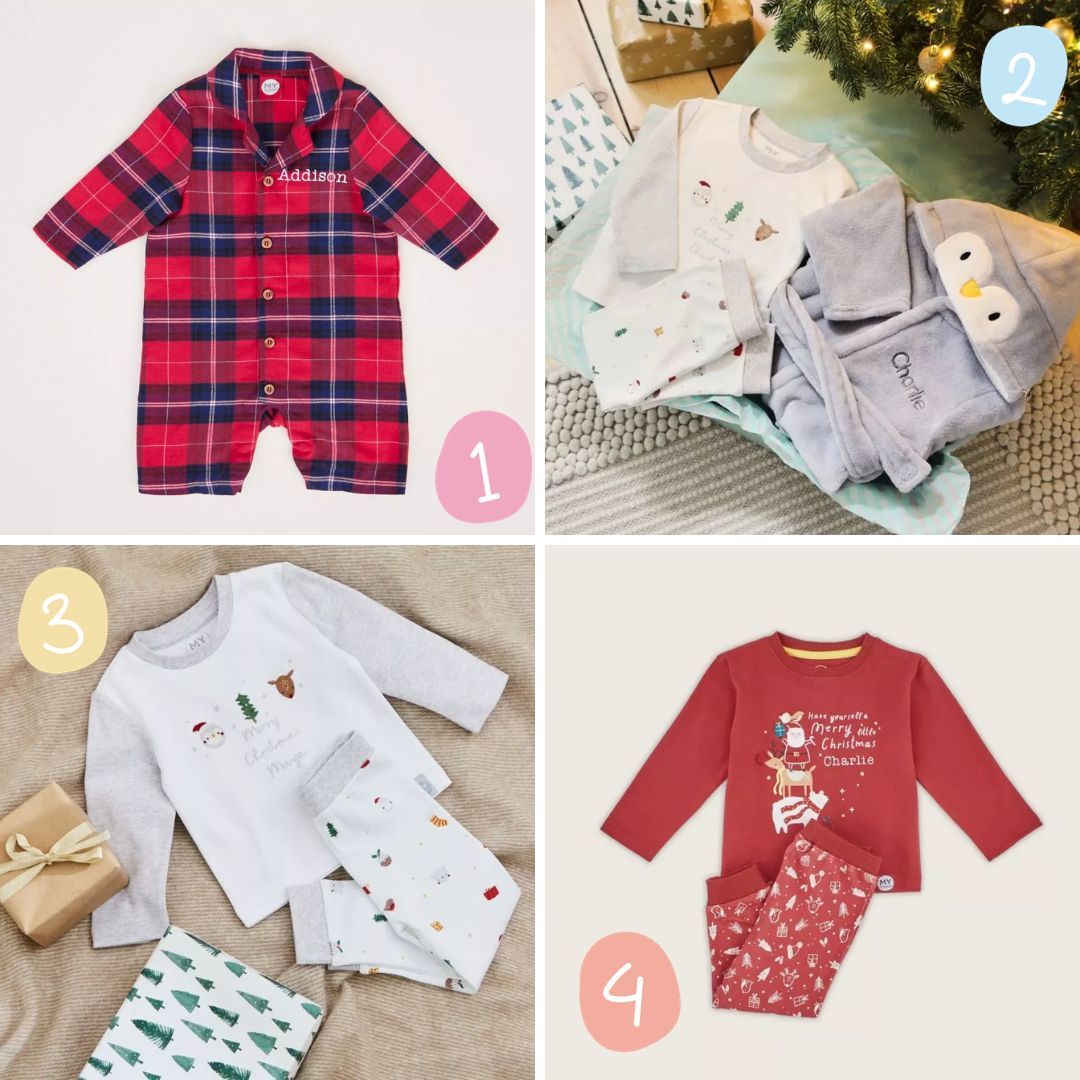 My First Years are a great place to check out for personalised Christmas pyjamas for babies and toddlers - those first Christmases are so special and sentimental, so why not mark the occasion with some personalised Christmas pyjamas? This Red Checkered Pyjama Romper is a popular choice for babies first Christmas, as are these Merry Christmas and Jersey sets. For gifting, this personalised Pyjamas & Robe set could be a great treat for baby's first Christmas.
JD Williams Christmas Pyjamas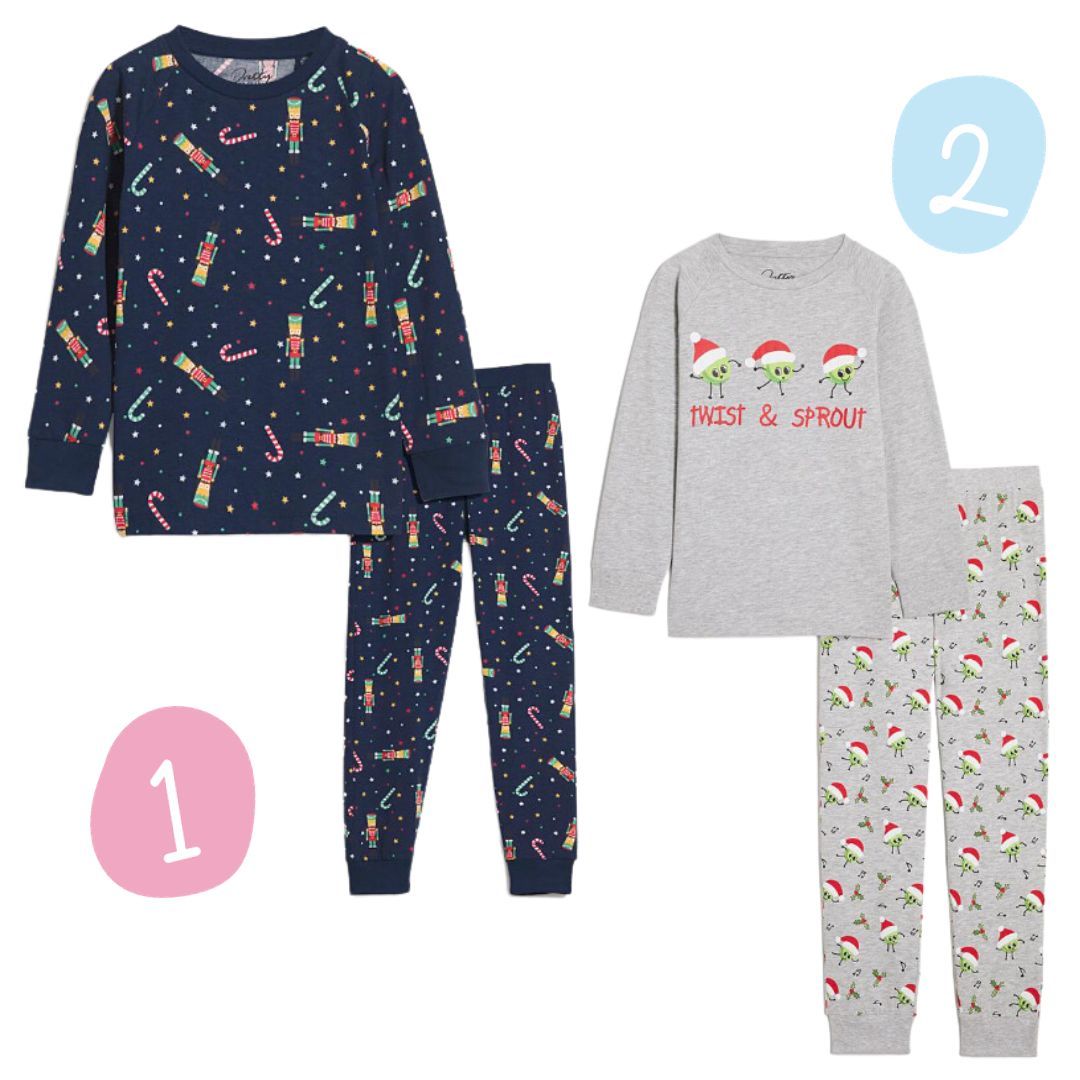 JD Williams is another excellent place to check out for matching family Christmas pyjamas, and they're all fabulous quality as well as available in a range of wonderful festive patterns. We can't decide between the Nutracker Soldier print blue Christmas Pyjamas, or the hilarious novelty Sprout Christmas Pyjamas - why not both?!
Dunelm Christmas Pyjamas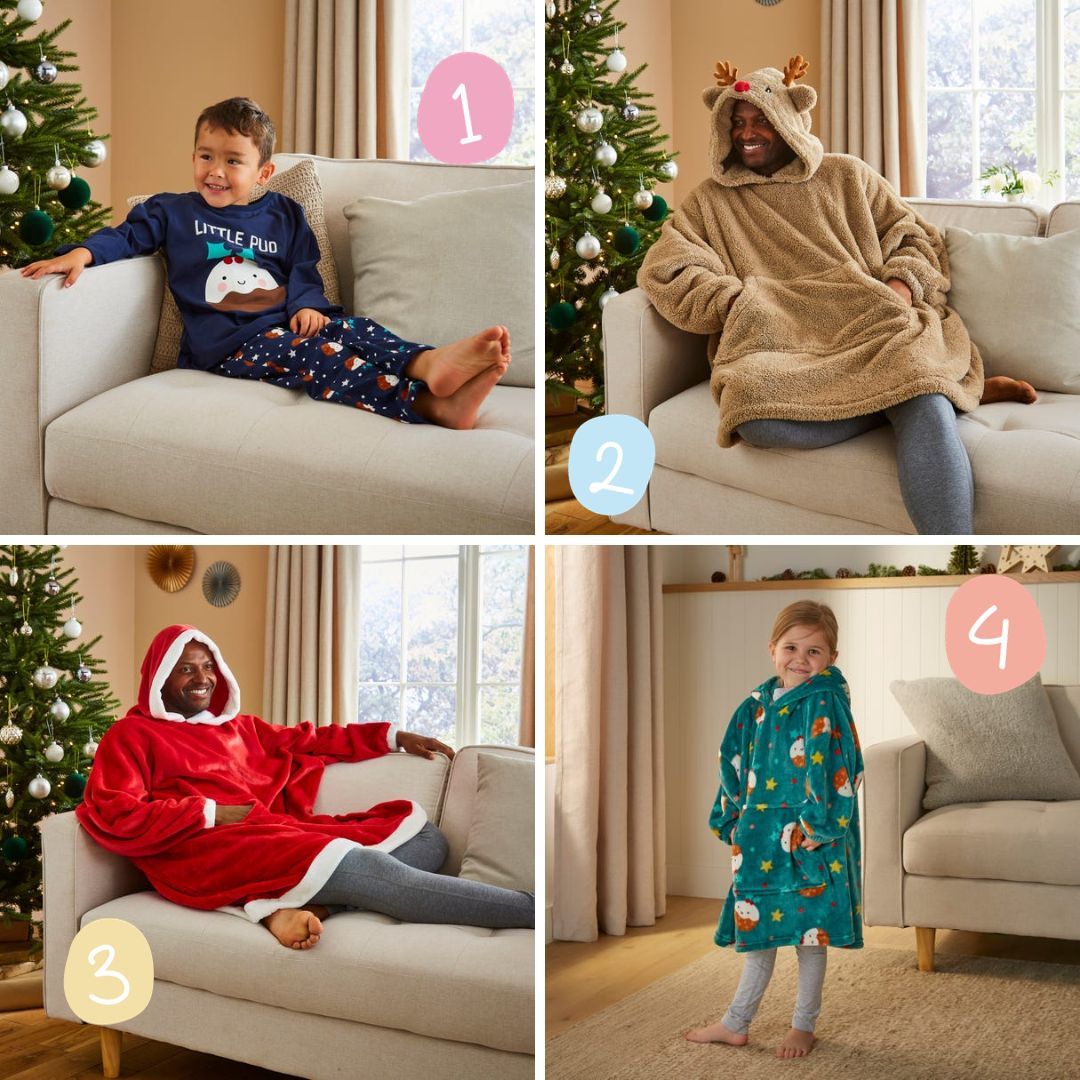 Dunelm certainly know how to up the cosy game with their range of lush, fluffy oversized hoodies and plush Christmas pyjama sets. You could welcome Santa weating your very own Santa Oversized Hoodie or this Reindeer Oversized Hoodie, and the kids could join in with their own Christmas Pudding Oversized Hoodie! We also adore this kids Christmas Pudding Pyjama Set.
Simply Be Christmas Hoodies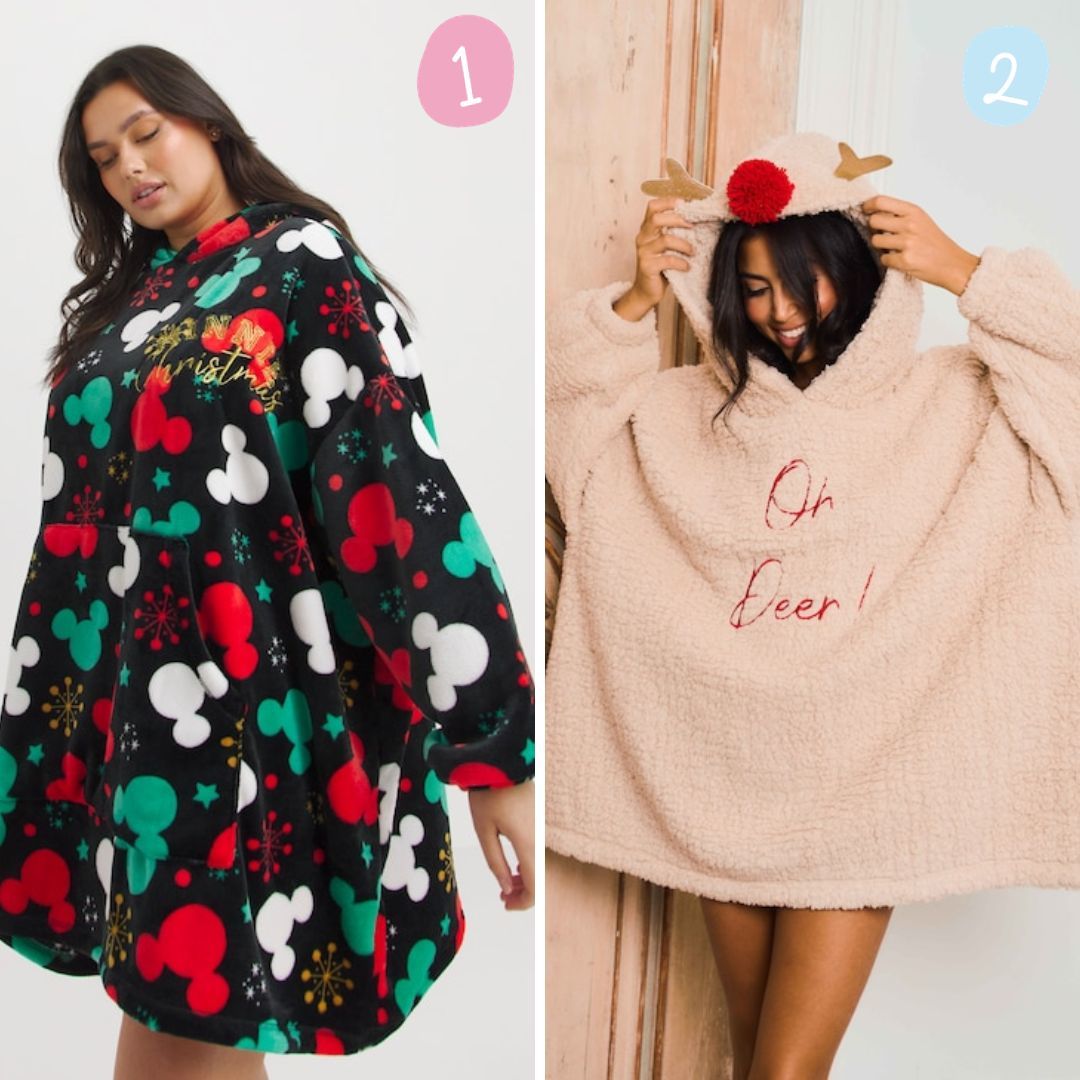 For you mummies, why not treat yourself to your very own Christmas hoodie for keeping cosy around the Christmas tree? We're in LOVE with the range at Simply Be and cannot believe the prices, as we know the quality is top tier. This Mickey Mouse Oversized Christmas Hoodie is fabulous, and could even be a wonderful Christmas gift for a Disney-loving adult. This Oversized Reindeer Hoodie is another gorgeous find, and it looks so soft too!
Our verdict...
Rocking around the Christmas tree with our family in our cosy pyjamas is one of our favourite parts of the festive season, and we know that so many of you feel the same way. Why not add some extra magic to the most wonderful time of the year with some exciting Christmas pyjamas for the whole family? You could even match, if you find a family set you love! We hope that you've spotted something perfect in our selection, and if not... you'll get there eventually.
Affiliate links are marked with an *
**Advertorial content - written in paid partnership with retailers**
Favourite Finds
If you like this product, you might be interested in these too!