A personalised gift is the most heartfelt gesture when buying for loved ones, without a doubt.
Why not go that extra mile to treat the friends and family in your life to some gorgeous, well-thought and personalised gifts this Christmas? It doesn't matter who you're shopping for - there are personalised options for all ages, tastes and needs, whether you're buying baby their first teddy bear this Christmas, or treating mum to some beautiful jewellery; there is something for everybody.
We've been browsing our favourite retailers to find the BEST of the personalised gift options out there and we certainly didn't come back empty-handed. Take a look at our favourite personalised Christmas gifts here...
Mamas & Papas Personalised Baby's First Christmas Gifts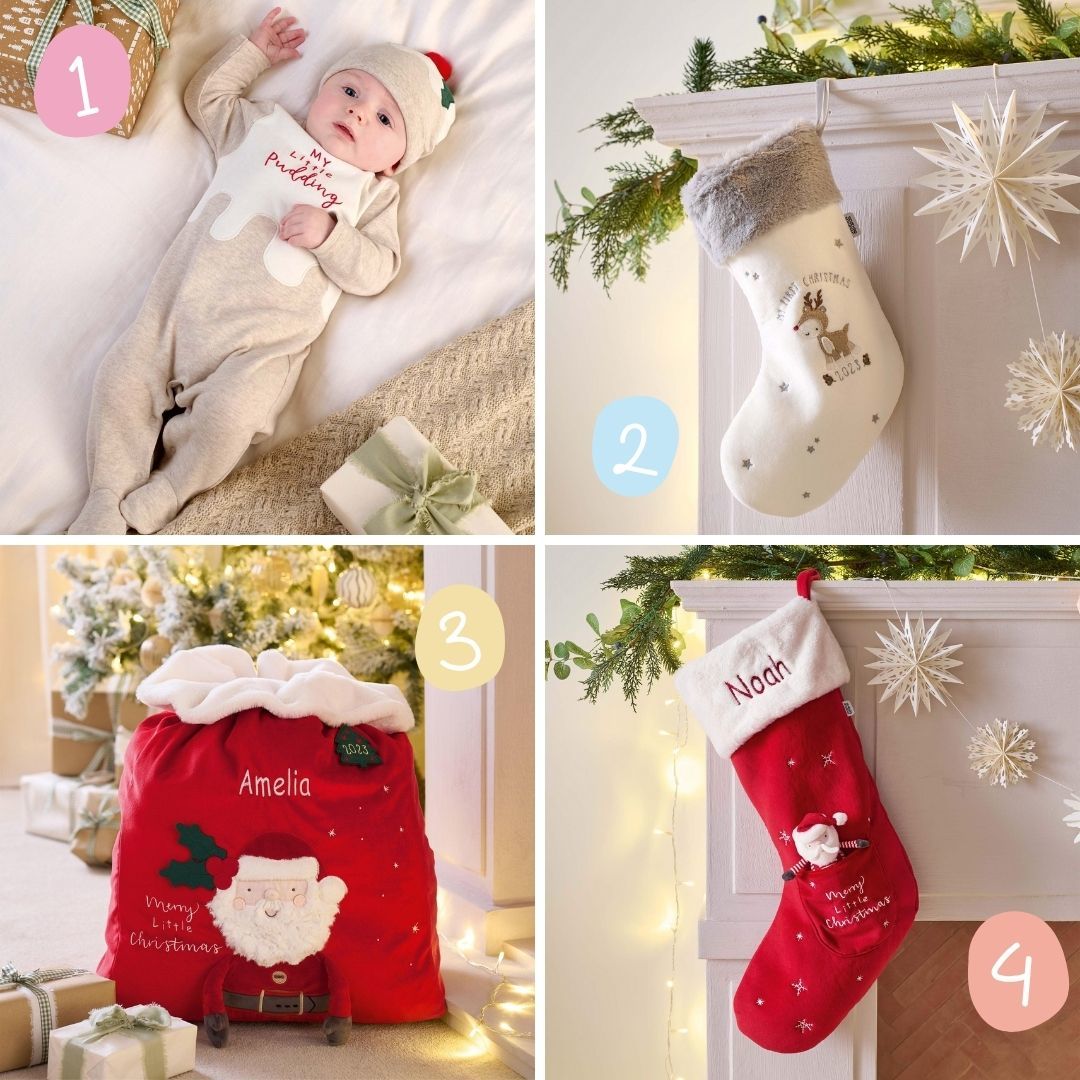 We are so impressed by the gorgeous range of personalised gifts at Mamas & Papas! Baby's first Christmas is such a sentimental and memorable event and now is the perfect time to buy a personalised Christmas stocking or sack which can be brought out year after year.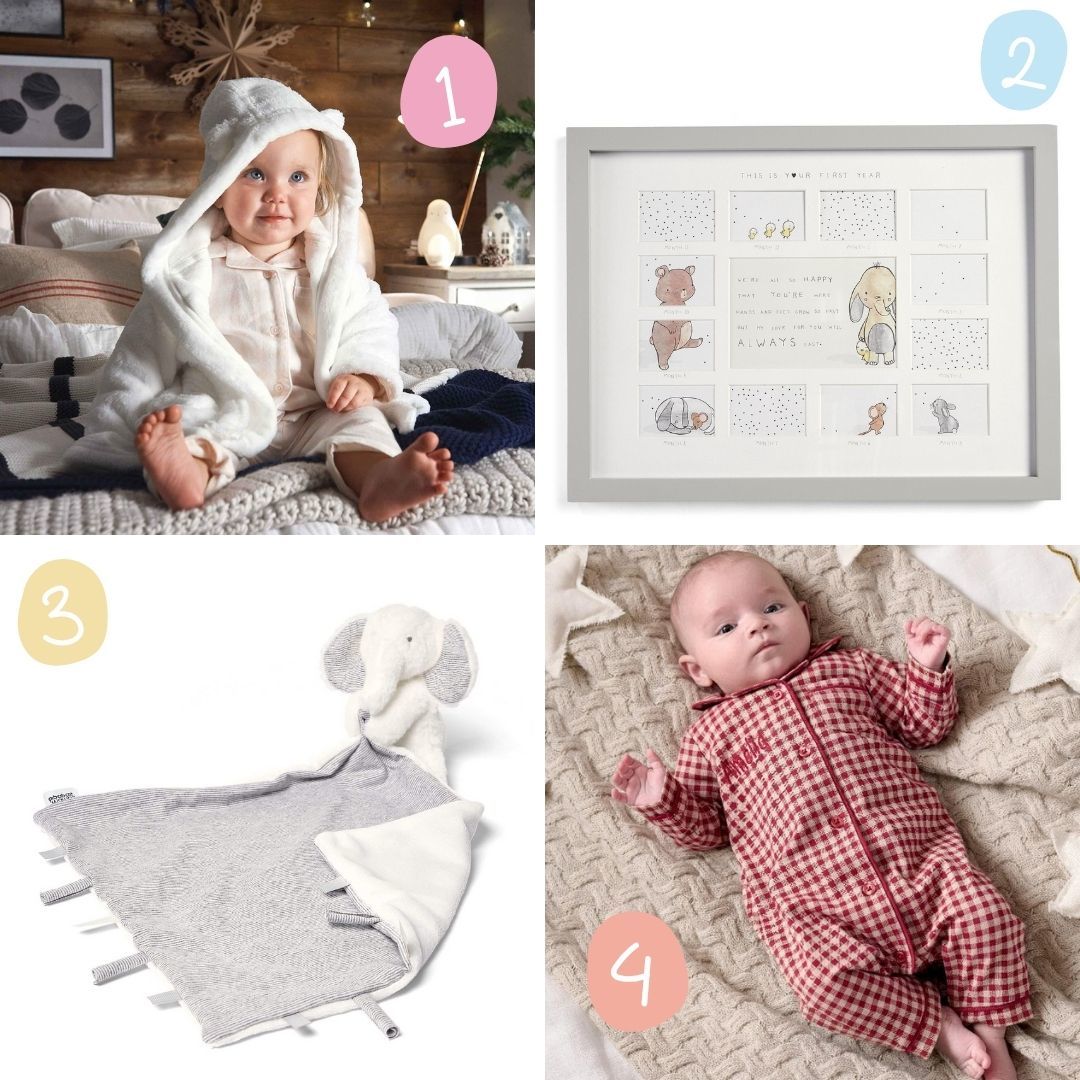 These Christmas gifts for baby at Mamas & Papas can all be personalised! Whether you're shopping for your own baby, or for someone elses this Christmas, these personalised gifts will all be appreciated and cherished. How adorable is the gingham romper, complete with baby's name stitch in?
Dunelm Personalised Gifts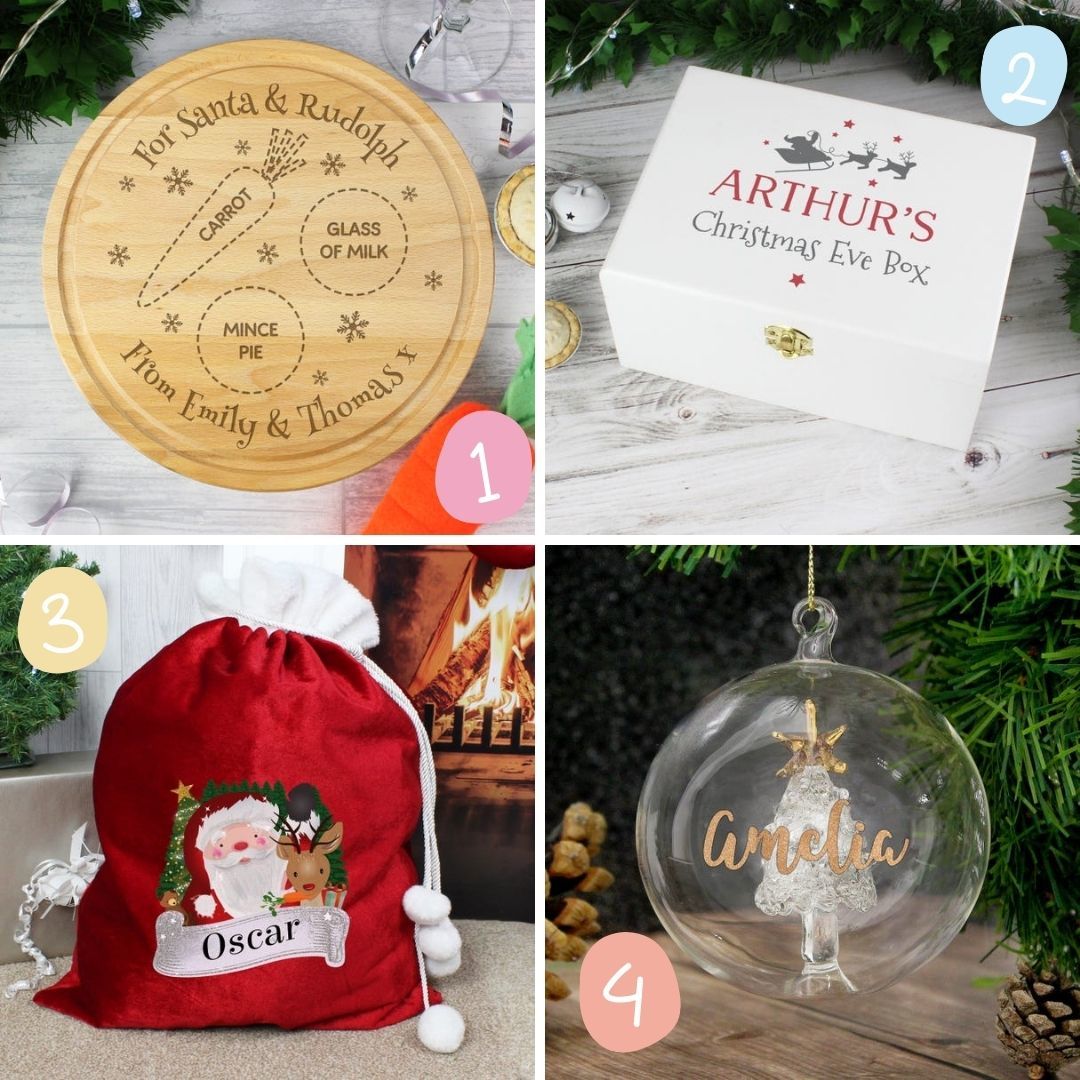 Dunelm have a great range of personalised gifts for the entire family; from culinary accessories to fun finds for kids, there's so much to choose from and you can personalise it with their name, or a message from the heart. We love the Santa plate and can imagine it being brought each year and even reused with the grandchildre.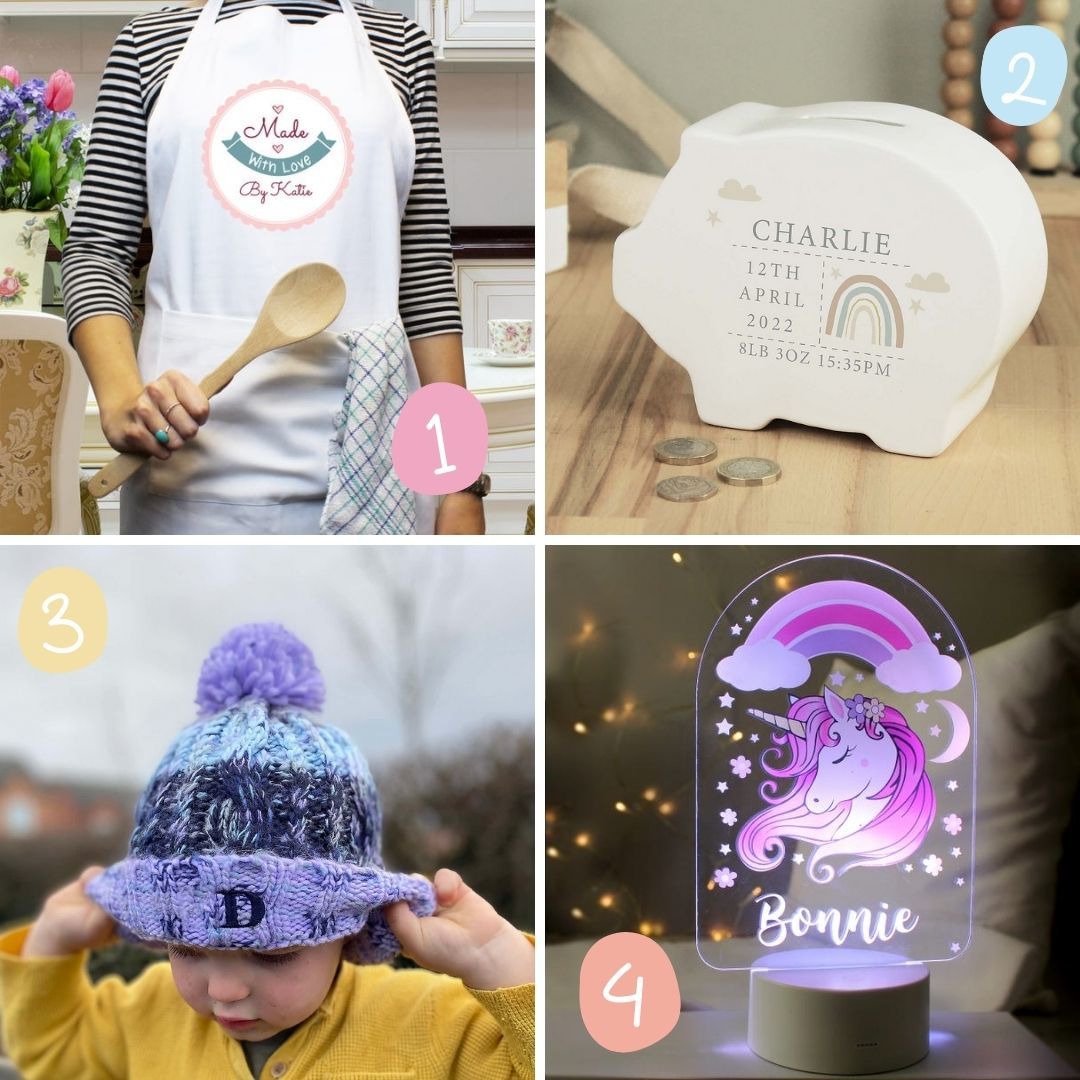 From decorative gifts for the home, to clothing and more, we loved the choice of personalised Christmas gifts when shopping at Dunelm. The personalised apron is a great gift idea for any budding baker or chef. Would also be a cute present to give to whoever is cooking Christmas dinner this year.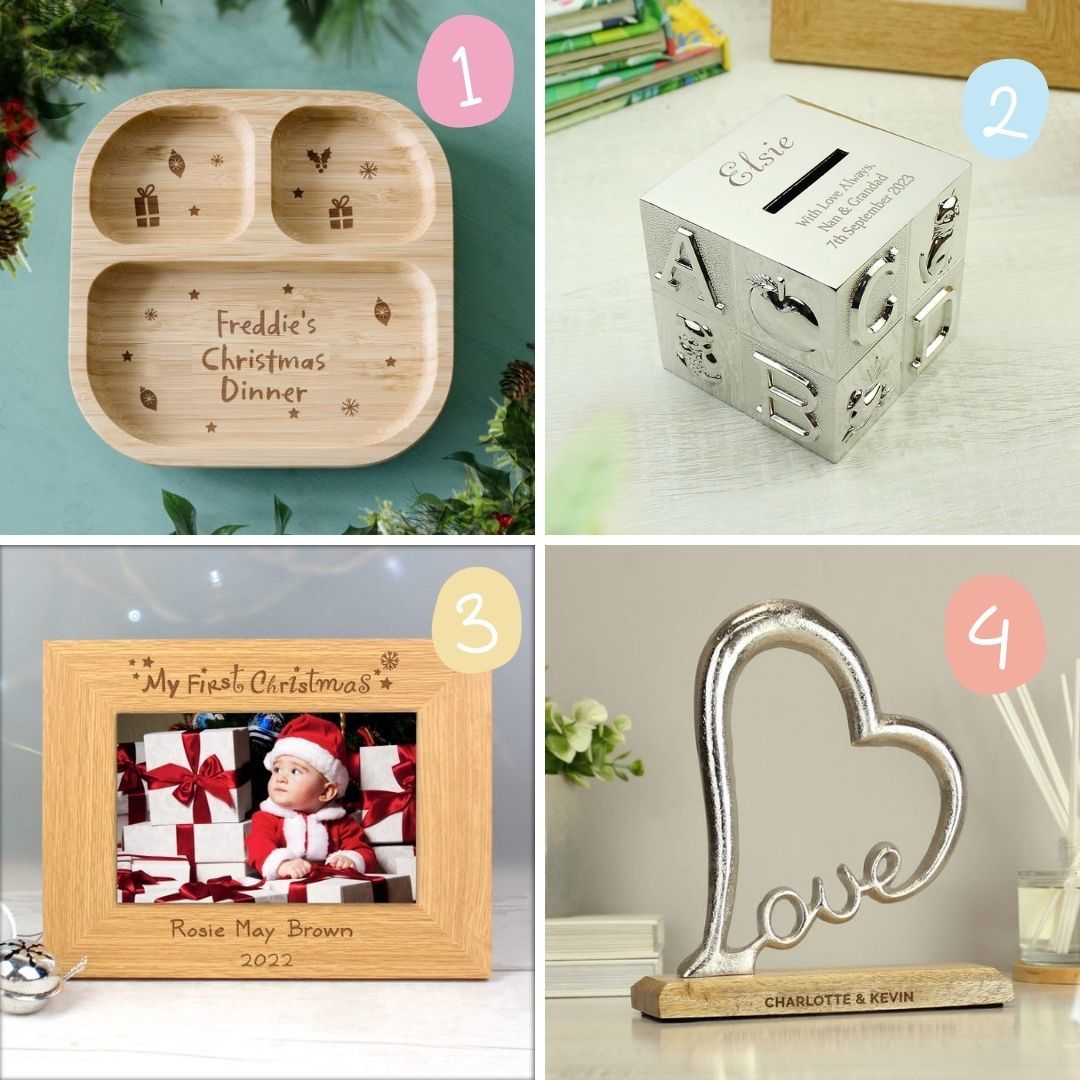 We think that the Personalised Christmas Dinner Plate would be a fantastic first Christmas gift for a baby who will be eating their very first Christmas dinner!
shopDisney Personalised Gifts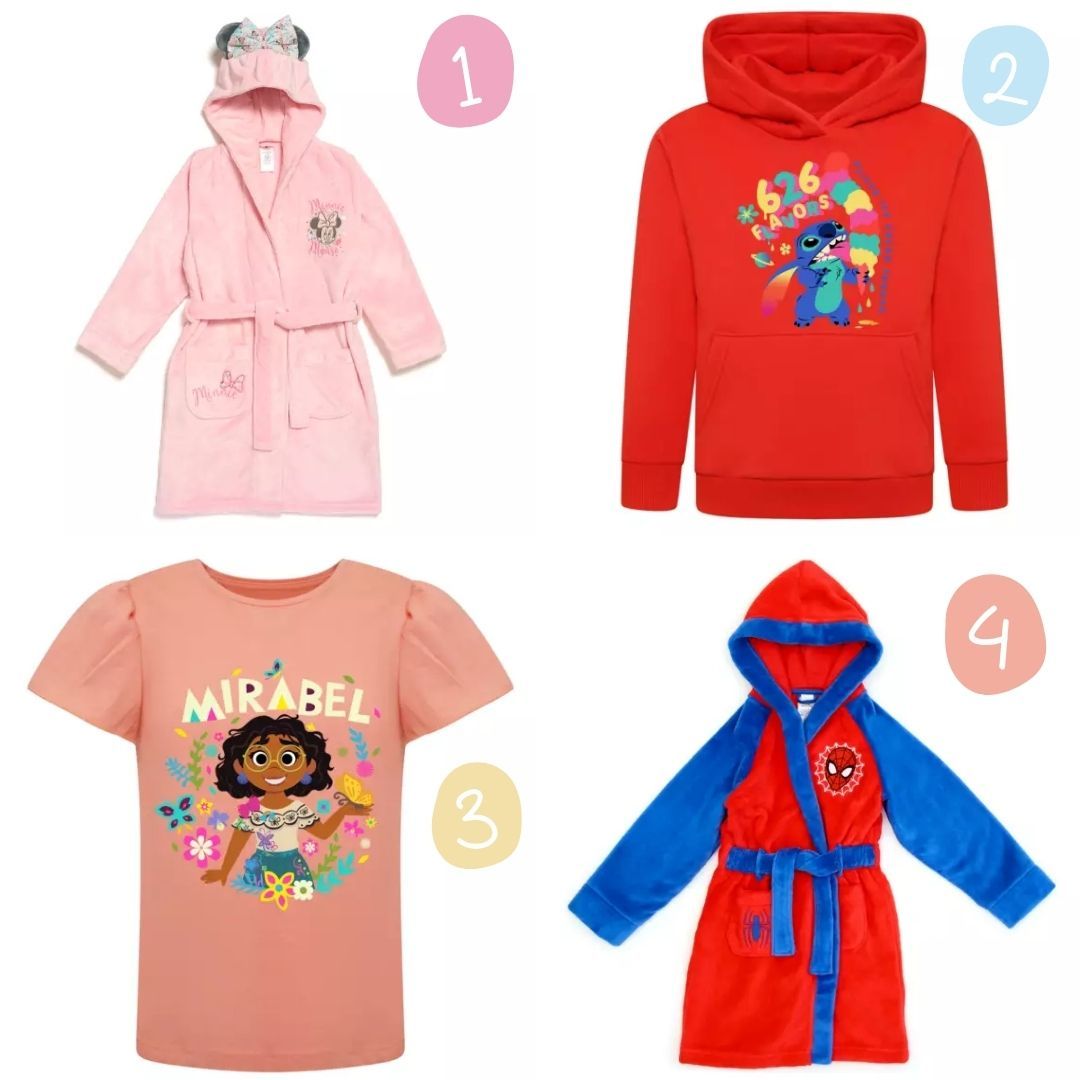 shopDisney never fail to deliver when it comes to exciting and fun Disney gifts but did you know that you can actually personalise a lot of their items?? The perfect way to create a thoughtful yet practical gift.
And yes, you can even personalise the soft toys! Imagine a little ones face when they open up this giant Stitch and then discover that their name has been embroidered into it.
Not On The Highstreet Personalised Gifts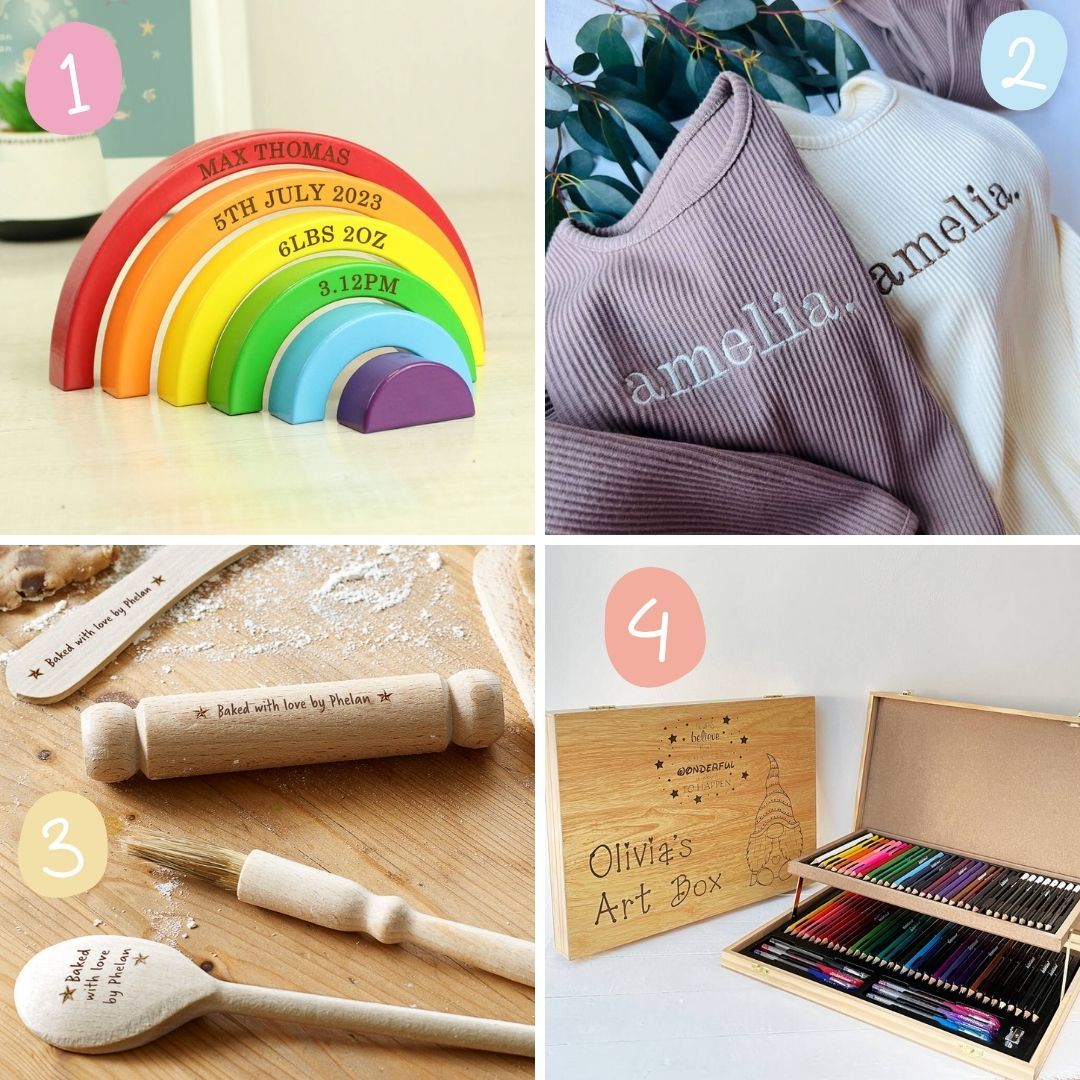 Not On The Highstreet is a wonderful place to find small businesses and handmade, personalised Christmas gifts. From baking to art, clothing to toys, there's an enormous range of personalised gifts to choose from here.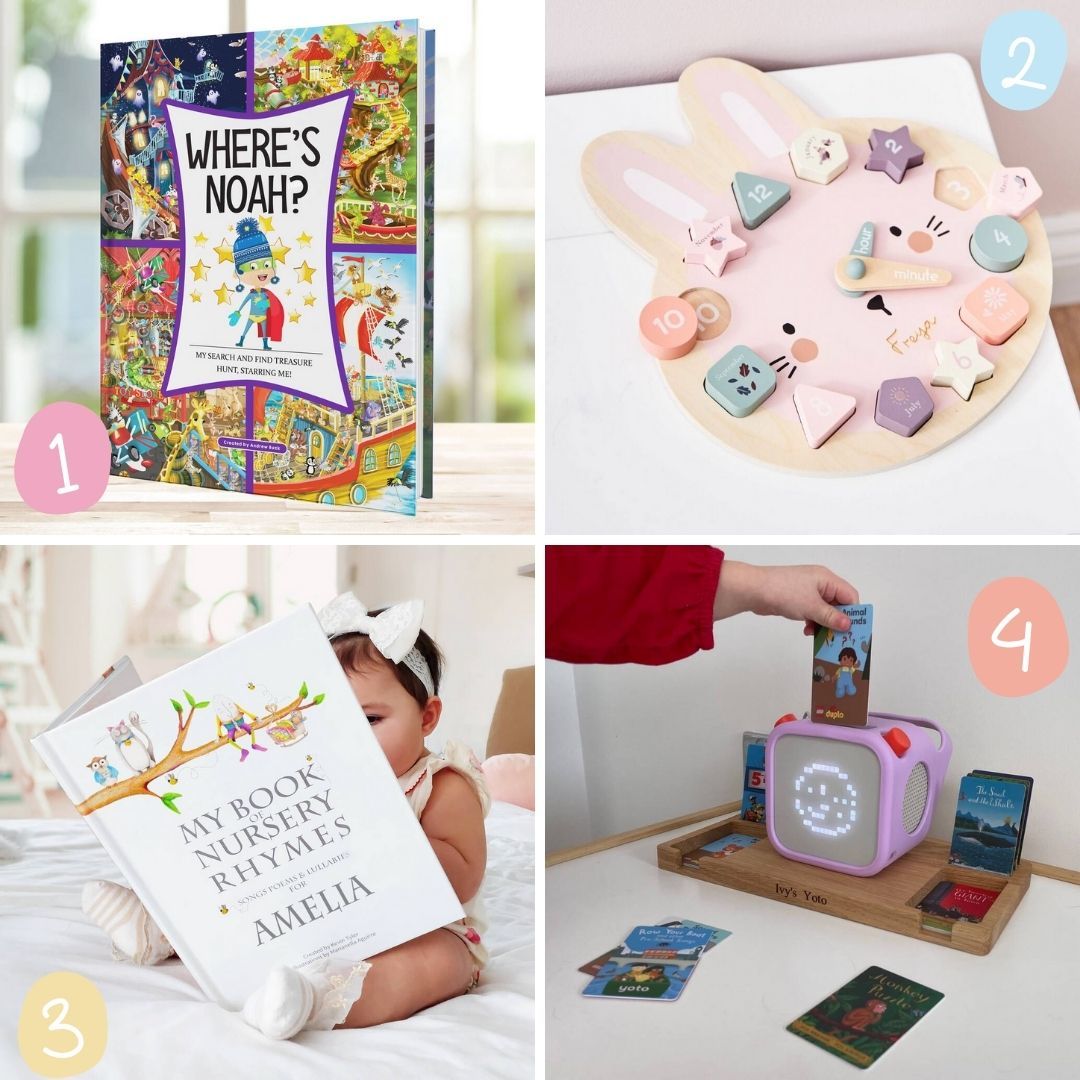 We LOVE the idea of having your very own Where's Wally book. Or how about a personalised book of nursery rhymes. Both such a lovely gift ideas and all from small businesses.
Etsy Personalised Gifts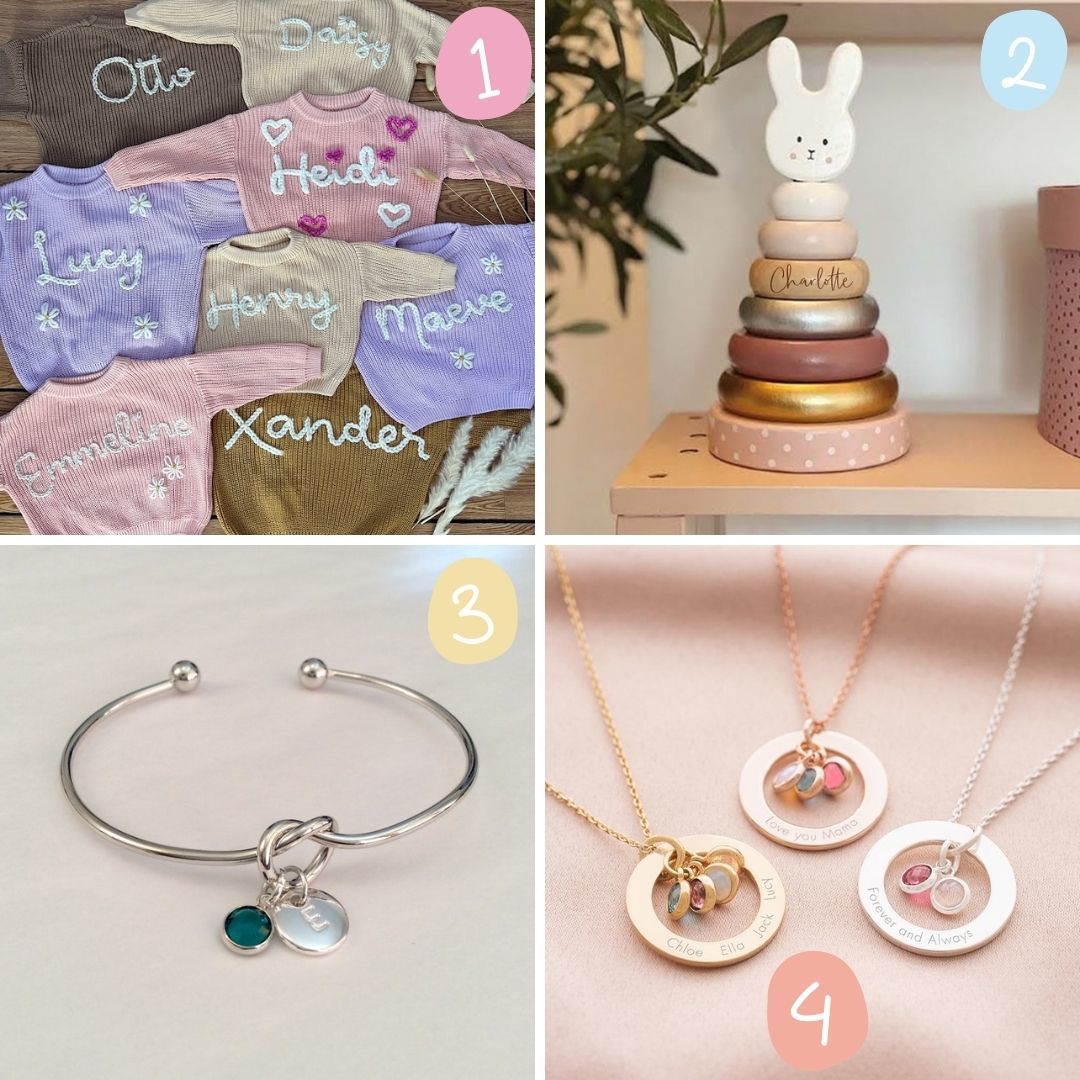 Oh my goodness, how lush are those embroidered jumpers?! We fell in love with what we spotted when browsing personalised gifts at Etsy - that's our mum, nan and new baby niece sorted! The personalised birthstone necklaces are absolutely stunning, the children's names engraved into them makes them a truly special piece of jewellery.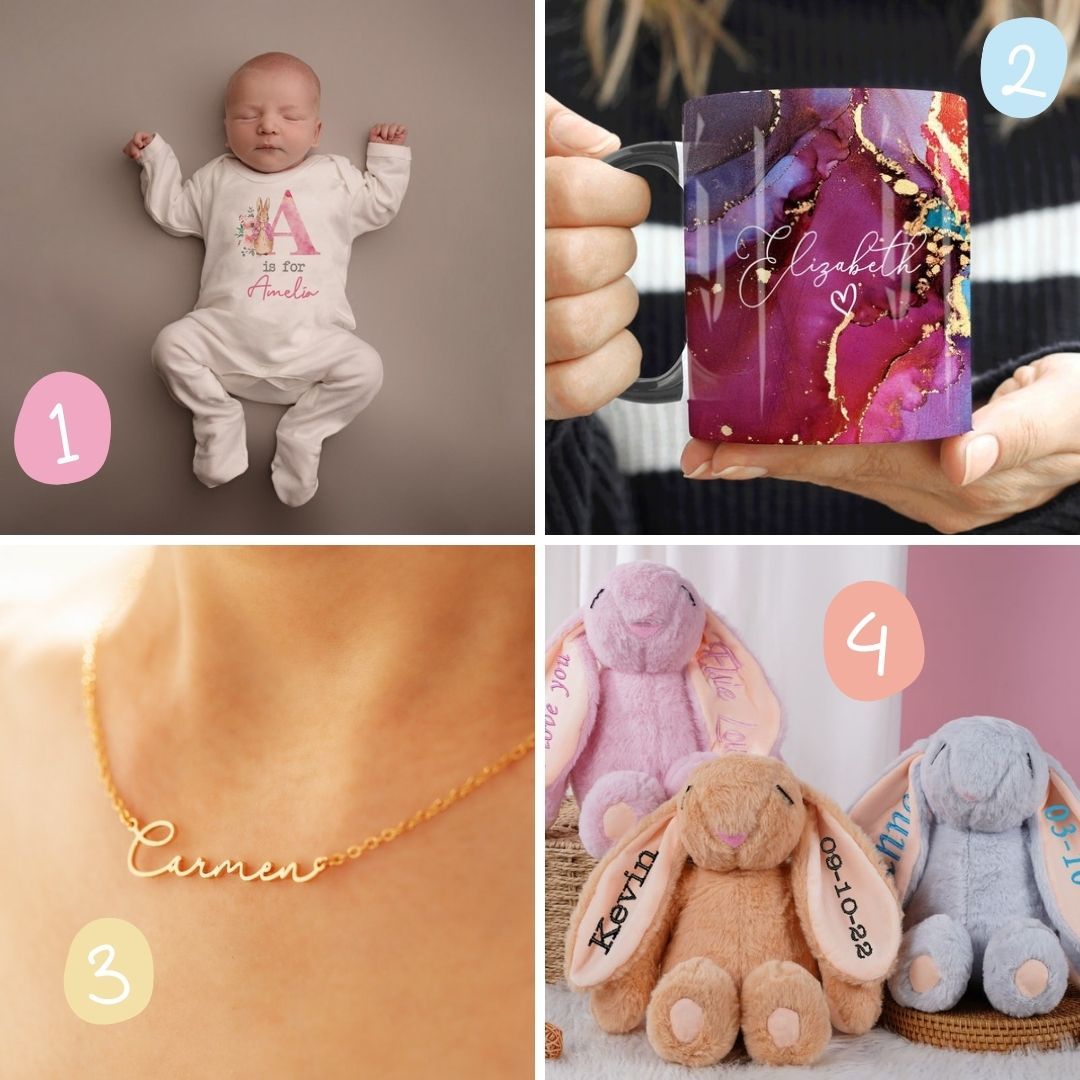 We had to include this beautiful gold name necklace. So pretty and delicate, it would be a beautiful gift for a friend, mum or daughter perhaps. To be honest the entire Bump team wanted one for themselves.
Getting Personal Personalised Gifts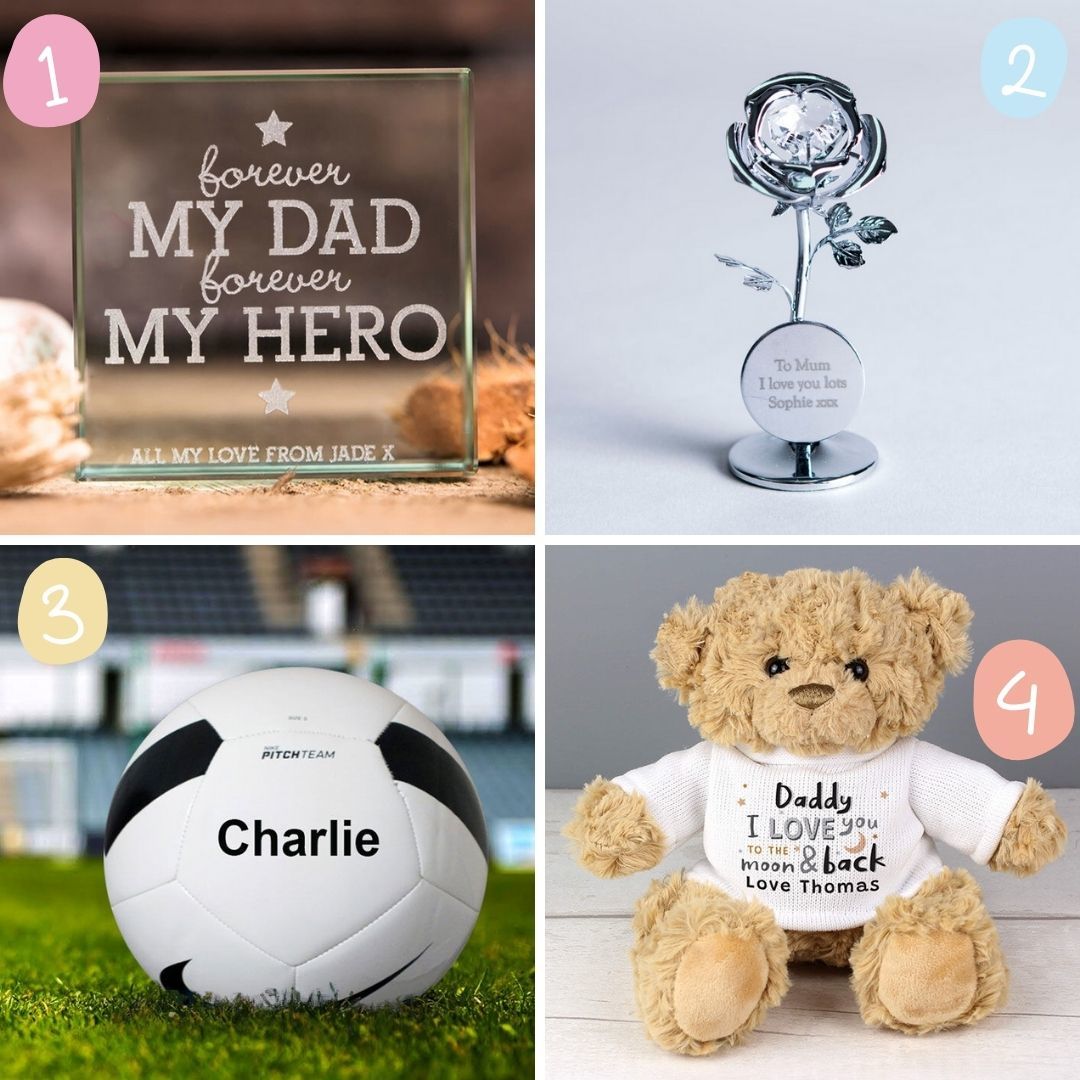 Getting Personal is the latest online retailer to catch our eye - we were excited to see what they had to offer! They stock personalised gift options for young and old, for all hobbies and wishes, and their pricing is excellent. The personalised football is going to be a popular one this Christmas and if you're struggling with what to get daddy from the little ones, these super cuddly teddy bear with personalised tee would be a cute idea.
Jonny's Sister Personalised Gifts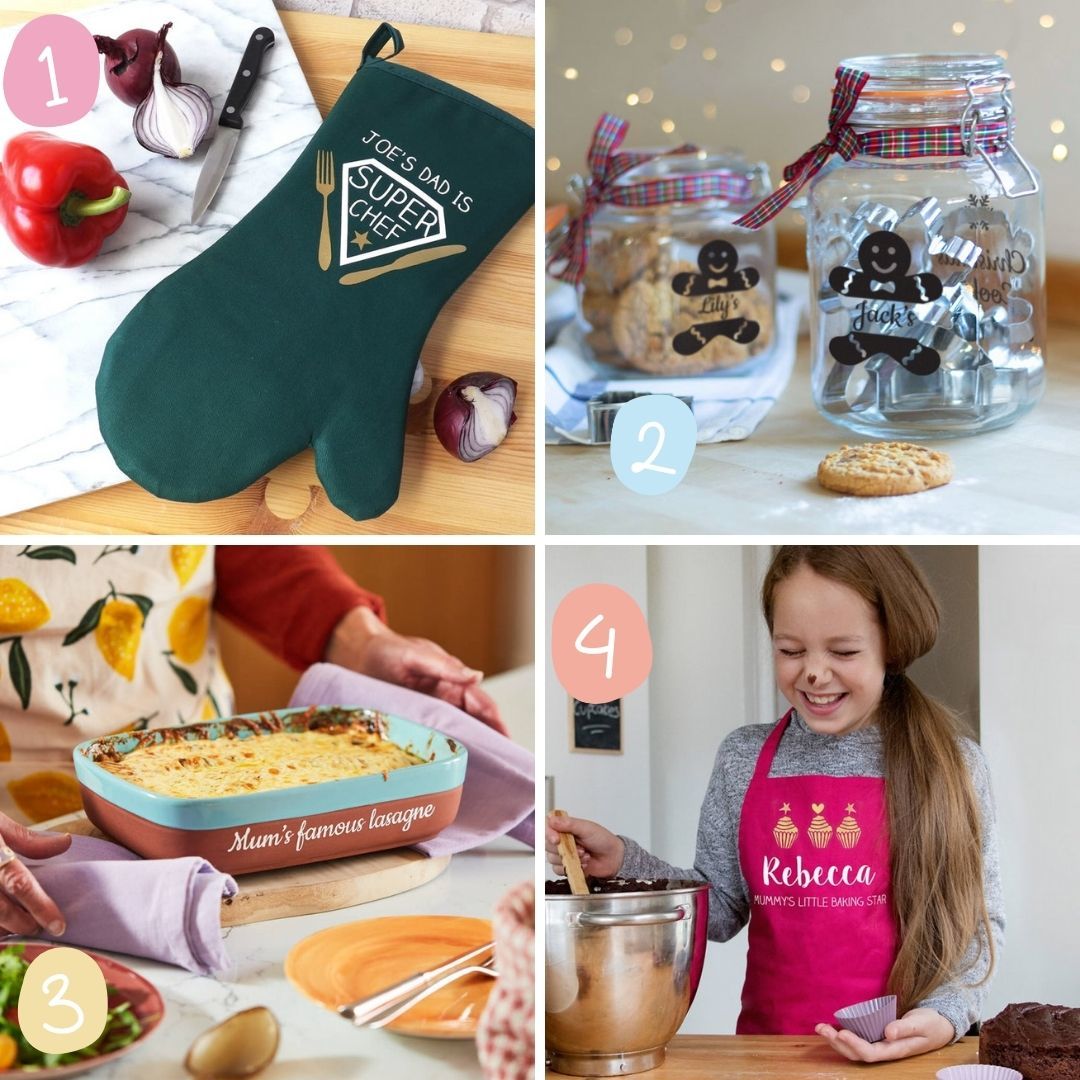 Jonny's Sister really impressed us with their personalised gifts range. What really caught our eye in particular was their range of personalised kitchen and cooking products - aprons, dishes, cookie cutters and so much more. Perfect if you're buying a loved one who absolutely adores baking and whipping up a frenzy in the kitchen. The personalised ovenproof dish is a brilliant idea.
Our verdict...
Wow - we didn't realise just how many options we had when it came to selecting the perfect personalised gift for a loved one this Christmas! There are some truly gorgeous personalised gifts out there, and there is something for everyone, without a doubt. If you're struggling to decide what to buy for a tricky friend or relative, you should take a leaf out of our book and check out the personalised gift ranges we spotted. Happy shopping!
Affiliate links are marked with an * - advertorial content in partnership with retailers
Favourite Finds
If you like this product, you might be interested in these too!