The weather outside is frightful, but these fashion finds are delightful!
Cosy, cute, sweet and oh-so stylish, La Redoute has a massive up to 40% off Fashion, Footwear & Home event on NOW! If you're keen to stock up on seasonal clothing for the family, you can't miss it. There's so much gorgeous autumn & winter newness to pick from!
Not only that, but you can also grab yourself a beautiful bargain for your home at the La Redoute event too – why not take the opportunity to kit out a nursery for your incoming baby, or maybe treat yourself to a redesigned bedroom?
This big up to 40% off event ends at midnight 6th October and to get the discount, use code AUTUMN at checkout.
SHOP THE UP TO 40% OFF EVENT HERE*
We've put together our absolute favourite finds for you here – happy shopping!
Woodland animals is a popular theme this autumn/winter. How adorable are these multipacks? The mix of pastel and rustic shades is absolutely perfect. And with up to 40% OFF you'll get an amazing value for money!
How about these sweet food-themed finds and those little star print booties? We're loving the soft shades of pink, cream and coffee. The perfect neutral sleepwear if you haven't found out the sex of the baby yet / planning not to.
Outerwear
Another theme back on-trend is camo print! We're loving this mix of combat boots, rustic shades and the camouflage print reversible jacket. Very autumnal!
Pretty yet practical, we think that these finds are great for active girls who love to explore out and about over the autumn and winter months. We see those patent boots matching so many cute outfits!
Outfits
How about some sport luxe? This Adidas set goes perfectly with those sweet New Balance and Nike trainers we found!
These sporty finds for the boys in your life are perfect for hanging out in cooler weather. How ace are those flame print hi-tops?!
Soft lilacs, shades of sage green and neutrals together are such a sweet combination for autumn and winter style.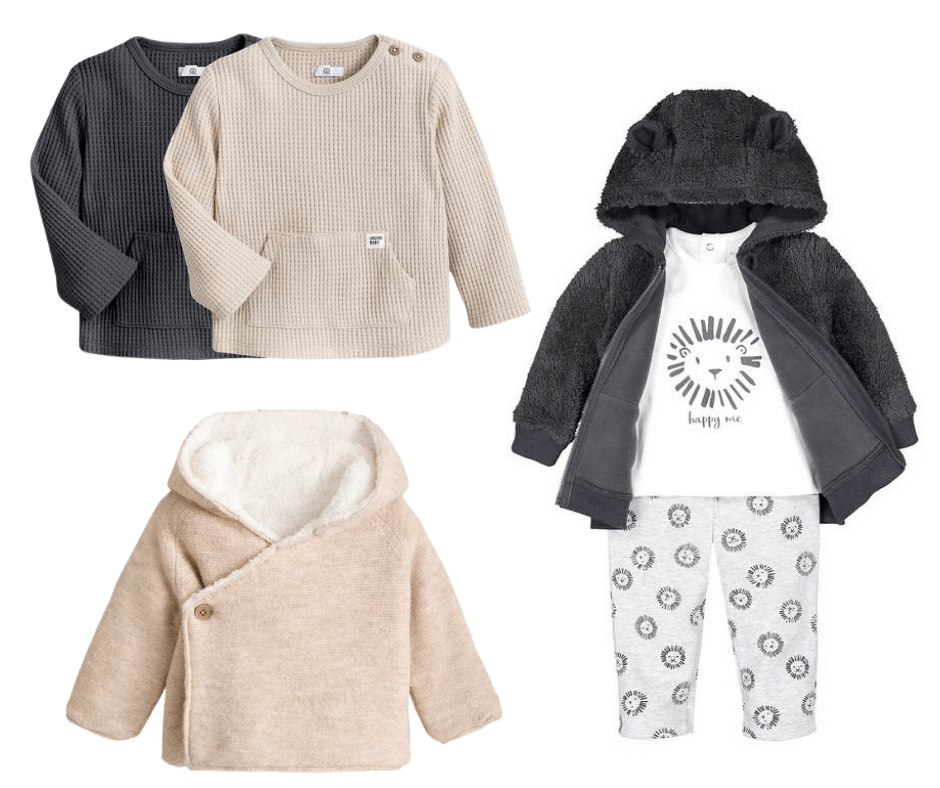 We think that soft neutrals and darker shades are a match made in heaven. We're loving the combinations of shades here, as well as the adorable lion motif and the soft cosy fabrics!
Homeware
Last but not least in our finds – the roarsome animal theme combined with neutral and rustic shades is bang on-trend when it comes to homeware too! How gorgeous is this nursery set we've put together?
Our Verdict…
The 40% off event over at La Redoute is unmissable – if you need cute and cosy clothing for your little one, or perhaps some treats for yourself, we think you'll love all the autumn and winter newness. Remember – this big 40% off event ends at midnight 6th Oct and to get the discount, use code AUTUMN at checkout!
SHOP THE UP TO 40% OFF EVENT HERE*
Affiliate links are marked with an *
---
If you liked this, we think you'll love:
Favourite Finds
If you like this product, you might be interested in these too!