With warmer weather approaching, it's time to prepare for outdoor fun with your little ones!
Outdoor play has so many benefits, with this in mind we've put together our absolute favourite tried and tested outdoor toys.
Investing in some stimulating outdoor toys will allow you to reap the benefits of sunlight, fresh air and physical movement for your children – and we're sure they'll be overjoyed with their new playthings!
---
Mud Kitchens
We absolutely love mud kitchens! They're fantastic for imaginative play, sensory development, and getting in touch with nature. Our forest school and nursery use them; Max loves to get stuck in with the pebbles, soil, twigs and water.
Mud Kitchens have the most range out there. They come in a wide range of colours and sizes – here are our top three.
Find the Midi Mud Kitchen here*.
Find the Pebble Two Bowl here* (second two images).

Even better – We have an exclusive 10% off code: bumpbabyyou
---
Trampolines
Why not make the most of your outside space with a trampoline? These are a fail safe option as kids absolutely love to bounce to their hearts content, and as an added benefit, trampolining is an excellent way of keeping physically active!
We've found a variety of sizes to suit everyone…
You can find the Plum Junior Trampoline here*.
Find the Indoor Giraffe Trampoline here* – perfect for temporary use outside on sunny days.
Get the Plum Spacezone 8ft Trampoline and 3G Enclosure here*.

---
Paddling Pools
Paddling pools are perfect for helping the kiddies cool off in the summer. They're also a lovely form of sensory play, and will provide hours of entertainment for your little one.
Find the Jilong Paddling Pool here*.
Get the Tropical Family Paddling Pool here*.
Find the UV Whale Pop-Up Shade Pool here*.

We also love this water play Rainbow Sprinkler…
You can save £4 on this Rainbow Sprinkler in the Mothercare sale – HURRY though as this is a popular purchase!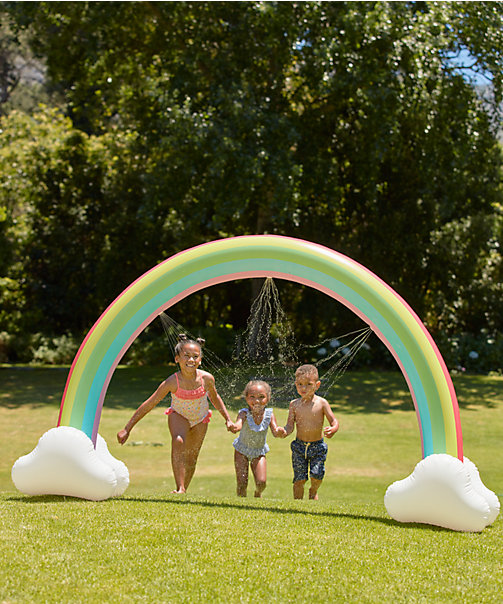 ---
Swings/slides/activity frames
Swings, slides and activity frames are a hit with young children, and provide great mental and physical stimulation for them. Imagine how much fun your little one would have with their own swing set in the garden! You'd never have to wait for a turn at the park again…
See the Little Tikes Tumblin' Tower here*.
Find the Little Tikes Large Easy Store Slide here*.
What about this Giant Foam 4 in a Row?
This is another great way to keep the kids engaged and active, as well as honing their problem solving skills – check it out over at Dunelm*!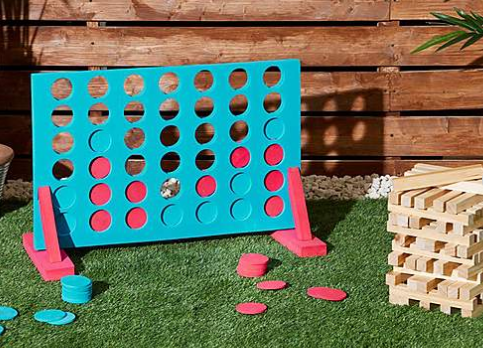 ---
Sand & Water Tables
How fab are Sand and water tables? They're a perfect balance of sensory play with all the textures and sounds. Little imaginations can run wild building sand castles, forts, rivers – there is literally no limit to what the kids will create!
We love the Little Tikes table in the middle below, the parasol is a great addition for days where the sun is beaming. From experience, sand and water tables are also fab for playdates as the children can all gather around the table and take part.
You can find the Plum Sandy Bay Wooden Sand Pit & Water Table here*.
See the Little Tikes Sand and Sea Table here*.
Get the Wooden Lidded Sandpit here*.

---
Trikes
My son absolutely loves his trike, and so do we! We have a SmarTrike that we can push him around in; it's a fun alternative to a pram or buggy and the best part is it's totally portable as it folds!
Pedal trikes are great for older toddlers who are able to pedal; they'll keep them active as they dart around the garden or the park to their hearts content. The Simplay3 is definitely on my wish list for Max this summer…
See the Simplay3 Super Coupe Pedal Trike here*.
Get the SmarTrike Deluxe here*.

---
Kids Picnic Sets
Picnic sets are perfect for enjoying lunch outside on a sunny day, or even enjoying some al fresco arts and crafts.
The Deluxe model (first image) also doubles as a sandpit, which we really love; practical and fun! These sets are also ideal for playdates, as your child and their friends can sit together and enjoy the great outdoors together.
Get the Deluxe Picnic Table Sandpit here*.
Find the Kingfisher Kids Picnic Set here*.
Take a closer look at the Plum Picnic Table With Parasol here*.

---
The Benefits of Outdoor Play – why you should invest in Outdoor Toys
Why we're mad about mud…
Playing outdoors in the mud can make you 'happier, connect you with nature, make you healthier, make you smarter, help development, hone art skills…'. Read the full list of the benefits of mud here.
Concentration Levels
Research developed by The Children & Nature Network has shown that Children with Attention-Deficit Hyperactivity Disorder (ADHD) are able to concentrate better after spending time outdoors, according to numerous studies, and time spent in nature can also help to reduce stress in children – you can find out more about this research here!
Eyesight
The risk of myopia, or nearsightedness, is reduced by two-thirds for children with nearsighted parents if they spend more than 14 hours per week outside – you can find this research here!
Sleep
I think we can all agree that babies and children sleep better when they've been out and about, playing and moving! The benefits of outdoor play could make night time a whole lot more peaceful if your child has patchy sleep.
Overall Health
Studies have also indicated that the benefits of being outdoors and exposed to sunlight extend to stronger bone growth, immune system and improved physical strength & coordination – there's more information on this here.
---
What outdoor toys do your kids enjoy, and what would you recommend to other parents? Share with us in the comments.
Love from Katie. Xx