Wooden toys have experienced a huge surge in popularity over the past few years and we regularly notice mums in our group sharing some of their favourite purchases. To help you lovely readers find the best wooden toys for your little ones to enjoy for Christmas 2018, we've put together this comprehensive guide on why they're so awesome, the benefits of choosing wooden toys, and where you can find some great wooden toys for babies and toddlers.
Where's best to buy wooden toys?
Sick of traipsing the shops and spending hours browsing online? You're in luck! We've gathered together some fabulous and affordable wooden toys on sale right now in the UK from the likes of Aldi, Asda, Very and Lidl.
What are the benefits of choosing wooden toys?
Choosing wooden toys has so many advantages for children! If you're a believer in the Montessori concept of learning and play, you'll already know all about the many benefits of choosing wooden toys for children.
Bells, whistles and flashing lights are all super-fun features of plastic toys, and of course, kids love them! However, when there's an obvious way an item should be played with – a button to push or a voice telling kids what to do, a little imagination can be lost. Many wooden toys promote and inspire imaginative play. They may encourage role play or open ended play where an item can be played with in lots of ways. A wooden rainbow can become a telephone, a bridge or a rainbow! Blocks can be towers or castles or stepping stones across a river. And how much fun is it to set up your own shop or kitchen with little more than a few wooden fruit and veg items? The lack of distracting noises and lights also promotes social interaction when playing with other children. That's not to say that high-tech toys are inherently bad, just that playing with wooden toys comes with its own plus points.
Are wooden toys better than plastic toys?
One factor that may give traditional wooden toys the shopping edge for you is the horrendous environmental impact of plastic on our earth. If you haven't watched the documentary 'Drowning in Plastic' on BBC yet, I recommend that you do! Whilst demand for plastic toys remains, there will be continued production of plastic, leading to landfill and other problems such as micro-plastics building in our water table and ocean, the death of many species of wildlife… most plastic is not biodegradable. Wood is! With this in mind, wooden toys are far easier to recycle and can be made with sustainable wood.
Plastic toys tend to have a shorter lifespan. This means lots of waste and carbon emissions result from making more toys, whereas wooden toys are usually more durable and stand a little more wear and tear so they can be passed between siblings or even generations. Being able to pass down toys that have sentimental memories attached makes the toy that extra bit special.
Finally, plastic toys very often include levels of PVC, phthalates, lead, and bisphenol-A, which can be toxic in certain amounts. There are specific safety standards toys made in the EU must adhere to regarding use of these, but it's worth bearing in mind that older secondhand plastic toys may have been made before our laws got so stringent. In contrast, wooden toys, when properly manufactured, are merely painted with some non-toxic paint. This means your little one can gnaw away without any worries.
So, that leads us on to our favourite wooden toys for this coming Christmas – I hope you love our picks as much as we do!
---
Asda Wooden Toys
Asda offer a very popular range of traditional wooden toys, with something for little ones of every age. They also have a 20% off event on at the time of writing (2nd November 2018) so be quick! Here are our favourites…
Babies
Wooden Skittles
If you're looking for wooden toys for babies, these colourful wooden skittles promise hours of fun and development of both motor skills and hand-eye coordination. You can see more here*.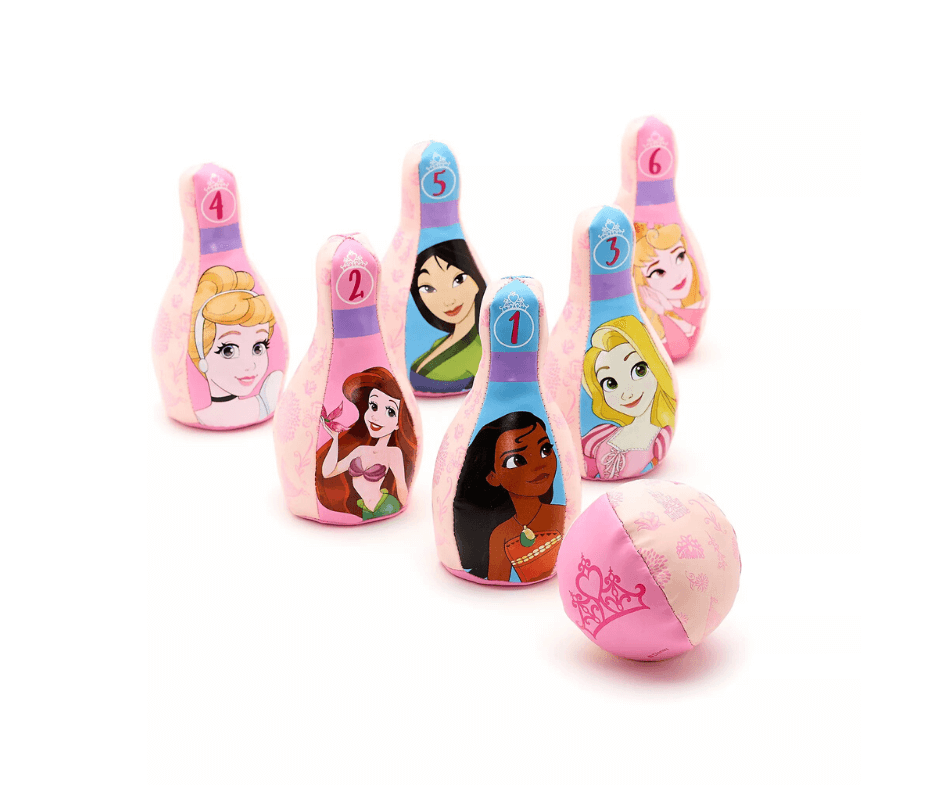 Toddlers
Wooden kitchen play set
We LOVE this wooden kitchen play set – it's perfect as a wooden role play toy for boys and girls. Be quick, as it's sure to be very popular for Christmas 2018! You can find it here*.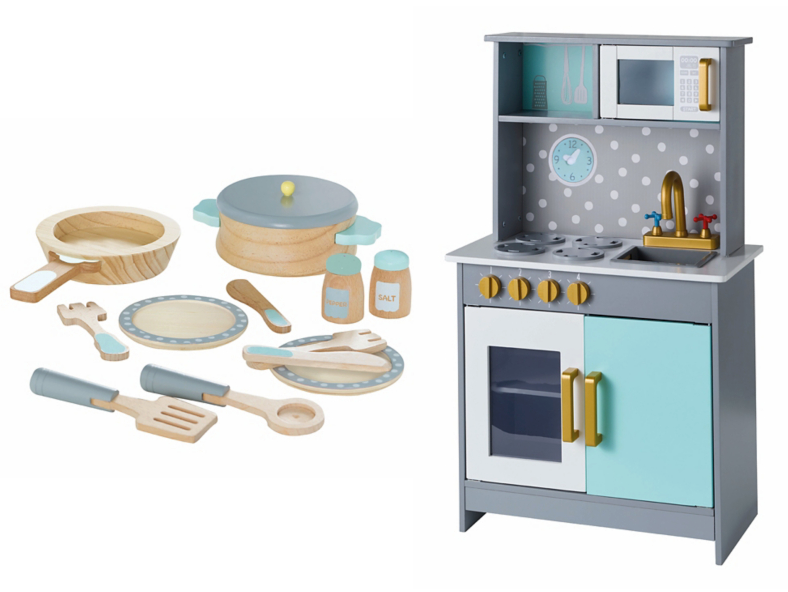 Wooden Washing Machine
My son would absolutely love this – he is obsessed with washing machines! As above, this is a fantastic toy to incorporate into role play and little ones will love copying what Mummy and Daddy do. You can find it here*.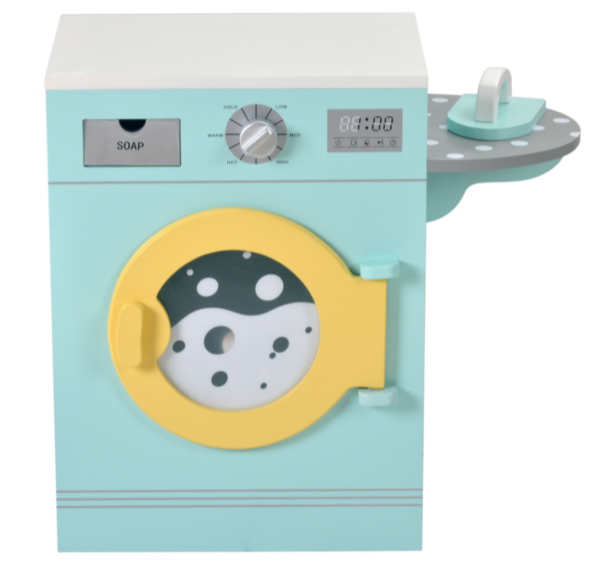 Children
Wooden Princess Castle
This wooden princess castle is absolutely gorgeous! The beautiful details and bright colours will inspire endless hours of imaginative play, and promises to bring magic to playdates. You can find it here*.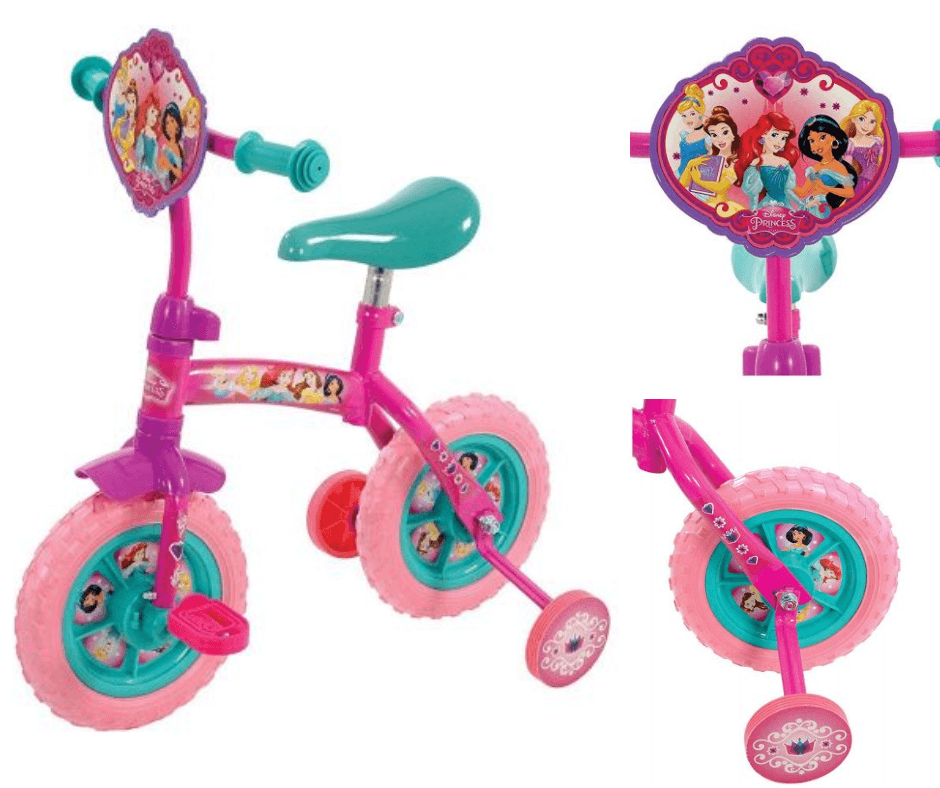 Train Set Table
Choo choo! All aboard the Santa Express! Train lovers will adore this train set table – we love the bridge, it's so realistic and a great value start for anyone hoping to build up a big collection of wooden train kit. You can find it here*.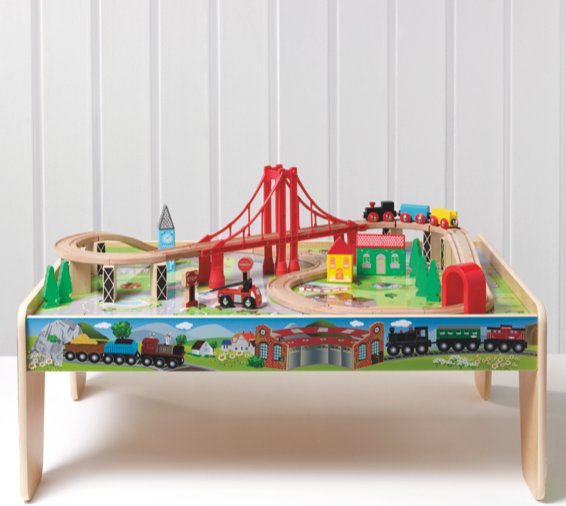 Dinosaur Train Set
This dinosaur train set is ROARSOME too! It's pretty unique – we haven't spotted anything else quite like this – it's a great dinosaur toy and train toy in one. You can check it out here*.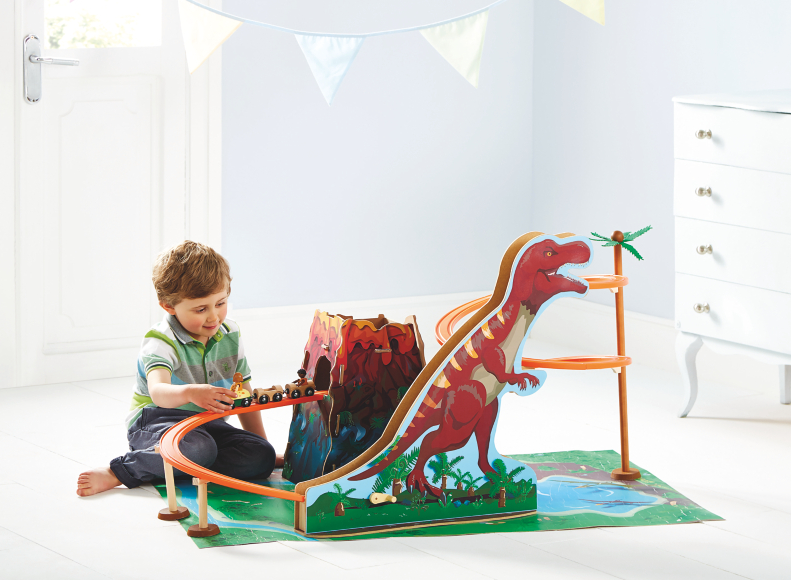 ---
Aldi
Aldi's wooden toy events are always an absolute hit with parents, because their prices are so reasonable but the quality is second to none. Check out what we've got our eye on in the Aldi 2018 wooden toy range…
Baby
Wooden Rocking Horse
Awwww, how adorable is this rocking horse? It's such a classic, timeless choice for a first toy and promises to bring hours of fun.  It's also a great way to help develop your little one's physical ability to sit upright with confidence. You can find it here*.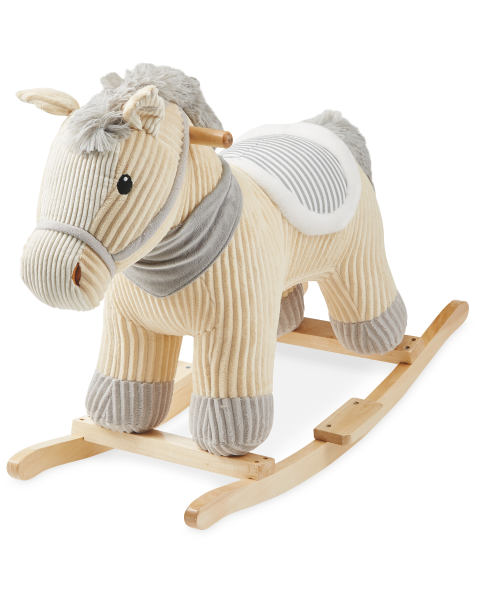 Little Town Wooden Baby Walker
If your wee one is on the cusp of toddling, this wooden baby walker is an ideal gift to help them hone their walking skills!  It also doubles as a shape sorter with sorting blocks, which will help develop problem solving skills too. It comes in red or pink. You can see it here*.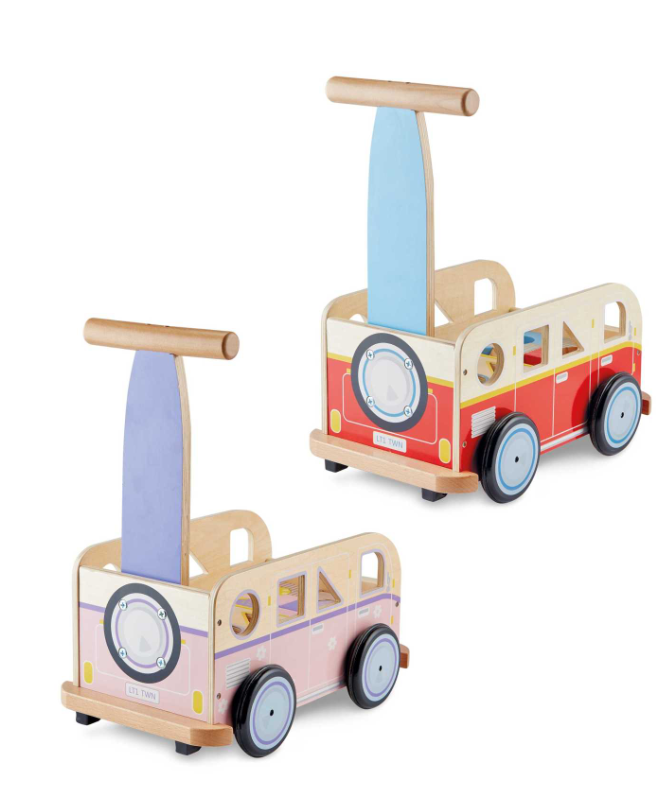 Toddler
Grey Wooden Play Kitchen
We love a w wooden play kitchen. This one is a fantastic combination of traditional and modern, with the chic monochrome styling and has some cute features like an in-built storage shelf for all those wooden pots and pans/ It would look lovely in any playroom! You can find it here*.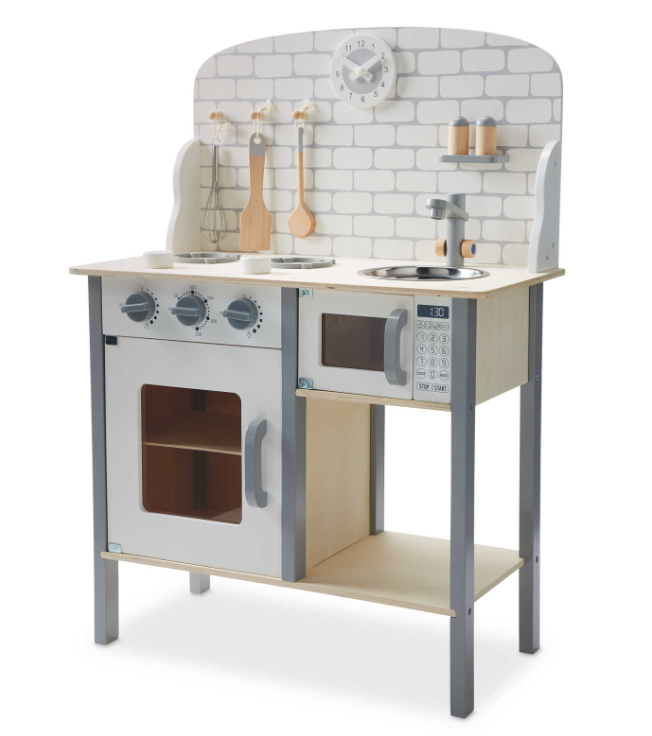 Little Town Wooden Noah's Ark Scene
This beautiful and brightly coloured Noah's Arc set is bound to inspire endless hours of imaginative play – we absolutely adore it. It would make a lovely baby's first Christmas gift too. You can find it here*.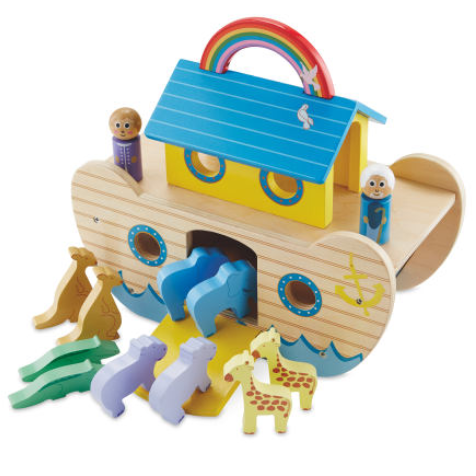 Child
Little Town Wooden Garage
This beautifully made wooden garage is super dynamic and has so many entertaining elements – a helicopter pad, speed ramp, and a movable lift just to name a few! And as it's built upwards, it doesn't take up a huge amount of floor space – you can find it here*.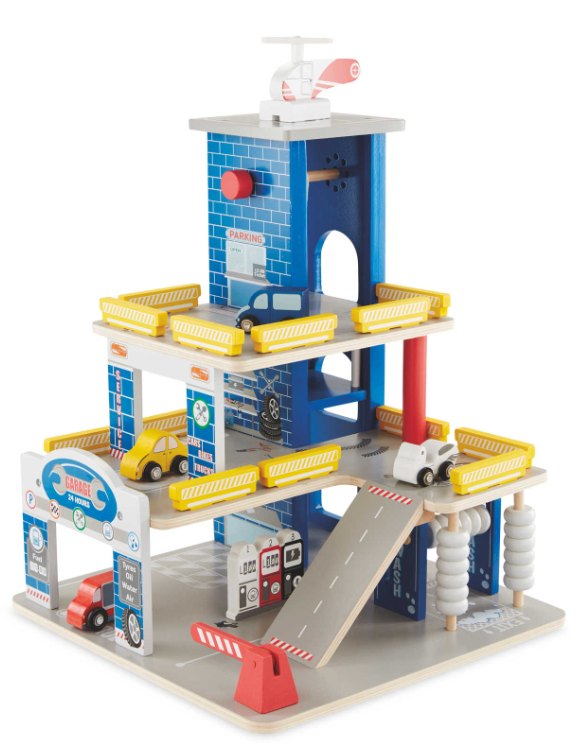 Little Town Carry Along Fire Station
This carry along wooden fire station set is an ideal toy for kiddies who are on the go and like to take toys on their travels. They'll love taking this with them when they head to Granny and Grandad's. The price is also a steal!
Check it out here*.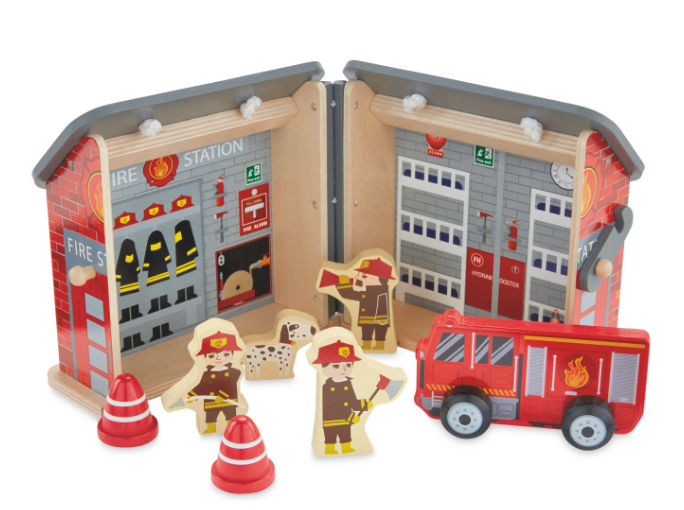 Little Town Wooden Pirate Ship
Wowzer, this amazingly detailed wooden pirate shop is a showstopper and sure to make any child very happy on Christmas morning! Just look at that little shark! You can find it here*.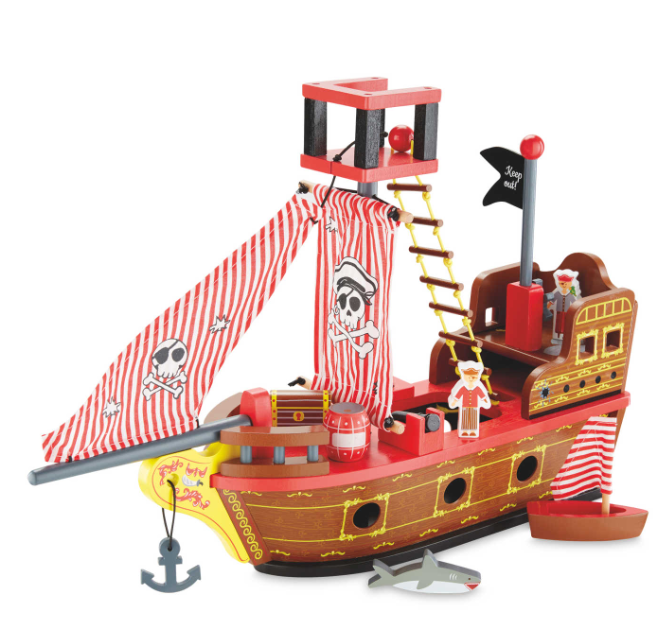 ---
Very Wooden Toys
Very has an excellent selection of traditional wooden toys, perfect for gifting this Christmas 2018.
Baby
Melissa & Doug Latches Board
This colourful Melissa & Doug latches board is multi-sensory and perfect for developing fine motor skills. You can find it here*.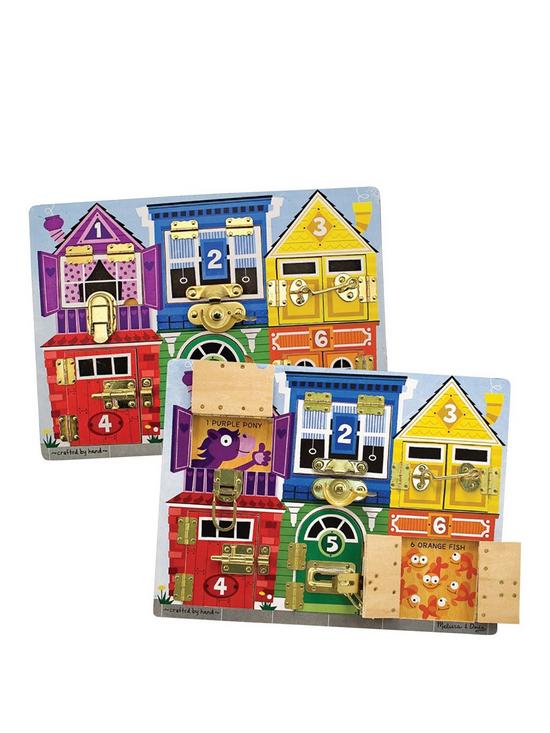 Band in a Box
Music is a fabulous developmental and educational tool. This wooden band in a box kit would be the perfect Christmas gift for a child who loves music classes or nursery rhymes. With lots of easy to hold instruments for little hands, it's designed to help them vocalise and make rhythms! You can find it here*.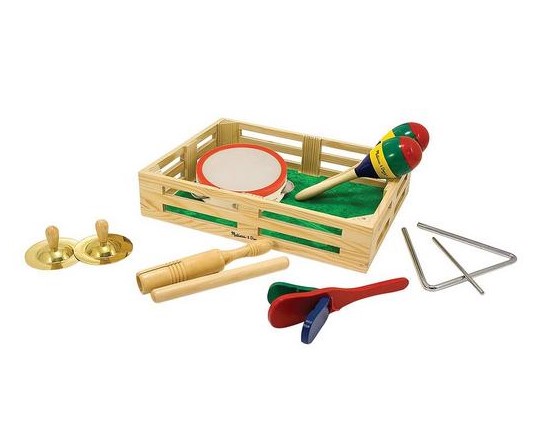 Toddler
Melissa & Doug Take-Along Tool Kit
Why not help your toddler develop their problem-solving skills with this lovely wooden take-along tool kit? My son will definitely be getting one of these for Christmas 2018. You can see it here*.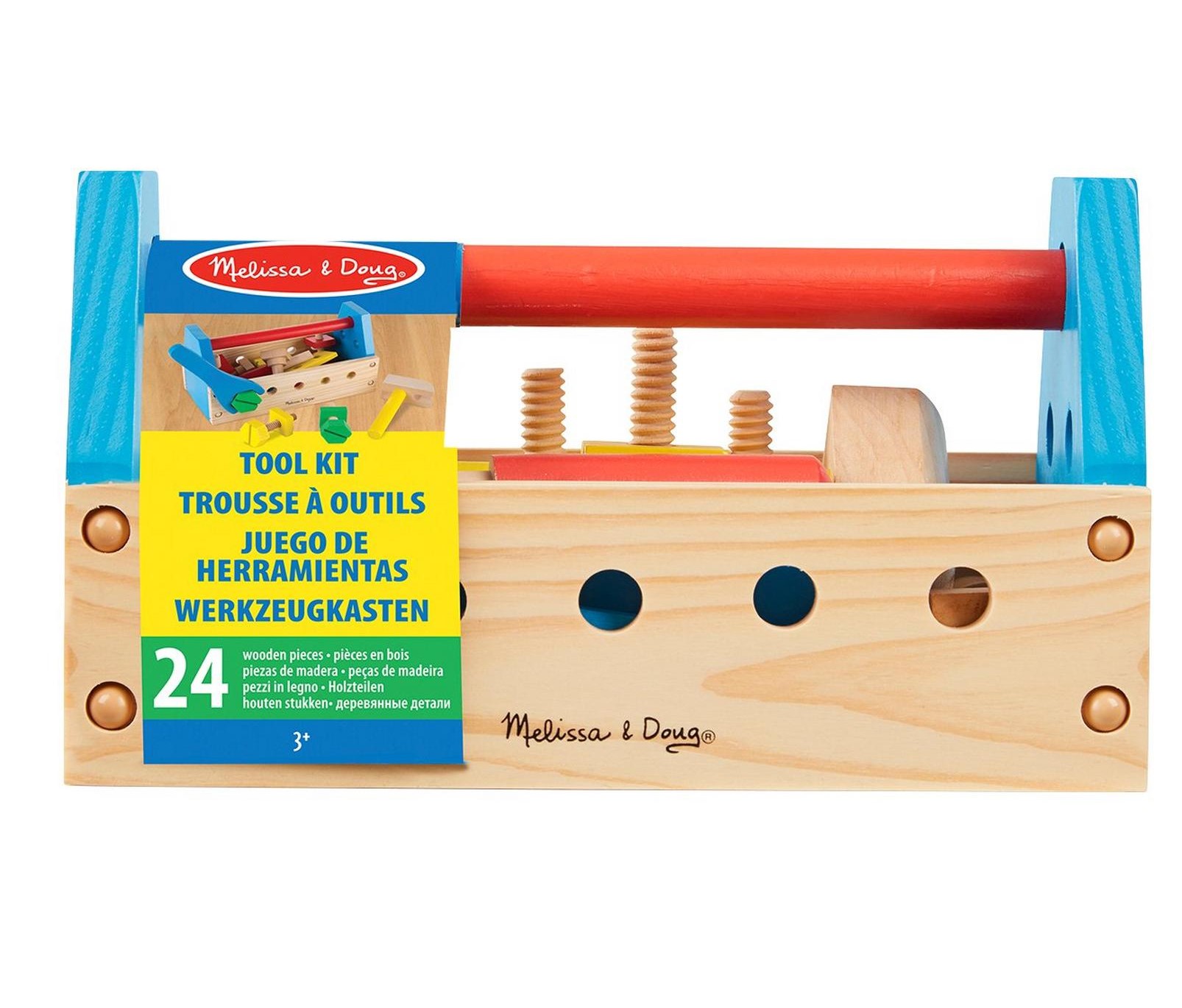 Thomas & Friends Wooden Railway 5-in-1 Starter Set
Do you have a Thomas the Tank Engine fan in your midst? This Thomas & Friends wooden railway set will put a smile on their face come Christmas morning – you can find it here*.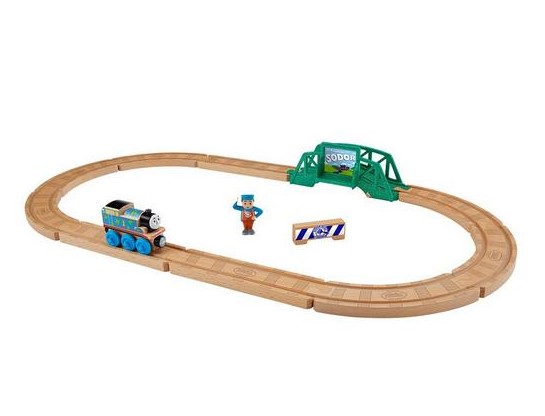 Melissa & Doug Bread and Butter Toaster Set
Wooden food sets are all the rage at the moment, particularly with the popularity of wooden play kitchens for Christmas 2018. This wooden toaster set is absolutely adorable, and would complement kitchen roleplay splendidly. You can see it here*!

Child
Tildo Crane
For older kids, this wooden crane would be the perfect addition to an imaginary building site! It's currently REDUCED (at the time of publishing) so be quick whilst it is still in stock – you can find it here*.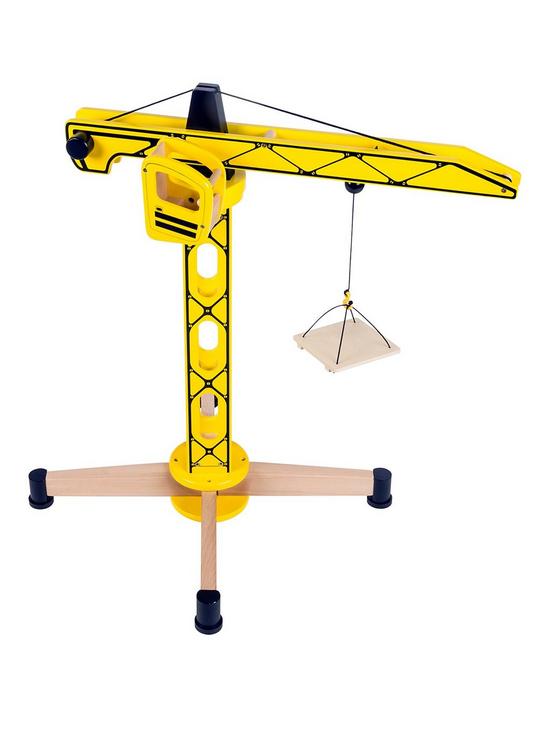 Melissa & Doug Dinosaur Party Playset
If your child is a dinosaur fanatic, this dinosaur party playset could be just what they need for Christmas! Each dinosaur comes with a compartment in the lovely wooden case, and each figure also comes with information about the specific type of dinosaur. So there's plenty to learn as well as a good amount of roaring to be done. You can find it here*.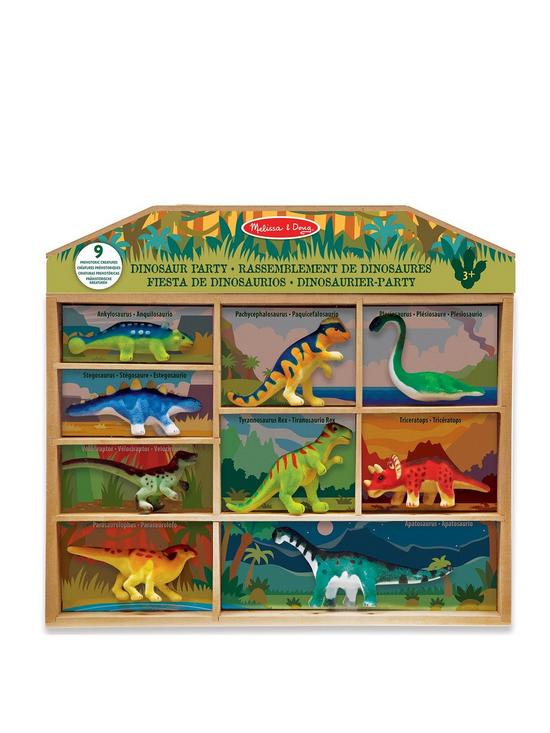 ---
Lidl Wooden Toys
We're loving the wooden toy range over at Lidl for Christmas 2018! The prices are unbelievable, and the choice is brilliant. Available in stores only!
Toddler
Playtive Junior Wooden Toy Workbench
Chop, bang, creaaaak – if your little is a wannabe builder, this traditional wooden toy workbench could be exactly what they'd love this Christmas 2o18. Brightly coloured with dynamic parts, it's sure to be popular this year. You can see it here*!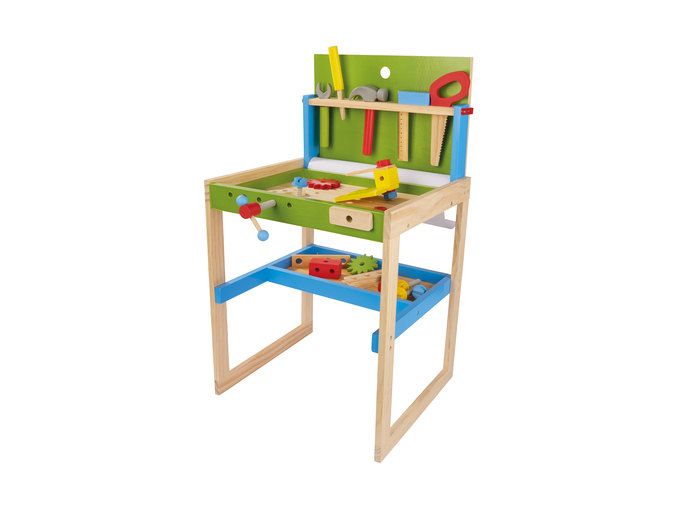 Playtive Junior Wooden Food Play Set
Let your toddler indulge in pretend picnic fun with this gorgeously detailed wooden food set! I loved things like this as a little one myself, and it would complement one of the traditional wooden kitchens mentioned above perfectly for Christmas 2018! You can see it here*.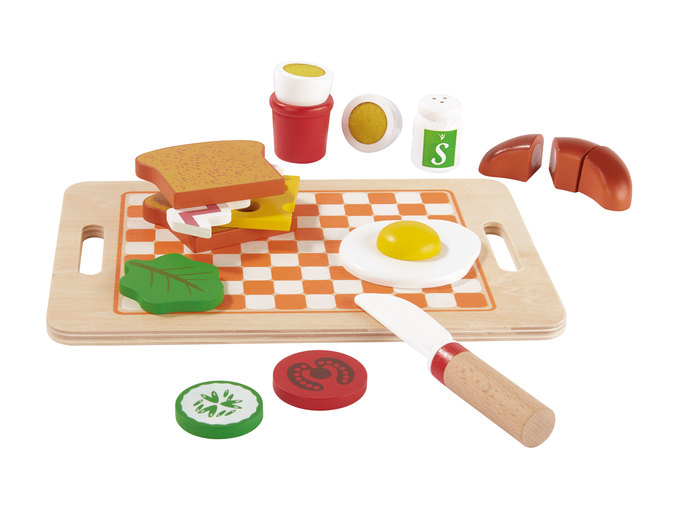 Playtive Junior Wooden Scales Set
Playing green grocers is such a fun way to play with friends – this wooden scales set would be the perfect prop, and would be a great gift to find under the Christmas tree. You can see it here*.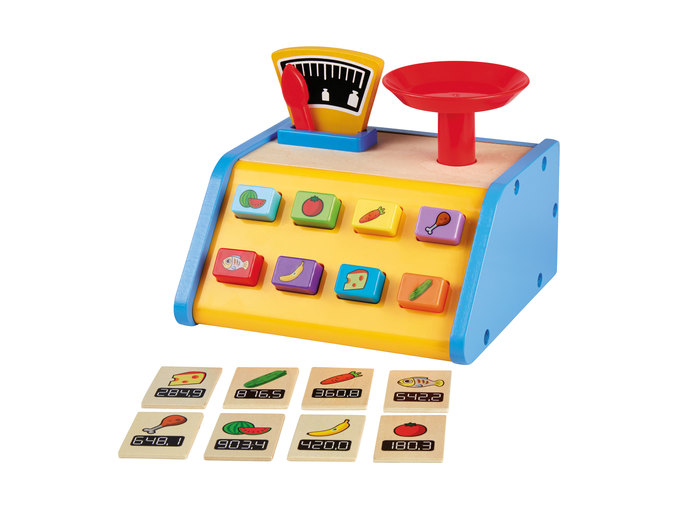 Child
Playtive Junior Train and Traffic Control Room Set
For older children, we think that this train/airport combination set would be super popular as it is so dynamic and perfect for action-packed play time! You can see it here*.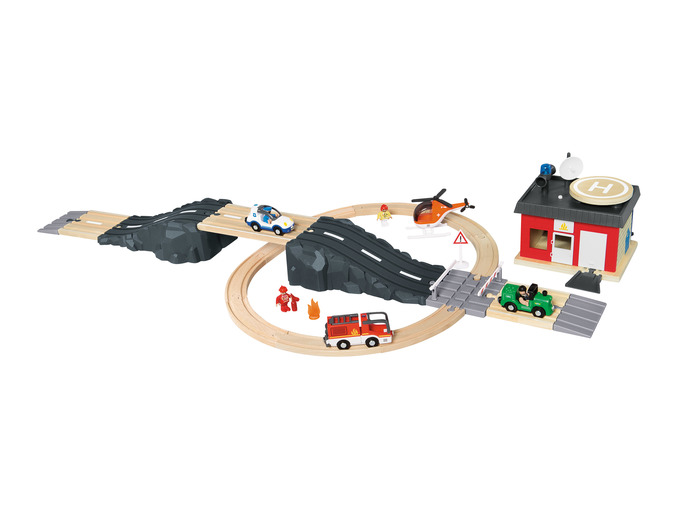 Playtive Junior Kids Easel
Artistic types will adore this wooden easel – which also doubles as an abacus, teaching clock and alphabet display for children who are of school age. You can see it here*!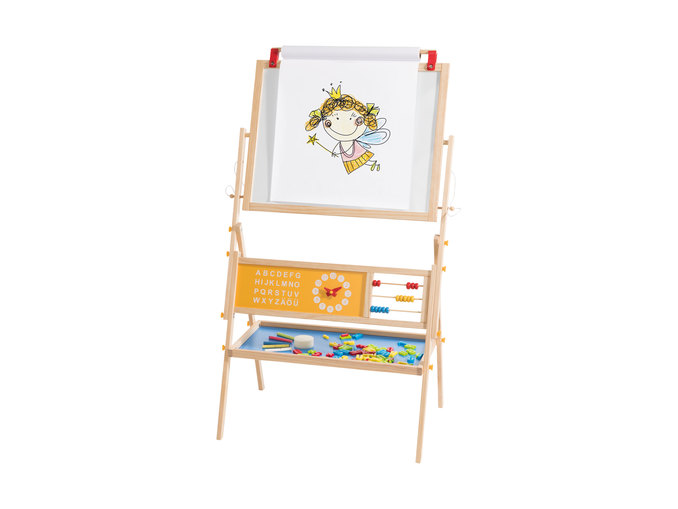 ---
We'd love to know; what do YOU love about traditional wooden toys? Have you splashed out on any for your little one for Christmas 2018? Let us know in the comments.
Love from Team BBY. Xx