Bronchiolitis rates increase over the winter months, so awareness is key for all mummies & daddies!
A nasty respiratory infection, bronchiolitis can cause a lot of distress and anxiety for little ones and their parents. It is so, so important to know the signs, how to react, and when to seek medical assistance. It's relatively common, with 1 in 3 children developing it at some stage in their childhood, but despite this it is still worrisome with lots of parents unsure how to deal with it.
What are the symptoms of bronchiolitis?
Bronchiolitis is caused by the the respiratory syncytial virus (RSV). It is spread through coughing, sneezing, touching infectious objects and then touching your face, and the virus can survive for 24 hours. A child with this virus may be infectious for up to 3 weeks even if their symptoms have gone.
Most children have relatively mild symptoms, quite like a common cold, and will recover within 2-3 weeks, but sometimes more serious symptoms can arise, like breathing difficulties. It is a good idea to see your GP if your child develops symptoms.
Common bronchiolitis symptoms are…
Raspy, persistent dry cough.
Rapid, wheezy breathing.
Brief pauses in breathing.
Feeding less & fewer wet nappies.
Vomiting after a feed.
Seeming unhappy.
Symptoms are usually worse between days 3 and 5, and will then start to improve. The cough can last up to 3 weeks.
When should I seek medial advice for bronchiolitis?
If your little one starts to develop the following symptoms, it's advisable to call 111 or see your GP as soon as possible…
Less than half a normal feed taken in the last 2-3 feeds.
No wet nappy for 12 hours or more.
Rapid breathing.
Persistent high temperature of over 38 degrees Celsius.
Seeming very tired and irritable.
If your baby has any underlying conditions, such as a heart condition, or is younger than 12 weeks of age, it is even more imperative that you seek medical assistance.
When should I call 999?
If your child develops any of the following symptoms, please call 999!
If your child has difficulty breathing – if the muscles under the ribs are sucking in with every breath, this is a warning sign and means they are struggling. If they're grunting and appear like breathing is an issue, this is also a sign they are not breathing well.
Very fast breathing.
You're unable to wake your child, and if you can, they don't stay awake.
Their breathing stops for a long time, or has many shorter pauses.
Their skin and/or lips turn pale/blue, and/or the inside of their lips and tongue are blue tinged.
Read more about bronchiolitis on the NHS website here.
How can I relieve my child's symptoms?
Keep them propped upright – don't use any sleep aids as these raise the risk of SIDS, but slightly tilting the cot/bed legs may be advised by a doctor.
Fluids, fluids, fluids. Keep your little one as hydrated as possible to help clear the mucus, as being dehydrated causes mucus to thicken.
Stay well away from cigarette and vape smoke.
Offer paracetamol and ibuprofen; speak to a pharmacist or GP to see if they can offer any more advice.
Use saline nasal drops to clear airways.
If your child requires hospital treatment, they may receive some extra oxygen and airway suctioning. Steroids and antibiotics aren't advised for the treatment of bronchiolitis.
Please save the below image and share with other parents; it's a great quick-fire resource!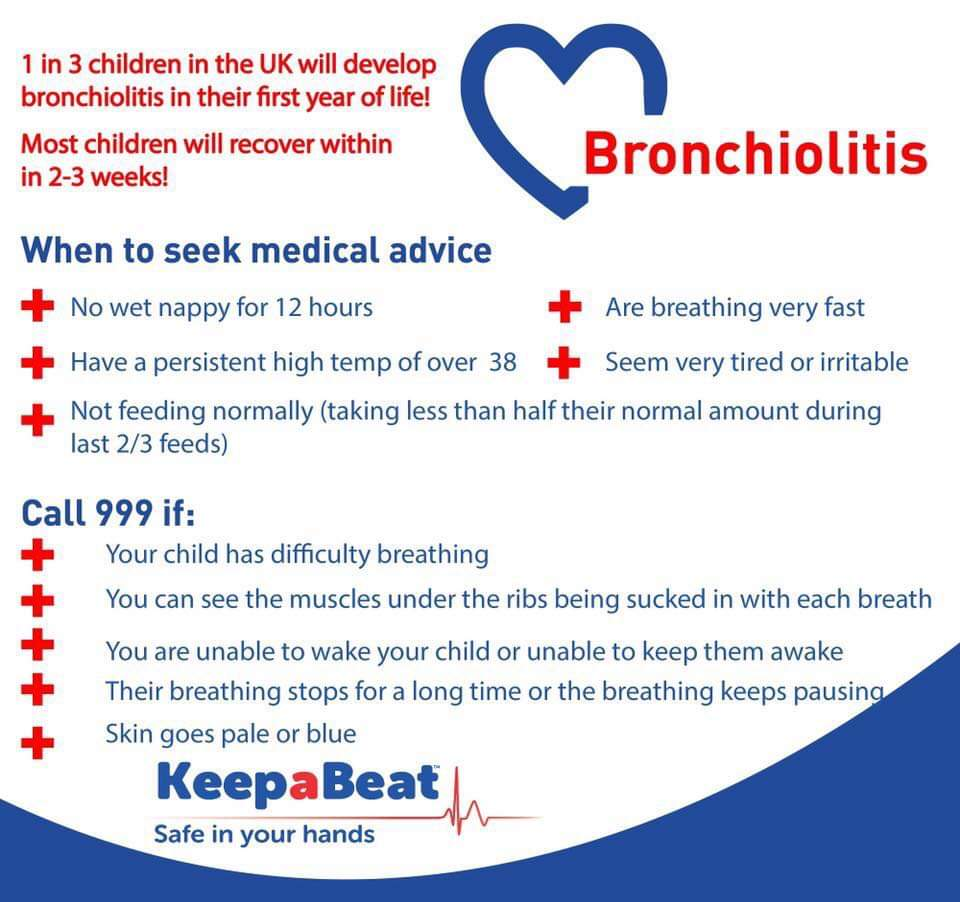 ---
Love from Katie & Team BBY. Xx
Notice
: Undefined offset: 0 in
/var/www/vhosts/bumpbabyandyou.co.uk/httpdocs/layouts/article.php
on line
87