This week (3rd – 9th June 2019) is Child Safety Week!
Here we'll take an indepth look into what this safety week is all about, with some handy tips and advice for you mummies and daddies to help keep your little ones safe and sound. This article isn't intended to scaremonger, but help inform and remind parents of what we can do to help our little ones enjoy life as much as possible. We can't wrap them up in cotton wool but we can absolutely reduce risks!
It's important to remember that small children can be unpredictable and whilst we can try to teach them 'don't touch', it's not a given that they'll actually remember when they're so young, with their brains rapidly growing and taking on board new information (meaning they won't always remember they're not allowed to do something – it takes time and reinforcement). We hope that this guide helps!
What is Child Safety Week?
Child Safety Week is an awareness campaign run every year by the Child Accident Prevention trust, also known as the CAPT. The aim of the campaign is to highlight safety risks posed to our children, and educate parents on how to prevent them, keeping family life as hazard free as possible!
The Children's Burns Trust is working closely with the CAPT this year to highlight the amount of preventable serious burns and scalds suffered by children, as part of the central theme of this years awareness week which is 'Family Life Today – What's The Risk?'.
Everyday Hazards in Family Life To Watch Out For
The CAPT has highlighted the everyday (and often unexpected) hazards in everyday family life to raise awareness; you can read the comprehensive list here! Some examples listed are;
Cot bumpers. These are decorative only and can cause suffocation if used when your baby is sleeping in the cot.
Bath seats, if a baby is left unattended, as they are not intended as safety devices, just support. They can flop forwards in certain circumstances which needs immediate rectifying.
Blind cords; use safety breakers or a cleat hook to avoid your little one getting hurt.
Washing capsules; often brightly coloured and enticing to little ones, these should be kept out of each as the chemicals in them can be seriously harmful.
Boiling pans on the hob, boiled kettles, hot drinks etc – children are curious by nature, and burns from little ones pulling down boiling containers are common but preventable. Keep pots on the back burner, trailing wires from kettles kept well back on the counter, and of course, ensure supervision at all times. We have a baby gate on the kitchen door!
The focus of this year's campaign is burns and scalds, so we'll be taking an extra close look at this area!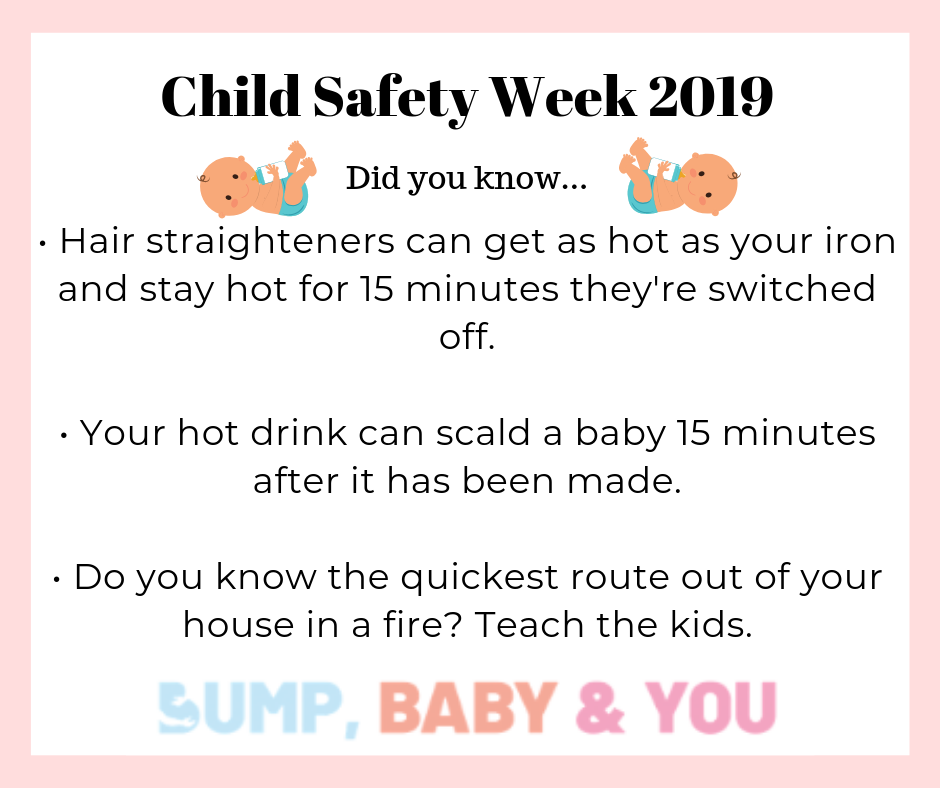 What You May NOT Know About Socket Covers…
You may not be aware that plug socket covers are actually no longer advised by Which? the Department of Health, and the 'Fatally Flawed' campaign! This information fits in with the focus of burns, as electric shocks can of course cause burns.
A report by Which? found that "there is little danger from normal plug sockets, and points out that some socket covers can actually make plug sockets more dangerous (if your plug socket is a modern one, and not an older type).
Independent testing by Which? showed that all the plug socket covers on test would stay in place when inserted upside down, leaving the safety shutters open. With the shutters open, there is nothing to stop a child inserting objects directly into the live and neutral ports.".
However, the Electrical Safety Council (ESC) still deems them safe, citing lack of evidence. You can read the Which? report here.
Find out more about 'Fatally Flawed' here!
Fire & Scald Prevention
Keeping your little one safe around fire, or fire-starting products like matches, is pretty important, I'm sure it goes without saying!
Keep matches, lighters etc well out of the reach of children. The latches in our kitchen safety section below are really handy for preventing sneaky fingers getting hold of these things!
Divert attention from plug sockets by furniture placement, redirection, or a cover box (which doesn't insert into the plug socket itself), which we've linked to below.
Keep hot drinks well out of reach or 'knocking over access' as possible. If you know your child will try to scale a bookcase to get your cuppa, don't put it there!
If your little one is curious in the kitchen, a stair gate or safety guard could go well in the doorway – we've linked to our favourite examples below. We also think that cable tidy tubes are VERY useful, especially for kettle wires on the kitchen counter. We've linked to a fabulous and cheap one below!
Learn the fastest way out of your house, and teach the kids!
KEEP LITHIUM BATTERIES WELL AWAY FROM REACH. They can cause serious internal burns. They're small and shiny, and often swallowed by little ones.
Read up on first aid on burns & scalds as it's really important information if you ever find yourself in this situation.
Check out this brilliant information video by St John Ambulance;
---
Best Baby Safety & First Aid Resources
Luckily for us mummies and daddies, there are reams of amazing resources to help us keep our little ones safe, and also deal with any situations like accidents and injuries.
You can download the 2019 CAPT action pack & poster here!
St John Ambulance are our favourite resource for all things first aid, above and beyond. Their guides are tailored specifically to all age groups; their First Aid For Parents page is seriously handy stuff, and we advise all parents to take a look, or even download their app. They cover all possible problems and eventualities! You can also book onto a St John Ambulance First Aid Course here.
---
Is there anything you'd add to this guide? Let us know in the comments!
Love from Katie! Xx