Do you have a budding paleontologist? I find it extremely cool to be teaching my young toddler Gwen (17 months) about the ancient, dinosaur-roaming world before mankind. The dinosaur ages had fascinated me since I was a young kid, so it's lots of fun (for me!) to be revisiting one of my favourite childhood themes with my little one – we get to learn together!
DIY Dinosaur Fossil Dough Play for Toddlers!
One of the dinosaur books I really like is the Smithsonian Kids book "Digging for Dinosaurs". It's pitched at preschoolers, but no harm letting younger children explore the interactive slider, wheel spinner and lift-a-flap tabs! There's quite a broad spectrum covered in the book – dinosaurs, pterosaurs, fossils, and sea reptiles. This is a great book to pair with this activity.
The Setup
Gather the following materials:
Brown dough (I added cocoa powder to the dough recipe I usually use. It smells so great and gives rise to a lovely brown shine!)
Small dinosaur figurines (to press onto the dough to make dinosaur imprints)
Toy rolling pin (optional)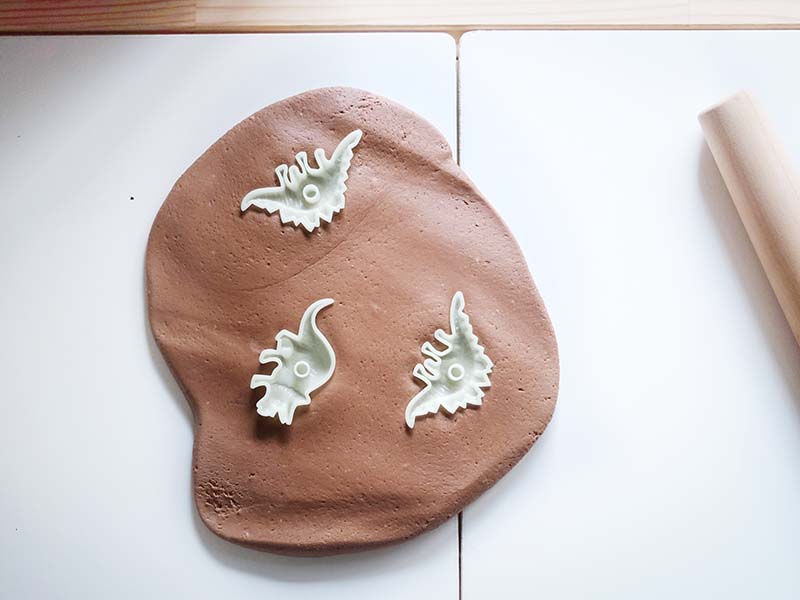 Benefits of Dinosaur Fossil Dough Play
Fine motor workout (that comes with squishing, tearing, flattening, pressing and manipulating the dough)
Deepen understanding of spatial relationships between objects
Build vocabulary and language skills (especially when you describe the physical traits of dinosaurs throughout play – number of legs, spikes, horns, scales etc)
Introduction into paleontology
Gleaning of basic dinosaur facts and timeline of life evolution on Earth (for preschoolers)
Appreciate that we share the Earth with many other species (for younger children)
To extend the interest, you could progress into making salt dough dinosaur fossils that can be baked and then painted on with acrylic paint! Those would make a neat addition to your playroom decoration.
To follow Gwen's play adventures, check out @miraculove_sg (Instagram) or A Toddler Activity A Day Facebook Group.
Written by Xiao Yun Chen for her blog, Miraculove!
You can follow her on Facebook, Pinterest and Instagram!