Halloween is coming soon, we're sure you and the kids are starting to get excited! Have you considered the safety aspects of Trick or Treating? We've got you covered.
If it's your first year celebrating Halloween as a parent, your first year taking your little one out Trick or Treating, or your first time allowing an older child to venture out into the neighbourhood without you, you may be feeling nervous. I know I will be! There are plenty of things that you can do to make Trick or Treating a fun, memorable but SAFE event for you and the kids to enjoy.
We'll be taking a look at…
Flame safety
Keeping visible on dark nights
Keeping warm enough
Stranger danger
Allergy hazards
Hard sweet choking
---
Flame safety
Flame safety at Halloween is something that has been in the news a few times in recent years.
You may recall the story of Claudia Winkleman (TV personality) and her daughter Matilda. In 2014, Matilda was Trick or Treating as part of a larger group, and when visiting a house, her costume brushed past a tealight and caught alight, causing serious burns to Matilda's leg. Read more about Claudia's campaigning to improve Halloween costume safety standards here.
Our tips are;
Read the labels of any potential costume and ensure it meets the BS 5722:1984 Flammability Standard rather than just the European standard 'EN71-2′, as the EN71-2 classes costumes as toys and allows for a greater burning margin which is of course more hazardous!
If the costume has a label on warning 'keep away from fire', consider not purchasing it as the material may be particularly hazardous around Halloween decorations and lit pumpkins.
Use battery powered tealights and candles instead of open flames if you're putting out Halloween decor yourself.
Teach your children how to stop, drop and roll.
---
Keeping visible on dark nights
As the nights start to draw in, chances are it'll be dark quite early on Halloween! This brings it's own set of hazards with it;
Crossing roads safely
Being visible to all passers by
Getting lost
Luckily, there are some really simple ways to keep your little one safe during the darker hours when Trick or Treating.
Glow in the dark costumes are a great choice! This glow in the dark costume* is super spooky…
What about a portable lantern sweet bucket? This one* is a great choice.
Keep your kids Trick or Treating in well lit locations.
Supervise all road crossing; if your child is old enough to go out with friends without you, reiterate good road sense rules with them!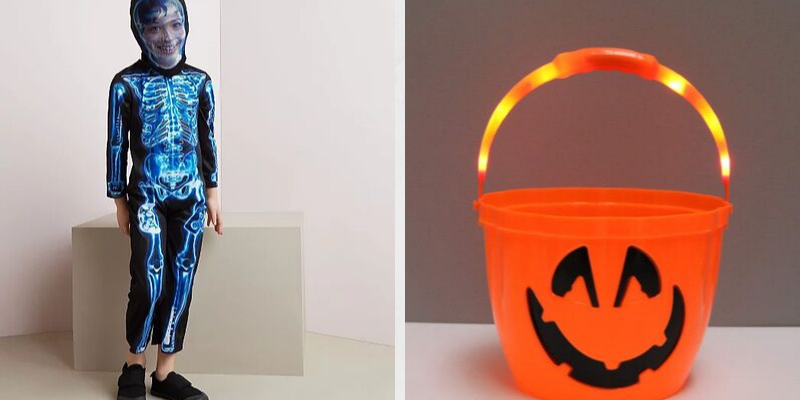 ---
Keeping warm enough
October 31st is usually a very chilly time of year, especially later in the year!
As we all know, Halloween costumes aren't really that thick or warm (unless the costume inspiration is something fluffy or furry!), so keeping warm can be an issue. Kids don't usually want to cover up their cool new costume with a winter coat! There are ways around this…
Layer up underneath the costume! Leggings, thermals, vests, jumpers etc can all keep your kids toasty and be strategically hidden underneath a costume, keeping everyone happy.
Specifically find a costume that is warm and fuzzy! We've taken a look at the best choices below…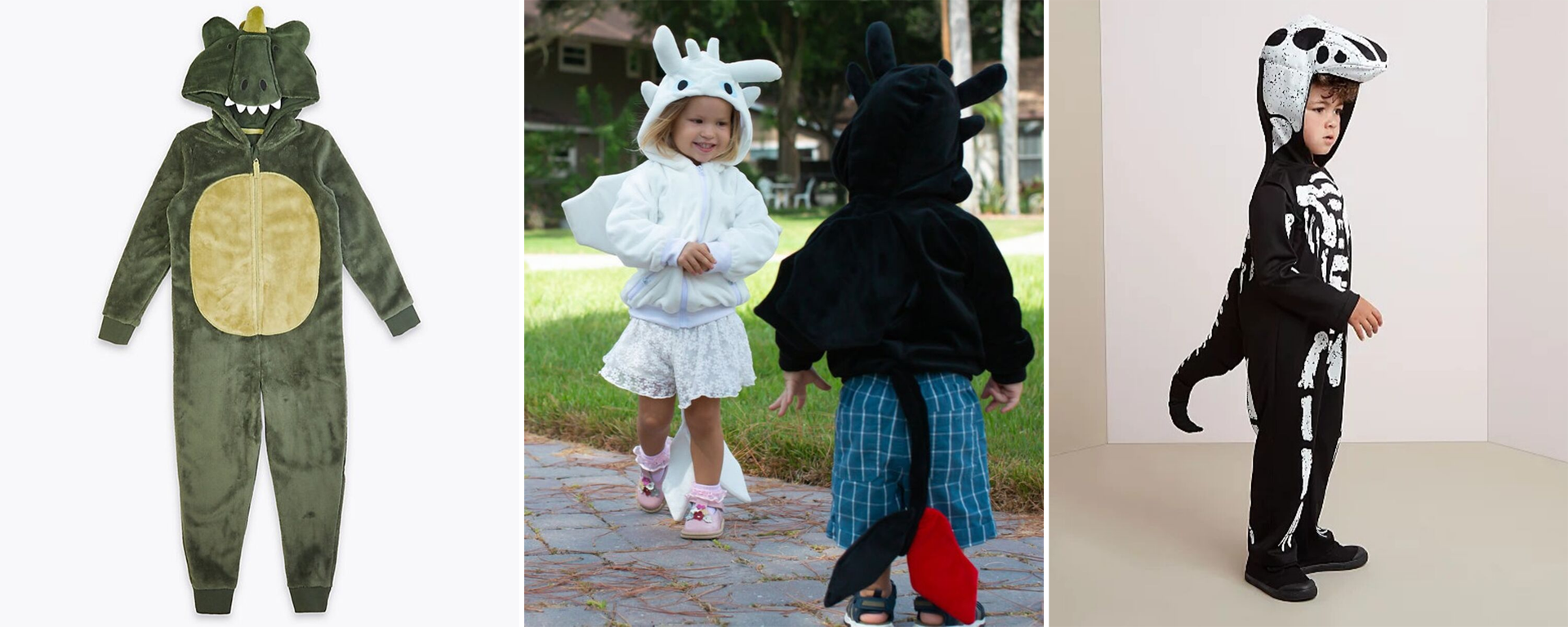 Find the Crocodile Onesie here*.
Find the Toothless Hoodie in black or white here*.
Find the T-Rex Skeleton Outfit here*.
---
Stranger danger
Teaching your children the concept of 'stranger danger' is a great way to keep them safe this Halloween. Teach them that they should never;
Get into a vehicle with a stranger or approach a vehicle if coerced to
Make lots of noise and run if approached/threatened by a strange adult
Never go into anyone's house when Trick or Treating.
Create a 'password' that only you, other adults in their life and they know. Tell them to ask the stranger for a 'password' and then run if they don't answer.
This video is an excellent learning tool for kids;
---
Allergy hazards
Allergies can pose a problem during Halloween. As a mum of a CMPA child myself, I know this all too well! We've had a look at the best ways of making Halloween as allergen-free and enjoyable for kids with allergies…
Don't be afraid to ask neighbours giving out sweets about allergens. If you know them well enough, perhaps visit them in advance with a bag of safe treats and ask them to give them to your child at the door when they knock on the 31st.
Coach your kids to ask about allergens and to be assertive about allergies, and how to recognise what they can and can't have.
Even if you're not an allergy parent, consider keeping a bowl of allergen free sweets aside; common allergens to consider are dairy, soy, wheat and nuts. Some non-food mini party bag toys are also a great idea and would be massively appreciated.
Consider ordering an allergy warning Halloween bag. Check this one out here*!
---
Hard sweet choking
If your little one is at the stage where they're not really safe to be eating hard candy, you may need to think about options for them. Sometimes, Trick or Treat offerings are mostly hard sweets, lolly pops, and other things a smaller child could choke on. Here's some tips for you;
Like with the allergy suggestions, you could take a packet of flumps, other soft treats or even a small toy around the neighbourhood to familiar neighbours and ask them to give them your little one when they knock.
You could trade all their unsuitable sweets for something else that they'll enjoy.
If there are older siblings, you could bargain with them and do a sweet amnesty, then give all suitable treats to the younger child and any unsuitable treats to the older kids (with a fair divide of course)!
---
Do you have any Halloween safety tips you'd love to share with us? Tell us in the comments!
Love from Katie & Team BBY. Xx