You may have been advised to give your babies & children vitamins – if you're wondering why, the NHS is very helpful!
The NHS website says…
"Growing children, especially those who don't eat a varied diet, sometimes don't get enough vitamins A and C. It's also difficult to get enough vitamin D through food alone. The Department of Health recommends that all children aged 6 months to 5 years are given vitamin supplements containing vitamins A, C and D every day."
They also advise the following:
It's recommended that babies who are being breastfed are given a daily vitamin D supplement from birth, whether or not you're taking a supplement containing vitamin D yourself.
Babies who are having more than 500ml (about a pint) of infant formula a day shouldn't be given vitamin supplements. This is because formula is fortified with vitamin D and other nutrients.
Children aged 1 to 4 years old should be given a daily supplement containing 10µg of vitamin D.
Where can I get vitamin drops?
Luckily, they're pretty easy to get hold of, and there are many different brands and flavours, and even gummies for children who don't like the drops!
If you qualify for Healthy Start, you're entitled to free vitamins so ask your Health Visitor. Otherwise, they can be cheaply purchased at most chemists and pharmacies, and some supermarkets may also stock them on the medicine aisle.
Remember – too many vitamins can be harmful, so follow the RDA advice on the packet. The NHS also advises not to give two supplements at the same time, such as cod liver oil and vitamin drops, as cod liver oil is nutrient rich (vitamins A and D), the drops contain enough on their own. Also ensure you're giving age appropriate supplements as adult vitamins will contain too many.
How else can I get my child to up their Vitamin D?
Vitamin D isn't found in many foods, mainly oily fish and eggs, and is often added to other foods like cereal. The NHS says that the best source of Vitamin D is the summer sun on our skin – I'm sure many of us already know this! Your children still need their drops even if they get plenty of sun, and remember to keep them topped up with sun cream and out of the sun at the hottest point of the day (midday).
How can I improve my child's intake of Vitamin A?
Vitamin A is super important for your child's vision, skin and immune system. The best food sources are, according to the NHS;
Dairy products
Fortified fat spreads
Carrots, sweet potatoes, swede and mangoes
Dark green leafy veg
What about Vitamin C?
Vitamin C is probably the most well-known and spoken about vitamin. It is vital for a healthy immune system, and also aids iron absorption!
Good sources of vitamin C include:
Oranges
Kiwi fruit
Strawberries
Broccoli
Tomatoes
Peppers
These are all yummy, healthy and relatively cheap! Fruit salads, and veggie sticks with dip (hummus, or even cream cheese) are a great way to make these foods even more attractive to your little one at meal times. My son cannot get enough cream cheese and if it helps him to eat his salad sticks, I'm all for it especially considering the fact that dairy products are also a great source of Vitamin A!
Read more on the NHS website here.
There are so many different vitamins to choose from!
But which one is right for you? It all depends on what flavour your little ones love, and which form they'd be happier taking their vitamins in. There are lots of fantastic options to choose from here*, with many of these being on a 3 for 2 offer so you can stock up and save some money!
Vitabotics Wellbaby Multi-Vitamin Liquid* was a hit when Max was smaller, and now we use Vitabotics Wellkid* in his milk every morning – it's so simple and easy to hide. When he's a bit bigger and not drinking things we can really hide it in, we'll try the gummies and chewables.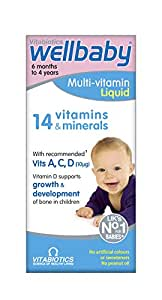 So, to summarise… Even if your child has a healthy balanced diet, it's advised to give them vitamins just to ensure that they're getting everything they need for optimal growth and development. It's also advised to give them plenty of nutritious foods, so giving them supplements doesn't mean that eating lots of junk food is suitable (if only!). 
We hope that this has helped to clear up any confusion amongst our mummy, daddy and caregiver followers!
Love from Katie & Team BBY. Xx
(Affiliate links are marked with an asterix)