Are your kids counting down the sleeps until Santa's arrival?
Maybe Mummy or Daddy can't wait until it's time for Christmas decorations, festive films and traditions old and new? We recently asked our lovely Bump, Baby and You community how you feel about the modern trend that is they Christmas Eve Box and you all had lots to say about the relatively-new December 24th tradition that's taken hold of the UK. Unsurprisingly, you had plenty to say about Christmas Eve Boxes and why you love them or don't rate them. So, today on the blog we're revealing the outcome of our poll – Christmas Eve Boxes – Yay or Nay? And we'll be talking about where the whole Christmas Eve box thing has come from too. Feeling suitably festive? Ho-ho-ho it's time to reveal all about your love for Christmas Eve boxes,
The Christmas Eve Box Trend – Yay or Nay?
An impressive 766 members of our Bump, Baby and You community shared their views with us on the Christmas Eve box trend and 50% of you said you subscribed to the Jingle All the Way view 'We're all about the Christmas Eve boxes'. Some of you with growing babies and toddlers also said you'd be doing Christmas Eve boxes for the first time this year, with 28% testing out the tradition for the first time with a Christmas Eve box for 2018. Of those, some of you commented that you'll do individual boxes for the kids while others like to fill a family box with a bunch of things for everyone to enjoy together on Christmas Eve night.
And while the trend isn't for everyone – with just over 5% saying that kids get enough presents without the addition of Christmas Eve boxes, some of you said you had similar traditions of kids getting new pyjamas (11.61%) or unwrapping one Christmas gift (2.34% on Christmas Eve night.
If you're hoping to try the trend out for the first time this year, you may want to get ahead of the game by finding boxes and Christmas Eve Box fillers early, before they sell out.
Variations on the Christmas Eve Box trend
We're huge Christmas Eve box fans here at Bump headquarters but recognise that -like any parenting trend – there's benefits and drawbacks to taking part. In our home, after the initial of the re-usable Christmas Eve box the tradition hasn't really involved spending more than we otherwise would anyway. We'd definitely be buying Christmas pyjamas and a Christmassy book to read together, so I don't see it as adding to our budget. And I'm careful to include what we spend in my overall budget as part of our Christmas shopping strategy.
Katie Hall told us: "I love Christmas Eve boxes as they're a lovely way to create a family tradition without going to huge expense. But I do worry a little that Max will come to expect extra gifts every Christmas Eve."
Just like the Bump community, some of the team like to do their own thing on Christmas Eve, Community Executive Elly Roper and her little girls enjoy hot chocolate in their new PJ and open a present each, while Executive Assistant Clare Batten's Elf on the Shelf brings new pyjamas, hot chocolate in his little elf mug, plus reindeer food for Rudolph on Christmas Eve. What a cute idea!
When did the Christmas Eve box tradition start?
As Christmas Eve boxes definitely weren't a thing when we were younger, we decided to do some digging to see where they come from. Last year, Hobbycraft reported a 129 per cent rise in sales of Christmas Eve boxes, so it's certainly a trend that's been growing year on year for a while but how long for? We made this nifty Google Trends chart to show when interest in Christmas Eve boxes started to grow online. As you can see from the chart, the number of people searching for boxes online has grown year-on-year since xxx. It's also interesting to know that lots of people are searching for adult Christmas Eve boxes as well as ones for kids, because, we grownups deserve a few treats on Christmas Eve too, right?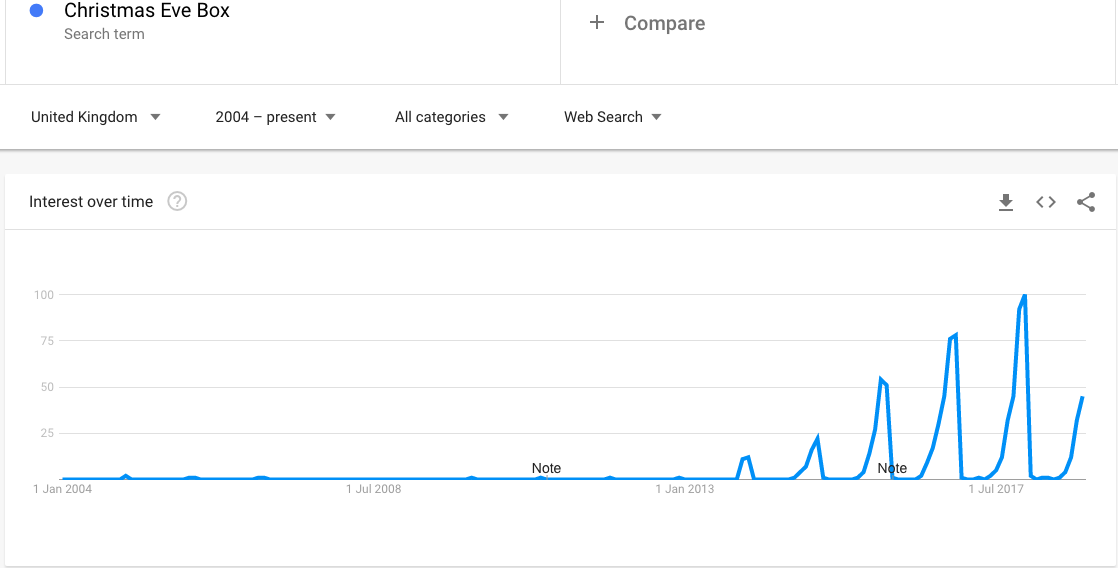 Why do we have Christmas Eve boxes and where do they come from?
It's not totally clear where Christmas Eve boxes first started but the idea seems to have evolved from gift giving traditions in other countries, whereby children usually open one gift on December 24th. This is something that is commonplace in countries such as Germany, Iceland and Portugal.
Here in the UK, many families have observed their own tradition of wearing new pyjamas, reading a new Christmas book and drinking hot chocolate together years. The Christmas Eve box seems to be a happy festive marriage of all of these traditions. The boxes help to spread the Christmas magic and keep little ones busy and distracted on Christmas Eve and they're a great way of presenting bigger items like pyjamas that might not comfortably fit in a traditional Christmas stocking.
One thing that's clear from all the love shared on our Christmas Eve box poll is that this is a tradition that's firmly established and many of you enjoy. And if you're in the 'Christmas Eve Box – yay' camp you'll love our upcoming posts on box and filler ideas. And don't worry if boxes – or Christmas – aren't your thing, we've got lots of other great bump and baby content coming up!