As the cooler weather sets in, it's time to hunker down and get cosy.
This is where Dunelm really ticks all boxes - Dunelm are truly the 'Home of Homes' on the highstreet and they set the bar high when it comes to homely comfort for the entire family. Launched this week, their 'Home of Every Kind of Cosy*' collections are already proving a hit amongst our mummies and daddies, and we just HAD to share the gorgeous, cosy finds we spotted.
Whether you're shopping for a child, or for yourself, there's an enormous range of beautiful and cosy homeware to keep you snug this autumn and winter. There's a vast array of adorable characters, animal themes and much more to choose from so there really is something for everyone. We also spotted a few pieces that would make PERFECT cosy Christmas gifts too - keep your eyes peeled!
Check out our favourite cosy finds at Dunelm here...
Aimee the Unicorn
We LOVE the cosy Aimee the Unicorn collection at Dunelm! There's some seriously gorgeous pieces to keep your little one snug, cosy and content during the cold months. The Aimee the Unicorn Slipper Boots and Oversized Hoodie are perfect for relaxing in the evening and waiting for Santa this Christmas, and the Hot Water Bottle is ideal for chillier nights. This Aimee the Unicorn Plush is also a fabulous find for snuggling and could be a great cosy Chistmas gift.
Hamish the Highland Cow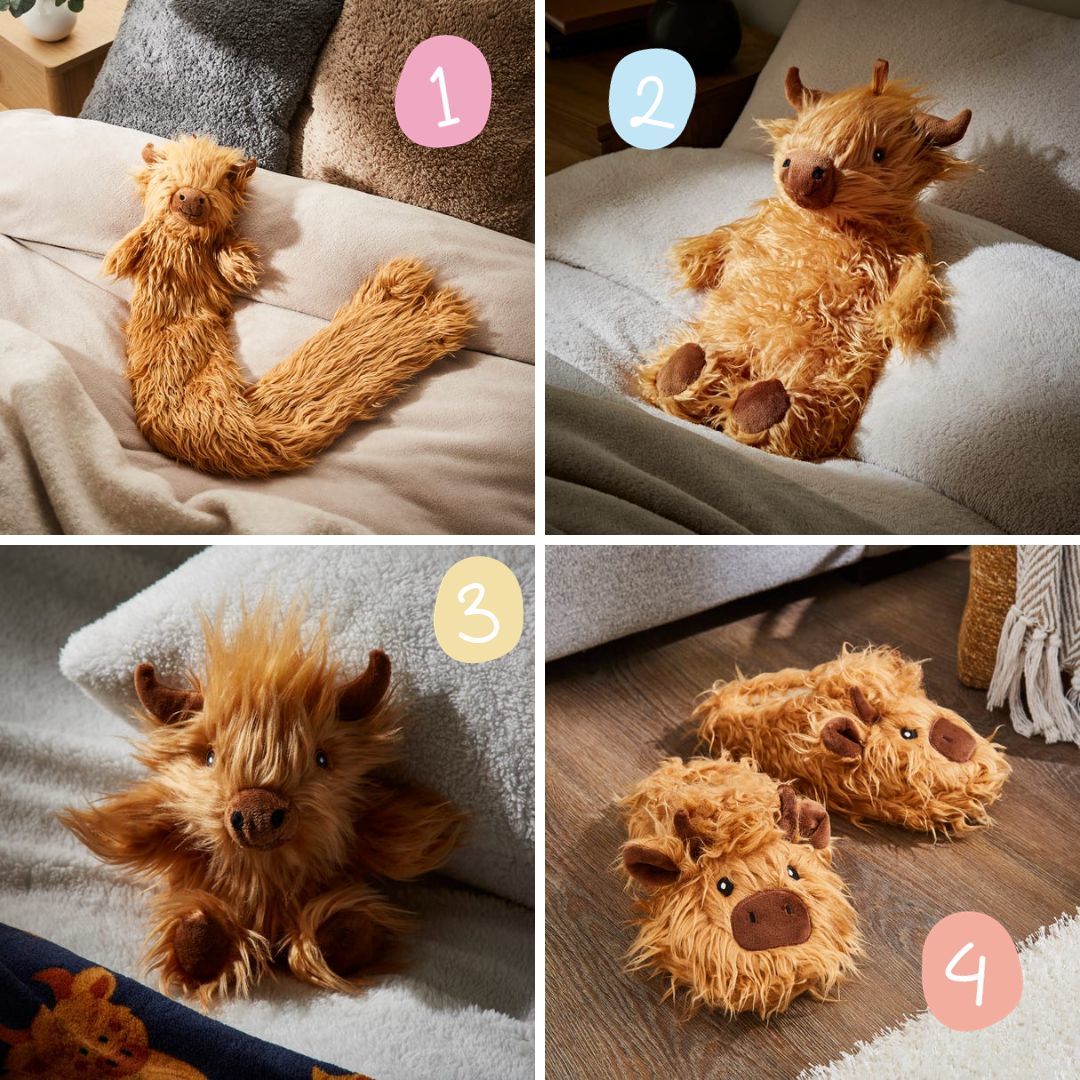 Hamish the Highland Cow is taking the world by storm with his lush copper locks and adorable face - he is the ultimate cosy character, we think! You can find him at Dunelm, and can choose from so many different finds, including this super long Hamish 1.7L Hot Water Bottle or a smaller, more standard but equally cute version. We also LOVE this Hamish the Highland Cow Warmie, perfect for cosy nights in and no hot water involved at all, and these Hamish Cow Slippers to keep cold toes safe from the draught.
Reggie the Cockapoo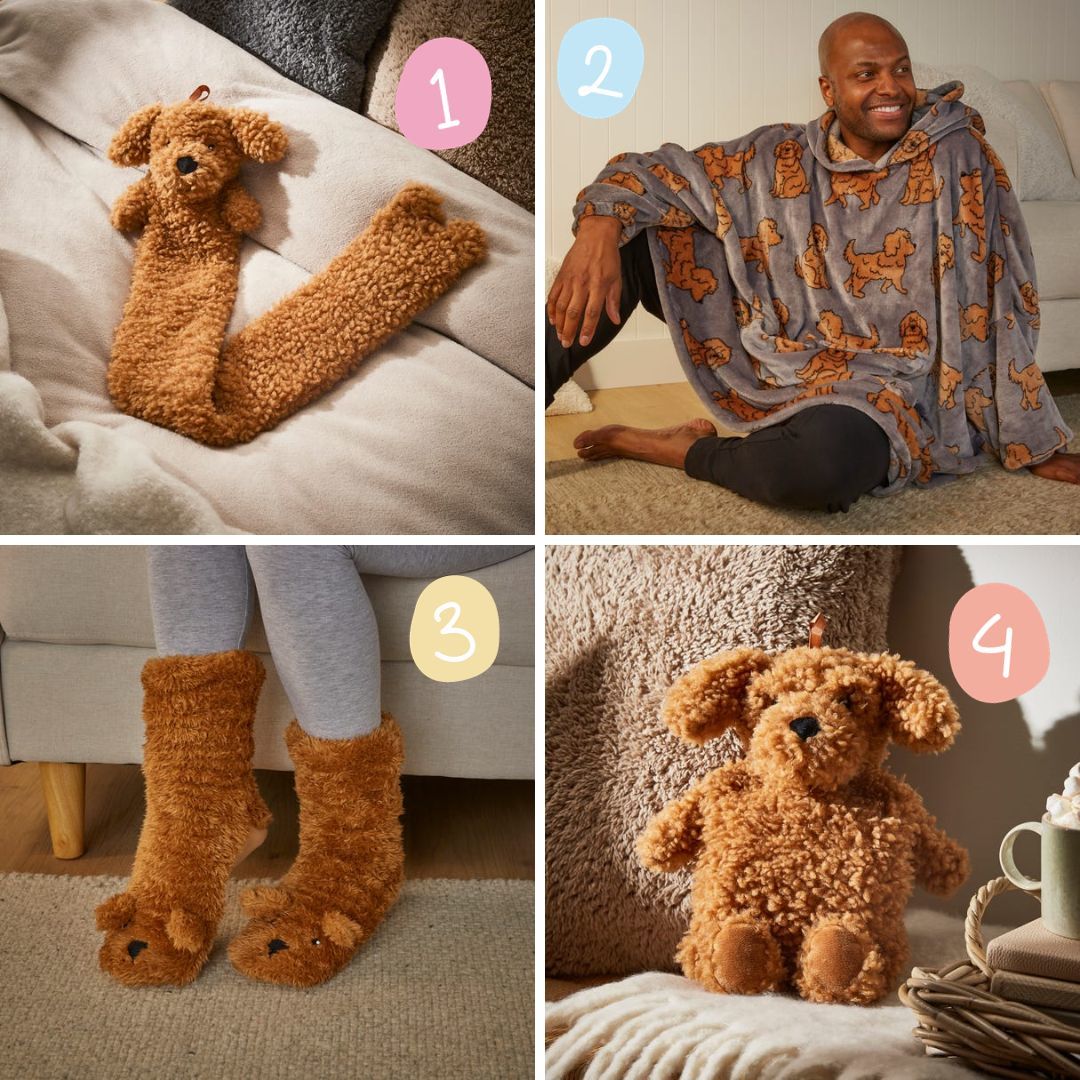 Oh Dunelm, we're so in love with Reggie, and we need more of him! Cockapoos are known for their luscious, soft and warm fur, so Reggie and his collection promise to deliver on the cosy front. This Reggie the Cockapoo Oversized Hoodie is seriously impressive and we felt SO toasty when we tried it on, and with these Slipper Socks, and either his 1.7L Long Hot Water Bottle or adorable standard size Hot Water Bottle, you are guaranteed to stay cosy and content this winter.
Otis the Dragon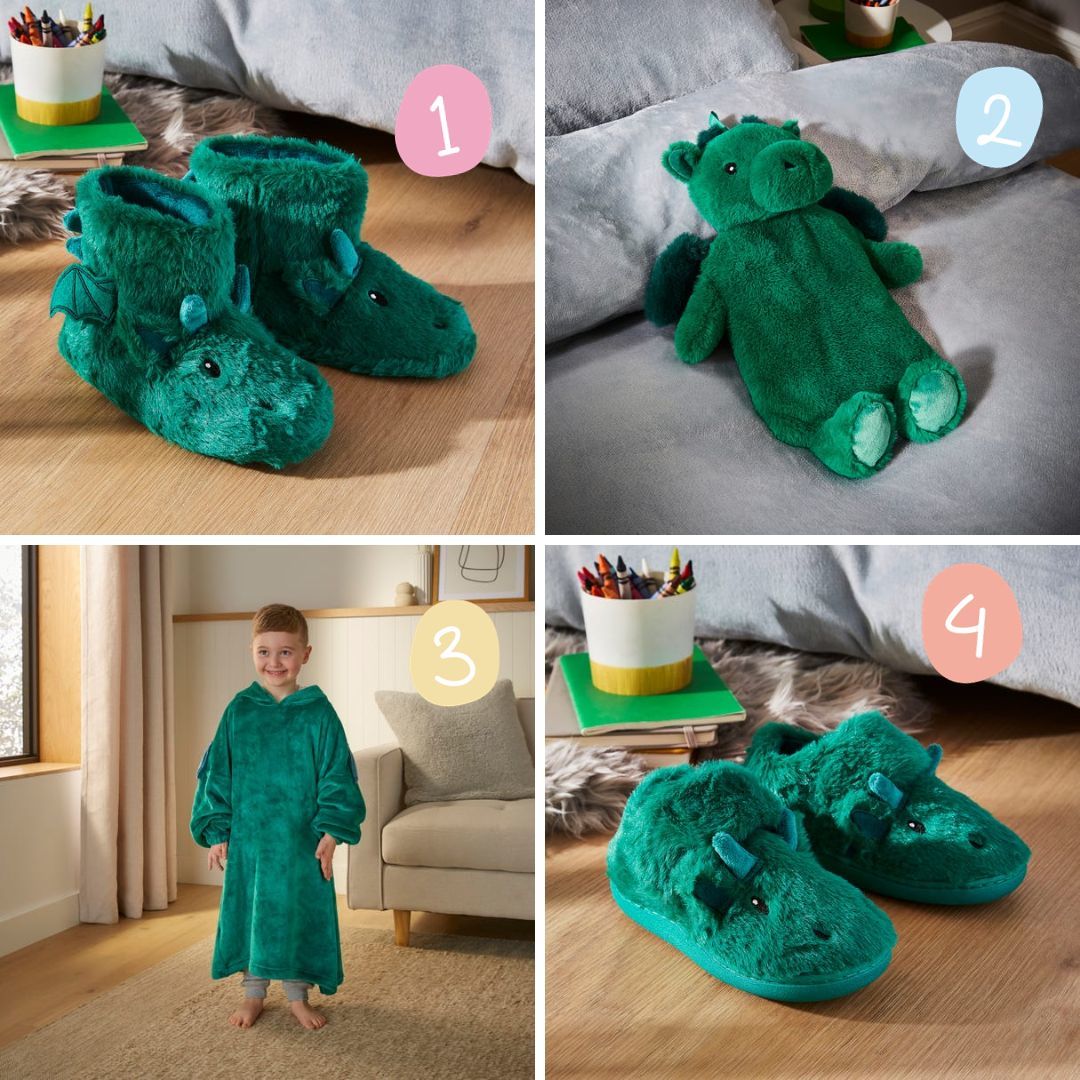 Otis the Dragon is yet another fabulous character in the Dunelm Home of Every Kind of Cosy collection and our kids love him - we've already splashed out on loads from this range! There's the fluffy and snug Otis the Dragon Slipper Boots, or Cupsole Slippers depending on preference, and when paired with this Otis the Dragon Oversized Hoodie (it's super soft and plush) and Hot Water Bottle, your little Dragon lover would be so cosy and happy - these could also be really good Christmas gifts for a child.
Cyril the Schnauzer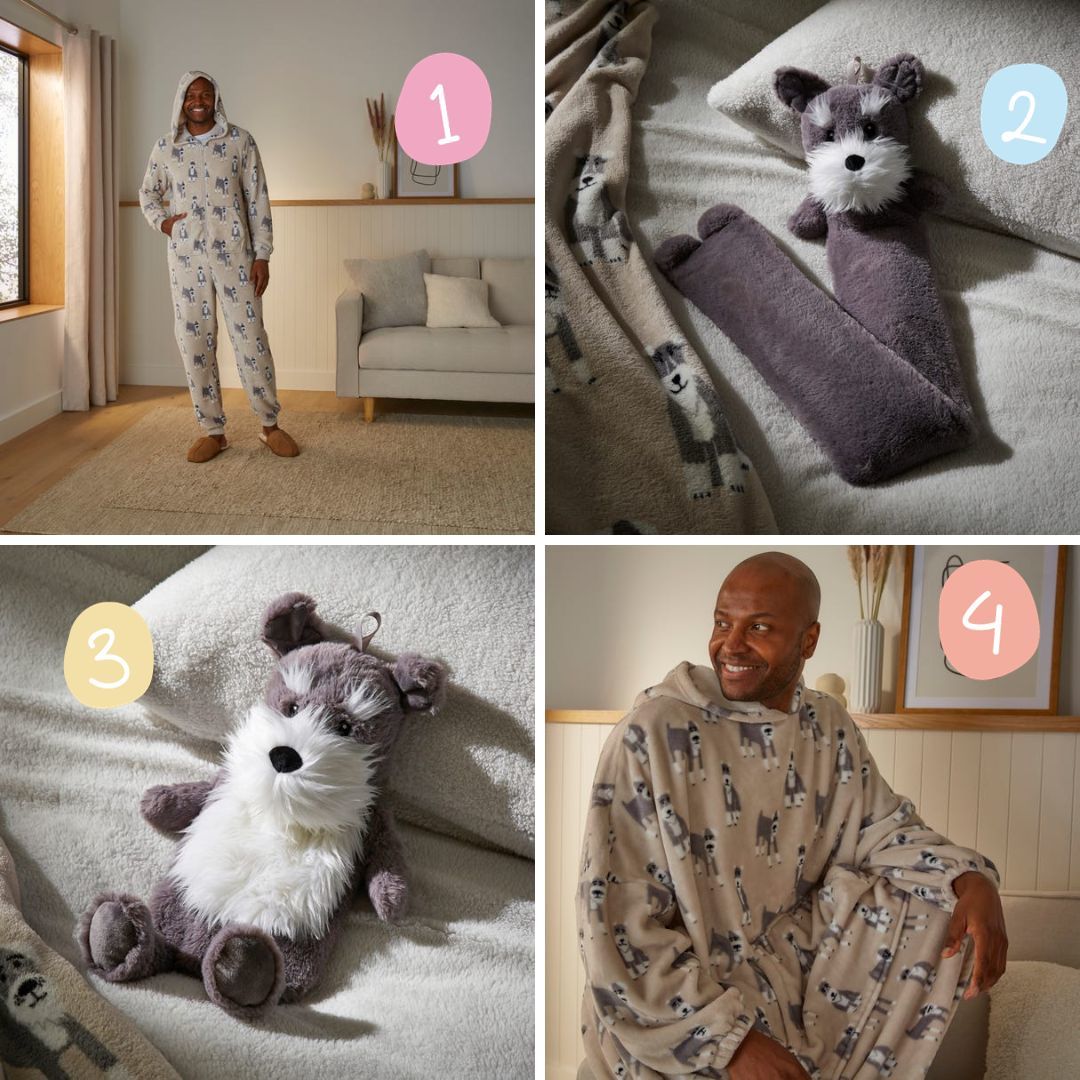 In the Dunelm Home of Every Kind of Cosy collection, we also found the sweet Cyril range - if you love Schnauzers as much as we do, he's the one for you or perhaps for a loved one this Christmas? The Cyril the Schnauzer Onesie is brilliant for keeping warm without spending a fortune on the heating, and you can pair him with either the Long Hot Water Bottle, or the standard sized Hot Water Bottle that looks like a plushy - both are so gorgeous! We also adore this Cyril the Schnauzer Oversized Hoodie, perfect for lounging and keeping cosy.
Cuddle Cushions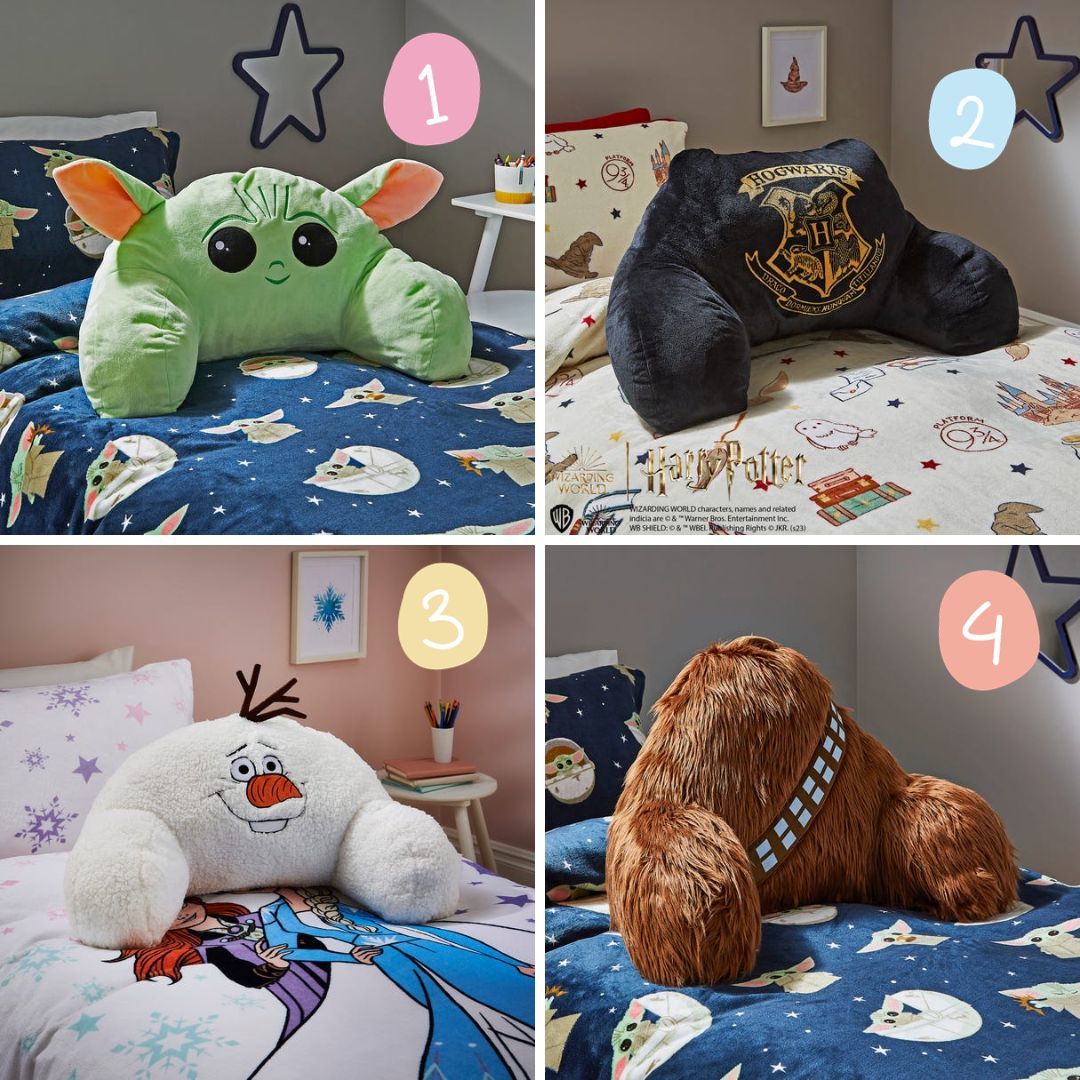 Cuddle cushions - you seriously can't go wrong! These are honestly a genius Christmas gift idea too, especially for kids who love gaming and being cosy in their own spaces. The Dunelm Home of Every Kind of Cosy collection has a huge range of cuddle cushions to pick from - Star Wars fans can pick from Grogu and Chewbacca, and you'll also find a Harry Potter and Olaf version. These are honestly super comfortable and cosy, and my son loves his for Xbox sessions.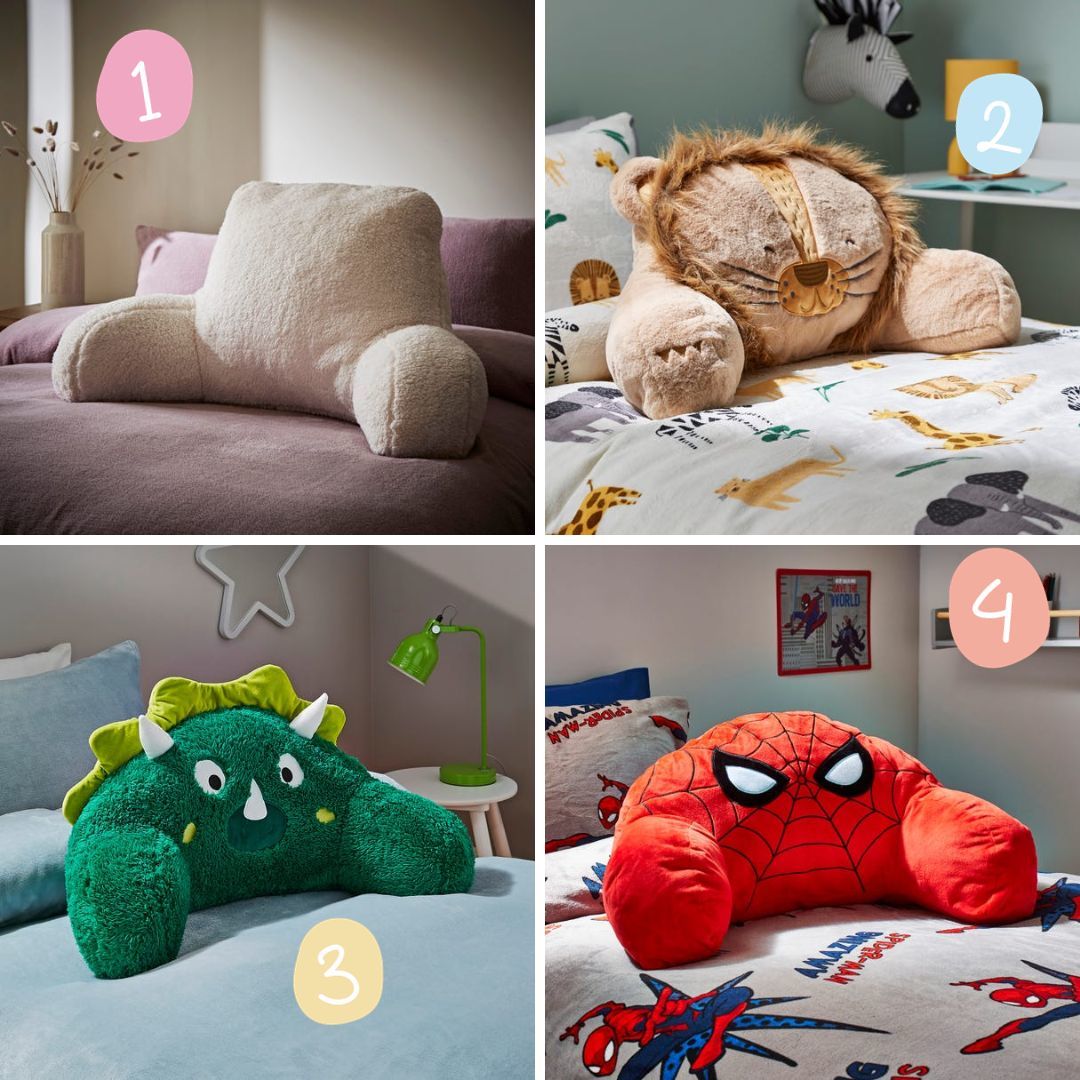 For adults, there's the super soft Teddy Bear High Back Cuddle Cushion, available in other neutral shades - it's like being hugged by a giant teddy bear. We know that your kids will also adore the 3D Lion, 3D Dinosaur, and Spider-Man Cuddle Cushions. Trust us, these would be a brilliant Christmas gift idea...
Hoodies / Onesies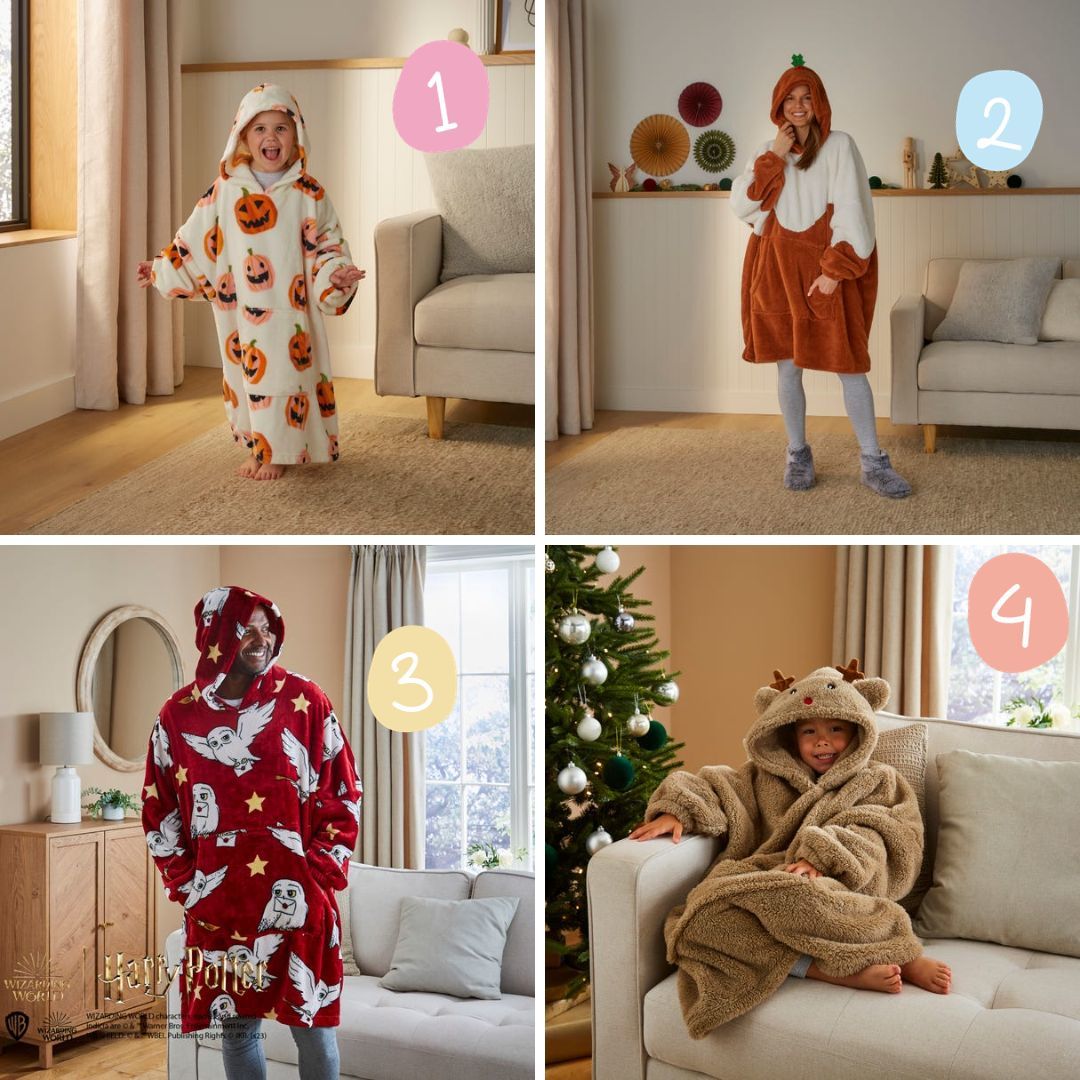 An oversized hoodie is a must-have and there's so many to pick from in the Dunelm Home of Every Kind of Cosy collection - there's some Halloween themed picks like this Kids Pumpkin Oversized Hoodie, as well as some Christmas finds with this hilarious yet cosy Christmas Pudding Oversized Hoodie and Reindeer Oversized Kids Hoodie. We also spotted a fantastic Harry Potter Hedwig Oversized Hoodie which you can also get in kids sizes.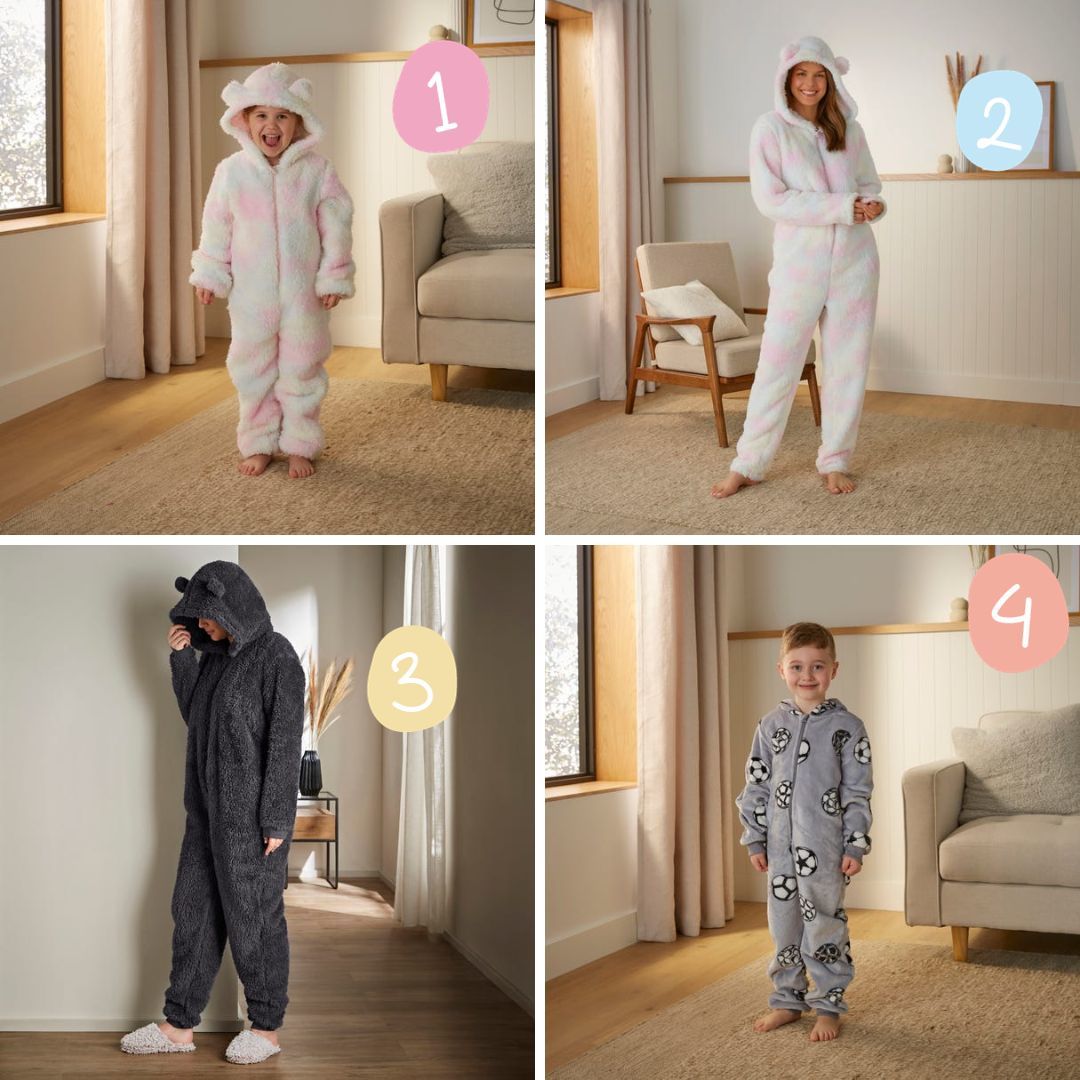 Onesies aren't just for kids! At Dunelm, you'll find plenty for the cosy-seeking adults, with this plush and deliciously warm Charcoal Teddy Onesie (available in other shades) as well as this lovely Adult Rainbow Onesie which also comes in a kid's version. Sporty kids would also appreciate this fluffy Football Onesie!
Hot Water Bottles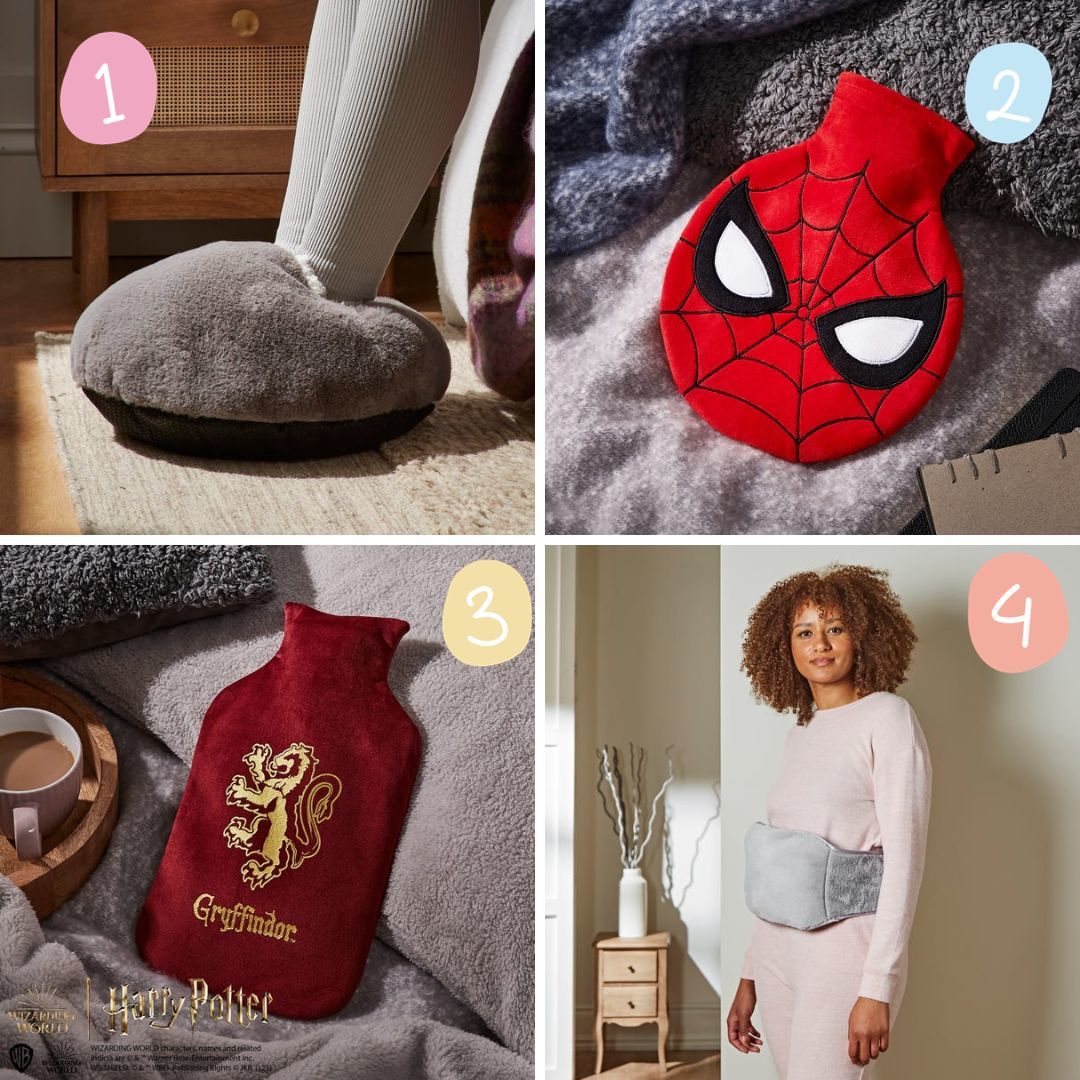 We were seriously impressed by the choice of hot water bottles and microwaveable options in the Dunelm Home For Every Kind of Cosy collection! This Microwaveable Mono Slipper has, of course, gone straight into our basket because we hate having cold toes - the Faux Fur Hot Water Bottle Belt is also a great find for period pains and other aches. The kids could appreciate their very own Spider-Man or Harry Potter Gryffindor Hot Water Bottle too.
Blankets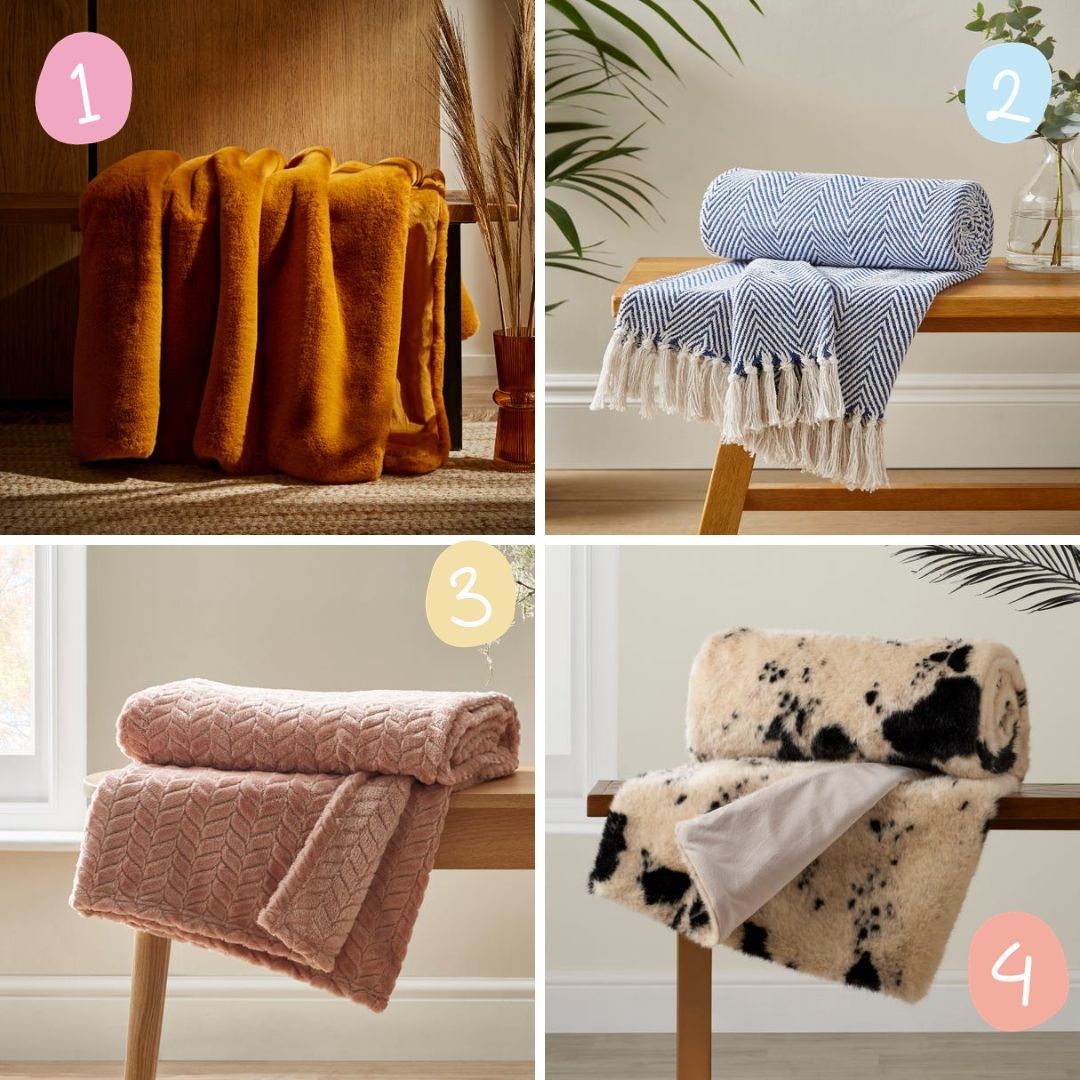 Last but not least, because blankets are one of the most essential factors of a cosy home, we wanted to share our favourite throws and blankets from the Dunelm Home of Every Kind of Cosy collection. The Silky Soft Faux Fur Recycled Throw is eco-friendly, super plush, and when we say that it's cosy, that is an understatement because it is unspeakably amazing! We love ours so much. The Jenson Herringbone Throw also caught our eye as we love the colour and tassels, as well as the enormous size - perfect for snuggling with your kids. The Amelia Throw is also huge, with a luxurious feel and available in other shades. The Faux Cow Throw is also one of our favourites, as it is mega thick and will take your cosy game to the next level.
Our verdict...
Cosy - the word of the season. Cosiness is important, even vital, in keeping the whole family happy and healthy as the colder weather creeps in, and this is why we absolutely love Dunelm. They are always to be relied upon when it comes to the most plush, luxuriant and cosy homeware every autumn and winter! Their Home of Every Kind of Cosy range caters to all ages, needs and tastes, without being extortionate, with some wickedly adorable creatures and characters to enjoy too. Be quick if you've spotted something you love as this collection is already a smash hit!
Affiliate links are marked with an *
**Advertorial content - written in paid partnership with Dunelm*
You might also like...
Favourite Finds
If you like this product, you might be interested in these too!