Is your Christmas tree already up or are you yet to decorate? Whether you've already decked the halls or are yet to decorate, if it's your first Christmas with a baby or toddler in the home, you've probably spent some time thinking about your decorating strategy.
When we asked the Bump, Baby & You community about their Christmas decoration traditions and plans, the majority told us their tree goes up early to mid-December. And when it came to selecting a tree, 685 respondents opted for a fake Christmas tree. In contrast, only 82 choose to decorate a real fir tree in their home. Babies or toddlers picking up and swallowing pine needles was a real concern for many parents. But what other risks or potential issues do you need to be aware of? Let's talk about baby and toddler proofing your Christmas tree….
Baby and Toddler Christmas Tree Safety Issues to Be Aware of
Little ones love lights, and shiny things, so it's no wonder they want to grab at the tree or decorations. Potential hazards therefore include the tree itself falling, hot lights and of course, the danger of baubles smashing. Or worse still – babies trying to put breakable ornaments in their mouths. Then there are wires from the lights and all those tempting presents under the tree too. Considering banishing the Christmas tree? We've got a few potentials solutions to make things simpler.
How Can You Child Proof Your Christmas Tree
Consider using an alternative tree
Young children who are mobile are naturally curious about trees. So it can be hard to stop them grabbing at the parts they can reach. The most obvious solution is to remove temptation by choosing a smaller tree. Place it up and out of the way on a high table to keep it safe. It may not be as grand, but it could make your life easier.
Put your tree somewhere else
Most people put their Christmas tree in their living room. Chances are, you and baby spend the majority of your time in this room when at home. A good way to mitigate the risk is therefore to put your tree in a less obvious room. This way, they'll have less opportunity to grab at it. This can be a smart move if you're worried about spending all day every day removing your child from the tree.
Secure your tree
Whether you have a real or artificial tree, you can reduce the risk of it being pulled over by ensuring it has a sturdy and wide base. Another good safety tip is to anchor your Christmas tree to the wall or ceiling. You can do this by looping string or fishing line around the tree then securing it with a hook.
Review your lights
The instance of house fire increases over the festive period due to things such as candles and faulty lights. It's crucial to turn your Christmas tree lights off when you go to bed. It's also advisable to check that your fire alarms are in good working order for the holiday season. Follow this advice from the Royal Society for Prevention of Accidents too:
"If you have old Christmas tree lights, seriously consider buying new ones which will meet much higher safety standards. When buying lights, look for safety marks e.g. BS Kitemark, buy from a reputable store, avoid buying second-hand unless you have them professionally checked first, and be sure new lights are transformed down to 24 volt for added safety, or they may be double insulated."
Use a barrier
Many parents choose to use a playpen or other safety barriers to prevent toddlers from getting at the tree. With less mobile babies, a playpen can be a really effective way to keep grabby hands at bay. And even with the fast-moving toddlers, a playpen can usually buy you a few seconds of extra time to step in and prevent an accident. But beware; some little boys and girls can see them as a bit of a challenge.
Be smart with your tree trimmings
Carefully coordinated Christmas trees with delicate glass baubles placed at even symmetrical distances across the tree look great right? Yeah, forget those. With a baby or toddler in your midst, you might want to be put any easy-to-break ornaments on hiatus. You'll also want to avoid traditional but toxic trimmings such as holly and mistletoe. And, if you'd like to dissuade your chocolate loving toddler from trying to snack on the tree, edible tree ornaments are probably better left off. That is, at least until you're happy for them to be consumed or you're sure they're not going to pull over the tree too.
If you thought decorating a Christmas tree was a creative challenge before you had kids, it can become even more of a minefield with them. Many parents try to play it safe by keeping non-breakable decorations such as those made from wool, wood, felt and fabric at the bottom of the tree. Unfortunately, buying plastic baubles is not guarantee that they're not going to smash and cause sharp shards to fly. Another things to be aware of is how much like a child's toy many of our decorations look. ROSPA has issued a special warning in relation to the dangers of Christmas ornaments and decorations and toddlers this Christmas.
A spokesperson for ROSPA, said: "Novelties come in all shapes and sizes, and many of them look like toys and are attractive to children. But the problem is, they don't adhere to the same safety standards as toys, and so should not be given to children to play with.
"Children under 36 months are at the greatest risk, as the most common problem is decorations having parts that can easily be pulled off and put in the mouth, posing a choking risk. To ensure you know what you are buying, check the small print on labels. Phrases such as "this is a decoration, not a toy", "keep out of reach of children", or "for use as a decoration only" will mean the product does not adhere to toy safety standards.
Have a toddler tree
Lots of toddlers love unpacking things and moving them around. Christmas tree decorating is therefore something that many will be keen to get involved with. If this sounds like a recipe for disaster for you, have you thought about giving them their own tree to decorate instead? You could decorate a card tree and let them stick on some bauble shapes and tinsel, or how about this Decorate Your Own Felt tree from Amazon? It makes for an easy Christmas craft activity and could help your family tree stay safe too.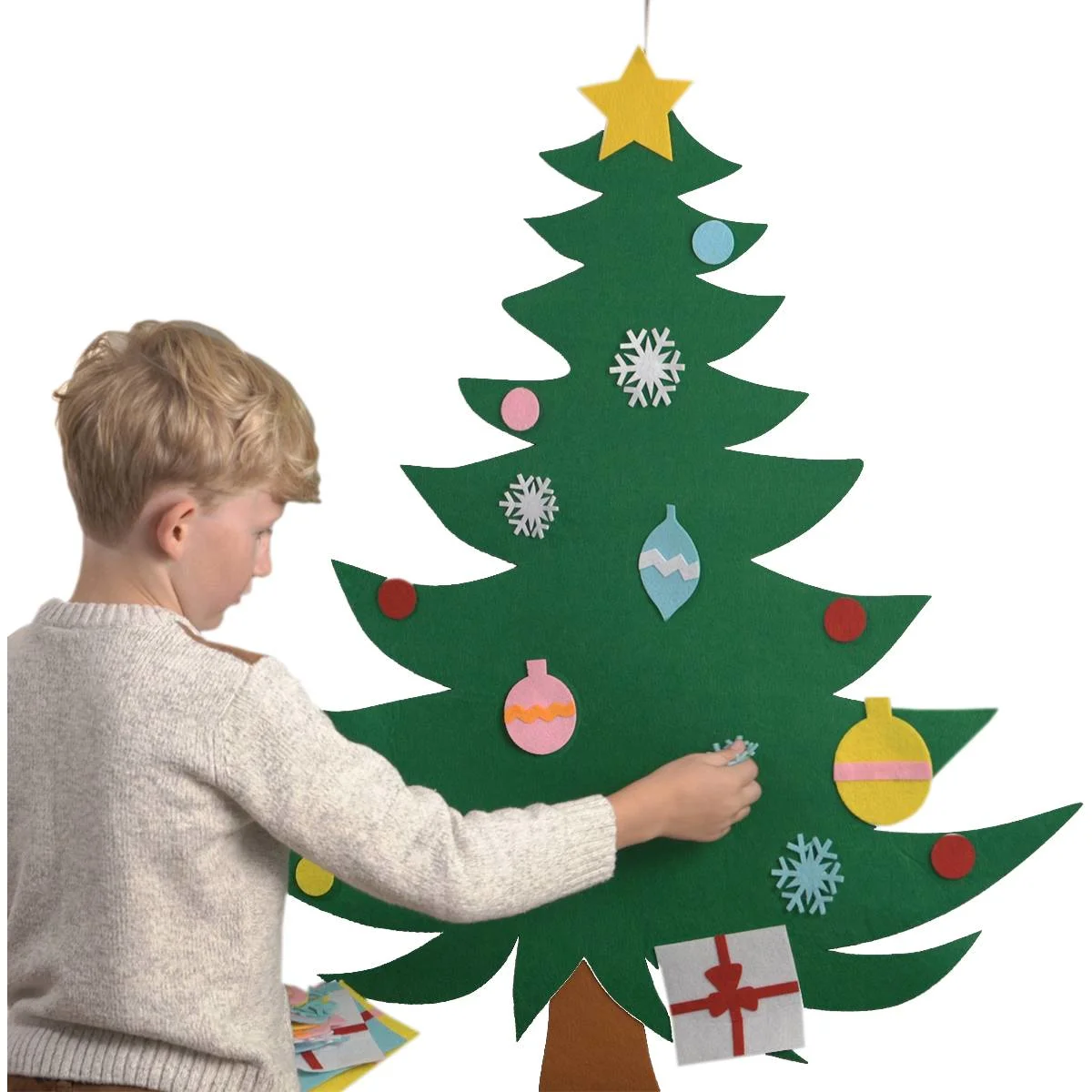 You can buy one here!
Introduce tree handling rules
If your little one has good levels of understanding, you could try introducing a few rules to help protect them and the tree. In our home, my little one has a selection of decorations around the bottom of the tree she's allowed to touch with one finger. Because you can't easily take them off the tree with one finger I'm not too worried about them falling. She's happy she's allowed to touch them and so far hasn't tried to touch any of the forbidden baubles further up as a result. She's also been put in charge of deciding where these baubles go and so feels like she's contributed to the decorating.
Should You Choose a Real or Artificial Christmas Tree for Safety?
Artificial Christmas trees are less flammable though there are definite eco benefits to choosing a natural fir tree. If you'd prefer to have a real fir, you need to be extra cautious about fire risks. You may also want to be mindful of how bad they are for shedding needles.
According to this article in the Telegraph, when you buy your fir tree is not so much a factor in how they're likely to shed as the trees on sale will generally be cut at the same time, unless you cut at time of purchase. To encourage needles to stay on the branches, you should slice off the bottom of the tree. Next, ensure you keep it well watered. If you're worried about a baby picking up and swallowing pine needles or simply want to avoid the mess Nordmann firs are said to shed fewer needles than other varieties.
Worried your child is allergic to the Christmas tree? You could be right! It is possible to be allergic to Christmas trees. Those with asthma can be particular prone to suffering with hay fever like symptoms. Christmas Tree Syndrome is the name for Christmas tree allergy, which is said to be caused by the mould that develops on needles and branches.
If you're planning to decorate your tree in the coming weeks, you may want to check out our recent picks of the best personalised family ornaments. And whenever your tree goes up, don't forget! The traditional date to pack it all away is the 12th Night, which is January 6th.
Other Christmas articles you may enjoy...