Are you planning on taking baby on their first trip abroad? Lucky you! Have you applied for baby's British first passport yet?
You may have some questions or be unsure of the whole process. Not to worry – we've looked into it and we have you covered with this simple and easy to follow guide. Please note that this guide is for baby's first British passport; info on renewing a child passport can be found here.
We love these handy passport protectors… Perfect for keeping these important documents safe from crayons, milk, and little fingers!
We've found some super gorgeous passport covers, some with luggage tags! Your little one will adore their very own special cover and will feel so grown up with their very first passport. These are also a handy way of keeping track of passports; if they get lost, they'll be easily spotted and identified.
Find the Flamingo Print Set here*.
Find the Personalised World Rainbow Set here*.
Find the Personalised Unicorn Set here*.
Find the My First Passport set here*.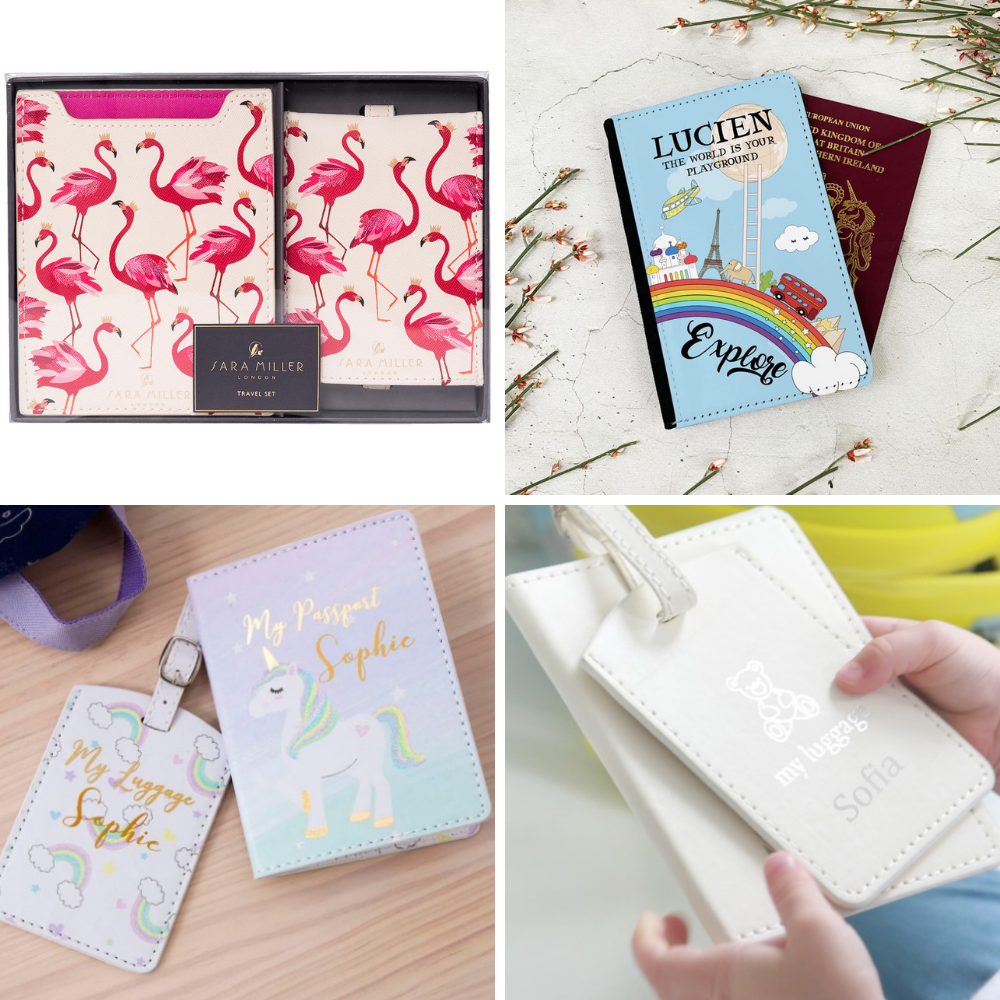 How do I apply for my baby's first passport?
You can do this in two ways, online or via post. Many choose to do it online to save time and faff getting the form posted! I'll definitely be applying online when the time comes.
To apply online you'll need:
a digital photo of your child (or a device that takes digital photos).
supporting documents to prove identity of your little one.
a credit or debit card to pay the £49 fee.
It takes around 3 weeks to get the passport. After you've paid and submitted the passport application, you'll need to ask someone to confirm your little one's identity. You will need to let them know that they'll receive an email from HM Passport Office with instructions, this can be done online without the need to sign a printed photo!
Applying via post…
You can apply for your baby's first passport via post. You'll need to get a paper form either from a Post Office offering the 'Passport Check and Send Service', or contact the Passport Advice Line who can send you the form.
If applying via post, you will need to complete sections 1, 2, 3, 4, 5 and 9. Your child needs to sign section 6 if they're aged 12 or older. You will need to get someone else, known as your 'countersignatory', to fill in section 10 and certify your child's photo – find out more about this here. The form will come with a handy booklet, which we advise you read if you're struggling.
Once complete, you can either post using the provided pre-printed envelope, or take it into a post office with the Passport Check and Send Service we described above. Someone with 'parental responsibility' for baby must sign the form, and if it's for a child aged 12-15, they'll need to sign too.
---
What are 'supporting documents'?
If you apply by post, you must send:
2 new photos of your child – find more info here.
The child's full birth or adoption certificate (with parents details on) – it must be an original, not a photocopy, and not laminated!
Proof that your child has British nationality (such as aBritish registration certificate, or a parent's passport/birth certificate).
Any valid passports from a different country belonging to your little one.
Any court orders (such as parental responsibility or residency arrangements).
If you're applying online, you'll be told there which documents you need to show.
The name I want on the passport doesn't match the birth certificate
In the case of a name change, you need to send:
a signed and dated letter from everyone with parental responsibility confirming the name change and agreeing to the new passport application.
a deed poll document.
at least ONE piece of evidence that shows the new name being used, such as NHS records, child benefits records, or school records.
Any documents you send WILL be sent back via standard post, but you can pay £5 for special delivery to be safe, we all know the post can be hit and miss for losing things!
---
How will I receive baby's first passport?
Your baby's first passport will be sent to you by courier or Royal Mail. They'll either…
post it through your letterbox (definitely get a guard if your dog likes to eat your post!)
hand it to you if you're home.
leave a card or post you a letter saying how you can get it, this will not indicate that it's your passport for security reasons.
---
Happy holidays, travel safely, and we hope you have a fabulous journey!
Love from Katie. Xx