Hello to the mummies and daddies tuning in on their quick 5 minute break.
Recently I started baby led weaning (BLW) and with Halloween just around the corner, I thought what a perfect time it was to write about baby/toddler friendly food to have this Halloween.
Feeding a baby, toddler or child can be really hard around this time of the year. The main reason is because of trick or treating. They will have their little bags filled to the brim with sweets that will last them either until the next day or the next 3 years. Then the second reason is your Halloween parties.
So if you're heading, hosting or attempting to cure a sugar filled hangover for your children, here are some healthy and spooky alternatives you can have this Halloween.
And with the help of your extra little hands, you and the family can get up to a lot of fun. Creating great memories and a yummy lunch.
---
Spooky Frozen Yogurt Lollies
Spooky lollies that will work a treat. You can use sugar free, fat free or normal yougurts or if you're breastfeeding then you can use your milk.
Warning: Unfortunately if you formula feed this isn't something you can do with formula as it separates and can make baby ill.
---
Frankenstein Kiwi
This is such a brilliant idea and look how creative it is?! Instead of using pretzels you could always use cucumber, celery. Maybe a chopped up asparagus so he has big and scary hands. Making him all green you could even pass him off as The Hulk. Meaning you can use this for daily use too!
---
Carrot Pumpkins
Now be honest. You cannot tell me this isn't a fabulously clever idea? All you have to do is cut two lines to make the stem, then diagonally cut inwards so you get that signature pumpkin shape!
---
Honeydew Bats
This is such an unusual yet very creative idea. If you're skilled with a knife then go ahead and enjoy. But if you're like me then I would cut out the size you want and use cookie cutters for the shapes. I'm definitely trying this one for my 7 month old!
---
Silly Apple Bites
I'm on a roll today because these are seriously too much for me. I love them that much that I actually think i'm going to make some now! Cut your apple into four quarters then cut out an area of the mouth, slip in a strawberry tongue and replace the seed with rice crispies and some yogurt to stick it down. This is only because young children can't seeds.
---
Orange Jack-O-Lanterns
This is a pretty simple idea. You scoop out the guts, cut out a face and put in some healthy treats. What's not to like here? You could always draw the faces too.
---
Cheese Monsters
Cheesy monsters that will go down a treat at lunch time or at a party. Grab yourself some wobbly eyes from Hobbycraft and get into the Halloween spirit.
---
Halloween Spaghetti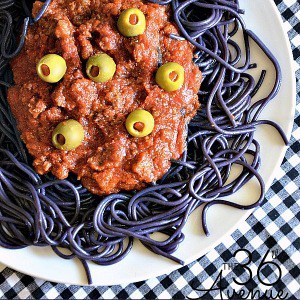 Now I personally think this is one of the best in the bunch. Black spag-bol, crazy! I think i'll make this using other colours on different occassions. Also you can use it for sensory play too! You can buy the paste here, it isn't even dear.
---
Spooky Spider Deviled Eggs
So not only do we have the fear of household spiders, you now have the choice to eat them! This wicked idea looks both yummy and creepy for those upcoming parties!
---
Pumpkin Veggie Tray

Finally we come to the carrot, cucumber and broccoli pumpkin face which is perfect for new baby led weaners this Halloween and just so quick to get together.
Hope you enjoy it, any snaps then PLEASE send me them as I would love to see and a big Happy Halloween!