We all know that regular teeth brushing is an important daily task, in order to keep our teeth strong & healthy. But when should we start with our children, and how can we make this task easier?
The moment that first little toothy peg pops up out of their little gums, most parents start to think about establishing a good dental hygiene routine. It's totally natural to not know where to start though, especially if you're a new parent, so to help you out we've put together this fabulous guide dedicated to toddler tooth brushing.
Official teeth brushing advice for babies & toddlers
The current NHS guidance is as follows:
The NHS advises that you can start doing this as soon as their teeth start to emerge from the gum.
Use a tiny smear of fluoride toothpaste up to the age of three, and a pea sized amount of fluoride toothpaste between the ages of three and six.
Don't worry if you don't brush much at first, as the focus needs to be on getting a brushing routine in place.
Brush twice a day – it doesn't matter when as long as it fits into your daily routine and as long as each brush isn't too soon after the last.
Make it a game, or brush your own teeth at the same time to show your little one that it's enjoyable.
With smaller babies, sit them on your knee, tilt their head back against your chest, and gently brush.
Brush in small circles and encourage them to spit the toothpaste out. They won't need to gargle with water as this can wash away the fluoride.
Make sure they're not eating or licking the toothpaste off the brush before the actual brushing process!
Help until they can do it themselves – usually this is around the age of 7.
Take your baby to regular dentist appointments.
But they lose their milk teeth… Why is it important to take care of them?
Milk teeth… Yes, they lose them, but taking good care of them is vital! You may be wondering why… Well, the bacteria that can cause tooth decay can actually travel up the root of a baby tooth, into the developing adult teeth sat in your child's gums, causing future dental problems before the first visit from the Tooth Fairy!
Having fluoride in their system from a good dental hygiene routine early on also helps to protect the permanent adult teeth long term.
What food should I avoid giving my children to protect their teeth?
As I'm sure we all know by now, sugar is a huge factor behind tooth decay. Unfortunately, children seem to absolutely LOVE sugar… So what can we do?
Avoiding sugary treats like sweets and chocolate is your best move, and allowing them only in moderation. You can give your child plenty of fruit and milk though – natural sugars are less likely to contribute to tooth decay.
The current advice is to switch from bottles by 12 months, as bottles can cause 'pooling' of liquids which can then cause tooth decay. This applies to both milk and sweet drinks. The acid in fruit juices and squash, even sugar free squash, can contribute to tooth decay.
When weaning, prioritise savoury food, vegetables and sugar free drinks over sweet options to avoid your little one becoming a sugar fiend.
Ensure your child has no more than 150ml of fruit juice a day.
At bed time and during the night, avoid drinks other than cooled boiled water, breastmilk or formula.
Opt for sugar free versions of medicine such as calpol.
Avoid using sweet treats as a reward. Little toys are a great alternative. Party bag toys are cheap and fun!
Aim to take away any dummies by 12 months, and never dip them in sweet things.
The NHS warns that the following are all forms of sugar;
"Sucrose, glucose, dextrose, maltose, fructose and hydrolysed starch are all sugars. Invert sugar or syrup, honey, raw sugar, brown sugar, cane sugar, muscovado sugar and concentrated fruit juices are also sugars."

What is the best toothpaste for for children?
There are a huge number of toothpaste choices in shops, but which is best for your child?
The toothpaste you choose for your child under the age of three needs to contain at least 1000ppm (parts per million) of fluoride. From the age of three, your child can start to use the family tube of toothpaste – these are usually between 1300-1500ppm. You don't need to buy specific toothpaste for your little one once they're three but if they don't like the minty taste and you can't find a milder adult toothpaste, it may be best to buy a flavoured children's toothpaste.
How much toothpaste should I use when brushing my child's teeth?
A smear for under three's, and a pea sized amount between the ages of three and six is the current advice. As we explained earlier, don't rinse with water as this can remove fluoride from the teeth.

What is the best toothbrush for babies & toddlers?
A soft toothbrush with a small head is ideal for your little one, and will allow you to reach all nooks and crannies of their mouth. Replace this every three months, or when the bristles start to spread and fray. You can even buy fun musical toothbrushes to make brushing time fun!
This Disney Frozen Oral-B Stages Power Kids Electric Toothbrush is a raved about purchase – find it here*!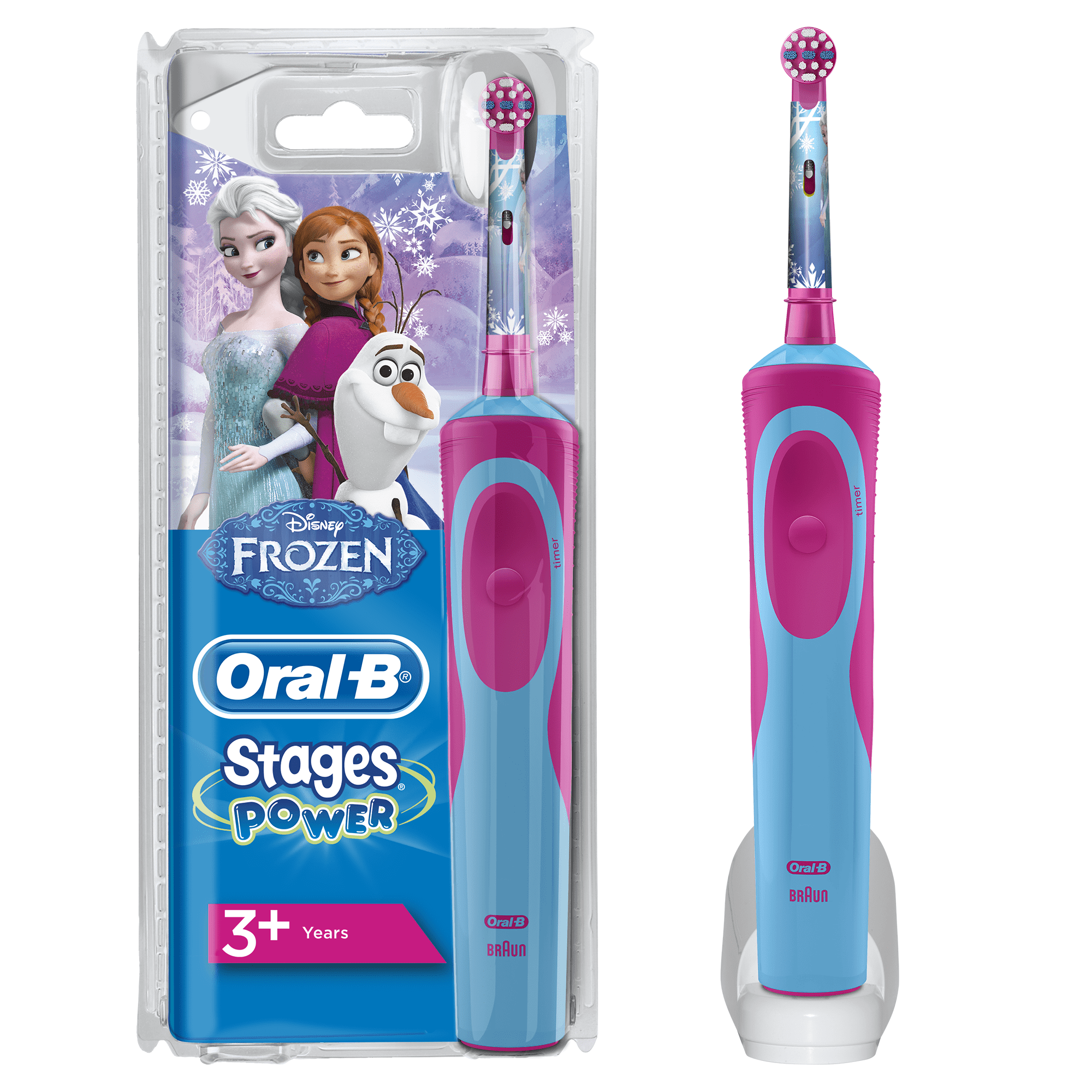 How do you find brushing your little one's teeth? Do you have any tips, advice or insight to share? Let us know in the comments, we'd love to hear from you.