To mark your baby's 1st birthday (or even other birthdays too), the 'cake smash photoshoot' has become super popular and is rapidly turning into a rite of passage.
What exactly is a 'cake smash' though? What is needed for the perfect snap? We've asked the mummies over in our online community to share their own shoots with us for some inspiration.
A cake smash photoshoot is exactly what it says on the tin – a photoshoot of your baby smashing a cake!
They're a great way to create some nostalgic mementos to look back on in future, and the element of having a delicious cake smashed, smeared and gobbled makes the whole experience both hilarious and enjoyable for all parties involved – until the time comes to clean up, of course…
You'll need…
A cake – preferably one that is easy for your little one to dig into and get messy with!
A nice background of your choosing.
Birthday decorations – perhaps balloons, bunting, a party hat?
A camera; your phone camera should be fine in good lighting!
If you're not a fan of doing a DIY shoot, a good local photographer is vital. They may include some essentials in their pricing!
Towels, wipes, spare clothes, and bags for dirty clothing/towels and rubbish. Remember, cake smashes are messy!
We love these cake smash photoshoot pictures that we've been sent – hopefully they help to inspire you when it comes to settings, themes and props!
---
Jenny Kelly
That unicorn headband… We love the idea of a unicorn theme! The butterfly bunting really catches our eye, too. This gorgeous girlie seems to be seriously enjoying that icing!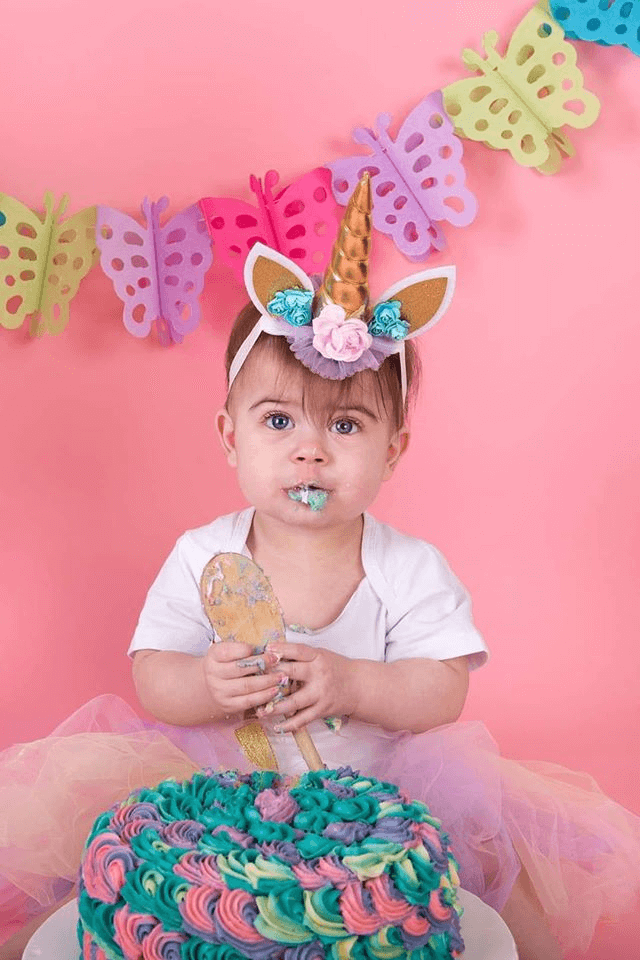 ---
Chloe Burford
This home photoshoot is so cute, we love the confetti balloons. The addition of the 'birth bear' with her birthday and birth weight is also a very clever prop!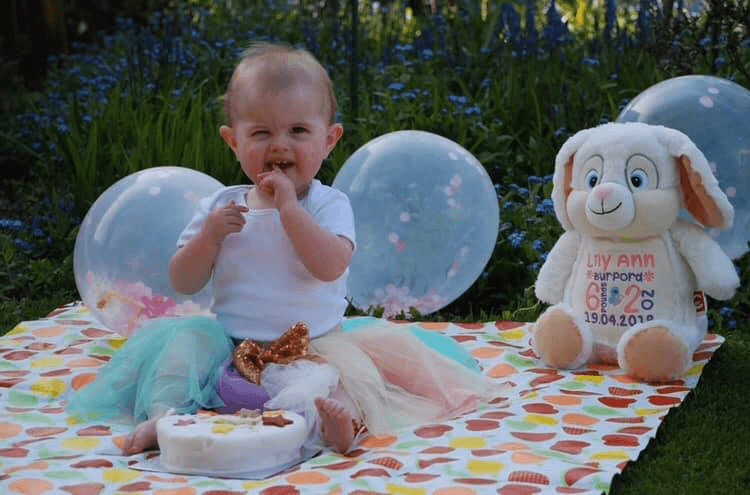 ---
Hannah Robinson
Another lovely home shoot, this is one VERY happy little boy, clearly! The joy of of a cake smash is being able to capture moments of such bliss!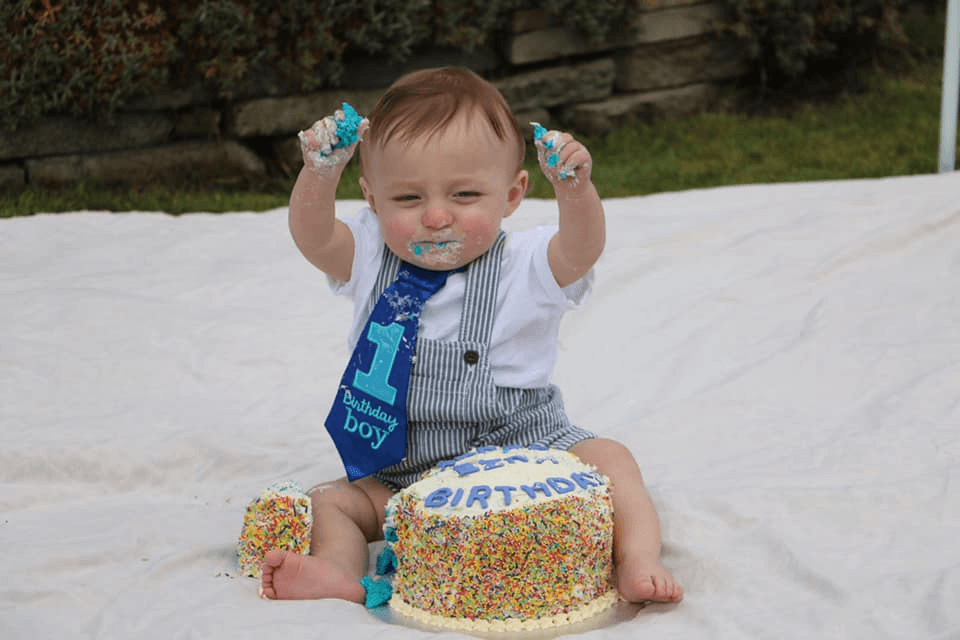 ---
Chelsea Carrington
Chelsea had a professional shoot done, with an absolutely gorgeous pastel unicorn theme – that cake is dreamy and perfect for this little princess! A similar theme could be replicated with so many different colours, we think – monochrome, primary colours, or perhaps some natural shades for a Scandi-inspired look?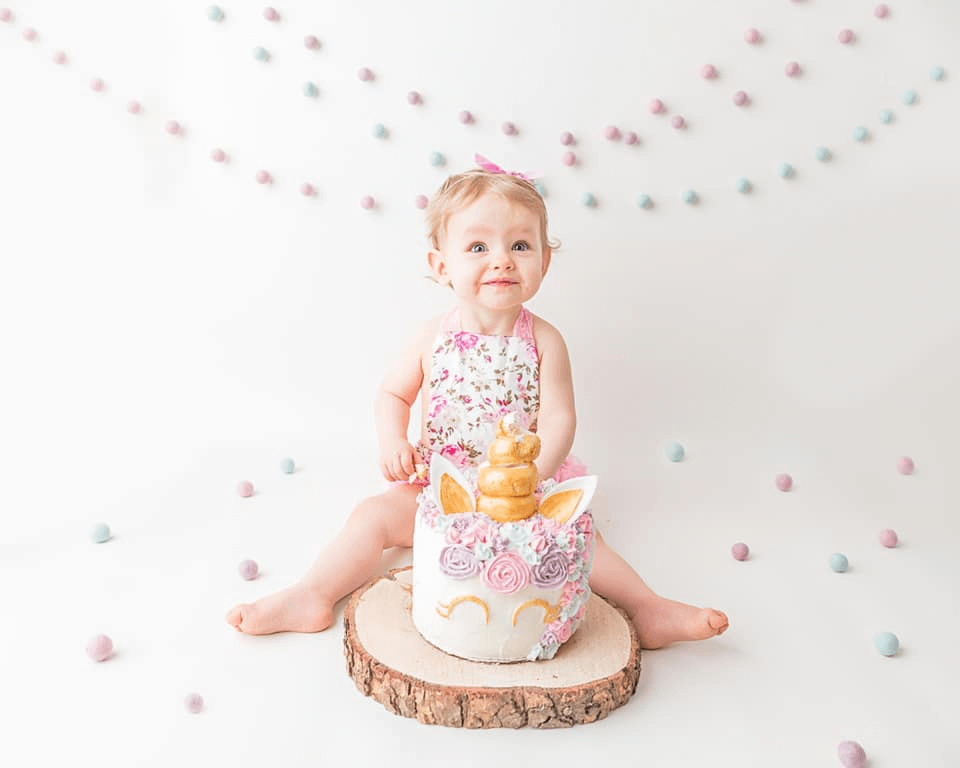 ---
Becka Lynch
This is one very happy boy! Look at the cake in the last two pictures… We love the progression from whole to smashed and think these would be great in your photo album to reminisce.
---
Ally Hancock
Shot by Kelly Davis Photography.
Potterheads… Prepare yourself. This theme is genius and we're so impressed, the Hedwig cake just tops it all off! Perfection. Do you have a favourite book/film/game? You could use that as your theme.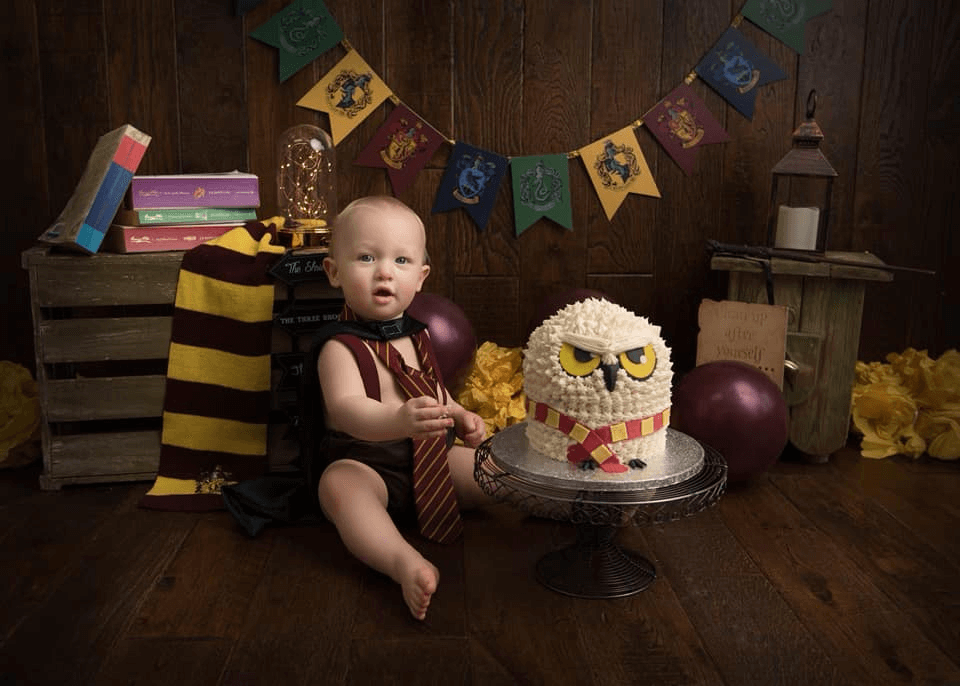 ---
Nicola Patterson
This twin cake smash is great – we think having multiples would give the photo shoot even more scope for hilarious dynamic images as your little one's interact with each other! Clearly one twin is eyeing up her sister's cake… The rainbow colours are also great for parents who are celebrating rainbow babies.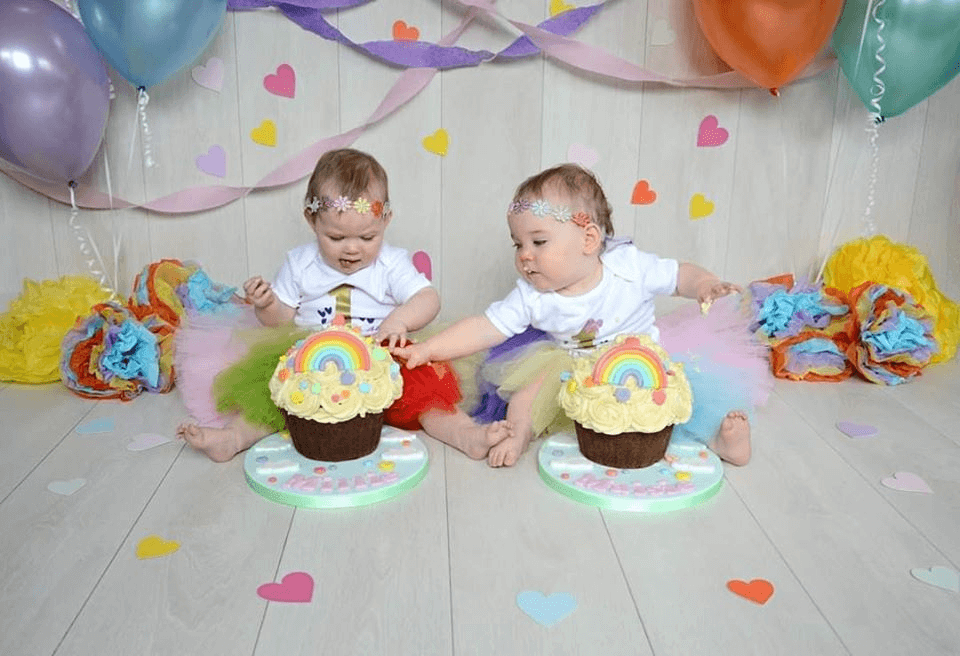 ---
Lana Stoner
Pink, pink, pink! We adore the streamer bunting and those lovely pink confetti balloons! Unicorn cakes seem to be very popular at the moment, but there are so many ways that you can follow that theme clearly!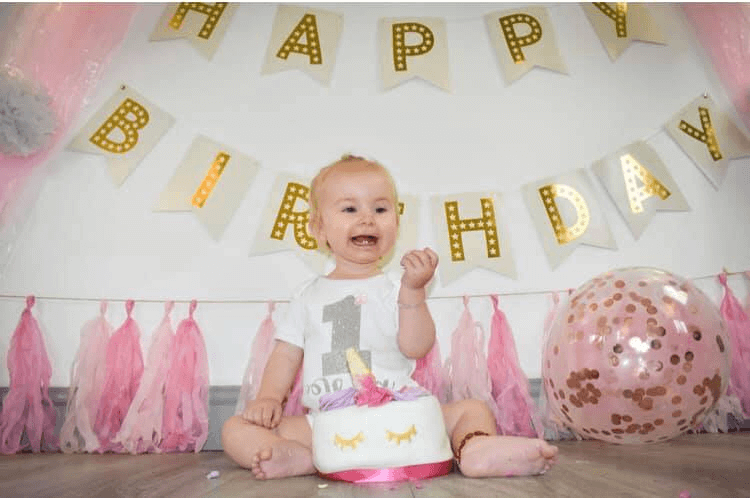 ---
Lauren Michie
Another gorgeous pink confection right here, we're in love. Lauren's little girl was captured absolutely loving her cake, and she even captured the adorable post-smash wash too with perfect results.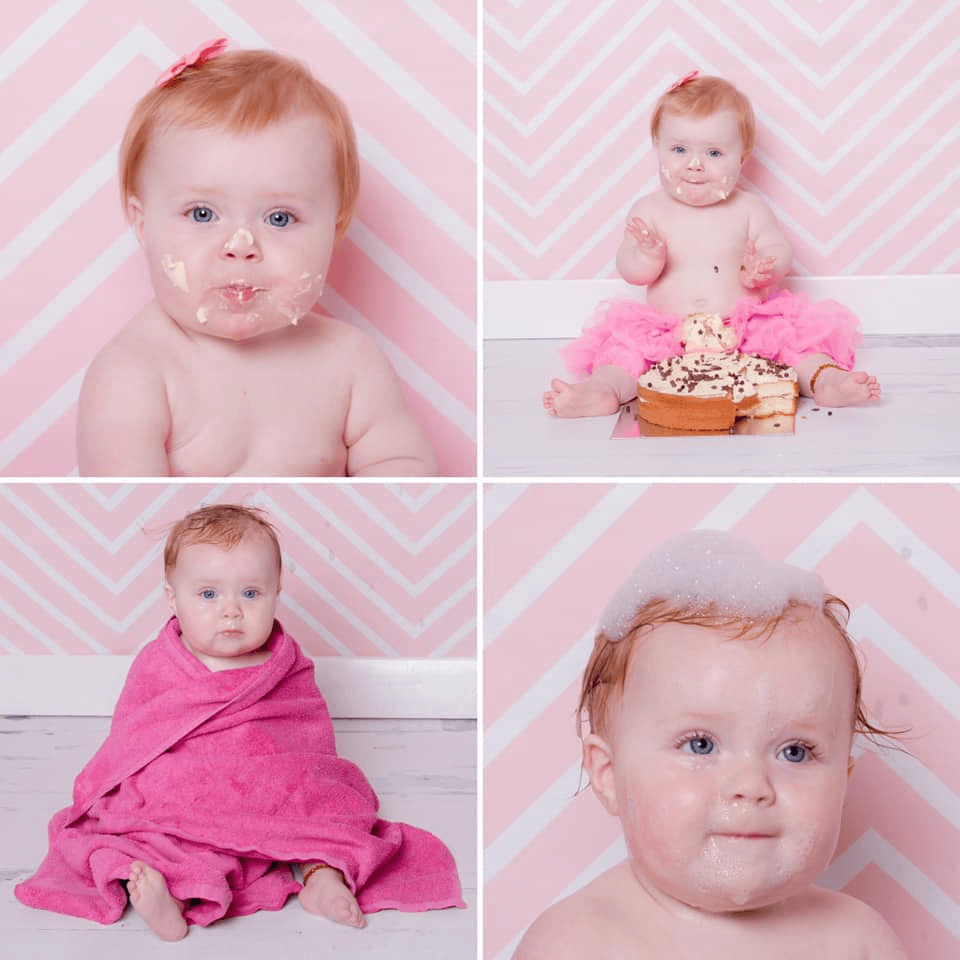 ---
Laura Lindsey
Last but not least… here's a very interesting angle to take a snap from! We giggled so much at Laura's upside down cake-gobbling snap of her little one!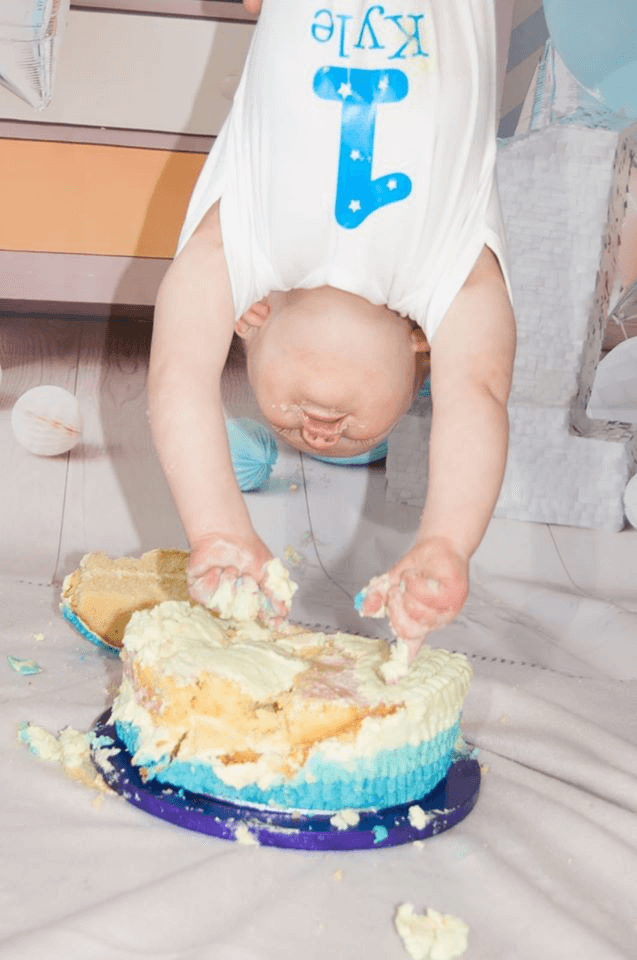 ---
What would you advise parents looking to do a cake smash? Let us know in the comments!
Love from Katie & Team BBY! Xx