Are you expecting a little bundle of joy? Congratulations! How are you going to announce your pregnancy?
There are so many ways to share your happy news with the world – how you choose to do so is entirely dependent on you and how many people you want to know! The post popular ways of sharing pregnancy news with loved ones are;
Contacting via phone and text
In person reveals
Social media posting
The latter, social media posting, seems to be the most popular in 2019. It just makes sense; most people have all of their friends and family on Facebook, and it's so easy to lose track of phone numbers, so a Facebook status with an eye catching photo has become the favoured option by far.
When it comes to announcing your pregnancy on social media, you can really get creative! We've asked the fabulous parents over in our Facebook community to share their own pregnancy announcements with us to help inspire our followers who plan to make the all important announcement soon.
Involving an older sibling
Getting a big brother or sister to be involved is a fantastic way to announce your pregnancy – how adorable are these snaps? Credit to Alicia Humphrey, Rachel Crawforth, Sarah Campbell-Casey (left to right).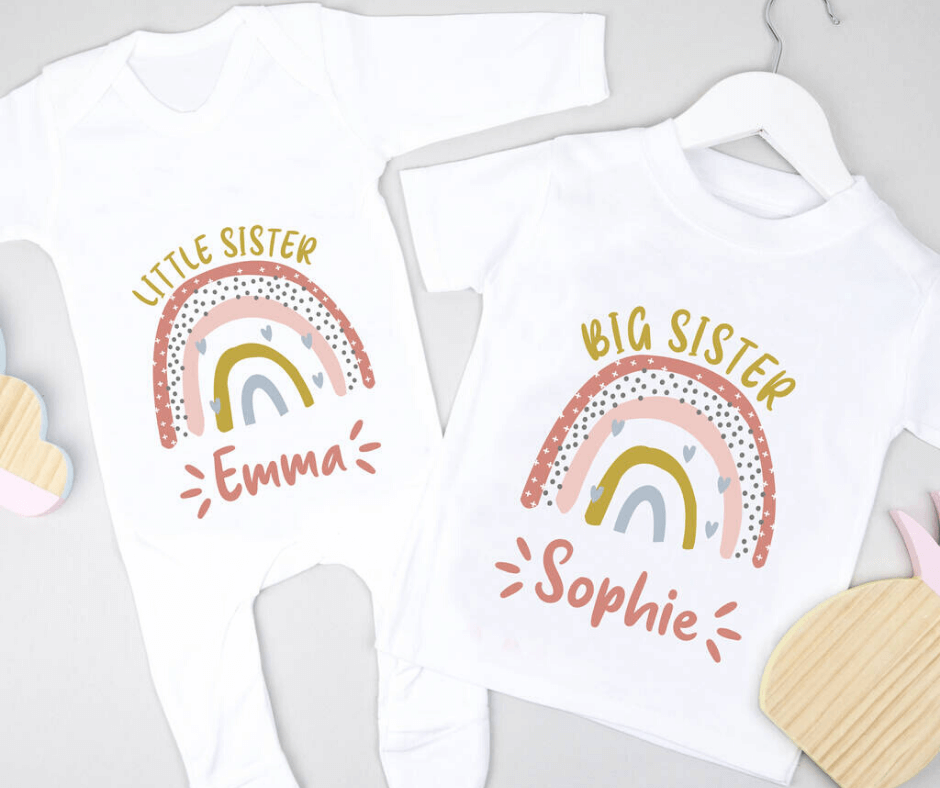 Using a holiday season for inspiration
Does your announcement happen to time with a holiday season? Perfect! Nicole and Colisha have used Halloween pumpkins to create these beautiful announcement posts, whilst Amanda used a Christmas tree and personalised bauble to announce her pregnancy.
Credit to Nicole Armour, Amanda McAnally and Colisha Wright (left to right).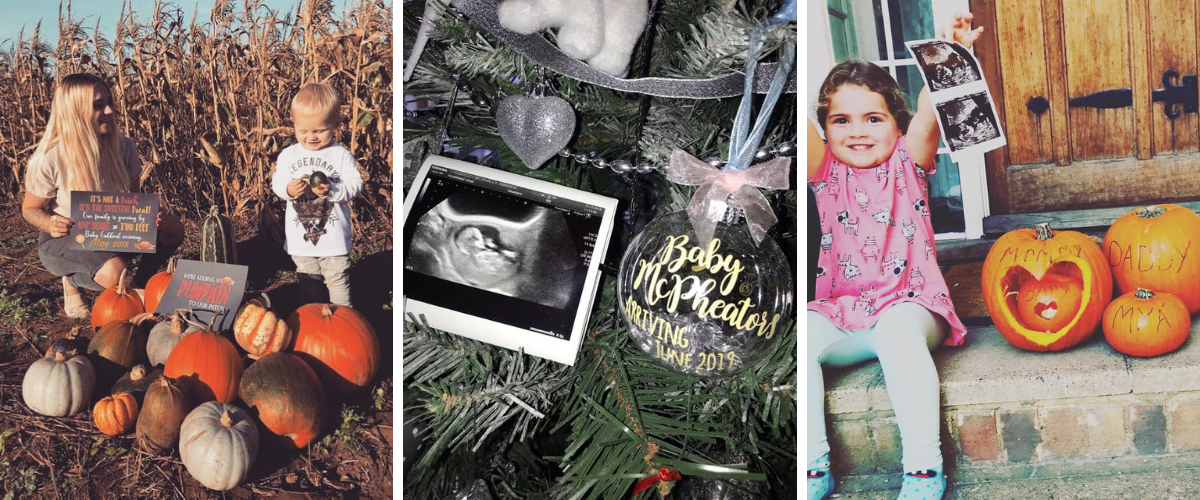 Getting pets involved
Getting your furry sidesick involved to announce a new member of the family is a great way to show your love for your animals! The sign on Leah's dog (third picture) is hilarious too.
Credit to Natasha Cairns, Sally Scammell and Leah Manderson (left to right).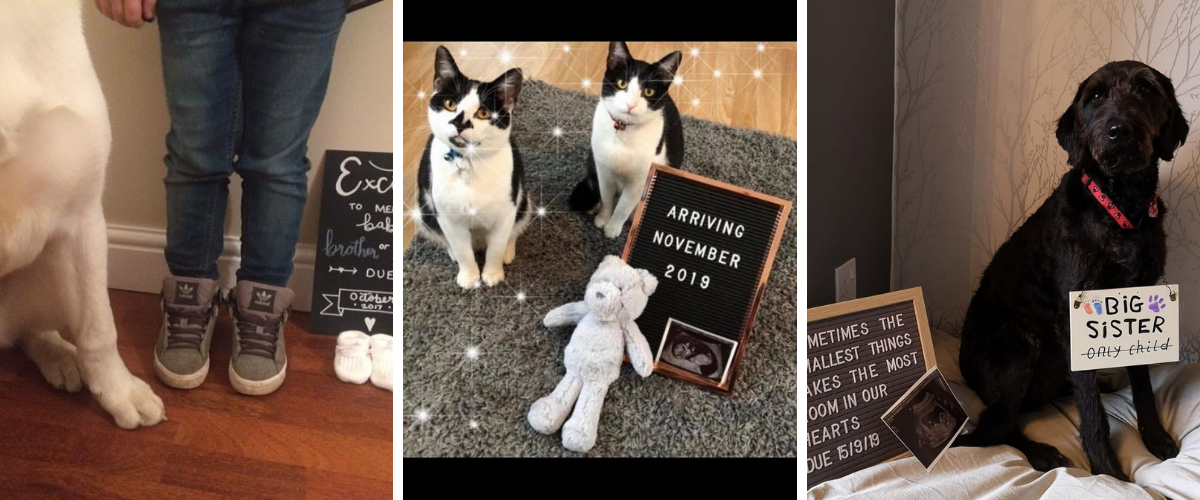 Using clothing 
Another awesome idea our parents have shared with us is using clothing to represent the existing family unit, and the incoming baby – check out Hanna's picture (first)! Baby vests personalised with the news are also a popular idea which we love.
Hanna Gibson, Jennifer Lenihan, Kayleigh Harris
Location Announcements
Why not push the boat out with an announcement somewhere special? Kirsty went to Disneyland and announced her news with some perfect snaps from her trip! Katy went to New York, got married in Central Park (WOW!!) and announced her baby news in her wedding dress. Doesn't she look gorgeous? Megan threw a party – it also doubled as a gender reveal!
Credit to Kirsty Sutherland, Katy Louise and Megan Warrick (left to right).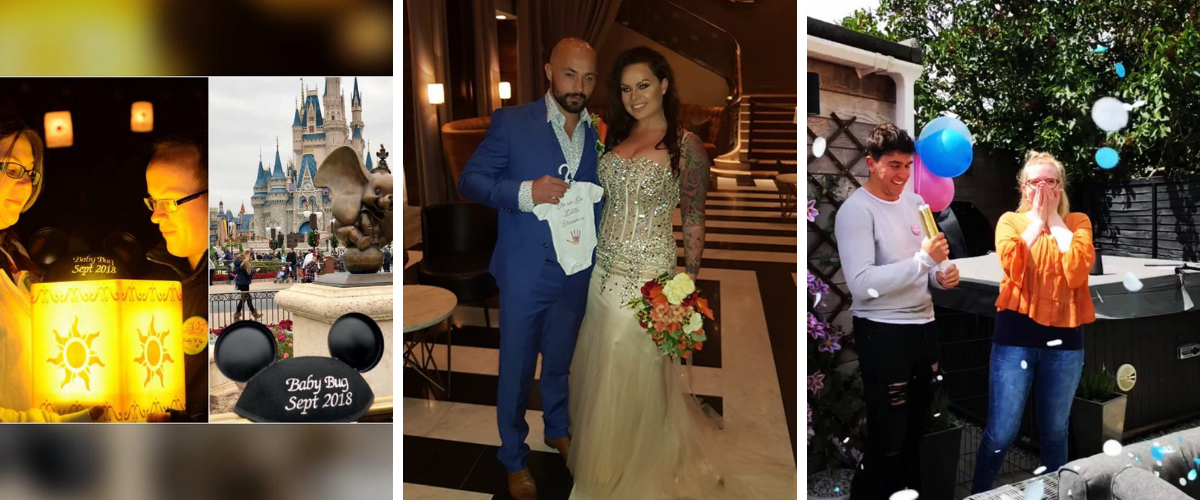 Creative Announcements
Fancy getting a little bit artistic? These ideas could inspire you. Brittney's partner is a fire fighter, so they used his kit to announce their little one! Charlene is, quite clearly, a HUGE Harry Potter fan – we adore the Mandrake pot! Shonn used this simple yet beautiful drawing to represent herself, her partner, her current children and their incoming little one with a positive pregnancy test included- how adorable.
Credit to Brittney Nicole, Charlene McCallum and Shonn Walker.
---
Let us know in the comments if you plan to use any of these ideas!
If you did something extra magical, or very different from anything you've ever seen before, we'd love to see – email in at [email protected] for guest feature info!
Love from Katie & Team BBY. Xx