This month is Sands Awareness Month 2019. This year's campaign will be specifically focusing on bereaved daddies and improving the emotional support they have access to.
When it comes to baby loss, the father is quite often overlooked, as the mother has carried the baby and given birth, so she tends to be focused on an awful lot more. That's not to say that daddies are completely ignored, but their mental health after suffering such a devastating bereavement can often be overlooked, or the daddy presumed to be 'just getting on with things' when in fact, he is suffering in silence and in need of support. There is still a residual stereotype that men should be 'strong', preventing men from seeking support and also meaning that men are less likely to be offered support.
A baby is lost every 90 minutes in the UK; every 90 minutes, a daddy's world comes crashing down around him.
This is why Sands has launched their 'Finding Your Way' campaign, a campaign we are proud to support here at Bump, Baby & You.
Did you know; 31% of men who have suffered the trauma of baby loss have NOT been referred to any source of support, according to a survey published by Sands. This is such a sad statistic. Even with celebrities such as Gary Barlow, Gordon Ramsey and Richard Madeley speaking out about their own bereavements, the topic remains 'taboo' for a large part of society. This needs to change.
The 'Finding Your Way' campaign is aimed at encouraging anyone affected by baby loss to break their silence on the perspective bereaved daddies, uncles, grandfathers, brothers, and any man touched by the loss of a baby.
The survey undertaken by Sands also found the following;
Two thirds of respondents agreed that it's more socially acceptable for women to talk about baby loss.
Eight out of ten agreed that the media tends to focus on the female experience.
On a more positive note, one in five agreed that it's equally acceptable for men and woman to discuss baby loss, and three quarters agreed that it's more socially acceptable to discuss baby loss than it was in the past.
One in five men feel that they need to put on a front in front of their partner.
One in ten didn't want to talk about the loss with their partner at all.
54% of men felt that it was their role to break the bad news to friends and family, 49% did this to protect their partner.
Men were shown to be more likely to keep their feelings to themselves;
Anger: 49% of men vs 25% of women.
Guilt: 54% of men vs 35% of women.
Isolation: 59% of men vs 47% of women.
Depression: 55% of men vs 39% of women.
Very sadly, 62% of men and 59% of women admitted to keeping suicidal thoughts to themselves, but 15% of women confided in their partner about feeling suicidal, compared to 7% of men.
---
Sands Ambassador and journalist Matt Allwright has shared;
"When my friend and his partner lost their boys deep into their pregnancy they were so open about their loss, and I was amazed that they were able to share both the pain of grief mingled with the joy of having met their babies. It helped so much to understand what had happened, to know this wasn't something to be hidden away.
I am so glad my friend felt able to talk to me about his loss but I know from working with Sands that talking can be the last thing many bereaved dads feel like doing. Baby loss is a subject that too often stays in the shadows when it needs to be brought out into the light so healing can begin.
Everyone is different and everyone's loss is their own but by taking that first step – going to the Finding Your Way website – I hope many more bereaved men will reach out for support; to their partner, to a close friend, to someone their family, or to Sands, and not keep their grief locked away inside their hearts and continue to suffer alone."
---
How Does The Finding Your Way Campaign Focus On Encouraging Men To Seek Support?
Finding Your Way aims to make it easier for bereaved men to to find the best kind of support for them, in the easiest possible way. If you visit their 'Help For You' page here, you'll be able to access various resources that take into consideration the different kind of grieving daddies may be going through.
If you need to speak to someone, their 'Grief Chat' platform automatically pops up. You can also call their helpline on the number below.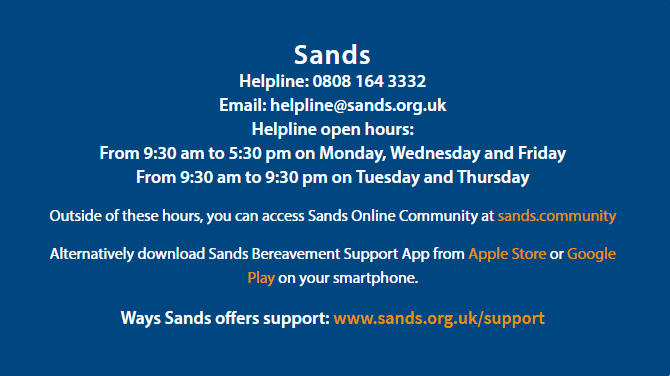 How Can I Get Involved?
Mission Impossible 2019 – Making Miles Matter is the virtual fundraising initiative led by Finding Your Way. It involves taking on a physical challenge, either alone or as part of a team, and raising both funds and awareness for everything SANDS does. You can choose from three types of challenge;
Choose a Conquerer challenge – a choice of 8 physical feats
Choose to be a Super Star – this involves entertaining little ones and looks so fun!
'Walk a Mile in My Shoes' – this is a sponsored walk where you and others can share memories whilst raising awareness.