Who doesn't love cosy catch-ups with friends at Costa over a hot drink and cake?!
As usual, we've been on the lookout for new seasonal menu announcements at Costa - whether you're into the traditional pumpkin spice flavours that seem to be on-trend each autumn and winter, or are keen to try something new, we know that you won't be disappointed with what Costa have announced.
Launching on the 31st of August 2023, you can enjoy the return of the Maple Hazel range, as well as a vast range of delicious new sweet treats, drinks and savoury bites. Just picture it - a warm, fluffy jumper, your friends, a hot steaming mug of something delicious as the rain and snow come down outside whilst your snug in a comfortable booth putting the world to rights.
Costa's New Autumn 2023 Menu
Let's take a look at the fantastic new Autumn menu recently unveiled by Costa...
The Return of the Maple Hazel Range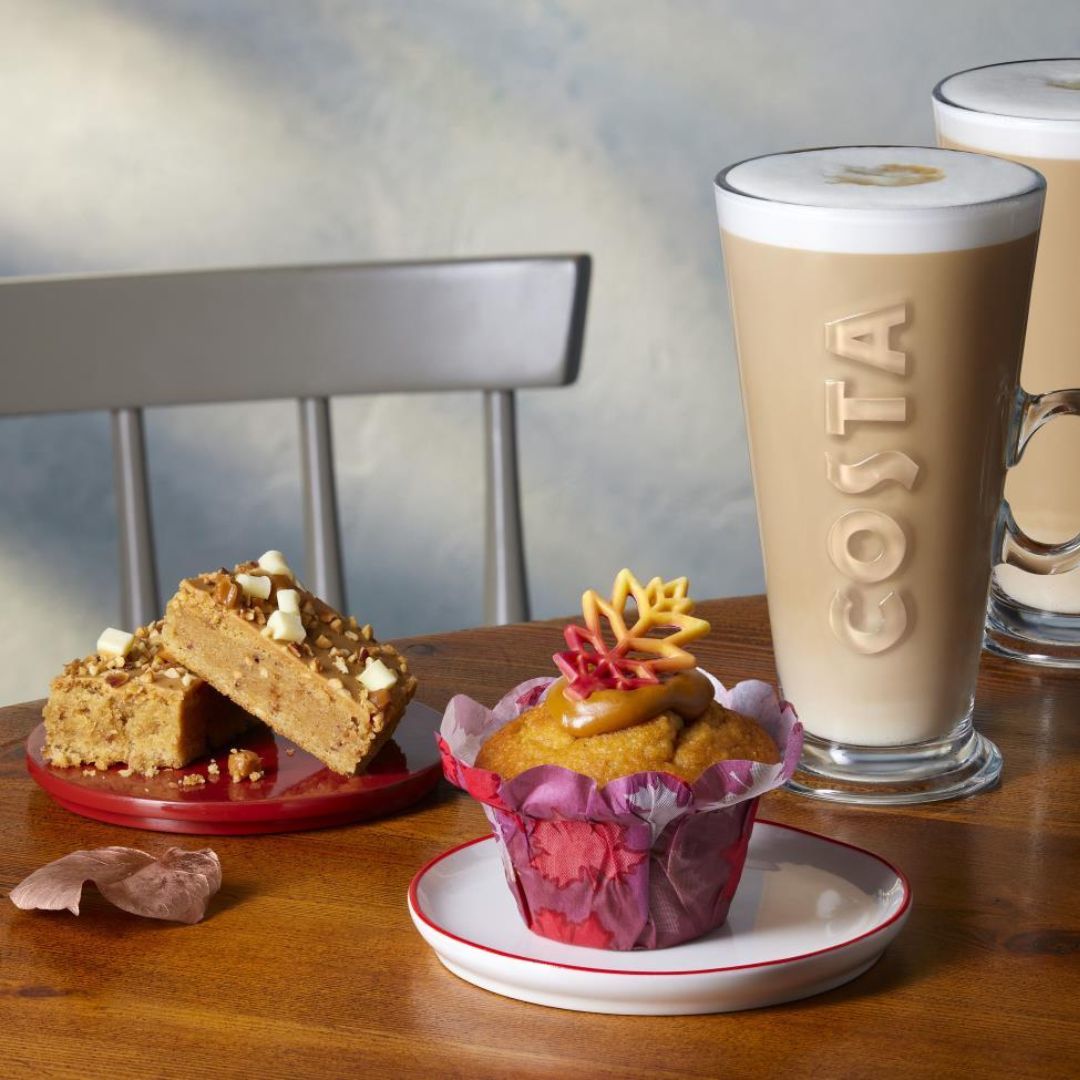 Whilst this isn't new, it has proven to be a massive hit in previous years. We're excited to welcome back the Maple Hazel Latte and the Maple Hazel Hot Chocolate. Both of these gorgeous drinks include roasted hazelnut flavoured syrup and the most delicious maple flavoured sauce, topped with Light Whip and sprinkles of autumn-spiced biscuit pieces. Yum! If you're not feeling a hot drink, you can try the Maple Hazel Iced Latte instead - it has the same autumn vibes and flavours, without the heat.
If you're a Costa Club app member, you can try the the exclusive Maple Hazel Frappé. This is only available via the Costa Club app and is 'secret' to anyone else trying to order it off-menu, and it is made with the famous roasted hazelnut flavoured syrup and maple flavoured sauce, finished with Light Whip and crunchy biscuit sprinkles. You can order this via the app from the 31st of August 2023.
Finally, we're really excited to try the luxuriant new Chocolate Hazel Frappé. This includes the signature roasted hazelnut flavoured syrup we've mentioned previously, with a deluxe chocolate flavoured sauce, topped with Light Whip, and sprinkled with a rich chocolate cappuccino dusting for a finishing touch. We can't decide which our favourite will be!
It's also worth sharing that the Maple Haze range will be available at the Costa Express machines nationwide, for those of you on-the-go travelling this autumn.
Toasties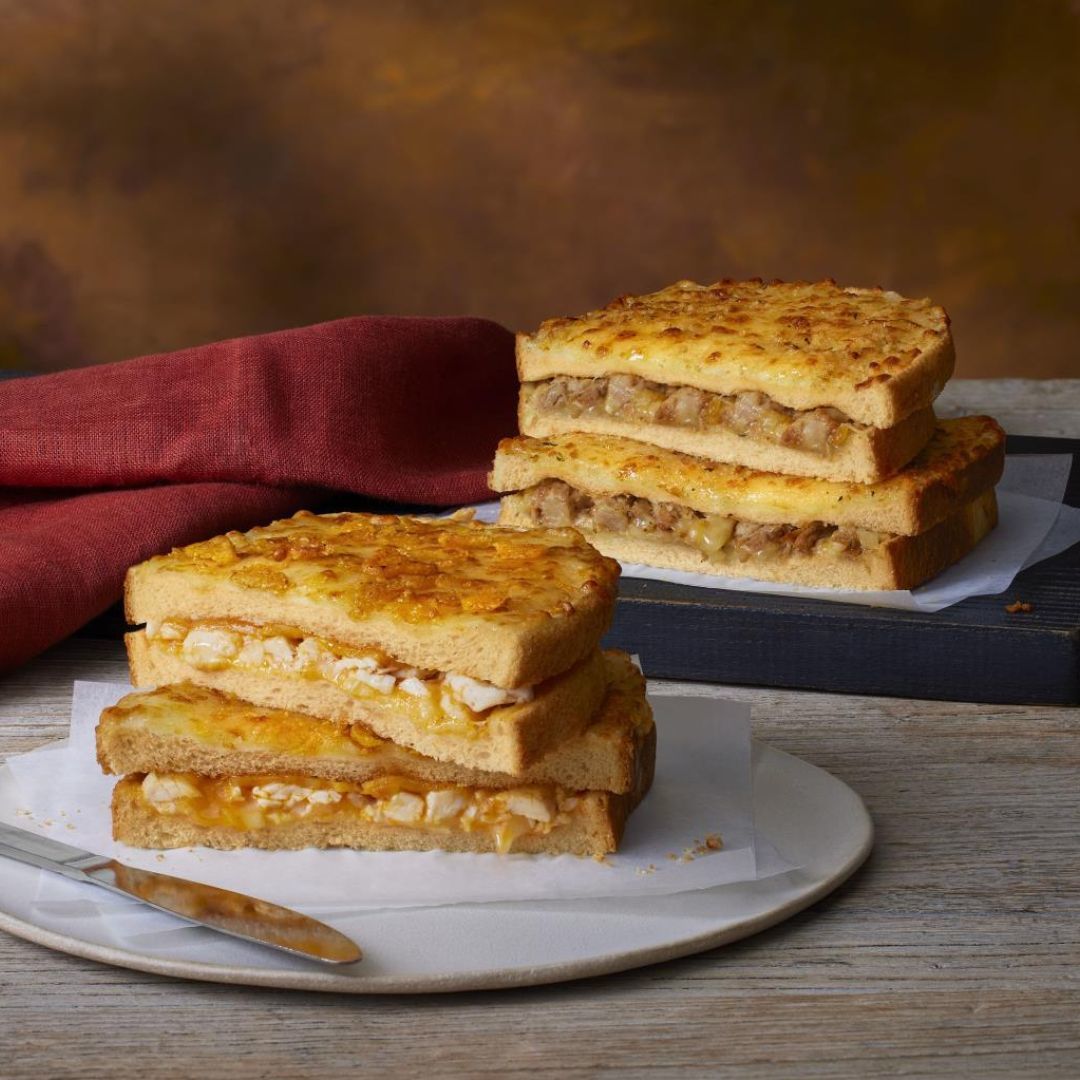 Can you really beat a hot, filling toastie on a cold day? Two new appetising toasties have been added to the Costa menu for autumn 2023.
The brand-new Hog Roast Toastie is set to be a massive hit - with melt-in-the-mouth hickory pulled pork with spiced apple glaze alongside the sweetness of caramelised onion chutney, these are some serious comfort foods combined into one! The delicious toastie is finished with sage and garlic stuffing and melted oak-smoked cheddar, then topped with a cheesy garlic and herb bloomer bread that Costa will toast until ready for you.
How about the new Nacho Chilli Cheese and Chicken Toastie? With British roast chicken, spicy Mexicana® cheese, spicy jalapeños, drizzled with rich cheese sauce and served on cheese and tortilla chip topped bloomer bread, this will put some fire in your belly on a chilly day this autumn.
New Sweet Treats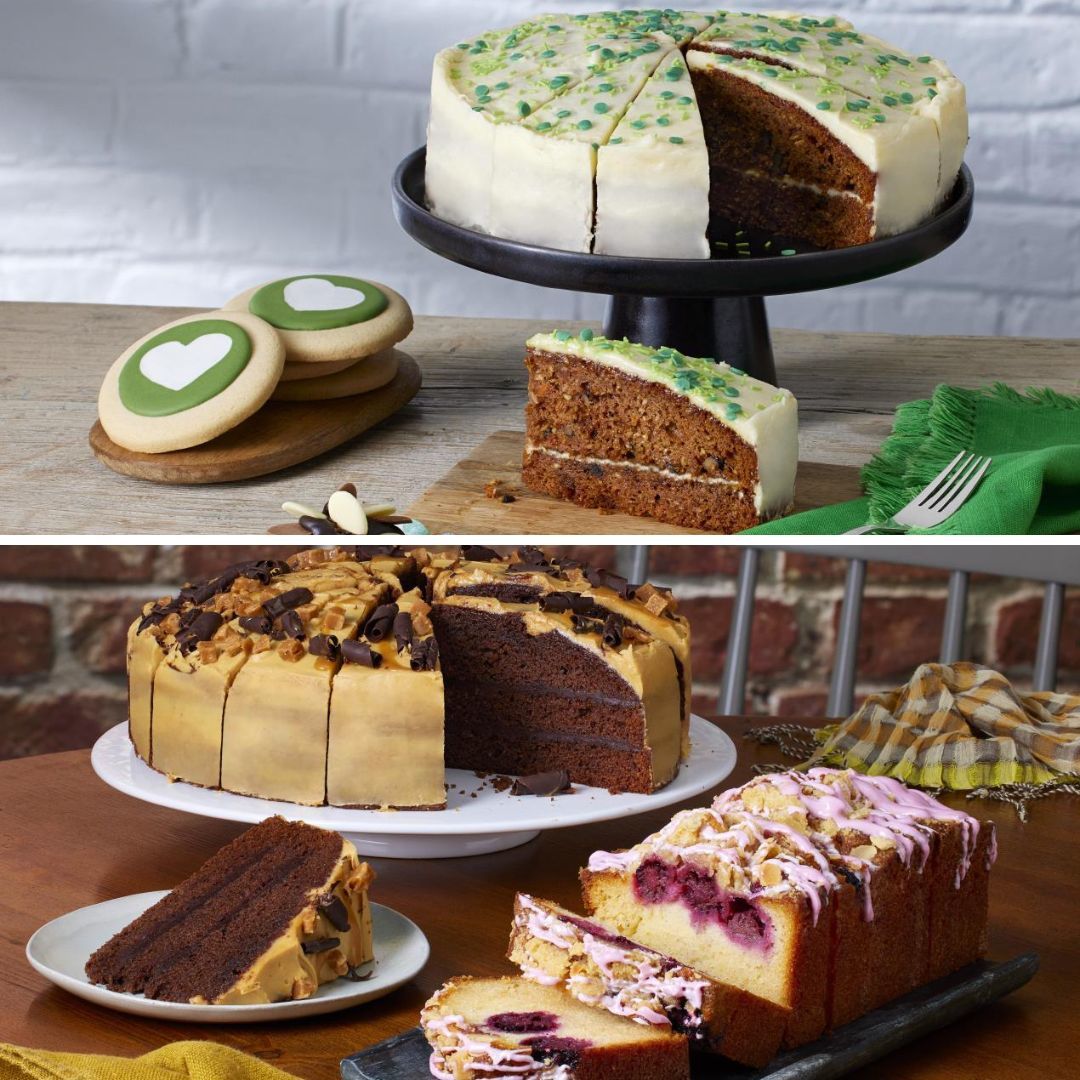 Is a Costa visit really worthwhile without treating yourself to a sumptuous sweet bite to eat? We're definitely on team 'no, it's cake time'!
Costa say that it's worth pairing one of the new drinks from the Maple Hazel range with their newly returned Maple Hazelnut Muffin, filled with tasty maple sauce, and topped with icing and a cocoa confectionery decoration in the shape of a leaf, giving it a real autumnal look as well as tasting divine.
If you're more of a chocolate fan, Costa recommend the Maple Hazelnut Blondie. With a blondie base, it has a mouth-watering maple flavour, packed with nutty hazelnuts. The Blondie is then finished with a divine topping made from creamy white chocolate, maple syrup and sweet edible decorations.
A fan of seasonal fruits? To celebrate autumn season's ripe fruits, why not treat yourself to the new Apple and Blackberry Loaf Cake? It promises to be fluffy and juicy, and is loaded with juicy apples and blackberries, topped with a crunchy crumble, and finished with a light drizzle of sweet pink fondant.
We also cannot wait to try the Chocolate and Salted Caramel Cake, which is a layered chocolate sponge, packed with salted caramel and chocolate frostings, topped with rich and delicious dark chocolate curls, fudge pieces, and finally drizzled with extra caramel - how wonderful does this sound? We can see our kids fighting to pinch ours during our next visit!
Other new menu options include the new Costa Loaded Flapjack, which is crammed with succulent cranberries, sultanas, almonds, sunflower and pumpkin seeds, and topped with a sweet yoghurt drizzle. For Halloween lovers, there's also te new Iced Pumpkin Gingerbread Biscuit, which is a tasty gingerbread biscuit decorated with coloured fondant icing.
New Bonfire Spice Range at Costa Express Machines
Did you know that there are over 13,000 Costa Express machines nationwide? They're such a good option for those of you who travel a lot and find yourself in need of a refreshment. Using the same ingredients that are in Costa Coffee stores, with freshly ground beans and fresh milk, you also have the option for drinks to be customised to your liking - including adding syrups!
We previously mentioned that the Maple Hazel range will be made available via the Costa Express machines, but we're also excited to share that, launching exclusively for Costa Express Shell customers, you can get your hands on the new Bonfire Spice range this Autumn, which includes the Bonfire Spire Latte, Bonfire Spice Hot Chocolate, Bonfire Spice Iced Latte and Bonfire Spice Frappe (without coffee).
Our verdict...
We're big fans of a hot drink during the colder months, with trips to Costa being up their on our list of wonderful things to do with our mummy friends in the autumn months - the release of the seasonal menu is something we look forward to every year and we're pleased to say that Costa have impressed us all once more. Now the big question is, what would we order first?
Other articles...