If you're at the start of your pregnancy you might not have thought about vitamins.
You're probably too busy trying to keep your breakfast down and stay awake past 8pm. It's a good idea to start taking folic acid (also called B9) if you're trying or as soon as you find out you've got a baby on board. It's important because it helps reduce problems, such as spina bifida, as your bub develops.
It's a good idea to take a Vitamin D tablet too. It's especially important from September to March as we don't get as much sun then and that's how our bodies make Vitamin D. You can get it from some foods like sardines and eggs (ok, not the best mix with morning sickness) so you might need a top-up.
There are tons of different brands out there, from supermarket own to specialist pregnancy types. Most contain a similar mix of folic acid, vitamin D, iron and other minerals to keep you and your baby healthy, so let's rundown the ones to consider.

PREGNACARE: One of the UK's leading pregnancy supplements. You'll find tablets (and sometimes liquid versions) to cover everything you need when you're trying for a baby, when you get pregnant and after you give birth.
You'll pay around £4 for a pack of 30 in Boots*
SEVEN SEAS: You've probably heard of this company as they make all kinds of vitamins. But they also do a pregnancy range that includes your 400mg recommended dose of folic acid, plus vitamin D, iron and ginger to help settle those pukey feelings.
You can pick up a month's supply for £5.50 in Tesco*
There are a few places, on the high street and online, where you can find a range of pregnancy vitamins. Holland & Barrett and Boots, plus your local chemists are a good bet. Be very careful if you're ordering from places like eBay or Amazon as you can't guarantee what you'll get.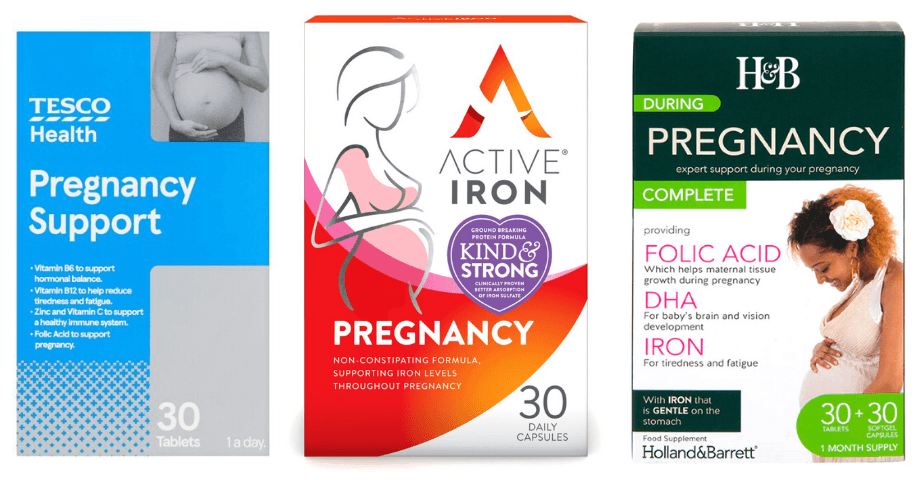 From left to right…
Tesco Multiplus Pregnancy x 30*
Active Iron Pregnancy Daily*
Holland & Barrett During Pregnancy Complete Dual Pack
Most of the main supermarkets stock a pregnancy range of vitamins, just make sure they contain 400 mg of folic acid and at least 10mg of Vitamin D (don't take over 100mg in a day when you're pregnant). We don't often see pregnancy vitamins in Aldi or Lidl so it's a good thing to stock up on if you spot a bargain.