Did you know that you can measure your children's feet at home?
With the Clarks foot measure gauge, it's so simple to find their latest shoe size and order from home, no stressful trips to the shops required. We wish we'd known about the amazing Clarks foot measure gauge sooner as it would have saved us so much time, tears and tantrums. For those of you with more than one child, it would be even more of a lifeline!
Why are Clarks shoes so great?
We don't think that the importance of properly fitting shoes is emphasised to parents quite enough. When we're expecting, we've given the whole spiel about safe sleep, weaning, and supporting all other areas of their development, but the development of their feet doesn't seem to get much, if any, attention! To us, this doesn't make much sense - our feet are so important, and during the rapid period of development around the time that our children start cruising and then walking, proper support is crucial to ensure that their bones and connective tissue grows healthily and properly! However, the cost of living is making second hand, possibly ill-fitting footwear more and more appealing to families, which is totally understandable.
Clarks, to our delight, are completely on the ball with the importance of proper footwear for developing feet. They work with professionals, using the latest innovative technology, to develop their footwear ensuring that your child's developing feet are given the optimal support in shoes that are made to last for as long as possible, with the best materials, at prices that make them extremely good value for money when you consider how much you could repeatedly spend replacing cheaper, lower quality shoes from elsewhere.
Clarks really are innovators and there's a good reason why families everywhere rely upon them for their children's shoes - you can read more about Clarks here.
The Clarks Foot Measure Gauge
So, you're keen on purchasing a pair of Clarks shoes for your child, but you're unsure what size they are. If your local branch is a bit too far away, or you're short on time and energy, then you could invest in an amazing Clarks foot measure gauge to keep at home and use each time your child has a growth spurt. There are two Clarks foot measure gauges to choose from;
Toddler Size Clarks Foot Measure Gauge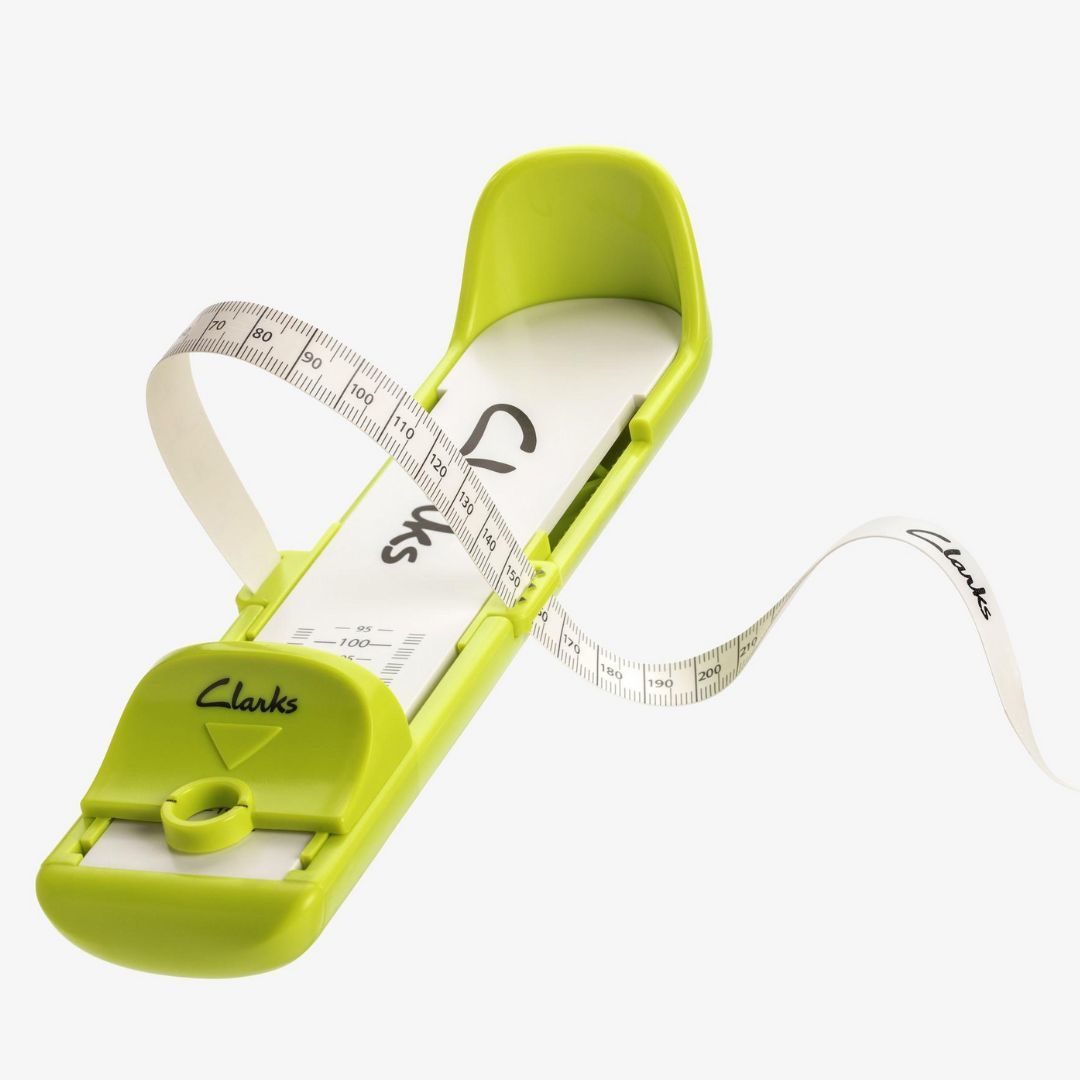 This Clarks foot measure gauge is recommended for children with a Clarks infant shoe size 2 up to infant size 9.5, which works out at approximately from walking to the age of four.
Junior Size Clarks Foot Measure Gauge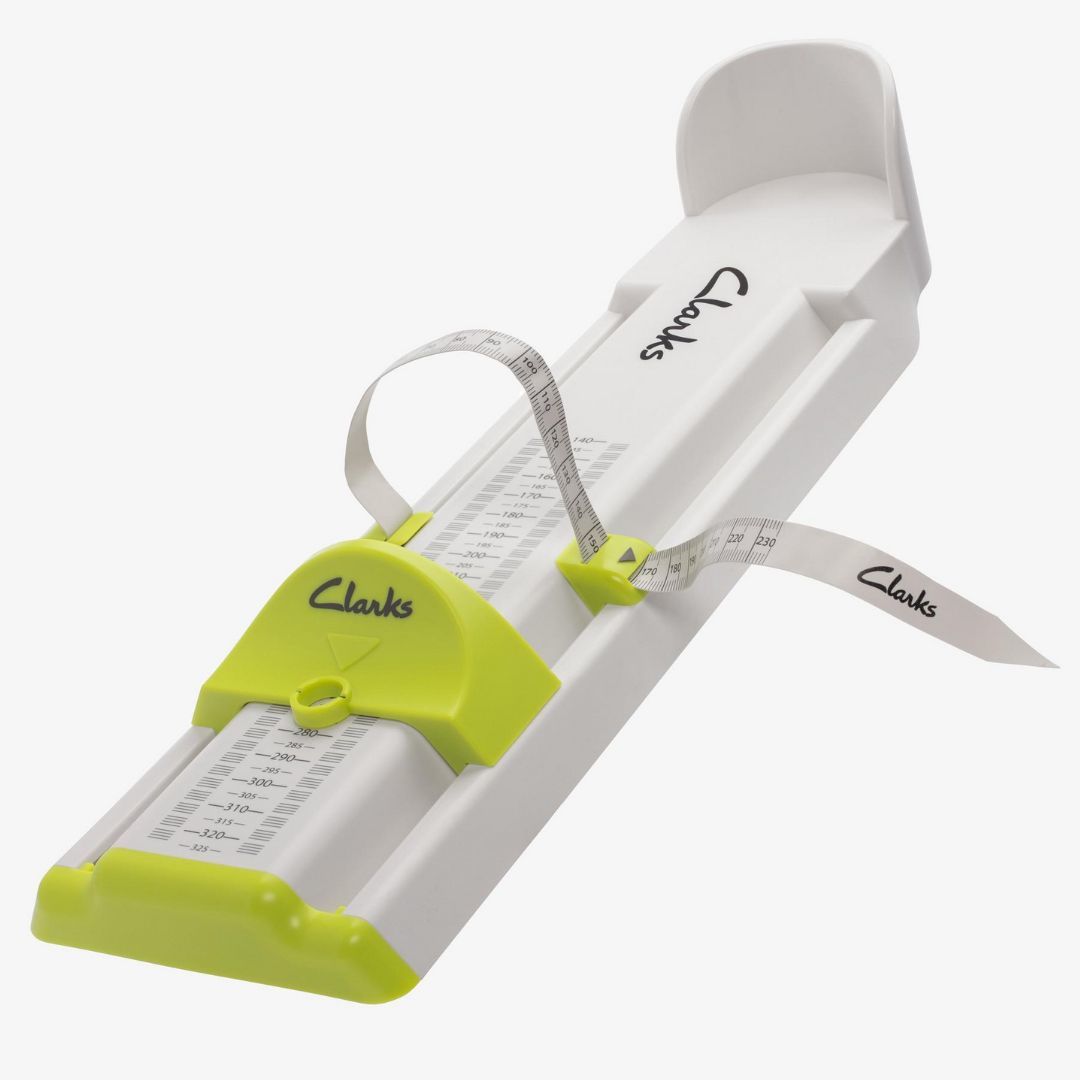 This Clarks foot measure gauge is recommended for children with a Clarks infant shoe size 10, approximately the age of five, up to around adult size 10 feet.
You can find out how to measure your child's shoe size using the Clarks foot measure gauge here.
The best first shoes at Clarks...
Crown Print Toddler Navy Patent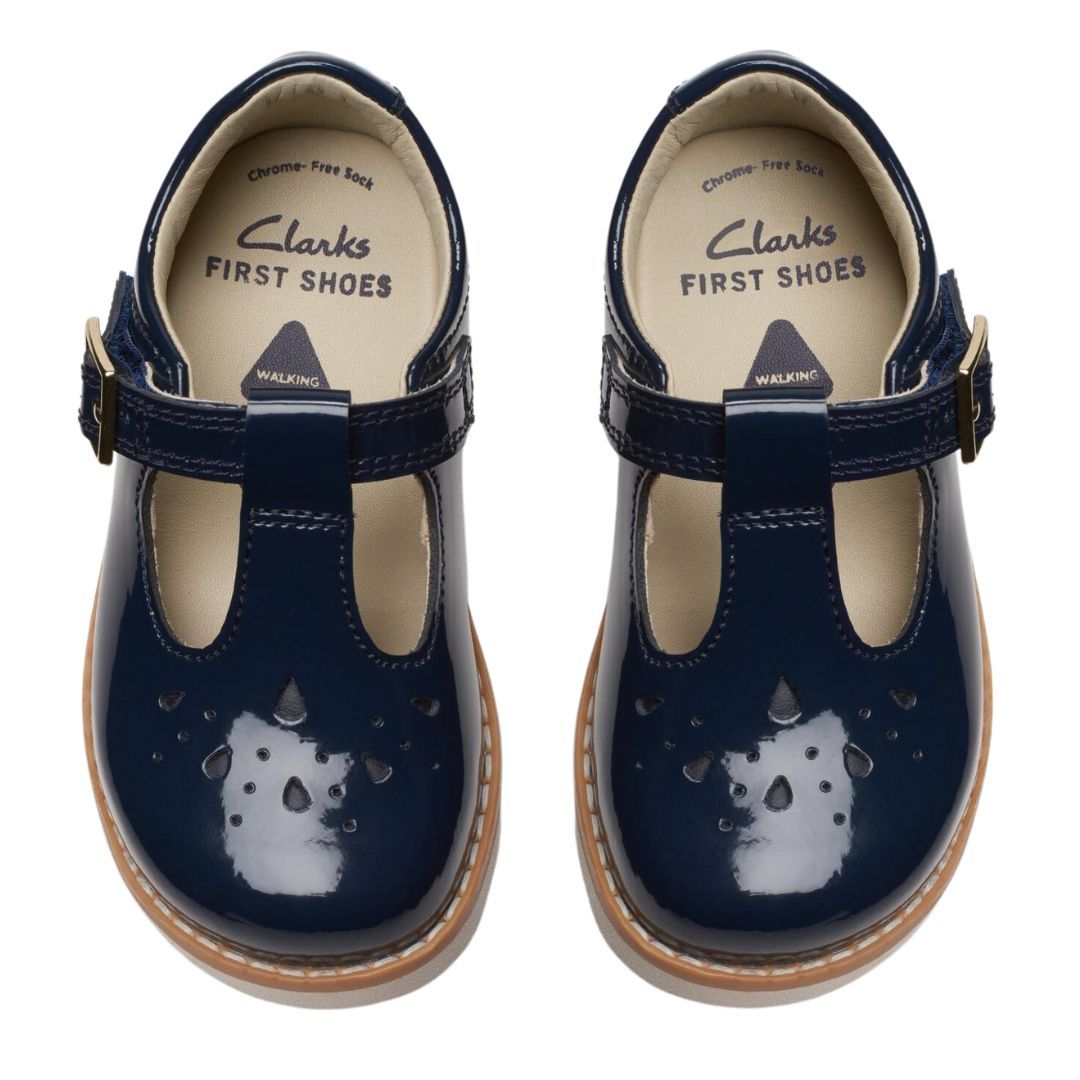 With a velcro rip tape making these first shoes super easy to get on and off, these are an ideal choice of first shoes from Clarks. They're so pretty, and we adore the shiny patent!
Crown Teen Toddler Dusty Pink Pat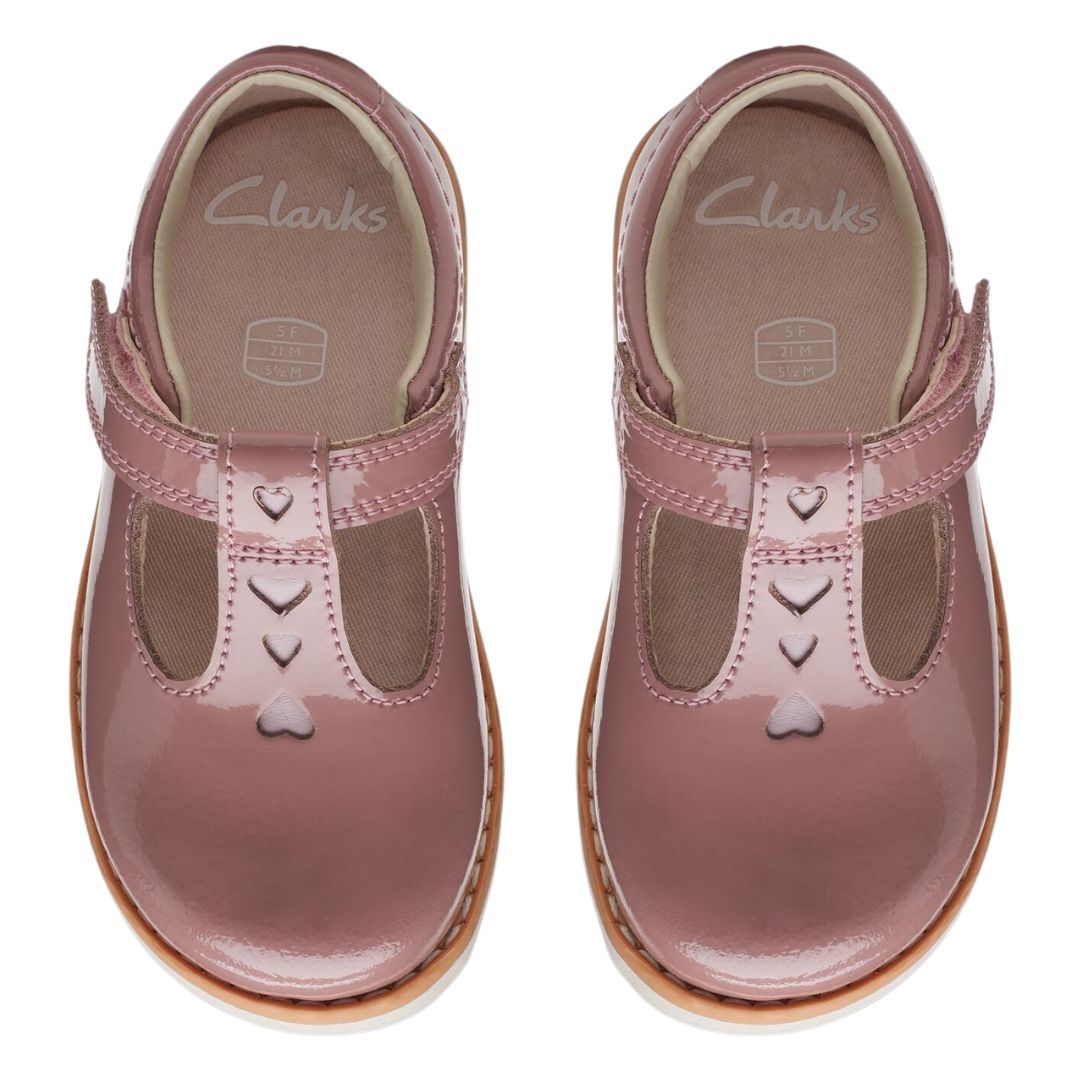 These Clarks first shoes also feature an easy on/off rip tape! Their adorable design and breathable design make these a great choice for newly toddling children who are finding their feet and running around.
Baby Roamer Mist Toddler Dusty Pink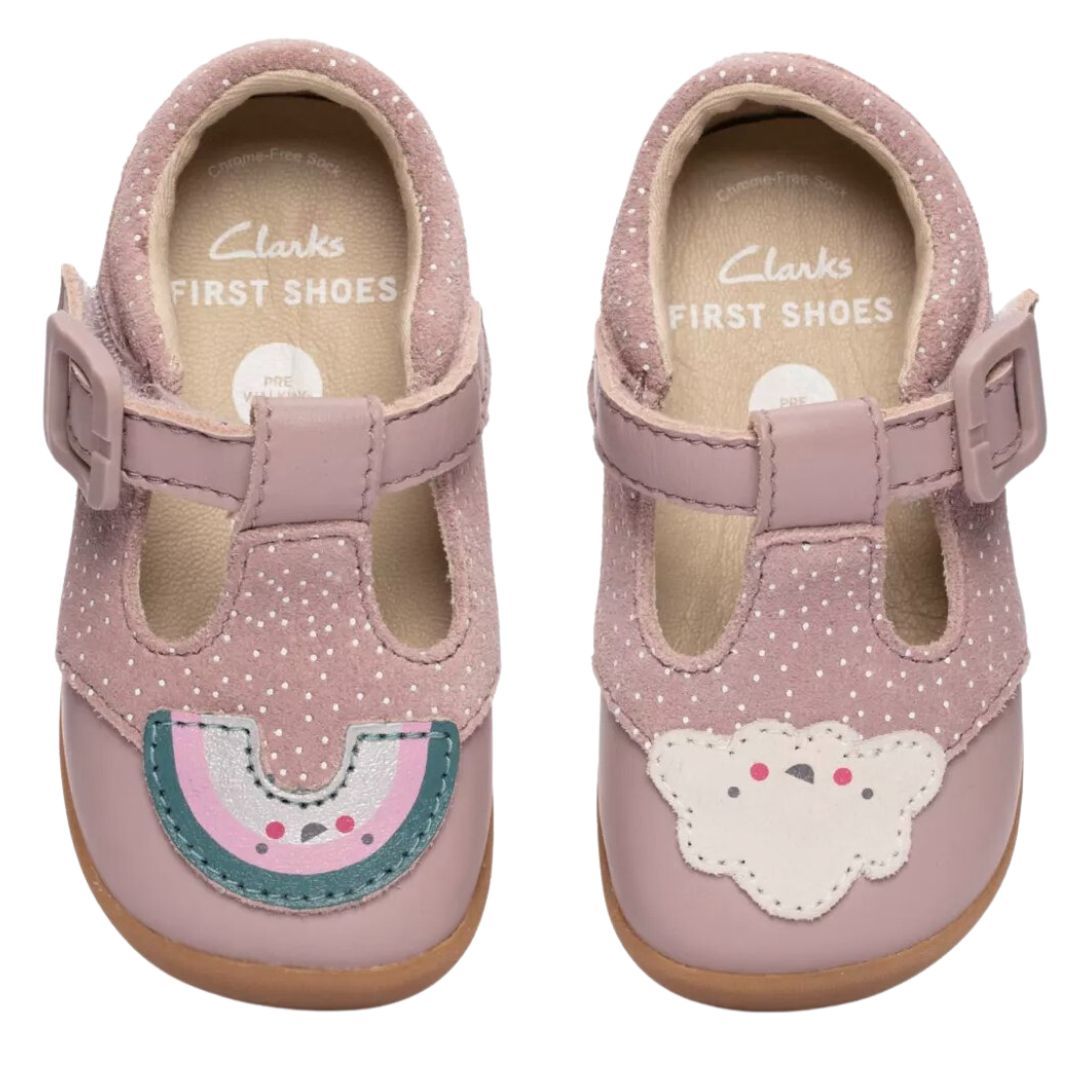 How gorgeous are these Clarks first shoes?! With their adorable motifs, ergonomic design to support foot development, and rubber outersole for extra durability, the mummies and daddies on our online community have raved about these Clarks shoes for their own toddlers, and we can't say we blame them.
Roamer Bee Toddler Light Blue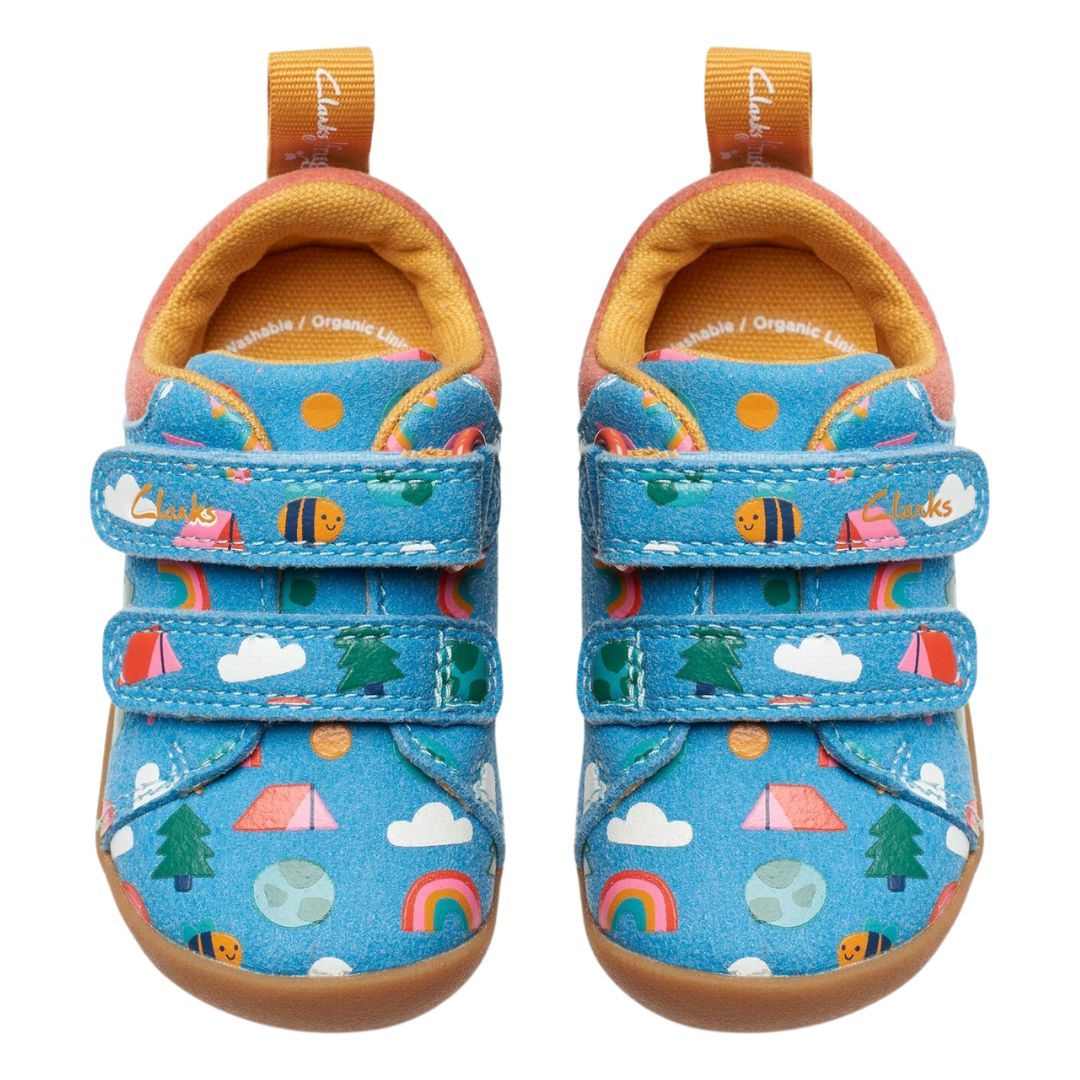 We're in love with these gorgeous Clarks first shoes, part of their Frugi collaboration! Covered in nature-inspired motifs, crafted with sustainability and comfort in mind, and with twin rip tapes for a secure fit that is also easy to do up and take off, these are one of our favourite pairs of Clarks first shoes by far.
Flash Den Toddler Navy Combo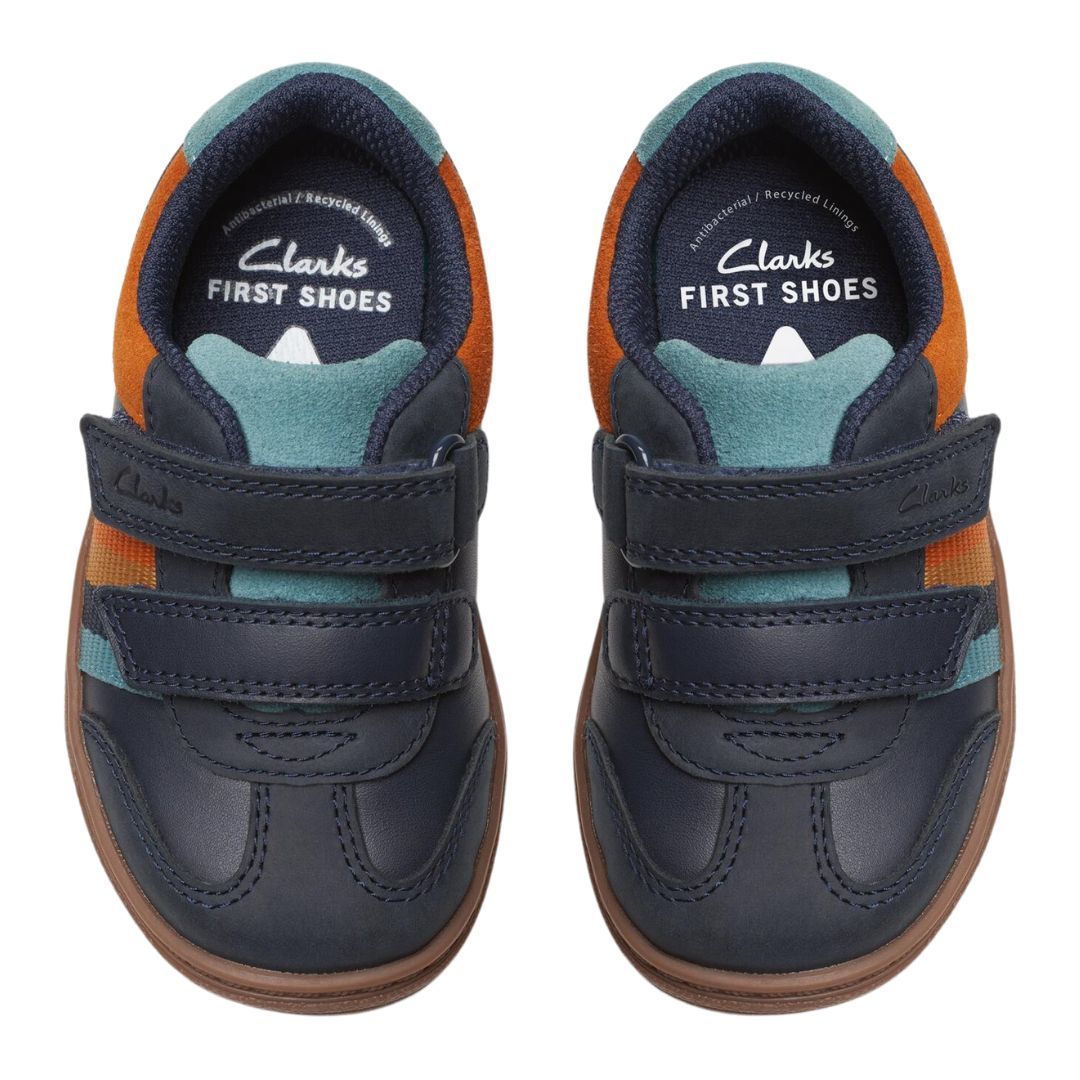 Designed for every adventurous moment, these Clarks first shoes are perfect for active toddlers. They feature a gorgeous colourful leather and suede upper and breathable lining, with handy riptape straps too, which are super easy to use. There's also antibacterial lining, so no pongy feet! The rubber sole is designed to bend with the foot, but remain robust, keeping these shoes in great shape for longer.
Our verdict...
Clarks really do go out on a limb to make life easier for us parents; for time, energy, and money! With the Clarks foot measure gauges, you don't even need to traipse down to your local Clarks branch, you can simply measure at home, order online, and have gorgeous Clarks shoes arrive on your doorstep within days.
Like we said before, good shoes are extremely important, so if you're going to invest in any key clothing items, footwear is number one, in our books. Clarks make this easier to factor into family finances because their shoes simply are made to last, unlike many other brands, leaving you buying new pairs more often than if you'd invested in a pair of Clarks shoes in the first place - it just makes perfect sense. Their prices, relative to quality, are one of the biggest reasons why the parents in our online community absolutely LOVE Clarks, and we do too, even as adults.
Affiliate links are marked with an *
Other articles...
Favourite Finds
If you like this product, you might be interested in these too!