Night time potty training accidents are inevitable.
We've all been there – changing the little one's sheets/bedding during the night in a zombified state. I'm not going to lie, there were many times where I simply reached for a towel and plonked little back down on top of it, telling myself that I would worry about it later.
What I really wish I had known is that there was such a thing as a toilet training mat! A special absorbent mat designed to soak up any accidents that may happen ensuring that you aren't left with a ruined mattress or baskets of laundry to do.
Here's the official info about the Clevamama Toilet Training Sleep Mat*…
The ClevaMama Toilet Training Sleep Mat* consists of two soft layers of eco-friendly Tencel, on both sides of a discreet layer of waterproof polyurethane. When placed on top of the child's bedding, it can easily be removed for washing, while leaving the rest of the bed intact. The Toilet Training Sleep mat combines comfort and discretion and helps to reduce the stress for both the child and parent. Super convenient, it can be both machine washed and tumble dried. Bed wetting is a common occurrence that can affect up to 14% of children into their early teens.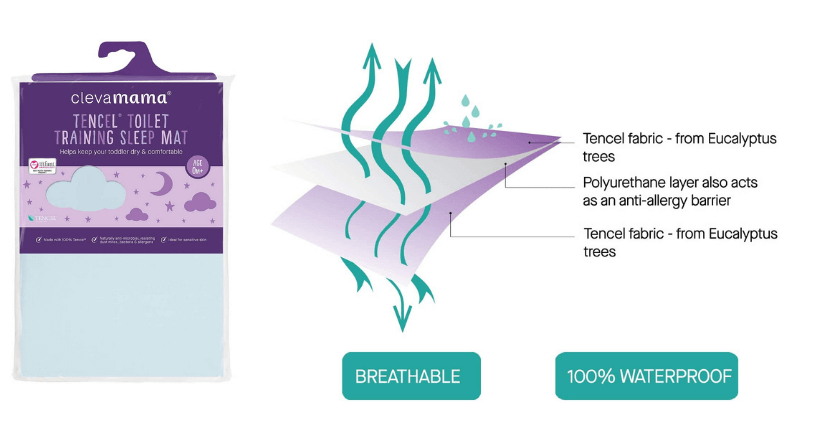 Sound great don't they! The reviews on Amazon are fantastic 84% of reviews being 4* and over. Some reviewers have stated that they prefer to use the mats underneath a bottom sheet to avoid any movement. Then it's simply a matter of removing the sheet above and whacking it in the washing machine.
Available in a choice of 3 colours; blue, coral or white.
We also love the fact that ClevaMama is a family business, set up by two sisters with four kids on a mission to make the challenges of parenting just that bit easier.
You can find out more about the toilet mats and read the reviews on Amazon here*.
All affiliate links are marked with an *
Looking for more Potty Training Tips/Essentials? Have a look at these!