A soon-to-be dad has taken to Reddit to ask if he's the asshole in a sticky baby name situation.
Whilst the prospective father has some specific name choices in mind for the incoming baby girl, all of which are typically 'feminine', his wife has very strong feelings when it comes to name choices and is insistent on a 'gender neutral' baby name. This has led to a strong disagreement between the pair, with the poster making it very clear that his views aren't born from homophobic or bigoted views.
Read his post below...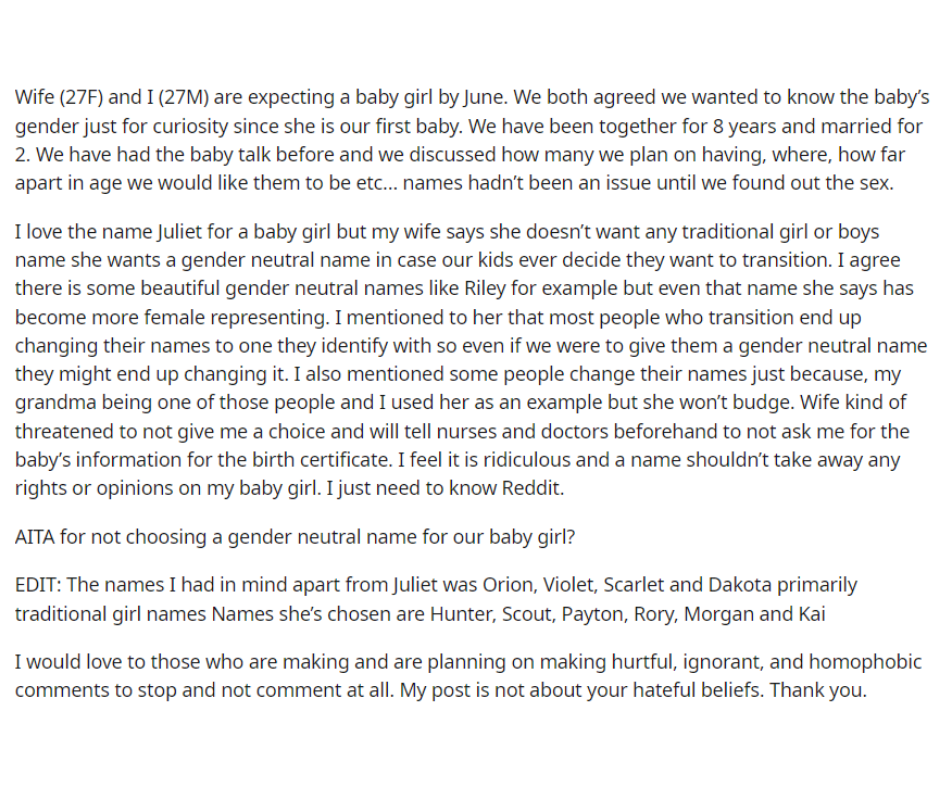 Read the full post here - credit to Reddit.
What rights does he have if he disagrees with mum's choice of name?
This is a tough question, because laws and rules vary so much around the world. We think that we're making a safe assumption that this dad is in the USA going by the name choices listed, so we can't comment on rules on registering a baby over there. In the UK, a baby must be registered by 6 weeks of age (this was temporarily extended during the pandemic), and if one parent goes to register the baby alone and sneakily registers THEIR preferred name, there's no law or rule against this!
If mummy and daddy are married, only one parent needs to attend the registration appointment (dad can go alone), but unmarried parents must attend together if dad wants to be named on the birth certificate. So, in the case of a married couple in disagreement when it comes to a baby name, we can imagine there have been arguments over a parent going alone to use their name choice on the sly!
Our verdict...
This is a seriously tricky situation to find yourself in, and don't know how we'd tackle it ourselves in the same situation. Ultimately... there doesn't seem to be any legislation anywhere that gives either parent precedence over a baby name choice, so it's a case of fighting it out between yourselves. Ideally, if you're newly pregnant or planning a baby, make sure you and your partner are on the same page to avoid drama close to the due date.
We think that it's a tad harsh to threaten to preemptively tell the doctors and nurses not to ask the new dad what name to use on paperwork - but this pair need to sort it out between themselves.
Other articles to read...