Our little ones do it every single day- so let's celebrate it! This years National Playday aimed to highlight the many ways in which play is beneficial to children and young people. The theme for this year was 'Play Builds Children'.
How does play build children?
Play Builds Friendships – playing allows children to interact with others, develop relationships, deal with conflict, and learn respect and tolerance.
Play Builds Resilience – playing boosts children's confidence, creativity, problem-solving skills and perseverance, enabling them to cope with stress and challenges throughout life.
Play Builds Health and Well-being – being active through play helps children physically and emotionally, contributing to their health and happiness.
Play Builds Communities – playing allows children to learn about the world around them, make connections, and develop a sense of identity and belonging.
Playday was coordinated by Play England, Play Wales, Play Scotland and PlayBoard Northern Ireland and if you'd like to find out more, head here!
Ways to encourage outdoor play!
1 . Make your outside space safe and child friendly.
You could do this by adding play mats – they are bright, colourful and soft for baby to play on.
We found 1 pack for £4 or 3 packs of these for only £9 – Here!
2.  Create your own park at home.
This amazing swing set will be used for years to come! We love that this has everything the park does but you can have it in your own home!
We found this  here!
3. Think about adding fun with textures
Adding a sandpit like this to your outdoor space is perfect for little ones to explore. Help them build sandcastles, dig holes and feel the sand between their little toes.
We found this here!
Ways to encourage indoor play!
1. Introduce a family games night.
It's never too early to start a family tradition, it's great for those who have older children and is the perfect excuse to have fun together while learning skills such as: taking turns, encouraging others, building teamwork skills.
We found this  here!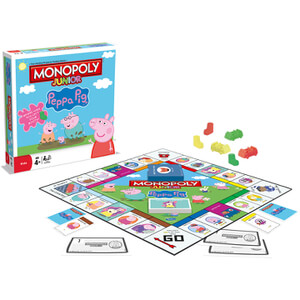 We found this here!
2. Invite a friend over for a playdate 
Not only do the kids get to work on the social skills and have a little fun but grown-ups get the chance to have a chat too.  Games where there are no winners or loses are perfect as it means there's less chance of tears.
We found this here!
We found this here!
3. Encourage independent play 
Learning to entertain yourself is a huge life skill which is important for little ones to learn. Role play toys are great of this.
We found this here!
We found this here!
Easy and free ways to encourage play
3. Sensory Boxes 
Our lovely member, Holly, made her baby this amazing box!
Read how she did it here!
2. Bug Hunts 
We've got a great little guide about going on bug hunts.
You can read it here!
1. Get Arty!
Getting the paper and paints out is a great way to let your little one play and explore. This clever mummy used art-time to make some adorable handprint key rings.
You can see how she did it here!
If you know of some great ways to encourage your little one to play – do let us know in the comments below.