Have you been offered the MMR jab for your little one? You may have some questions!
With the help of Public Health England and the NHS, we've put together this quick Q&A guide on the MMR vaccine to cover the main points. There is currently a measles outbreak in the UK, so this is really important information. We hope that it helps to encourage update of this vaccine.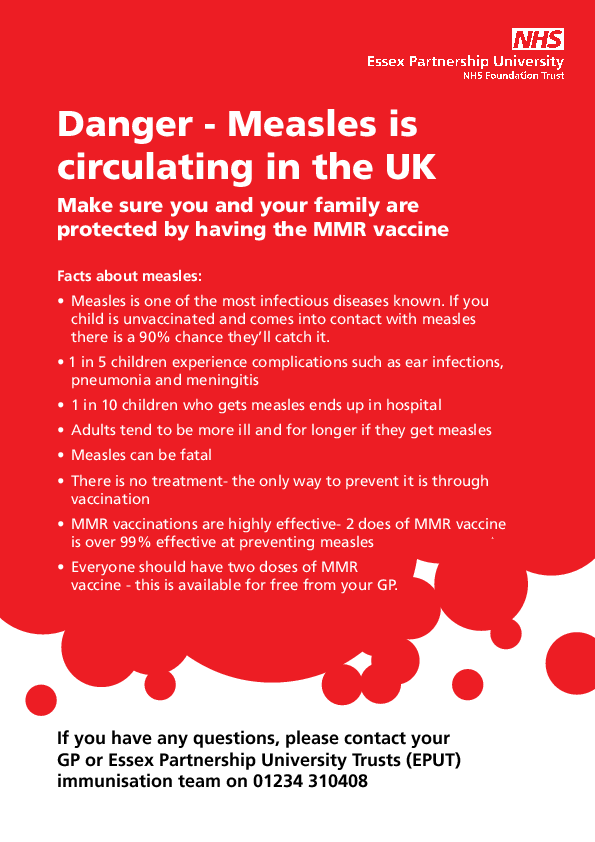 What is the MMR vaccine?
The MMR is a safe and effective combined vaccine that protects against Measles, Mumps and Rubella. These three conditions are highly contagious. They can have very dangerous complications such as meningitis, deafness, blindness, pregnancy complications (Rubella), and even death, if contracted. These diseases are NOT mild, 'rite of passage' illnesses as they are sometimes misrepresented as!
The MMR vaccine was introduced in the UK in 1988, and since then, these horrible diseases have thankfully become rare. However, outbreaks can still happen so it's really important to be protected and to ensure your child is protected. Vaccinating also protects those in our community who are too poorly to be vaccinated or who are immune compromised, such as newborn babies and cancer patients.
Your little one will be offered it within a month of their first birthday, and their second dose at around the age of three years and four months of age, before starting school. Occasionally, it can be given to babies from 6 months old, if they've been exposed to someone with measles or live somewhere with an outbreak, although this usually isn't the case as the maternal antibodies we pass on to our baby, which gives passive immunity, last for approximately a year.
Why is the MMR vaccine important?
Dr Mary Ramsay, Head of Immunisation at Public Health England has told us;
"Measles can kill, and it is incredibly easy to catch, especially if you are not vaccinated. Even one child missing their vaccine is one too many – if you are in any doubt about your child's vaccination status, ask your GP as it's never too late to get protected. We continue to work with NHS England on how we can make it as easy as possible for parents to access vaccines so that they can offer their children the best possible start in life."
Your little one may have some mild and temporary side effects, such a rash, fever, or sore injection site. More serious side effects are very rare. You can read more about this on the NHS website here! There is no credible link to conditions such as autism, the signs of autism unfortunately tend to become apparent at around the same age the first dose is offered.
This video on how vaccines work is a great watch…
These diseases are now rare… Is PHE still working to eliminate them?
PHE told us that they continue to support measles elimination through 'national surveillance systems', working with authorities to identify and treat outbreaks as quickly as possible, and through their measles and rubella elimination strategy, which you can read about here. PHE also works in hand with the NHS to ensure that as many people are invited to receive a vaccine as possible. As previously stated, outbreaks can still happen when even a small number of people in a community aren't vaccinated, so PHE will be continuing their work.
We hope that this helped to answer your questions! If you have any questions not covered, your GP will be able to help.
Love Team BBY. Xx