Today (the 7th of June) is National Fish and Chips Day here in the UK!
Fish and chips, as we all know, is one of our national dishes and something we're best known for as Brits. Today is dedicated to celebrating this traditional, quintessential British dish and recognising it as a significant cultural icon. Even writing about it is making my mouth water for fish and chips now – I may have to make a detour by the chippy later.
As a nation, we spend over £1.2 billion on fish and chips and have over 10,500 chippies – now THAT is dedication!
Our Favourite Fish and Chips Recipes
Fancying a chippy tea later but not sure whether you fancy standard, good old fashioned battered fish and chips? Here are some suggestions to shake it up a little…
If on a diet, you may want to swap the chips fully or partially for salad – or you may not, because a treat is a treat!
Curry sauce, ketchup, mayo, gravy, or mushy peas? Your choice of condiment may vary depending on where you live. Maybe choose something you've never had before!
Fish and Chips For Weaning Babies
If your wee one wants to get in on the action once they're 6 months old and safe to introduce to solids, there are loads of ways you can get them involved. Fish is an excellent source of Omega 3 and fatty acids, vital for growth and development in little ones, so it's a good opportunity to introduce them to fish.
BLW (baby led weaning) is a good way to get them stuck in. Just avoid salting their chips and leave out any salty sauces (curry sauce can be quite salty), cut some of the fish into finger sized portions, and off you go. You can choose to leave the batter off, or include it.
If you're traditionally weaning and are still on the puree stage, you could make some mash, peas and poached fish then blend it to the right consistency for your baby to encompass the flavours of the dish.
This Heinz peas, potato & fish pouch for 10 months+ could be a great purchase for out and about…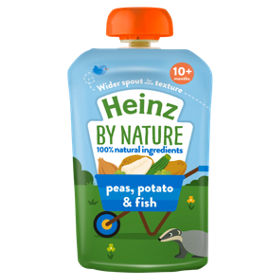 Are you taking part in National Fish and Chips day with a slap up chippy tea? Let us know in the comments.
Love from Team BBY! Xx