10 years on from Jade Goody's tragic death from cervical cancer, smear test attendances are at a 21 year low, despite the initial surge in uptake in the wake of her passing.
I'll keep this post short, sweet and to the point, whilst addressing the common fears and misconceptions that women are sharing when it comes to having a smear test. This week (10th – 16th June 2016) is Cervical Screening Awareness Week, something we are very on board with as women.
The organisation Jo's Cervical Cancer Trust holds an annual #smearforsmear awareness week between the 21st and 27th of January, and Cervical Screening Awareness Week from the 10th of June to the 16th of June. Jackiey Budden, the mother of Jade Goody did a very emotional interview on This Morning on the 4th of January  to discuss her daughter Jade Goody as we approach the 10 year anniversary of her death which is still very fresh in our minds, and it seemed like a great opportunity to remind every woman who is putting off going for their smear test what cervical cancer is, what it does, and the lives that it ruins. Jade Goody was a mother, a daughter, a wife, a friend – all the things I am sure most of you reading this right now can relate to.
Jo's Cervical Cancer Trust has found that the number of women going for smear tests is at its lowest in 21 years. This is despite the heartrendingly numerous news stories of women passing from this disease, the huge response to the awareness campaign by Jade Goody, and of course the hard work done by Jo's Trust.
Here's the Jo's Trust campaign video:
Facts To Make You Think…
One:  According to Jo's Trust, smear tests prevent 75% of cervical cancers. It can also pick up on if you have contracted the HPV virus.
Two: It's a procedure that takes literally minutes out of your day.
Three: Practitioners (I had a nurse) have seen it ALL. No one cares whether you've had a Brazilian wax, done a fake tan, wearing nice knickers… and you're usually also given a modesty cloth for your lap too.
Four: Ok, so it's not the most comfortable sensation; most women find it weird. I personally found that it felt a bit like a brush was swishing away in my cervix. A few find it sore. Some feel nothing. However, the important thing fundamentally is that it is not torturous, and you can absolutely say stop at any point.
Five: Being worried about potentially bad results is a motivator for some ladies to put theirs off – anxiety and worry is totally understandable, of course it is, but the chances are it'll be all clear. If your results ARE abnormal, they can do something about it. The earlier, the better, so get booked in if you're eligible.
It really isn't that bad, and once you're out of there you'll wonder what all the fuss was about.
Who is Eligible For a Smear Test?
In England you'll receive a letter shortly before your 25th birthday reminding you to book in, and you're then eligible to be tested every 3 years until you're 64. This age bracket was determined on which age group is deemed at higher risk of developing cervical cancer; there are campaigns to get the limit lowered as many people strongly feel that this limit is too high, but it's claimed that false positive results for abnormal changes are more likely before a woman is 25 – it's a minefield but ultimately I support the lowering of the age limit as many women under 25 years of age can and do die from cervical cancer each year.
Find out more information on the NHS website here.
In other countries, the age limit for eligibility does vary and you should check with your healthcare provider.
What Are The Symptoms of Cervical Cancer?
It often has no symptoms in the early stages. The most common is abnormal bleeding, which can also be caused by other conditions. If you've experienced spotting due to a condition you're aware you have such as PCOS (like me), it would be easy to pass this sign off as down to a condition you're already diagnosed with, right? Hence the importance of attending your smear on a regular basis to detect anything untoward. You can find out more about the symptoms of cervical cancer and treatment on the NHS website.
So ladies, there you have it. It's such a simple yet lifesaving procedure. Don't fear, go and get your smear!
What are 'Cell Changes'?
This jargon busting infographic from Jo's Trust should answer your questions…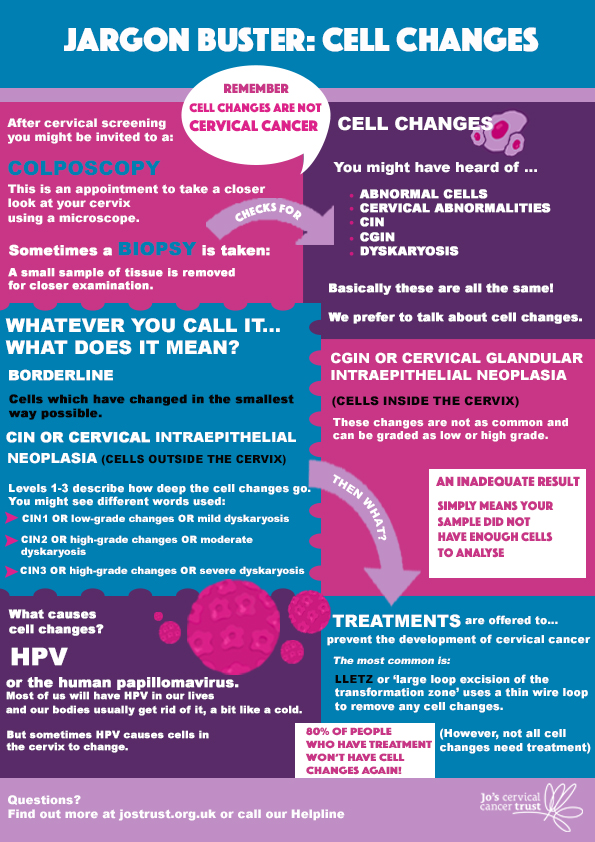 Love from Katie. Xx