It's time to get excited. McDonald's are set to re-open every one of their drive-thru restaurants by the 4th of June! YIPPEE!
In a statement on their Social Media today McDonald's said:
"We can today announce that by 4th June, 1019 of our restaurants will have reopened, either for Drive Thru or McDelivery.
"This means every Drive Thru in the UK and Ireland will reopen between Tuesday and Thursday next week and we will start to expand the availability of McDelivery too."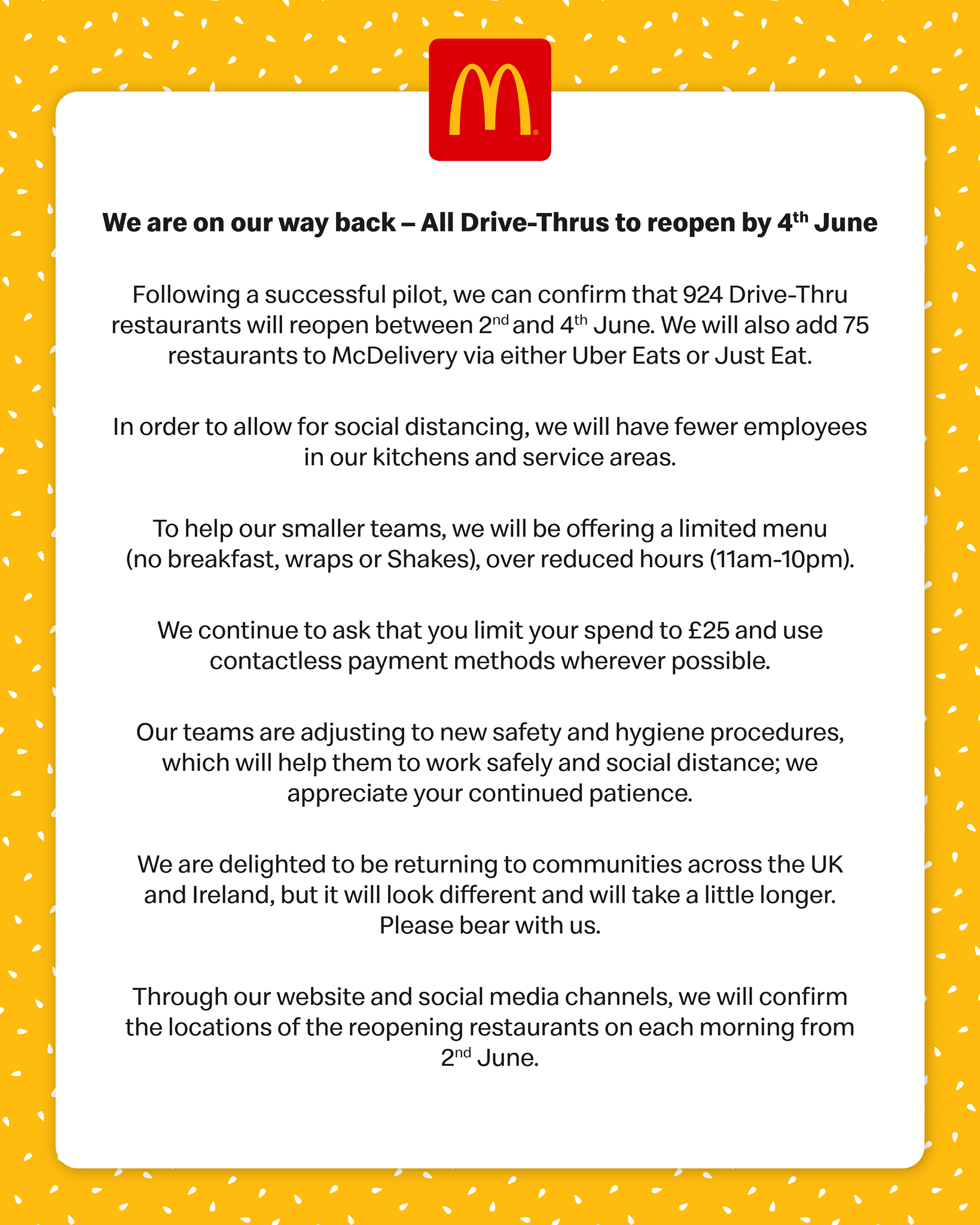 McDonald's have said they are taking extra steps to help keep the public and their teams safe.
So for now they'll be open for reduced hours and serving a reduced menu with a limited spend in place of £25.
A statement on the McDonald's Website reads:
"Things may be a little different for a while, but our priority is making sure we're looking out for you, our teams and our partners.  Over the past few weeks we have sought the views of our customers and employees on our re-opening plans. We also conducted controlled tests to explore the safest way to re-open our restaurants.  When it comes to our people and returning to work, we have encouraged everyone to make the right decision for them, based on their personal circumstances.
To help create a safe experience for everyone, we're enhancing our high standard of cleanliness even further and will be introducing a number of additional measures and changes to our restaurants.
In addition to deep cleaning all our restaurants before re-opening, our teams will be washing their hands at least every 30 minutes and cleaning equipment and surfaces more often. In order to help our teams practice social distancing, as we open our restaurants, we will have fewer people working on each shift to provide a safer environment particularly when shifts change. We've also installed additional screens in our kitchens and service areas to aid social distancing and our teams will be wearing protective equipment, including face coverings."
We've got the date in our diaries already!
---
All featured images credit: McDonalds UK
---