The Covid-19 vaccine advice for pregnant women has changed.
From today - the 16th of December 2021 - pregnant women are being urged to get vaccinated against Covid-19. This is because the number of pregnant women and newborn babies dying from the virus has, very sadly, increased.
Expectant mummies have now been made a priority group for the vaccine, and are also now considered in a 'clinical at-risk group' for the first time since the start of the Covid-19 pandemic. This new guidance change comes following new research showing that pregnant women are vulnerable to more severe and serious illness and pregnancy complications if they contract Covid-19. Pregnant women of all ages are now classified as priority group six, alongside all adults under the age of 65 years who have long-term health conditions.
The latest announcement was made by the Joint Committee on Vaccination and Immunisation (JVCI) in a press briefing on the 16th of December 2021.
The decision to change the guidance for pregnant women was reinforced by research from the University of Oxford which found that pregnant women and their babies were at signifigant risk if they became infected with Covid-19. In the briefing, it was revealed that 34 pregnant women have died with Covid-19, and that four babies have also died with Covid-19, with the number of deaths increasing with each variant. It was stated that the vast majority of women who have died from COVID-19 were unvaccinated.
Professor Marian Knight, at the University of Oxford, has shared:
'This is the first time that we have reported deaths of babies where COVID-19 has been the main reason for their deaths. A stark infographic was shared, which highlights the numbers of hospitalisations and deaths of pregnant women with COVID-19.
Seven women died in the first wave, last winter ten women died and in the Delta period up until the end of October, 17 women died. We're looking at a 50 per cent increase in the maternal morbidity rate and the vast majority are unvaccinated. What were also seeing in this most recent Delta period is baby deaths – that's deaths under 28 days – and four babies have died from COVID-19.
The graphic (below quote) also shows data about women who are hospitalised with symptomatic COVID-19 in pregnancy, and you can see over the Delta period when the vast majority of pregnant women were eligible to receive vaccination, of the 1,436 pregnant women admitted with symptomatic COVID-19, more than 96 per cent were unvaccinated.
The outcomes for COVID-19 have changed. Around a third of women need respiratory support and about 16 per cent require intensive care and that compares with eight percent during the first wave. These are all worse than we have been seeing in previous waves which has led to the change in JVCI advice.
Data from around the world including 177,00 pregnant women in the USA, plus UK HSA data overwhelmingly shows that the COVID-19 vaccines are safe in pregnancy.'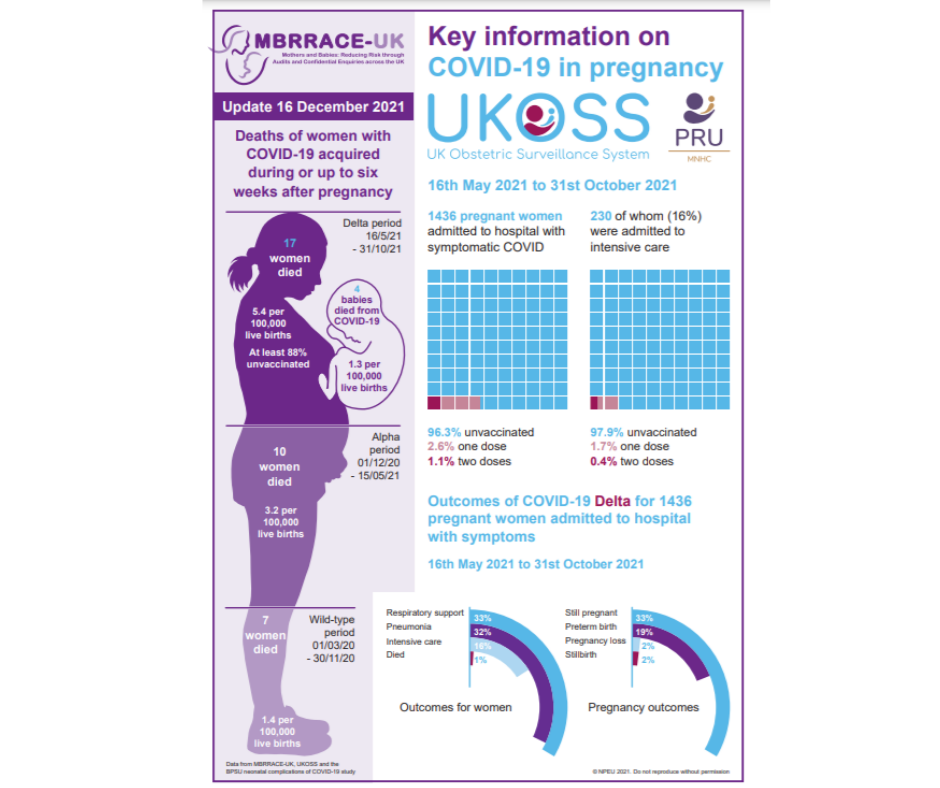 Image credit: The University Of Oxford
Professor Wei Shen Lim, Chair of JCVI COVID-19 Immunisation, announced:
"There is no evidence to suggest that COVID-19 vaccines used in pregnancy increase the risk of miscarriage, stillbirths, congenital abnormalities or birth complications. Having a UK approved COVID-19 vaccine is safer than having COVID-19 itself.
Women who are pregnant are strongly encouraged to have a first, second or booster vaccine dose as appropriate in order to better protect yourself and your baby from any serious consequences from COVID-19."
The JVCI revealed only 22% of pregnant women are currently vaccinated.
They went on to explain that the vaccine take-up needs to be much higher than it currently is. The take-up is even lower in Wales and Scotland, where it sits at 18% of pregnant women. The JVCI also shared that 16% of pregnant women admitted to hospital with Covid-19 ended up in intensive care, double that of those during the first wave.
Out of 1436 women who were admitted to hospital with Covid-19, 2% had a stillbirth, 2% had a miscarriage, and one in five experienced a premature birth. Research has shown that pregnant women who become symptomatic with Covid-19 are two to three times more likely to need to give birth prematurely or go into premature labour.
The guidance for pregnant women was today changed to:
1. Get your vaccine - it doesn't matter if you need your first, second or booster dose, go as soon as possible.
2. Don't queue at a walk-in clinic – book an appointment for your vaccine or tell your midwife if you have any issues getting booked in.
3. Go to ALL of your midwife and consultant (if you're under one) appointments - it is very important to do so.
4. Reduce your contacts, especially over Christmas – your most important contact are your appointments with the professionals you are under during your pregnancy.
5. Wear masks, wash your hands and take a lateral flow test before any 'out of home high risk contact' meaning trips to large, busy venues.
Book your Covid-19 vaccine here!
Stay safe, everyone! Please never hestiate to contact your midwife or consultant if you have any questions or concerns about getting the Covid-19 vaccine during pregnancy - they will be able to sit with you and discuss this.
If you found this useful, you should read...