Finding out the gender of your unborn baby is supposed to be a very special moment.
Many people choose to throw a party to celebrate, inviting their nearest and dearest to be there when they find out whether they'll be having a baby son or a baby daughter. Some expectant parents pop a balloon filled with coloured confetti, some cut into a cake with a coloured centre - there are SO many ways, we'd be here forever listing them.
One expectant mum, pregnant with her second child, asked the Reddit AITA (am I the asshole) board to ask, is she the asshole for refusing to have another gender reveal party?
When you find out why, you may sympathise. We certainly did. While gender disappointment is absolutely a real and valid thing, and we would never judge anyone for this, the reaction of the poster's husband at their first gender reveal party with their daughter has left her feeling anxious and 'extremely upset'. Read the post below...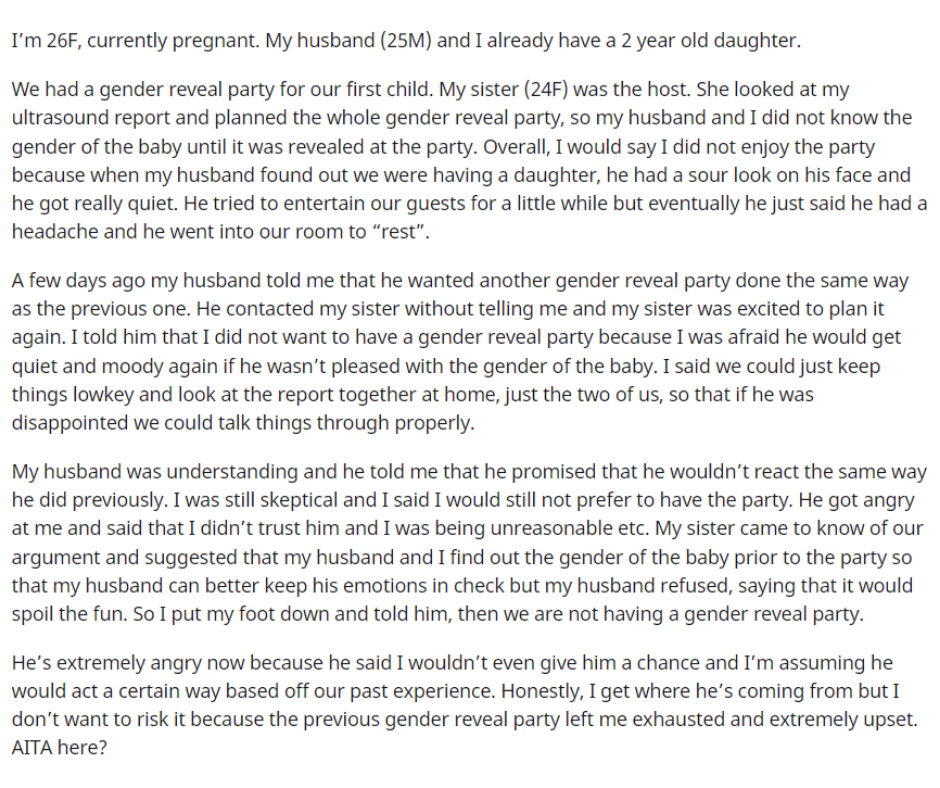 Read the full post here - credit to Reddit.
What was the general consensus?
The comments section was abuzz with readers pointing out that the original poster's husband is being 'selfish', 'unreasonable' and 'controlling', with some expressing their concerns that his reaction to finding out that his first baby was going to be a girl was a 'huge red flag'. Many comments did express some empathy towards the dad-to-be, but did also concede that his reaction at the first gender reveal party was uncalled for - with that in mind, it's no wonder that this expectant mama doesn't want to risk a repeat! The poster explained in an update why her husband reacted badly at the first party;
"He said he really wanted a son and his grandmother told him she dreamt that his firstborn would be a boy so I guess he took that dream as a sign and was expecting a boy."
The top voted comment summarised the situation perfectly.
"NTA for a couple reasons.
First off, his reaction at the first party is nuts to me. Like was he aware that there was a 50/50 chance of the gender of the baby being a girl? It's sad to me that he reacted the way he did and I sincerely hope that he hasn't treated your daughter as less-than since her birth.
Secondly, and this is more personal for me, you're NTA because I think gender reveals are toxic and kind of insane to me. I think your suggestion of a quieter affair is a good compromise between his desires for a party and your concerns about his adverse reaction. I would continue to push for a middle of the road solution."
Our verdict...
We absolutely side with the expectant mummy here. After her husband practically ruined their first gender reveal party with his 'sour' reaction in front of guests and left her upset, we cannot blame her for wanting to avoid a repeat of this situation, especially as he has admitted to her that he wanted a son!
Gender disappointment is a real, irrational thing that cannot be controlled, and we'd never judge anyone for having these emotions. However, is this any excuse to throw a strop, upset your pregnant wife who is worried that you're no longer excited for the arrival of your new baby, and skulk off to your bedroom ignoring your guests? Perhaps a smaller gathering would be a great compromise here. We also think that the poster feels under pressure to give her husband the son that he desires and is scared of 'letting him down'. It would help if she sat and talked to him at length about this - any reasonable husband would reassure their wife that, even if she gave him a brood of daughters and no sons, he would love her and them no matter what.
Other articles to read...